I'm slowly starting to begin my breakdowns of every 2017 Big 12 recruiting class. Normally I haven't even begun it yet so we're ahead of schedule so far. There's often a lot of late movement and additions but JUCO signing day is over and early enrollees are increasingly prevalent so many teams have already made some interesting additions.
In the meantime, I wanted to talk about some of the strategic challenges that many teams in this league face in recruiting and some market inefficiencies that have been or could potentially be solutions. Let's start by detailing some of these challenges…
Demographics: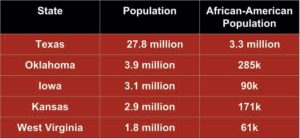 Total population is one obvious issue for the Big 12, which of course features 10 teams of which four are in the state of Texas. The Lone Star state is where the league's biggest TV markets exist (Dallas-Fort Worth and the Houston metroplex) as well as where much of it's players come from.
Additionally, I never see any point in dancing around the fact that a significant percentage of FBS football players are African-Americans. That's a talented demographic that supplies a ton of professional athletes and if there aren't large numbers of them within your recruiting base it's going to be hard to field athletic teams that can compete with teams from the South, Florida, California, or the Midwest where there are larger populations of African-Americans.
Texas has the fourth largest population of African-Americans of any state in the country but it also has a culture that prizes football and invests heavily into high school programs that allow that talent (as well as the talent in other demographics, of course) to be found and developed at a higher level than many other states. Access to Texas is huge for every team in the Big 12, the other states, especially Iowa, Kansas, and West Virginia, are not only fairly rural but also lily-white in demographics.
So in Texas you have just over 70% of the entire Big 12's population base but just over 84% of the league's African-American population. In the two metroplexes of Houston and DFW you have about 12.7 million people, or 32% of the league's population, and 2.35 million African-Americans or just over 60% of the league's African-American population!
I'll pause to note that Houston has 1.5 million African-Americans while Dallas has 850k. You can explain a great deal of UT's struggles over the last several years to a declining presence in Houston in recruiting. Something that Herman is immediately aiming to rectify. Another quick note, the rural expanse of East Texas includes another 680k African-Americans, making it one of the most important talent bases in the entire Big 12 recruiting area.
If you're a school like Kansas or Iowa State, you've got to figure out how to access larger population areas in order to find athletes that can play B12-level football and preferably population areas that include African-Americans. Now, the Jayhawk community college system includes some of the best JUCO programs in the land that draw in lots of players from around the country who are trying to get eligible to play Power-5 football and that used to be a major source of K-State talent until everyone else caught on. Now K-State mixes in a ton of rural kids and walk-ons from those JUCO systems while still picking off JUCO kids where they can.
The current Kansas strategy is to hit DFW via the connections of head coach David Beatty, who's long been a strong recruiting presence in that metroplex. Iowa State is currently pursuing what you'd have to call a national recruiting strategy where they aim to lock down as much local talent as possible while also searching out Florida, California, the South, and Midwestern areas like Michigan or Ohio.
West Virginia used to depend heavily on Florida but their current staff has been strong in Pennsylvania and Ohio. The challenge for these schools is that they're never going to be the top option for kids in any of those regions. Without really creative staffs, they have a very limited ceiling as programs.
Overlapping targets
There are good reasons that virtually every program in the Big 12 runs the spread offense.
It's emphasis on QB play and skill athletes has an egalitarian effect on the game that diminishes the importance of big, 250+ pound athletes who are a scarce resource. Many B12 schools can't consistently get scarce resources.
It's the preferred system of Texas high schools, who provide the vast majority of the league's talent. Why go against what all of your players are already being taught?
It's the best way to score points, regardless of points 1 or 2 and it's hard to keep pace with everyone else who's running the spread offense if you can't also score lots of points.
Any Big 12 school that tries to go in a different direction is going to face the challenge of trying to recruit and develop players to play in a different (and less exciting) system then everyone else, which is a challenge. However, trying to recruit and develop players to be in a spread means that there's a considerable amount of overlap in the types of places that everyone is after.
Everyone wants the big dual-threat QB, the blazing fast WR with good hands, the tall OL that can pass-protect, etc. Perhaps the bigger challenge is on defense though, where everyone needs athletic linebackers that can stay on the field all three downs, pass-rushers that can effect the QB, and DBs that can cover.
Offense is more of a skill game, if you have good hands, 4.7/4.8 speed, and you know what you're doing you can be a tough cover playing in the space of a spread offense. The baseline of athleticism required to cover these guys and stop these offenses is even higher.
Finally, there's the issue of the NFL and the big time DL. As hard as it is to find a 300 pound DT that can rush the passer, much less a DE/OLB who can do so, the demand in the NFL is just as great and the NFL will pay much better. Over and over I've seen teams like Baylor or Oklahoma State find themselves #blessed with an impact DT only to see him leave early after a single great season. It's hard to win titles in a 1-year window with a player like that, you need to have them in your depth chart consistently.
Market inefficiencies to tap?
Some of these are inefficiencies I've seen Big 12 teams utilize while others are inefficiencies that I think more teams should be trying to tap into.
Regions
Overlooked metroplexes
I was amused to no end when I saw Colorado replace Sefo Liufau Pac-12 title game this year with a 6-5 freshman QB named Steven Montez from El Paso, TX. Evidently, most programs don't spend much time scouting El Paso for understandable reasons. However, Colorado basically stumbled upon this guy and he looks perfect for their system. He's got a cannon arm and he's quick enough to run the QB read concepts their offense relies heavily upon.
Everyone likes to offer platitudes like "you can't be a 6-5 athlete and not be found these days by modern scouting!" It's total rubbish, of course you can. Just a few years ago two of the best QB prospects in the NFL draft were Carson Wentz (6-5) and Paxton Lynch (6-7), both of whom managed to elude major offers from Power-5 schools coming out of high school.
Imagine you're a position coach at a school like Oklahoma State. You're not one of the better recruiters on the team, those guys were assigned territories like "West Houston" and "Dallas." You got "Central Texas" which has been defined for you as the I-35 corridor from San Antonio through Austin and on to Waco. That area includes about 5 million people (and about 350k African-Americans) and takes about 8 hours to drive from one end to the other. How are you going to sift through all of that to find players for your school?
I'll tell you how, you're going to develop connections at key high schools that are known for cranking out D1 athletes and you're going to focus your efforts there. The problem is that most everyone else is doing the same thing and it's very easy for the stunningly good athlete from a new or traditionally weaker program to be missed. Especially if he lacks ideal measurables but even if he doesn't, he can still be missed.
Rural kids
If you think a San Antonio or El Paso kid could be easy to miss, just imagine what it must be like for kids in West Texas. East Texas kids get missed here and there even though everyone realizes that #BEastTexas is a veritable goldmine of talent (or perhaps I should say oil field?). West Texas is worse, people overlook the region for a variety of reasons and players slip through the cracks.
Take Coy McMillon here:
He's currently listed as a 3-star TE/SDE by 247 and is committed to Tulsa. You may ask, "how do you even know about this kid?" Here's why, he has an older brother who plays for my alma mater. He's listed here by 247 as a DT for some reason but he was the best interior OL for Texas last year and had won the starting LG job until an injury ended his season.
Check out his recruiting profile:

As a high school senior, Jake was an inch shorter and 20 pounds lighter than his brother but is now 6-3, 300. Kids grow after they reach college and start eating multiple meals a day while undergoing professional strength and conditioning, you see. So now we already know that Coy McMillon's genetics will likely allow him to grow into the position of an OL if his frame didn't already make that obvious.
What's ironic is that Jake will not have been missed by major programs yet Coy likely will be, save for by Tulsa who will make exceptional use of him in their Veer and Shoot offense if Phil Montgomery is still there by the time Coy is ready to play.
It's expensive and difficult to mine places like West Texas for McMillons who may eventually prove to be great football players, or to hit less populous metroplexes like San Antonio or Austin. But then schools like Texas Tech are already facing diminishing returns from being the third or fourth dog to the bowl in Houston or Dallas. So why not utilize some of these support staff positions or potential 10th assistant that the NCAA may approve to try and gain an advantage in scouting overlooked areas?
Heck, perhaps some of these schools should even consider sending their ace recruiters (the ones who are tops at building connections at least) into the more overlooked areas so they can gain a marginal advantage over their competition. It shouldn't take your most resourceful recruiter to go visit DeSoto or Allen and talk to their coaches and players.
Undervalued archetypes
The undersized but successful HS QB
Lots of the smaller programs in the Big 12 already make great use of this guy but even still you'll see a kid like Baker Mayfield go without a scholarship offer out of high school before finally enjoying a career at Oklahoma that has seen him earn a 1st team All-American spot and twice finish as a Heisman finalist with a year of eligibility still remaining!
Perhaps the greatest benefit of nabbing a player like this is that the NFL doesn't have as much use for them, so they stick around forever. One of the biggest reasons that Colt McCoy is the all-time winningest QB in Texas history is that he was about 6-1 and didn't have a cannon arm. It didn't take Mayfield long to decide to come back for another year at OU and I imagine his draft grade was a factor in that easy decision.
The schools that really need to get wise on these kids are the bigger ones, Texas and Oklahoma. Every year you'll see the bigger programs in college football load up on one or two blue-chip QBs only to see them either fail to pan out or transfer when they don't earn starting jobs against their competition.
I don't really blame those QBs but the schools should really consider investing in more of these undersized, non-blue chippers that are more likely to stick around and often have a baseline of competency from their HS training that makes them a good back-up that can salvage a game or season when your top line guy goes down. They may end up being better anyways.
The 3-tech DT
There's a unique opportunity right now in the Big 12 that could be hard to capitalize on but is a worthy venture, particularly for a school that wants to have a reputation for defense. Here's the deal: the 3-technique defensive tackle who can rush the passer and live in the backfield is perhaps the most sought after player in the entire country. This is the guy that you land only to see him leave for the NFL before his senior season.
However, there's a unique opportunity for schools like Baylor to try and load up on these kids right now for two major reasons.
Texas and Oklahoma are both playing base odd fronts. With the Orlando hire Texas' base front is now a 4-0-4 and that's been the base front at OU since they moved to the 3-4 back in 2014. The 4-0-4 makes use of a nose and two 4i-technique DEs that you generally want to be 6-3 or taller, 275-300 pounds, and capable of grappling on the edges with offensive tackles. There's overlap between the ideal 4i-tech and a good 3-tech but it's incomplete and the 3-tech has the more glamorous job.
Many of the best 3-techs are not obvious out of high school and you don't have to beat out LSU or Alabama for their services. Now, the fact that Texas or OU may not be chasing a top 3-tech or unable to get him because their scheme is unappealing is typically going to mean that some of the best ones go to the SEC or somewhere else out of conference. However, many of the best DTs are not yet 270 pounds or even DL when they're in HS.
The latter reason is partly why schools like TCU or K-State have been able to field surprisingly good DL for years in a four-down defense despite not having access to the same kinds of kids as a Texas or Oklahoma. Even at Texas some of the better DL over the years came in as raw clay or at other positions.
If you're a Big 12 school that has a bead on a really active, 6-3, 250 pound HS DE who's frame suggests he'll finish school north of 285 but who's film only features a pretty good edge rusher, you might be able to snag a future big time DT without having to compete directly with a blue blood program.
The short, mauling guard
This one really only applies for schools that want to run the ball. The teams that are determined to heavily emphasize Air Raid principles and throw the ball around all day aren't going to find much value in a kid like Terrale Johnson (6-1, 300) but K-State sure did.
The undersized guard is largely overlooked but he's often a useful piece in a strong run game because run game battles are all about who can get low and root the other guy out.
Again, if Baylor wants to continue to emphasize the run game in their new system they'll take advantage of all the really quality guards that come out of the state that are a bit short for pass protection for a team that wants to throw the ball 50x a game but could be great in a run-centric concept.
The OL playing the wrong position
Outside of QBs, OL are perhaps the most poorly evaluated position in recruiting. I recently did a write up at Inside Texas where I listed the 2014 championship Ohio State OL. One thing that really stood out was that two out of five were listed as DL by 247 as HS recruits and one of those two was the only guy in the list that garnered a ranking higher than 3-stars.
DL are generally better athletes than OL, like all defenders they often have to beat an offensive player to a spot when the offensive player knows where he's going and the defender does not. OL are often more cerebral than DL, they have more complicated assignments and rely more on technique and teamwork to get the job done.
However, often you'll have a DL who gets into college S&C and balloons from 6-4, 240 or what have you into a 6-5, 300 pound behemoth. It's not even that rare. When that guy is quickly identified and capable of learning the tricks of the trade, he can sometimes become the best OL on your team because of the natural athleticism that saw him start his career at DL. The same is often true of TEs, there has been many a star LT who started out as a blocking TE and grew into the job.
OL is such a developmental position overall that the teams who regularly have good play up front are the teams that are good at teaching and grooming the position with a structured, coherent plan and not necessarily the teams with access to particular players. See Texas, who is poised over the next few years to finally end their drought of NFL first round draft picks along the OL despite never seeing a period in which their recruiting rankings at the position really dropped. What changed? The program for choosing and developing OL.
The "win us this game" QB who's not really a QB
Lots of HS teams just put their best football player at QB and then build around what he can do at the position. There are tons of kids out there that played QB for lesser programs who have been taught to think and understand the game at a high level, are good athletes, and are underrated as recruits because they're not very good at throwing the pigskin and yet that's what their film has to offer.
Mack Brown has a horrible reputation for trying to find these kids only to prove to have been offering a legit QB to "come play safety for us" while he loaded the Texas roster with busts. Meanwhile Gary Patterson has made a living with these kids.
Two examples:
Johnson has now concluded his career at TCU as a strong safety where he stepped in for the brilliant Sam Carter. Here's a snapshot of what TCU has had at the position from Denzel and what he was replacing in Carter:
2014: (Carter) 55 tackles, .5 tackles for loss, 0 sacks (he was more disruptive the previous two years), 4 INTs, 1 break-up
2015: (Johnson) 75 tackles, 13.5 tackles for loss, 2 sacks, 1 INT, 7 break-ups
2016: (Johnson) 84 tackles, 11 tackles for loss, 2.5 sacks, 6 break-ups.
Denzel Johnson's 2016 was also cut short due to injury so he produced that 2016 line in only 11 games. As it happens, Sam Carter was a 3-star "dual-threat QB" out of a major program in Houston. It's worth hitting those schools up if you have a different angle to play.
Here's another one:
Here's what Summers did in 2016 as an inside-backer (incidentally, where I projected him in my 2014 TCU class breakdown): 121 tackles, 5 tackles for loss, 1.5 sacks, 3 break-ups. They've got this guy for two more years!
Now TCU has a tremendous culture that teaches the game to their defenders and consistently fashions good athletes into hard-nosed football players. Nevertheless, that's a pair of two-star HS QBs that they turned into really good defenders whom no one else really recognized. Summers picked TCU over Rice and Johnson picked TCU over UTSA. If there's not a market inefficiency here then there isn't one to be had in the world of Big 12 recruiting.
What do y'all think? What other strategies do you see teams using or not using that could help bridge the talent gap that exists in many B12 programs' recruiting bases?