Over at Football Study Hall I have a breakdown of star Temple DE/OLB Haason Reddick and many of the ways that Matt Rhule used him last year. His film is exceptional and instructive on some of Rhule's favorite tricks for dealing with college offenses.
It's amazing to see all of the guys that Rhule and his staff either discovered on campus or brought aboard who developed into stud defenders under his tutelage. I suspect his physical practice structures and culture are a big reason for this developmental success, you see something similar from programs like North Dakota State or Herman's Houston (and hopefully Texas).
Reddick was a walk-on safety working out at corner and redshirting when Rhule arrived. He got injured as a high school senior and wasn't getting a lot of attention, hence his availability for the Owls. Then he ballooned with positive weight, maintained his athleticism, and learned how to play in the box. When he learns more pass-rush moves in the NFL his ceiling will actually be even higher.
Anyways, a few things about Rhule from studying more tape and reading what I can about what they're up to at Baylor. There's been comments about the Bears practicing his 22 personnel power packages with a former Marine named Kyle Boyd I've never heard of (no relation) playing some fullback. Evidently Rhule thinks this…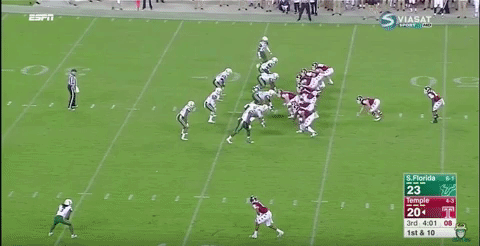 …can translate in the Big 12.
Okay, some important details here.
-Watch no. 4 (fullback Nick Sharga) on this play. He pancakes the USF cornerback on the edge. Part of the nice thing about a 22 personnel package is that you can get some matchups like your star fullback on a DB.
The TEs here help clear out a path against the DE and LB hanging out on the edge, the guard is supposed to lead through and hit the mike LB but the real running lane is created by the FB demolishing the CB on the edge. It's the quintessential #RhuleofLaw scheme because it's a reversal of Big 12 tactics and an imposition of will on the league.
Rather than spreading things out to seek out matchups to get the ball to a skill player, you're getting beef on the field to seek out matchups where you can smash little people.
–Sharga had been killing that corner on this play throughout the game. By the time it was the third quarter and they dialed this up that guy wasn't ready to endure another clash with Sharga. It's probably a reasonable bet that Big 12 defenses aren't really going to be excited about handling these kinds of tactics either.
-Rhule only allows players that have proven they are the most physical players in practice to wear single-digit jersey numbers. I was always impressed at how effectively Briles combined up-tempo practices and offensive-centric culture with overall physical play and physical defenses.
But Rhule is going to insist on a really physical team as well and he's had a lot of success achieving that result through more old school tactics.
The only trick with this approach is that you have to score or it don't work. You'll just get behind and be plodding away trading short drives and FGs with OSU scoring touchdowns. You have to convert on third down and you need to generate touchdowns.
Baylor needs to have an effective passing game with Zach Smith and co. to be able to convert third downs or they'll just get blown away next year while developing the size and physicality to be able to do this effectively down the road.
This is all going to continue to be very interesting to observe.