Baylor's profoundly changing run game
I noticed from @CraigSmoak that Baylor has elevated freshman Ryan Miller to starting center on the depth chart while moving converted TE Sam Tecklenburg to starting left guard. When I broke down Baylor's 2017 recruiting class I noted that Ryan Miller was liable to play early thanks to coming from a stronger HS program (Southlake Carroll) and having familiarity with Matt Rhule's preferred blocking scheme, outside zone.
On that note, Baylor also recently secured a commitment from Katy Tiger tackle Connor Galvin, another kid that's received high level instruction in that same blocking scheme. Here's where Baylor's evolution on offense could be interesting and highly unique from what they've been doing under Art Briles.
In the past, Briles would stock this OL with the biggest freaking dudes he could find and then use downhill schemes with favorable angles to run the ball between the hash marks. The 2015 Baylor OL for instance, looked like this: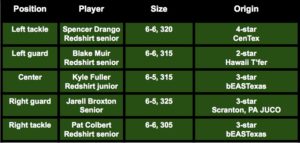 They were a big bunch collected from the transfer ranks and out in East Texas and averaged 6-6, 316 across.
The 2017 Matt Rhule OL as I have it on my own version of their depth chart goes like this: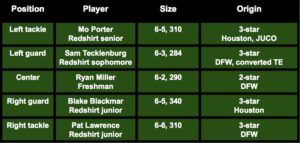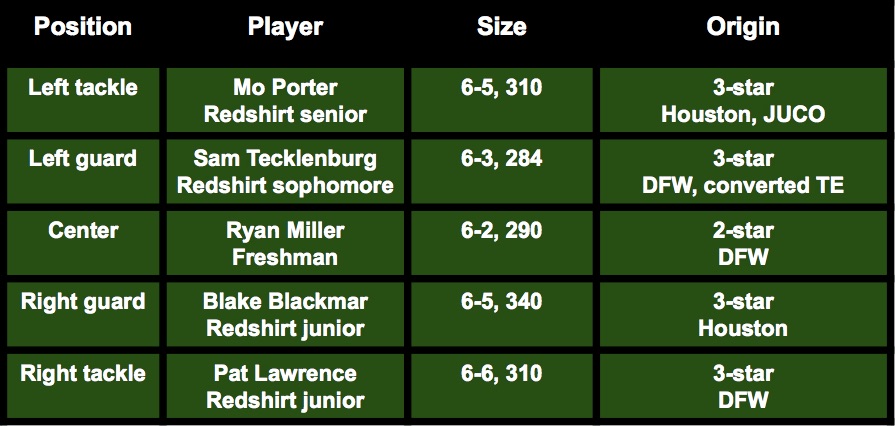 This bunch averages 6-4, 307 and the two smallest guys are the ones that Rhule selected for the OL while the largest guys are leftovers from the Briles era. If you removed Blake Blackmar and replaced him with third guard, 6-4, 300 pound Tyrae Simmons, you'd get an even starker difference.
This isn't just that Tecklenburg and Miller are young, either. Neither of those dudes are ever going to be massive, both of them have been praised by Rhule, and Rhule has also noted that he wants everyone to slim down save for Blackmar, who was just made by God to be huge.
The key is that Baylor is moving to outside zone as a base running scheme, which is about good lateral footwork to get on an opponents' opposite shoulder and then creating creases. Some of the best Denver Broncos' OL to execute this scheme were in the 6-3, 285 pound range because being quick and scrappy is the key to the technique. Size can be an impediment unless everyone on the line has tackle feet.
Baylor's move to a "pro-style" offense means smaller, quicker OL, lots of TEs, and a complete shift in the philosophy of the offense. It'll take time before they can do it well, if that day even comes.
Iowa State's "under the radar" team
The DesMoines Register has a nice bit up on five guys for Iowa State that are flying under the radar heading into this season.
Amongst their players getting some buzz is nose tackle Ray Lima. It's key that Iowa State not suck on their DL this year.
The best way for Iowa State to make noise in this league is to do exactly what HC Matt Campbell is trying to do and stand out on the lines. Anyone can stockpile solid athletes, redshirt them and teach them sound techniques in coverage and against the run, and emphasize a physical culture to make sure they tackle well. West Virginia is doing exactly that and it's why their defense has been surging despite their dip in recruiting.
What's really hard to do is field DL that can disrupt offenses and inflict negative plays. If you don't have awesome DL that can make tackles for loss and get offenses behind schedule, you are just trying to hold up and hope that the offense screws up or doesn't beat you with execution. That's not really a good bet in the Big 12, you need to be able to beat them at the line.
If Iowa State can achieve that, they'll stand out in a real hurry.
Formerly of the Big 12
I went on Rock'M'Nation's podcast this weekend to talk about how they've adopted the Art Briles "veer and shoot" offense and tried to explain what that'll mean for their program moving forward.
I spent so much time explaining what the veer and shoot doesn't do, like prepare QBs for the NFL, that I'm not sure I conveyed how devastatingly effective it can be when done at a high level. They'll figure it out though if they end up doing something like upsetting Alabama 50-45 in a coming season.