Preseason is the time of eternal optimism, when every question mark about every team is one that could break positively or negatively and it's hard to be sure of which.
I find you often get the clearest picture by assuming that the question marks about a given team will break about 50-50. If you do that and the team still looks strong, they'll probably have a good year. If they need everything to break positively…that's less of a good sign. When I added up the major question marks about the 2016 Texas Longhorns last August in my head I saw a picture of a still fairly unimpressive football team.
Sure enough, this happened…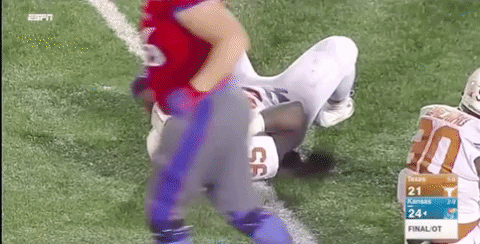 With that in mind, I'm here to sprinkle fear and doubt into koolaid for every Big 12 team this coming season.
Dear Baylor fans,
Matt Rhule signed a 7-year deal with the Bears, a program that is in the news every other week having to settle another lawsuit over the termination of the last football coach's rich contract. The new Baylor admin wisely invested big in Matt Rhule to provide new leadership for the program and he has all of the leverage for the next several years to rebuild the program as he sees fit.
That means that the presence of a true freshman on the depth chart at center paired with a converted TE at left guard probably isn't an indication of the discovery of multiple prodigies. Instead it's Rhule rebuilding the OL as he prefers in a fashion that will help him build with a long view rather than trying to match what Baylor has been doing over recent seasons. When he's calling out his offensive leadership as "soft" it's probably not a good indicator for the emergence of the "Revenant" offense this coming season.
Rhule is here for the long-term, not the 2017 season, and his decision-making will reflect a long view.
Dear Texas Tech fans,
Kliff Kingsbury's increased involvement isn't going to fix the defense. What does this guy know about building tough defenses in the first place? He played QB for Mike Leach and then helped teach QBs at Houston and Texas A&M to be devastating in the Air Raid offense. The head coaches he's worked for include Mike Leach, Kevin Sumlin, and himself. Leach arguably has the best reputation from that group for overseeing physical defense and his best solutions have involved hiring the right guys and trying not to muck it up for them.
Texas Tech's solutions on defense need to come in the form of a more physical culture and practice format, good hires and delegation on the part of Kingsbury, and an infusion of talent along the defensive line. The closest we've seen to that is Kingsbury helping recruit some castoff DL from other programs (Notre Dame's Kolin Hill, Michigan's Ondre Pipkins) or bringing in iffy characters from the JUCO ranks (returning LB Dakota Allen, who's supposedly got a redeemed story to tell one year after being caught robbing guns, and CB Jaylon Lane that was in JUCO for raging out in a HS classroom).
Maybe the younger DL stepping in for Tech are finally going to control the line of scrimmage, maybe the athletes behind them can be trusted to stay out of trouble off the field, or maybe not.
Dear Oklahoma State fans,
This is not a playoff team.
If this squad did make it to the playoffs they'd probably get immediately squashed, ala Michigan State in 2015. As things stand there are a lot of questions marks in the way of this team winning the Big 12. Questions like, "will this defense be able to cover outside receivers with this cornerback corps? Can the team run the ball like last year without TEs Blake Jarwin and Zac Veatch? How does the D look without Vincent Taylor in the middle?"
Those questions need to be answered at least mostly positively for Oklahoma State to win the Big 12, much less to do so with the kind of resume that would get them into the playoffs. Then, if they somehow were admitted to the playoffs, they'd likely get embarrassed and hung as a trophy for why the Big 12 is an inferior league these days.
Go ask Baylor fans about the joys of winning the Big 12 only to be embarrassed in a bowl game. It's a rather mixed bag, set expectations accordingly.
Dear Oklahoma fans,
your DC who might only have a job because he's the younger brother of a legend is plugging in a true freshman at middle linebacker and a converted JUCO CB at free safety. These are two of the most important positions on defense for consistently stopping opposing run games where you need consistent tackling and good leverage above all else.
Perhaps Kenneth Murray will be brilliant, flying around the field like Travis Lewis in 2008. Perhaps Will Johnson's experience at different spots, including the run-support position of nickel, will make him a steady eraser on the back end. Perhaps the 4-3 Under defense will perfectly set these guys up to transition into a hard, cohesive unit.
But it's at least just as likely that this defense will struggle to hold up in the middle of the field against skilled and ruthless Big 12 offenses, nearly all of which are returning savvy and talented veterans at QB.
Dear West Virginia fans,
This is what's missing from last year's defense:
Eight of the top 11 tacklers. 16 of the team's 23 sacks. 11 of the team's 14 interceptions.
Included in this devastation is the entire DL, which will now be replaced by some younger guys we haven't really seen play much before. I've argued here and there that West Virginia's defense will still probably be fine after discounting them a year ago for similar reasons.
That said, there's likely to be some slippage here unless everyone stepping in is ready to go and one of the new DL is a legitimately disruptive play-maker. That last point is where my greatest doubts are focused. I think Will Grier is actually more of a sure thing than the West Virginia DL doing a great job of setting up the defensive backfield to attack opponents. Replacing Rasul Douglas and his eight interceptions is also alarming, that's a lot of impact.
Dear Iowa State fans,
That "team out east" is probably always going to have the first pick of the limited batch of quality in-state recruits. They have a better tradition, regularly put players in the NFL, and compete in a better and stronger league. Heck, there's a chance the Big 12 will dissolve in the coming decades and Iowa State will be in something like the MAC or AAC.
Meanwhile, the coming season is one in which Iowa State will be loaded at the skill positions on both sides of the ball but dependent on OL, DL, a QB, and a QB playing LB in order to execute the intended strategy of winning between the hash marks.
It's possible that this Iowa State team will squander their skill talent due not only to a strategy that isn't designed to feature them but may even struggle to support them.
Dear Texas fans,
This roster isn't as deep and talented as you think. Tom Herman is bringing a more physical culture that will pay big dividends down the road and lead to GREATER depth in the long term, but the 2017 Horns aren't quite there yet. Losing TE Andrew Beck in camp is not good and having only two scholarship QBs on the roster only compounds the same issue.
How do you play as the more physical team at the point of attack without either a running QB or a sixth blocker to even out the numbers?
There's a good chance that Herman could whip this team into fantastic shape and they'd still fall short of winning the conference because depth problems or injury luck cost them a few games.
Dear Kansas State fans,
There's a chance that this season is derailed by Bill Snyder's health, as David Ubben has recently outlined. There's even a chance that a breakthrough season that would have served perfectly as a send off to the legend could fall apart for that reason…it's an unpleasant thing to think about and no one is rooting for that eventuality but it's worth considering.
It's also possible that Snyder will be able to power through this season but that the team will suffer from his inability to maintain the kind of quality control he normally brings to the table. He's unquestionably set things up to run fairly well without his constant oversight, but what happens if something big comes up? Will he have the energy and wherewithal to respond?
This of course is setting aside the concern that Kansas State is replacing three of their best defenders from a year ago and potentially filling in a converted RB, a touch slow LB, and Johnny Durham at nickel. Maybe those guys will all be fantastic but now you're getting into the "well if X pans out, and Y isn't a thing, and Z goes well…"
Dear TCU fans,
This is your starting quarterback…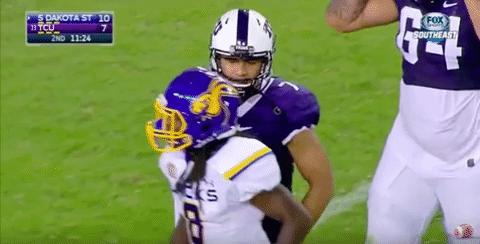 It's possible that at some point this guy will be your starting QB…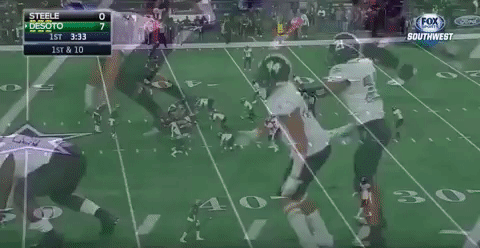 …but he'll just be a freshman. Also the hopes for your DL being rebuilt and resurgent seem to involve a lot of players we've never seen play in the Big 12 before while that crucial strong safety playmaking spot that once held Sam Carter is a big question mark.
I think the days of TCU combining good Patterson defense with a strong offense involving QB run game are in the not too distant future. Not sure about 2017 though.
Dear Kansas fans,
Yeah, still no.