Most interesting to me, at least. I think these guys are high upside athletes that could be about to breakout and consequently have a huge impact on this coming season. Let's begin…
No. 5: Blake Lynch, Baylor
I was surprised when Blake Lynch was absolutely nowhere on Baylor's depth chart. At 6-3, 205 he's a big and versatile athlete that was used in a dozen different ways to propel Jeff Traylor's 2015 Gilmer Buckeyes to a state title. Traylor and the Boyd bros (Kris and Demarco) went on to Texas. Traylor immediately had big success recruiting bEastTexans for Charlie and then landed with Chad Morris at SMU. Demarco hasn't done much yet at Texas but Kris will likely be a first team All-B12 CB this year.
Lynch hadn't done much yet, but he seemed due to strike big this year under Rhule's direction as he's a better fit for this style of offense than the Briles "veer and shoot." What's more, he's exactly the kind of pure athlete that Rhule transformed into physical and versatile football players at Temple.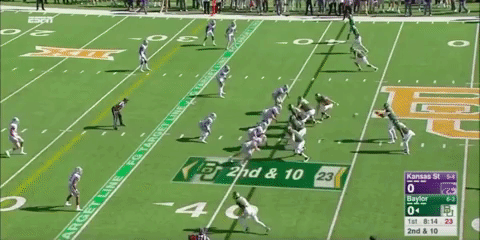 Well evidently the plan at Baylor is to use Lynch like he was used at Gilmer, receiving, running the ball, returning kicks, coverage, pass-rushing, everything. That's pretty interesting, I'm curious to see how it works out.
No. 4: Kyzir White, West Virginia
White, the only one of trio of massive, freakishly athletic brothers to play defense, was pretty good in 2016. He took over the "spur" safety position immediately despite missing spring ball and much of the summer before transferring in from a JUCO. He was able to handle some of the man coverage requirements despite being a 6-2, 216 pound man and was of course very physical on the perimeter and as a blitzer.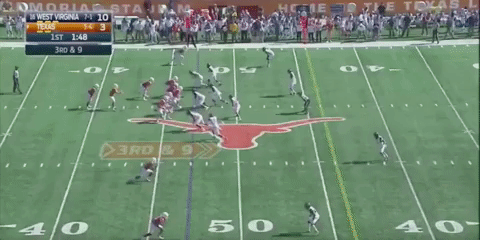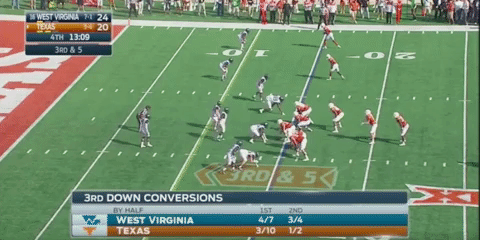 That appears to be the same blitz, or same stunt at least on both sacks. If West Virginia can mix in more of their dime package in which White gets closer to the action it can only boost his numbers in the pass-rush.
Either way, this year he has a full offseason with Tony Gibson, which gives him a chance to learn more skills and nuances of the defense and gives Gibson more of a chance to build the defense around his abilities.
No. 3: Mark Andrews, Oklahoma
Like defenses everywhere else, defenses in the Big 12 don't have great answers for smooth route runners with good hands that weigh in at 6-3+ and 240+. Mark Andrews is a pretty dang fluid athlete with solid hands but I'm not sure if we've really seen everything he can do yet.
Two years ago he was a first year starter that got a lot of snaps as a flex tight end. Then he missed the spring and part of the offseason before the 2016 campaign and came back to once again be a supporting cast member, this time for Dede Westbrook rather than Sterling Shepard. What is he capable of if he's the focus of the passing game? Can he run enough routes to be a primary target in big moments? Could he be used to terrorize Big 12 linebackers running option routes in the seams?
If Oklahoma is going to beat Ohio State or hold off an improved Big 12 this season then the answer may need to be yes.
Quarters-beating flag routes would be a good place for him to prove his worth: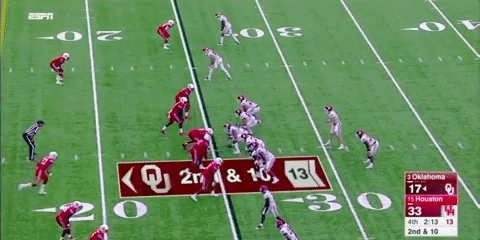 No. 2: Alex Barnes, Kansas State
6-1, 227 pound backs have a pretty solid track record of success in the second Snyder-era Kansas State program. It's hard to find guys that big with the feet and low running style to be successful, but this dude managed to avoid getting tackled behind the line of scrimmage last year at K-State and flashed some pretty shocking speed and power, perhaps most impressively against Oklahoma State.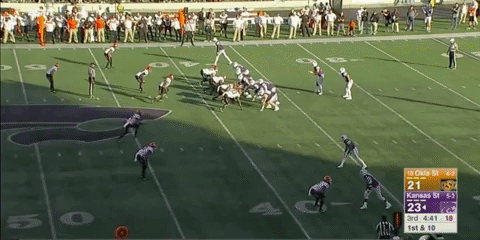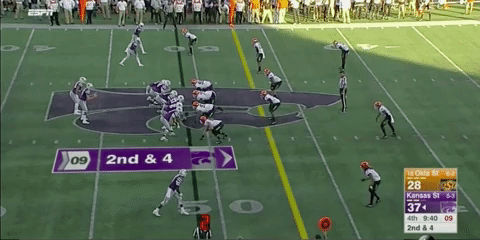 Jesse Ertz ran for 1k yards last year and usually was not paired with Alex Barnes in the backfield. Kansas State fans already know it but for the Wildcat run game to add a dominant, between the tackles runner to the existing run game would bring a rather substantial impact.
No. 1: Malik Jefferson, Texas
Last year Malik was my preseason DPOY. He was playing a hybrid linebacker position for noted defensive guru Charles Strong that had him as a part-time DE, part time ILB, and part-time down safety. As a second year player he seemed likely to break out in an amazing way.
Then it turned out that while he may have learned the roles of those various positions, he hadn't really learned to actually execute said positions. Over the course of the year he found a niche as an all-star QB spy but he struggled to be much more than just a really good athlete running around and chasing people.
Now he's an endured an offseason of particular Tom Herman and Todd Orlando attention designed to remake his body and his mind and will be unleashed in their "rover" weak side linebacker position that often operates as a "spinner" blitzing from different directions while the other OLB drops back to replace him as the "will" linebacker. So this season may feature a lot more of this:
He might finally be due for that big breakout considering he had 6.5 sacks last year while playing like crap on a bad unit just due to his sheer athleticism. A "Texas is back" kind of season is probably one where Malik Jefferson has 10 sacks.