I've been re-watching the Oklahoma vs TCU game this morning and this 3rd and 3 play stood out to me.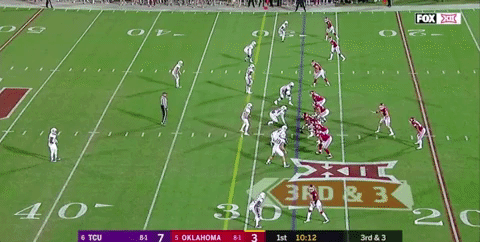 Something I've been trying to explain this season to all of the frustrated Texas fans is how much of the modern game, particularly in the Big 12, is determined on the field by the players.
The mark of great coaching is not brilliant play-calling but teaching players to be able to adjust on the field while facing live bullets. That's how you guarantee that you hold the chalk last in the interminable battle between X's and O's.
On this clip you can see Baker Mayfield processing what he's seeing from the TCU defense before executing a simple slant on 3rd and 3. As fans we often watch that play and think, "freaking Patterson, giving up a slant on 3rd down? What an idiot!"
Well you're always giving up something with every call and a defense like TCU works hard to conceal that weakness while playing to the strengths of their personnel. The problem is that a RS Senior like Baker Mayfield can excel at identifying it anyways and making you look bad.
Breaking down the play
This was my big question going into the game:
My big Q for tonight is whether TCU can hold up against OU's run game in their pseudo-dime base 4-2-5. The answer might be yes, which would mean a fascinating game.

— Ian Boyd (@Ian_A_Boyd) November 11, 2017
Evidently Patterson wasn't terribly sure about this either and he chose to deploy a gameplan in which the Frogs would regularly load the box (like they did against ISU) and try to make OU beat man coverage throwing the football. That may sound like lunacy against Mayfield but OU's WRs haven't been as dominant this season as in the past (well, until recently at least) and this clearly seemed the safest option to Patterson.
So on the 3rd and 3 play above, the Frogs start off in their normal two-high look but start to sneak DBs down late in the play clock, indicating man coverage and potentially a blitz.
Well Mayfield sees that, checks the sideline, and then communicates something to his receivers. Watch his head as he waits to snap the ball and then after he receives the snap, he's eying the linebackers and sorting out who's going to end up where after the snap.
After the snap he knows where the blitz is coming from (the field side) and he immediately looks to the boundary DE because he knows he's likely dropping if TCU is bringing two linebackers from the field. So Mayfield checks that he's in poor position to defend the slant, checks up to the safety to make sure he's not in position to rob the route, checks back to the boundary DE and then hits Ceedee Lamb coming across.
It all looks so easy, so open, but when you watch everything before the snap you see how much mental energy was spent by Mayfield finding that soft spot and then hitting it with precision. For a defense, there's not a ton you can do if the QB can consistently locate and attack your soft spots except to try and out-execute him. In that regard, the experience of Mayfield and his OL comes into play again because they are pretty well seasoned in good techniques for executing this offense against the defenses they see at the college level.
This is all something to keep in mind for OU fans for the 2018 season when "daddy" Baker is gone and "Kyler baseball" looks to take over this system. It's also relevant to the 2017 playoff picture.
How do you defend this offense?
It's pretty freaking difficult. Three of the five interceptions that Mayfield has thrown this season came against dime packages that were able to sneak DBs into places he didn't expect to find them, the other two were on deep jump ball throws where his man didn't win. I suspect that if Mayfield saw dime defenses more regularly he'd be even sharper at attacking them, but he's not likely to see them a ton given the proficiency of this run game.
What's more, in a close game I'm not sure I'd be too excited about betting against Baker executing in the fourth quarter against even dime defenses from the likes of Alabama and other top teams. After all, we've seen other teams do it. Oklahoma has matchup wins they can create against even good dime defenses with Ceedee Lamb continuing to improve, Mark Andrews in the middle of the field, Dmitri Flowers showing up all over the place, and now Marquise Brown starting to emerge as a VERY dangerous weapon on play-action bombs and perimeter screens.
Simply put, this is the best offense in the country and I don't know that the second place unit is terribly close. I think they can give OU a chance in any game against any team in the country.
But that defense…
Shoring up the weak spot
It's telling that OU played so well against TCU while fielding true freshman at four positions in the defensive backfield (MLB, FS, RCB, LCB). When you don't necessarily gain from playing guys that your coaches have been working with for multiple seasons that's not a bright and shining endorsement of your coaching staff. The younger guys on OU's defense are also great athletes and they seemed to have found some better "football character" guys in this 2017 group than some of their previous classes but still, freshman are freshman. Perhaps it was the need for simplicity with so many youngsters on the field that enabled their stronger defensive performance against TCU.
This defense has two key ingredients you need to play at a high level regardless of your opponent: impact players up front and great athletes in the back. Obo Okoronkwo is a problem for anyone and the Sooners have some stout DL alongside him that aren't terribly easy to move. The defensive backfield has some well above average athletes at every spot with Kenneth Murray, Steven Parker, and all of the CBs as prime examples.
Also interesting, their base defense will be less vulnerable and perhaps even more necessary against the teams likely to appear in the playoffs. Wisconsin? You don't need to make extensive use of a nickel package against them, you need to be ready to put your hard hat on for four quarters. Auburn and Alabama? They'll spread you out some but they aren't out there working through dropback progressions at QB. Clemson? They're a little more dangerous in that regard but not nearly to the extent they were in 2017 nor compared to say an OSU.
OU now has three more games (Kansas, West Virginia, B12 title) to use for building their defense up while also avoiding any disasters. Things are aligning very nicely for them and everyone on that defense should be in the film room and the playbook every week to maximize the unique opportunity they have this season with Baker Mayfield.