I've done two previews of the national championship. I broke down some of the big picture trends and stats over at Football Outsiders and dove in deep on how I think Georgia will attack Jalen Hurts for SB Nation.
Because I was writing on the SEC extensively this season over at Saturday Down South I've watched a lot of Georgia and Alabama this year. The two main stories this year in the SEC were A) the emergence of Georgia and B) the slippage in Tuscaloosa.
Alabama is 12-1 this year and their D just pistol-whipped Clemson so the "Alabama is slipping…" narrative isn't too strong but trust me, it's real. Here's a few things I'm expecting tonight so don't be shocked when…
Georgia runs the ball effectively on Alabama
Alabama's "best 11" doesn't look like it used to back in the day. They're still at their best with a normal four-man front featuring a pair of big DE/DT guys (Isaiah Buggs, Raekwon Davis), a huge nose (Da'Ron Payne), and then a pass-rushing edge man (Anfernee Jennings). They are really good here but not as good as they've been the last few years, at least not in the pass-rush. They'll probably be even better next year, especially if Buggs and/or Payne are back.
Then they've been moving to more of a nickel look behind the front but while trying to maintain at least one classic inside-backer to control the middle of the field. They've got more of a OLB, versatile hybrid next to the inside backer in Rashaan Evans and he's great, not the problem for them. The problem is at inside-backer and safety.
Inside-backer features two options for Alabama, the first is now Mack Wilson, a 236 pound sophomore that will probably eventually be a great ILB but who's been asked to grow up and own that position in bowl practices after the Tide lost Shaun Hamilton and Dylan Moses to injury. After him they have Keith Holcombe, a 6-4, 230 pound Mike that's as stiff as you might guess from seeing him line up behind the DL. They can't beat Georgia with Holcombe.
They've been able to make up for their issues at LB this season with the excellent play of their trio of safeties: Minkah Fitzpatrick (Thorpe winner), Hootie Jones, and Ronnie Harrison. Well, Fitzpatrick hurt his kidney last game (still expected to play), Hootie Jones was injured BEFORE the Clemson game and is out, and Ronnie Harrison is still fine as far as I've heard.
So Alabama is going into this game with a soph Mike backer with a start or two, an iffy (but probably fine) nickel in Fitzpatrick, and then Deionte Thompson behind him at strong safety. Thompson is a former four-star safety from the golden triangle of Texas who's a redshirt sophomore this season.
They can still play good defense with all these guys, and Da'Ron Payne gives them some margin to play with, but that's a lot of leakage from the normal quality and experience that Alabama can put on the field.
So what happens when Georgia lines up in a 12 personnel package (TE Charlie Woerner is probably out but they still have Jeb Blazevich, FB Christian Payne, and Isaac Nauta)?
Will Alabama get back into base personnel or try to match up in nickel? Can they hold up to Georgia's pounding or having to tackle Nick Chubb and Sonny Michel? Probably better than hapless OU did but not as well as they've done in the past. The Tide have been reorienting their personnel and focus around stopping spread attacks and although they can still dial it up to try and stuff the run, doing so tends to take more out of them than in the past.
Jake Fromm outplays Jalen Hurts
Hurts is insanely successful given how limited he is as a pocket passer. I dove into it in my SB Nation preview linked above but the guy looks like a HS QB when he's in the pocket trying to scan through progressions. His feet literally don't move.
When he's on the move he's phenomenal, he keeps his eyes down the field and can deliver nice throws, but he's not comfortable without the use of his legs to move defenders and create easier decisions for him on the move.
It's all too easy to negate all of Alabama's great blockers and skill players by using alignments to dictate passing plays and then bringing pressures or playing pocket contain to corral Hurts into the areas where you want him. Probably Alabama will come into this game planning to run Hurts more on designed QB runs and with scripts designed to keep Georgia off him but if they don't succeed doing damage with them early I think things could get ugly for them. Now will Georgia be able to score and build a lead or will Alabama be comfortable pounding away and hoping to find some plays before the fourth quarter? That's the big question for this game.
Meanwhile, Jake Fromm made a big leap against Oklahoma, particularly on their fourth quarter drives after the Sooners stole momentum back with the fumble TD recovery and the late Mayfield scoring drive. Their tying drive that started with 3:22 left on the clock was largely a Fromm drive and highlighted by this play: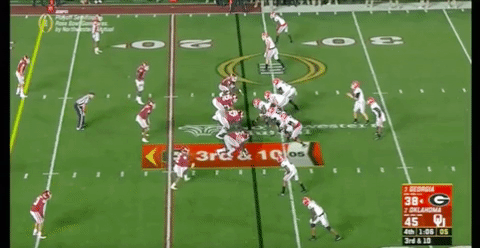 You can see him using his eyes before the snap to discern the OU look and he thinks that he's caught OU in a blitz only for nickel Will Johnson to back out into coverage. Then Fromm cooly steps up to avoid Obo Okoronkwo and works back to the other side of the field and hits the dig route over the middle.
Granted the Sooner defense sucked but Fromm took care of the ball, made some big throws and plays, and can unlock a significantly greater portion of the non-handoff Georgia offense than can Hurts in the Tide offense. He's also proficient on the RPOs that Georgia uses to protect their run game from being outnumbered in spread sets. He's not been asked to do a ton this year but he's quietly been pretty effective in his limited role and will probably be a guy that has a much greater responsibility before his career in Athens is over.
All the people insisting that Justin Fields will replace Fromm in a year or two…don't count on it. Just wait until he's more proficient in Jim Chaney's dropback passing game with all these receiving TEs they have stockpiled on the roster.
Anyways, it's considerably harder to divide and conquer the Georgia offense because Fromm is much better at making the right distributions to hurt your soft spots. Playing man coverage on the Dawgs is a much dicier proposition because they have TEs that can make for tough matchups and Fromm can throw the back shoulder fade to Javon Wims. They're also better and more willing than Alabama to get blockers on the field and just run the ball anyways.
Alabama loses this game if it comes down to Hurts vs Fromm in the passing game, they have to use Hurts in the designed QB run game and get results when they do so.
If this game doesn't have a ton of scoring
There's a good chance that this game features a few big plays, because Calvin Ridley, Damien Harris, Jalen Hurts, Nick Chubb, and Sonny Michel are all really hard to tackle. However, most drives will probably be pretty unsuccessful when those guys aren't breaking tackles and getting loose.
Alabama will be happy to wait and hope to slog it out, counting on their amazing ability to avoid turnovers to carry the day. Georgia will be similarly happy to trade punts and they have the superior special teams unit overall and a near-Bama like ability to avoid turnovers. So this game could feature a duel between Andy Pappanastos and Rodrigo Blankenship, you can probably guess what those guys do for their respective teams based off their names.
Both of these teams are designed to win wars of attrition in low-scoring duels. The difference is that Alabama is already plugging in young back-ups that weren't expected to start their careers so soon while Georgia is leaning on a veteran-filled defense and young guys on offense that are already familiar with their role in the Smart-verison of "the process." Georgia also has a proven OC in Jim Chaney vs Alabama's Brian Daboll and a head defensive coach that isn't balancing this game with a need to get started in scaling Rocky Top.
Maybe Nick Saban will make a fool of me and his Tide will prove to be as inexorable as ever but I've seen his teams lose games like this before. There are those times when the aging heavyweight is counted on and then relies on guile and experience to outlast and finally pummel the young challenger down. Then there are the times when the young challenger is a stronger version of what the champ was back when he won the belt, and the champ goes down. I think we'll see the latter.