I broke it down over at SB Nation.
Something I hadn't thought through much was how Georgia could shift the focal point of their runs from Caleb Kelly (not that he was great playing blocks by the Dawg TEs) to the Sooner safeties. Since those two safeties were a converted corner (Will Johnson) and a cover safety (Steven Parker) OU was seriously outmatched at the point of attack.
What's more, the Sooners' aggressive use of those guys down on the edge meant that there was little help for the LBs when they inevitably made mistakes or got reached. It wasn't a great gameplan from Mike Stoops but then…I mean of course it wasn't.
It was actually similar to the gameplan that K-State used against Christian McCaffrey and Stanford back in 2016 when they parked Dante Barnett on the edge and sent him over it now and again, nearly identical even. The difference is that OU hasn't had a safety as good as Dante Barnett since maybe Gabe Lynn if not Tony Jefferson.
Another noticeable factor in this game, which I touch on in the article, is that Oklahoma badly underutilized Mark Andrews in this game.
I know, I know, Mayfield threw a pick forcing him the ball up the seam and the Dawgs occasionally sent double teams his way, particularly on passing downs from their dime package. However, standard downs had a lot of this: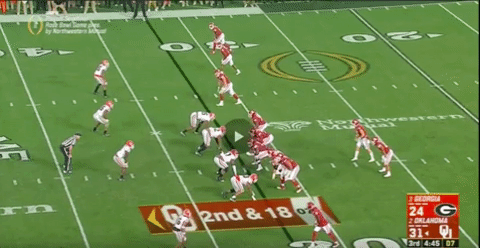 I know the window isn't open to get the ball to Andrews here because of the protection, but take a look at the route and the coverage. He was running stick routes and pivots on Reggie Carter much of the time on first and second down and OU didn't go after it, preferring to try to hit home runs with perimeter sweeps and screens.
OU should have been moving the chains by working Andrews in the seams and setting up their run game and speed off of Georgia's reaction. That's what Mayfield will be asked to do in the NFL.