My big offseason question for Oklahoma and thus the Big 12 was how their defense would fare with a retooled DL, iffy and young LB corps, questionable schematic fit in the 3-4 defense, and then iffy run support up the middle from the safeties. I even questioned if they'd be soft on defense, then had to backtrack some after they shockingly shut down Ohio State, but of course ultimately they showed their true colors in Big 12 play and then spectacularly against Georgia.
This was a team that did not play good team defense all year save perhaps for the Ohio State game or maybe against a cream puff like UTEP. Check out these runs by Georgia: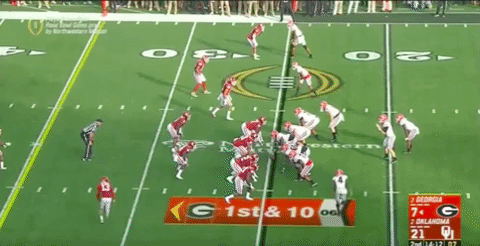 Georgia lines up in an unbalanced set, motions a WR, and OU's defense loses their minds. DT91 Dillon Faamatau is also driven off the ball by a double team and Georgia's massive right guard (6-6, 340 pound Ben Cleveland), but the more pressing issue is that OU had two LBs and a corner chasing the WR in motion and no one home to stop the run.
Then there was this one to open the third quarter: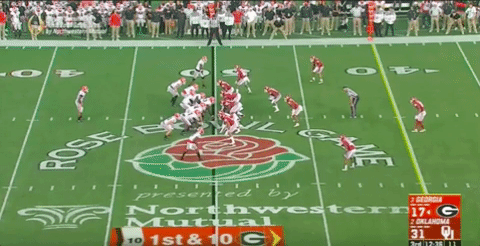 That's just soft defense. The DBs aren't running to the ball, the DL is getting taken for a ride, and lots of guys look like they're trying to gauge the minimal amount of contact they have to endure in order to bring Nick Chubb to the ground successfully.
Lincoln Riley was handed a nice early transition on offense with an absurdly loaded unit that was largely of his own creation led by a senior QB. However, he doubled down on his area of expertise and Oklahoma was ripped to shreds by a team that was great on defense and special teams.
Next year Oklahoma isn't going to be historically great on offense again. They should be pretty darn good, but there's a long way to fall from what they were this season.
You have to assume that Baker Mayfield, Mark Andrews, Orlando Brown, Erik Wren, and Dmitri Flowers are all gone after this season. That's a considerable portion of what made OU special this year both in terms of sheer talent (Andrews, Brown) as well as their high football IQ, versatility, and brilliance as a unit (Mayfield, Wren, Flowers). Riley will re-work things around Kyler Murray (presumably) and a still strong OL and run game but it won't be the same.
Meanwhile, the Sooner defense is losing Obo Okoronkwo, Steven Parker, and Emmanuel Beal. None of those are insurmountable because Obo was the only consistently good defender on the team this year, but they leave holes and there aren't just a ton of plugs ready to fill in. Surely Mike Stoops is finally gone after a near-decade of ruinous defense and finally a unit that spoiled Oklahoma's best chance at a title in 10 years. Riley is going to have to get his head out of the play sheet this offseason and figure out what the rest of the program needs so that the next time he has an amazing offense they can capitalize on the opportunity.
Anyways, here's some early thoughts for the league in 2018.
Texas has a chance to break through in a major way and win the league. They have major question marks on OL and in the middle where NT Poona Ford and MLB Malik Jefferson are gone so they aren't the favorite or anything but they will be in contention.
Kansas State could break hard in either direction depending on what Bill Snyder does. They're starting to leak impact players in D.J. Reed and Byron Pringle who are both declaring for the draft, which combined with Dana Dimel's departure and rumors about Tom Hayes retiring makes me suspicious that Snyder is leaving. Hard to eval this team without knowing who will be coaching them.
West Virginia will be a favorite dark horse because Will Grier-to-David Sills is back and the defense will probably rebound decently. I figure they'll be in the conversation but I doubt they can win the league, we've never seen that kind of quality from them.
Oklahoma State is probably going to reload in a surprisingly effective fashion. They have a ton of WR talent left on the team as well as Justice Hill and plenty of QB talents that have been developing behind Mason Rudolph. The big question is OL, remember that they fired their OL coach after 2016 when he signed only one player, the butcher's bill comes due. Their defense is losing some real experience up the middle in NT DeQuinton Osborne, MLB Chad Whitneer, and Ss Tre Flowers and Ramon Richards…I doubt that's a big deal. They'll probably have upperclassmen ready to fill in.
TCU is losing their three best OL, veteran QB, and two best DBs. It's the OL and DB departures that concern me for them. I don't know how scary a defense built around Ridwan Issahaku and Niko Small can be and presumptive starting QB Shawn Robinson is going to need good blocking to maximize his abilities. They seem like they'll be a year aways.
Texas Tech is an interesting team. They'll take yet another step forward on defense and their offense is never really an issue. They once had Davis Webb, Baker Mayfield, and Pat Mahomes all on the same team. Next year their QB will be McLane Carter? Curious to see what he can do after another offseason or if they have another guy waiting to emerge.
Iowa State is going to be another popular dark horse pick. Kyle Kempt is trying to recover a year of eligibility, he's been really solid but I'm not sure how much it'll matter if they lose him. Losing LT Matt Campos, WR Allen Lazard, DE JD Waggoner, Chief of Police Joel Lanning, and S Kamari Cotton-Moya probably matters some. At some point I think they'll break through on the OL and year three under Matt Campbell might be when it happens. The losses on defense honestly probably won't matter, they've shown some real ability to coach and scheme around what they have and their culture seems to be a lot stronger and capable of churning out some new heroes.
If they can start blowing open holes for David Montgomery they can win big next year.
Kansas is going to be terrible again.
Baylor is another interesting team. They should make a leap to the 6-6 range, I think. Rhule worked some real magic on defense at Temple but this Baylor team didn't really look one year away from playing good defense. The offense will probably be pretty good though with Charlie Brewer and Denzel Mims back to build around.
Looking around there are lots of teams that will probably turn over new leafs and show some exciting new talent but there aren't many teams that look like they can win 11 games, dominate the league, or compete for the playoffs. Normally Oklahoma dominates in a vacuum like this but this would be the year for Tom Herman to make a big splash with his Longhorns. Texas won't be there yet as a playoff type team but they won't need to be in the 2018 Big 12.