It's that time of the year again, when I break down every recruiting class in the Big 12. Last year's effort was probably my most comprehensive yet, we'll have to see whether I have the juice to do a similarly sweeping review this year. For whatever reason I like to do these from North to South (although I typically make a geographic mistake and do them out of order) so we start with the Iowa State Cyclones. You can read my breakdown of their 2017 class here.
My impression of Matt Campbell, even after he disputed it when I questioned him at the 2016 media days, was that he was going to bring "Midwestern football" to bear against the rest of the Big 12. I figured he'd recruit Ohio extensively and bring a more physical brand to the league in their defensive strategy and in a run-centric offense. They've definitely been a hard-nosed team but they've recruited pretty nationally and run a balanced and precise offense. Now I tend to think of Campbell as just being a good coach who's an energetic recruiter but most heavily invested in culture and tactical flexibility, per his Mount Union roots.
This 2018 class was regarded as the school's "best ever" but only ranked 54th by 247 and 7th in the Big 12. Whatever.
It has nine Midwestern kids, five from the big three of TX-FL-CA, and then some from the south and the west. There are only two JUCOs in this class whereas Campbell took a good deal more in previous years. Iowa Western C.C. is a really strong program nearby but they pulled a kicker out of a SF JUCO and a potential Kamari Cotton-Moya replacement from the Texas JUCO ranks. More on them in the breakdown, well more on the safety, I'm not talking about kickers here.
Offense
Quarterbacks
The Iowa State offense is a run-centric spread that ideally wants the QB to be able to take advantage of opportunities outside the hash marks. They'll run the QB on read plays, especially if he's good at it, but they are primarily asked to distribute on play-action and occasionally in the dropback game as well but typically with "smashmouth spread" type passing concepts that are designed to create easy reads and key matchups.
Brock Purdy: 6-1, 200. 3*** from Gilbert, AZ (Perry)
Purdy was a late rising prospect that had a huge senior year and started getting tons of offers and attention after NSD2 when all the schools who missed out in NSD1 were looking for senior risers. I'm not sure how Iowa State managed to win him over but they did.
His HUDL shows a guy with P5 measurables in arm strength and athleticism (probably a 4.8 guy with good quickness) and some fantastic accuracy placing the ball over and between defenders down the field. In fact, his highlights comprise a ton of ill-advised throws that he gets away with thanks to precise placement. I wouldn't like this guy at all for an offense that asked the QB to scan the field well but he might be a great prospect in a system that asks the QB to run the ball some on the option and make quick reads and downfield throws in play-action, which is exactly what Iowa State does.
Re-al Mitchell: 6-0, 190. 3*** from Bellflower, CA (St. John Bosco)
Mitchell is absurdly fast for a QB and would be a no-brainer WR prospect if QB didn't pan out. I imagine the common take will be that he'll end up as one of Purdy's favorite targets in three years or so…but his film throwing the ball is special. St. John Bosco had him executing a lot of serious RPOs, throwing the backside stick concept attached to zone runs and the backside "glance" route that Tua Tagovailoa torched Georgia and busted open the National Championship game with.
He also has lots of highlights reading the full field and resetting his feet to deliver beautiful throws to guys outside of the hash marks or in stride up the seam. Mitchell, who's the son of a pair of TV actors from "American Gladiator" and "Warriors and Knights," actually has some of the best HUDL highlights I've seen from a HS QB.
Here's mom: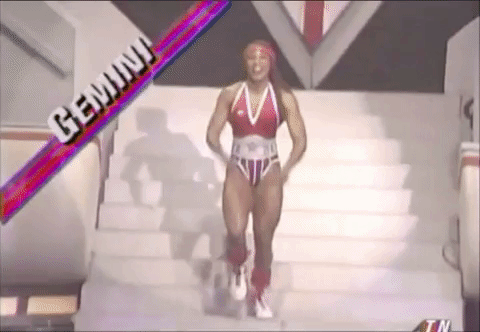 and dad: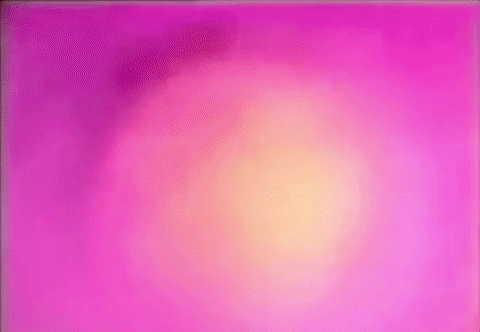 Son ran a 10.76 in the 100m, which this handy chart says translates to a potentially legit 4.4 athlete. He's really fast, defenses have zero margin of error dealing with him.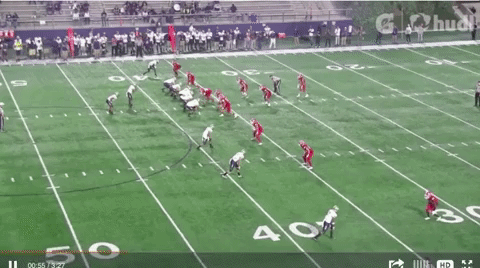 His grades are good so I don't really understand how this kid was only a 3-star prospect. Oh wait yes I do, because he committed to Iowa State early and you can't generate clicks by raising up the ratings on a freak athlete heading to rural corn country.
Grade: A+
Purdy is a pretty good prospect although I'm not sure if he'll be able to adjust to the increase in complexity and athleticism from Big 12 defenses compared to what he faced in Arizona. Still, he's really accurate and that's how you make up for it, and he'll have time in Ames to learn higher level technique and see the game slow down. Mitchell is a can't miss, either he'll be a devastating spread QB who takes Iowa State to previously unseen heights or he's a WR with elite athleticism.
Running backs
As a run-centric offense, RB is rather important for the Cyclones since this is the tip of the spear for their offense. They use a variety of different schemes but generally want feature backs that can run between the tackles.
None
Grade: F
This is the second year in a row in which Iowa State didn't take a RB. Pretty strange, I don't know what the plan is here.
Ancillaries
That's my term for the various FB, H-back, TE, flex TE positions that teams tend to use. Iowa State likes to use TEs as much as any team in the Big 12, primarily for creating angles and different formations to run the ball from but also to create matchups in the passing game.
Sean Shaw, Jr: 6-6, 200. 3*** from Jones, OK (Jones)
This guy is listed as a WR and played WR in high school but he's pretty darn slow and also massive with a good chance of adding tens of pounds in their S&C program. Now, I should note that while he isn't terribly fast he uses good footwork and is more than quick enough to get separation against coverage with a few subtle moves. It helps that he's enormous and has fantastic hands so it doesn't take much for him to be "open."
His film has a lot of back shoulder fade completions and also some plays where he uses that quickness to pick up yards after catching a hitch or screen. I think his future will be as a flex TE that lines up at any and every WR position as a jump ball, matchup weapon.
Grade: B-
Shaw is a good prospect for creating matchups in the passing game and Iowa State has shown the ability to make the most of a guy like that. They need other types of TEs for their system as well but they've been loading up every year so I don't think it'll be an issue.
Wide receivers
As a primarily play-action team, Iowa State wants guys that can do damage down the field but run-centric spread squads always want the slot WR who can command attention running slants and bubble screens off runs as well.
Carson Schleker: 5-9, 175. 3*** from Allen, TX (Allen)
An 11.19 100m track star (translates to about a 4.6 in the 40), Schleker is also a state champion from the Allen team I broke down recently. Schleker left zero impression on me from that game, I don't even know if he played or not, and I think he might have been injured. He's pretty under the radar overall since he played on a team that pounded the ball on the ground, has an overrated QB (Grant Tisdale), is only 5-9, and had a 5-star WR also on the team. All of that made him a perfect target for the Cyclones, who just landed a true burner with some nice moves for running vertical routes that will translate nicely from the slot in their play-action game.
Tayvonn Kyle: 6-0, 165. 3*** from Valdosta, GA (Lowndes)
Blazing fast uber-athlete, probably even faster than Schleker, who lives to execute juke moves in space either with the ball in his hands or to blow by a DB to get open down the field. He shows a few nice moves for burning off coverage on film but at 165 I'm sure he'd be nearly worthless against press coverage.
He's a great prospect for them to develop down the road as a space player and possible vertical receiver.
Joseph Scates: 6-3, 180. 3*** from Dayton, OH (Dunbar)
I was amused by how often Scates included impressive kick returns that were made all the more impressive by Scates' need to recover from initial misplays on the ball. Between his kick return juggling act and multiple cradle catches on film, you have to wonder about his hands and how reliable he'd be against college coverage defenders. Where he shines is his ability to accelerate in a straight line. He's not ultra quick laterally but he's a nightmare if he has enough room to accelerate through. He could grow into a down the field weapon.
Grade: C-
The Cyclones 2017 WR haul wasn't terribly impressive either but this group at least includes some real speed and with Sean Shaw as a potential outside matchup weapon they have a growing number of guys that could be made effective by their schemes if they can run the ball effectively.
Offensive line
Iowa State wanted to run the ball effectively last year and worked hard at it but just weren't that great overall, because their OL wasn't that good. At least not in run blocking, they were basically a group of "obstacles" that were good at working in cohesion to present a non-scalable wall in pass protection. They were also solid in their angle blocking schemes that allowed them to block down and pull, but the team just lacked guys that could win 1-on-1s. Their 2017 class was big and impressive, it'll be interesting to see what happens when Campbell's lines are totally built out of Campbell recruits.
Joey Ramos: 6-5, 305. 3*** from Glendale, AZ (Deer Valley)
Ramos played LT in high school but I don't think Cyclone fans want to see him play that position in Ames. He has a ton of punch and recorded lots of pancakes from well timed upper body strikes that upended high school opponents. He's solid in his pass drops and reasonably quick but I don't know if he has the quickness to hold up against better athletes without help, so he'll probably end up at RT or inside at guard.
Trevor Downing: 6-4, 295. 3*** from Creston, IA (Creston)
Downing is a highly skilled run blocker who's good at getting fit and keeping his feet moving, even though he has the sheer size to just bully people out of his way. I don't know if Iowa State has had many guards like this who can get low and drive people out of the way (although he really excels with angles, like any other OL) and they will probably be better at their preferred schemes in the future when guys like Downing are the majority.
Zach Ross: 6-3, 300. 3*** from West Des Moines, IA (Dowling Catholic)
Ross' senior film intrigued me and caused me to look up the back story. Evidently he was another brilliant, mauling guard as a junior who helped lead a phenomenal team and then had to miss his senior year (save for what you see on the film) due to an ACL tear. By all accounts he was a team leader who imposed his own relentless and aggressive work ethic and style on the team despite spending his senior year on the sideline. He could probably fit at either guard or center.
Grade: C
I think the fits here are good and this staff has definitely shown the ability to build units that work well as a team, which is the name of the game on OL. They'll punch above their weight as players but as prospects they are pretty much league average. I'd have bumped them up another letter grade had they signed a guy that projected as a potential LT.
Defense
Defensive line
I'm not entirely sure what the plan is moving forward for Iowa State. I think they still intend to base around the 4-3 Under with lots of tweaks and adjustments to make it spread-relevant but they had a ton of success last year running a 3-3-5 with a nose and then two 4-3 DEs playing mostly as 5-techniques. If nothing else it seems clear that they want DEs that can set the edge and rush the passer as well as a nose that can force a double and then perhaps they are flexible about whether or not they have a 3-technique or not.
Will McDonald: 6-4, 220. 3*** from Waukesha, WI (North)
McDonald is a total steal, I was really curious how they stole him out of Wisconsin. His 247 page says that Wisconsin didn't even offer (they are a 3-4 team and he's more of a pure 5/9 technique) and then no one else but New Mexico bothered to offer. Unless he's a grade or character risk we're left to conclude that Wisconsin is just really poorly evaluated, and there's more than enough reason to believe that anyways.
McDonald is an absolute terror on the edge with highlights where he bends around the corner past helpless tackles, clips where he stops the outside option on the zone read and then still chases down the back, and clips where he bends around the tackle in the pass-rush, finds a RB waiting to chip him, and then bulldozes the back en route to a sack or hit on the QB. He also makes lots of tackles in pursuit, just a fantastic all-around DE prospect.
Michael Rose: 6-4, 215. 3*** from Broadview Heights, OH (Brecksville-Broadview Heights)
Rose is listed as an LB and he plays some middle LB on his film but he also spends a good amount of time as a 4-3 DE and given his height and frame, I think he's more likely to end up as a 6-4, 250 pound DE than a B12 LB. We'll see.
He has some nice lateral quickness to him but it's his first step that is really impressive. He's really effective charging downhill through OL either from LB or DE and he relies on that to do a lot of his damage. When he has some technique and strength added to the formula he could be a really effective DE.
Isaiah Lee: 6-1, 295. 3*** from La Grange Park, IL (Nazareth Academy)
Lee is another good nose tackle prospect. I'm not sure if he's really 6-1 but he's very quick off the ball and has a nice swim move that makes it very hard for opponents to get a clean block on him. He splits a few doubles on film and usually blows by centers if they don't have help for TFLs, sacks, and hits on the QB. He could definitely force some doubles, if he can learn to survive against them without losing his wind he'd be a great fit up front for the Cyclones.
Zach Petersen: 6-4, 225. 3*** from Eldridge, IA (North Scott Senior)
Petersen has a good motor and frame for DL if not quite the first step off the ball that these other guys have. He plays really aggressively and mean as well, Iowa State probably wants him on their roster as a local boy that will help instill the right culture if nothing else. He has some nice upside though if that frame fills out to 250+, he wrestled in high school and could play 4i or farther inside after a redshirt and some time in the weight room.
Grade: B+
There's maybe only one amazing stud in this group (McDonald) but they are all value takes and have clear fits in the Cyclone system. I really think Campbell would be well served by sticking around in Ames until these classes grow into upperclassmen. Word on the street is that he wants one of the blue blood Midwest jobs, meaning Ohio State, Michigan, Penn State, Notre Dame, etc.
Linebacker
Last season the Cyclones played a pair of fast, small, aggressive OLBs in Willie Harvey and Marcel Spears bookending "the Chief of Police" Joel Lanning at middle linebacker. In effect, their front basically used Spears or Harvey as DE/OLBs at times (via the blitz) and Lanning as an ILB/DT (also via the blitz). I knew Campbell prided himself on being flexible with his offensive personnel but clearly he and Jon Heacock are capable of similar creativity on defense as well. I'm not sure it matters too much what sorts of LBs and DL they recruit so long as they can play the game.
Gerry Vaughn: 5-11, 205. 3*** from Tucker, GA (Tucker)
I'm always seeing recruits from Tucker so I looked up the school assuming it was something like DeSoto up in DFW, and found that to be more or less the case. Vaughn is basically a Marcel Spears startup kit, he has a safety's size and quickness but the mentality of a LB. He also played as a FB in a Permian-like Wing-T so this is basically what Boobie Miles might have looked like had he played in 2017 Georgia rather than 1988 West Texas.
Chandler Pulvermacher: 6-2, 210. 3*** from Harland, WI (Arrowhead)
Pulvermacher, in addition to having an awesome name for a football player, has some really nice film as well. They played him some at inside-backer but more at safety where he demonstrated enough range to play the ball from the deep field, come up in run support, and be a physical menace all over the field. He's definitely athletic enough to play a hybrid OLB role like Spears or Harvey (or Vaughn) but he might also grow into a plus athlete at MLB.
I was more than a little amused to find out that Iowa State flipped him from North Dakota State, I bet his other main offer was as a preferred walk-on at Wisconsin. The recruiting service folk who watched him and McDonald were wise enough to slap 3-stars on them because they are both fantastic prospects despite their lack of offers. I don't know why other schools aren't peering around in Wisconsin more.
Grade: B
Another pair of good, true LB takes for Iowa State. Considering the fact that it's hard to play good defense of any sort without really good LBs (your first line of support), it's amazing that you don't always see very good LB recruiting from the Big 12. Perhaps it's because the kinds of guys that project as college LBs don't play that position consistently in high school.
Defensive back
From a few years of watching Iowa State and Toledo defenses, the cornerback who can force the edge against the run and tackle is a mainstay in every single one. Last year the Cyclones basically played four lighter guys that were solid and versatile in coverage but also willing tacklers. Then they also played Kamari Cotton-Moya, who was a physical enforcer that could support the run as a box safety or play over the top. They lose Cotton-Moya for next year which is one of their bigger holes to fill on defense. Going fast and light on defense doesn't work great if you don't have a box safety that can play between the tackles and support the run.
OJ Tucker: 6-1, 190. 3*** from Ocala, FL
Tucker is the perfect example of the kind of guy that Iowa State knows how to make the most of. Do you want to leave him on an island against OU's no. 1 WR? No. Is he capable of playing a team/zone concept, erasing windows underneath with help, and making tackles in the flats? Yes, very much so.
Greg Eisworth: 6-0, 195. 3*** from Athens, TX (Trinity Valley CC)
Eisworth was an Ole Miss commit out of high school, had some injury problems, and then transferred to Trinity Valley before signing with Iowa State. One of those two years is counting as a redshirt so he has three years to play three seasons with the Cyclones.
Eisworth is your KCM replacement. He's big and physical and excels in hook-to-curl zone coverage, robber quarters, or supporting the run and shooting through the wash. I think he may start immediately and he's already enrolled.
Jaeveyon Morton: 5-9, 180. 3*** from Detroit, MI (MLK)
Morton posted SPARQ numbers of a 4.65 40, 4.2 shuttle, 33.5″ vertical, and 36.5′ power toss. Absurd explosiveness that he utilized as a corner, slot WR, and safety in high school. With his compact build and speed, Morton was very comfortable playing run support as a safety in high school and could probably also play nickel or strong safety for Iowa State as well. His hips are too fluid though not to utilize in coverage so I imagine he'll start at cornerback.
Dallas Taylor-Cortez: 6-2, 170. 3*** from West Hills, CA (Chaminade)
DTC shows some nice thunder in his press coverage which would translate nicely to Iowa State's trap coverages, I'm not sure if he has the athleticism to play bump and run without help on top wideouts though. He's a willing tackler and can play over the top and break on the ball, making him another nice all-around project for the Cyclones.
Anthony Johnson, Jr: 6-0, 170. 3*** from Saint Petersburg, FL (St Petersburg)
Another guy who looks pretty thickly built on film and plays physical both in coverage and against the run. I think he's more likely to end up at safety than Morton or DTC, he looks most comfortable playing the run, but we'll see what they make of him.
Grade: C+
The Cyclones' formula for success is largely about fielding big guys that can control the trenches and then setting up their skill athletes for success with numbers and angles, either on offense or defense. So the recipe for building secondaries is basically to grab well-rounded, physical athletes in sufficient numbers to be able to build packages. A true impact safety or lockdown corner is an invaluable tool but other than that, it's about meeting a certain baseline. Eisworth is a foundational piece, these other guys look like useful cogs for the Iowa State machine.
Finally, Campbell also signed the following walk-ons:
Will McElvain: 6-0, 185 pound QB
Shane Starcevich: 6-0, 160 pound QB
Beau Coberly: 5-11, 165 pound WR
Zach Shipman: 6-2, 180 pound WR
Morgan Bartman: 6-4, 240 pound TE
Matt Seres: 6-2, 250 pound OL.
Kendrick Harris: 6-0, 210 pound LB.
Kendall Jackson: 6-2, 220 pound LB.
Jared Rus: 6-2, 205 pound LB.
Mason Skovgard: 6-4, 230 pound DL.
Miles Rupiper: 6-2, 170 pound DB.
Ryan Reighard: 6-0, 200 pound DB
I believe Bartman was from Nebraska and everyone else was a local, Iowa kid. Campbell is committed to using walk-ons to build out their roster depth and to make sure that the program has a distinctly Iowan flavor, meaning hard-working Midwestern kids that could have upside with college S&C but also help to ensure your program has the profile of a hard-nosed, physical team.