So the Oklahoma Sooners' prospective starting QB has been selected no. 9 in the MLB draft.
#Athletics select OF Kyler Murray with 9th overall selection of 2018 MLB First-Year Player Draft out of the University of Oklahoma.

Details: https://t.co/deAc94Qhyh pic.twitter.com/ofSBCi3TtC

— Oakland Athletics ??⚾️ (@Athletics) June 5, 2018
However, reporting by Jake Trotter suggests that while that slot often commands as much as $5 million, Murray is still going to return to Oklahoma to play football this fall.
I made Murray confirm that he said, I will be playing football this year. Kyler's response? "Confirmed." Said he's already discussed with the A's

— Jake Trotter (@Jake_Trotter) June 5, 2018
And from the A's…
A's scouting director Eric Kubota, on drafting Kyler Murray: "The risk of football was outweighed by the upside on the baseball field. … We were totally on board with his desire to play quarterback at Oklahoma. Frankly, we're kind of excited to be Oklahoma fans."

— Jake Trotter (@Jake_Trotter) June 5, 2018
Before seeing these comments I was still fairly suspicious. Murray is, after all, the guy who visited Texas and tweeted a picture of a #1 Longhorn jersey to squeeze Kevin Sumlin and leverage a different deal at Texas A&M. I'm not sure what he was looking for from Sumlin, assurance of playing as a freshman or assurance of being allowed to play baseball? Anyways, he left after a single season as did his competitor Kyle Allen, leaving Sumlin broken and needing Trevor Knight to keep him going until his inevitable firing.
However, these comments by Murray and the As make it seem like this isn't a leverage play on Oakland but instead some kind of negotiated deal in which the A's will probably sign Kyler to a smaller contract then that position demands so he can live the dream as a Sooner QB for one year before finally accepting his fate as a baseball player. It's hard to tell if this is spectacular hubris/delusion on the part of Murray or just the actions of a confident young man who has it all figured out but is willing to take some risks.
This raises some questions though for the Sooners this summer and fall.
Question 1: Will OU football have Murray's full attention from here on out?
Murray and co have been eliminated from the college baseball postseason so the expectation from Lincoln Riley is evidently that they'll finally have Murray's full attention through summer and fall until next spring when he finally exchanges cleats for good.
But you have to wonder…
Now that Murray knows that his baseball future is set, will he really be able to give his full attention to a physically and demanding exercise like leading the Sooner football team in a period when the Big 12 title is an annual expectation?
Murray has never had to devote Baker Mayfield-like attention to football, nor has he had the time to do so yet, but is he going to be able to flip that switch and approach this season with a championship-caliber mindset when he knows it's a "one and done" season?
There's no doubt that Murray's capacity is high, his performance balancing OU spring ball with the Oklahoma baseball season was truly impressive and he's a special athlete, but how comfortable and familiar will he be with finally devoting his attention entirely to one thing? And then to something else?
Question 2: What happens if/when Murray gets some bumps and bruises?
It's not really possible to play a full season as a starting Big 12 QB without taking some licks and cuts. Part of every player's journey of growth in this game includes knowing how to make use of the training staff, how to stay in game shape when opponents are gunning for you every week, and how to play through some injuries.
That last detail can be a disturbing element to this game but there's no doubt that it's currently a feature to the enterprise.
Murray ain't big either, measuring in at something like 5-10 or 5-11 (I've been reliably informed that the 5-8 to 5-9 measurements are more of a meme than a reality, he's not that tiny) and 190 or so. He's pretty strong and had enough stamina to balance baseball with spring practice, but how many shots can he take while trying to hang in the pocket before he starts to question his own commitment to football with millions of dollars on the table in baseball?
There's going to come a point in the coming year when Murray has some kind of injury or another and he has to determine if he wants to play through it for the potential glory of being a winning OU QB or if he wants to shut things down and avoid the risk of making it worse.
He's already shown he'll take a big risk by playing football this fall at all, but let's not pretend that the variables won't change once he actually has a stinger, or strained shoulder, or concussion, or worn down knee.
Question 3: How committed will Murray be to football when Breckyn Hager is bearing down on him?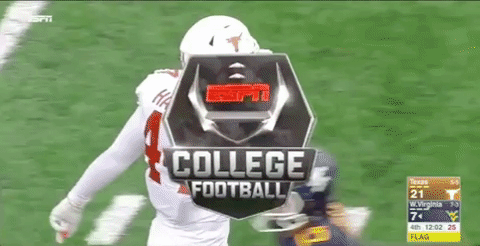 Will he even be willing to take shots to deliver passes from the pocket? Is he going to fight for first downs or look to get down and protect a body that has been valued in the millions for what it can do on the baseball diamond?
There's the question of how willing Murray will be to incur the risk of exacerbating existing injuries and then there's the question of how aggressive he'll be on the field and how much of those injuries he'll be willing to risk.
Finally, how much influence will the Oakland A's have over all of these decisions? I think the contract that Murray signs will reveal a lot.
Meanwhile, the path to replacing Mayfield's production at QB becomes that much more complicated in Norman and the honeymoon as HC of the Oklahoma Sooners is nearing its end for Riley.