I tinker with positional designations and roles a lot, typically trying to capture the evolving nature of the game in the Big 12 and the roles that are emerging. I wrote up a glossary for positions a few years back and then for formations more recently. But then my preseason All-B12 team included the "shock trooper" in addition to my other little terms and understandably it's not necessarily that intuitive to everyone what exactly I'm talking about.
So, I'm going to give a team by team run down of the various positions that you find in the B12:
The Texas Tech, Kansas, TCU Air Raid offenses
The main Air Raid teams typically feature this kind of set up on offense:
You've got your space-back in the slot where he's in position to stress a LB with run/pass responsibilities, some possession receivers in the other slot and outside (maybe one of these guys is a second iso-type) to run route combos together, and then your iso receiver isolated on the boundary. The goal is to force the defense to figure out if they want to shade help to the space-back and three WR side or keep a safety to help cover the iso-receiver.
They don't use an ancillary as often and the RB isn't as big a feature to the offense. The OL are chosen for pass protection so in these systems the "recruit all tall tackles and move the slower ones inside to guard" tends to work out better.
The Oklahoma State, West Virginia, Texas, Iowa State, Baylor Kansas State spread-iso offenses
Holgorsen's influence is pretty strong for both Okie State and West Virginia since he coached at both stops. Texas gets up to some similar tricks.

The ancillary is a much bigger feature here because these teams want to get into two-back sets or TE sets that allow them to run the ball downhill and then throw it to the perimeter or down the field off the run action.
The space-back still tends to align in the slot or they may use a possession receiver there and then a second iso-receiver outside of him depending on the team and their personnel in a given year. The top iso receiver still often ends up in the boundary although OSU and WVU will just leave that guy on the right side at all times in more true Air Raid fashion.
Kansas State does their own thing by using a FB and a TE and running the QB but many of the principles and aims are the same. Run the ball, create one-on-one matchups in the passing game, then chuck it deep.
A crucial development is the fact that if you use an ancillary, teams will typically cover down on that slot receiver and deny the quick screens and passes that make the space-back a useful player in that role. So nowadays these teams are using a possession receiver more to beat man coverage.
Baylor will get into traditional I-formation looks now and again and run the ball that way but their main thing is a variation on the spread-iso stuff where they use an ancillary like the other teams listed here.
Oklahoma's innovative approach
The Sooners are different. For years they would blend a primarily Air Raid approach that was at its best with a pro-style TE that could run routes like a wideout with regular utilization of a FB or blocking TE for run-heavy packages.
Then Lincoln Riley arrived and pared down their personnel packages pretty substantially to carve out more precise roles.
They use a flex TE as the possession receiver, then play the space-back off the line on the outside. Then they still use a fullback/H-back guy as an ancillary inside to diversify their run game, help protect the QB, or move around to be an occasional target or mobile blocking surface.
Probably more teams will play it like this, technically Texas is basically already there since they'll be using 6-4, 230 pound Lil'Jordan Humphrey as their possession receiver in the slot while playing 6-3, 260 pound blocker Andrew Beck inside as the TE.
The TCU defense
Things are going to get complicated now so hang in there.
Across the DL they play with two DEs that are nowadays often more like 3-4 OLBs in terms of their size, athleticism, and skill set (they can stunt and drop into coverage at times). The nose and DT are pretty traditional still.
At the next level, they play CBs like everyone else but inside things are different. Their "strong safety" is a sort of hybrid who will play some man coverage at times, move into the box to help against the run at other times, or play as a rover in the flat. Generally this guy is something of a "box safety" but he may also be a "cover safety" depending on the personnel and the given year. Patterson is fairly flexible.
The "sam" LB is their space-backer, sort of a LB/S hybrid who's asked to fill the role of a LB but to do so in wider spaces than a traditional LB would be asked to play in. That's the role Travin Howard played that I'm projecting Juwuan Johnson to fill. The "mike" LB is just a typical inside-backer and that's where Ty Summers fits.
Their "free safety" is the guy who plays behind the strong safety and he'll vacillate between being more of a support safety over the top or a cover safety replacing the strong safety when he ventures into the box. This was Niko Small last year and he was more of a support guy over the top. The weak safety sometimes plays in the box, sometimes plays over the top, they had Nick Orr here last year and he did some of both.
The Baylor defense
I did a longer breakdown of their scheme earlier this offseason but I'll touch on a few things here for the positional breakdowns.
When they use a 4-3 they'll really use a cover safety as the "sam LB" and then a box safety as the "will LB." At "mike LB" they've tended to use a traditional inside-backer although they will ask him to drop down the pipe in Tampa-2 so it's not like they're playing a 6-3, 250 pound plugger there.
Like TCU or any other modern four-down defense that plays against spread offenses, those DEs need to have a 3-4 OLBs skill set.
The Oklahoma, Texas Tech hybrid defenses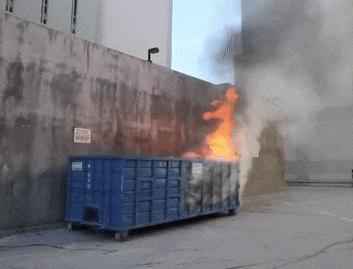 JK, here's how things seem to be shaking out for the Sooners next year.
They seem to be moving towards more of a hybridized D rather than the mess of a 3-4 they trotted out a year ago. Freshman nickel Brendan Radley-Hiles is being asked to save their defense, which always goes well, and he'll play a sort of cover safety role most of the time. Their strong safety is sort of an additional cover safety and whichever of the SS and N is the better run defender may get some action as a box safety. The free safety will probably serve as either a box safety or a support man over the top.
Down in the box they have a strong side end in a 4i-technique or 5-technique and then a DT that's either in a 4i or a 3-technique and then the nose. They use a 3-4 OLB on the boundary that I labelled as an edge-rusher here. He's sort of a shock trooper though in many respects. They're moving Caleb Kelly to the "will LB" spot and SHOULD be using him as a shock trooper that regularly inserts as a blitzer. Kenneth Murray is their inside-backer.
Texas Tech does something very similar but they play a space-backer as the nickel and support him with a deep cover safety over the top and then make their mike LB play out in space some as a de-facto space-backer even though he (Jordyn Brooks) is 6-1, 240. In a related story, Tech was sturdy against the run last year but got killed by the pass. They should play Brooks as their rush end next year, play Justus Parker as the mike, and then get another safety on the field.
The K-State/Okie State/Kansas defensive system
They're running something similar to each other now, unless Seiler is changing up the K-State D.
The nickel is now a cover safety in this scheme rather than a hybrid guy that plays in the box or on the edge like the TCU player does. They play four-down like TCU although both OSU and K-State tend to play more of a true strongside DE.
K-State uses a space-backer now as one of their LBs, or at least an extra-quick inside-backer, we don't yet know how OSU will handle that position although I think they should use Calvin Bundage there rather than continuing to trot out two inside guys. Their safeties are both support-types that will rob in the middle and support the run pretty aggressively if not quite to the degree of a box safety.
As I explained in my post about the new OSU D, by playing a cover safety in the nickel who covers down on the slot, it frees up the SS to play more downhill because he's not carrying a vertical without help underneath on a running play.
Kansas runs similar stuff although they'll attack the edge more with their nickel, move the DL around a ton, and play their LBs at depth to keep them clean and to try and avoid giving up big runs.
The West Virginia 3-3-5
The Mountaineers call their cover safety "the spur" and he does a lot of things but he's mostly a cover safety. They're moving Dravon Askew-Henry there this season. The two safeties split their time between dropping down into the box or rolling deep for the most part. Their "sam LB" is a space-backer, their "will LB" is more of a shock trooper that will crash into the line a lot (hence David Long's high TFL total), and their "mike LB" is more of a true inside-backer.
The futuristic 3-2-6 of Iowa State and Texas
Technically ISU played a 3-3-5 last year but their OLBs ran 215 and 220 apiece so…it was basically a dime much like TCU's "4-2-5" that trotted Howard out at the Sam LB spot.
Both Iowa State and Texas will move their DEs around situationally, sometimes using them as strongside types in 4i-techniques like drawn here but other times allowing them to play more like an edge-rusher outside.
My suspicion about this season is that Texas is going to go full-bore into using one of their inside-backers as a "shock trooper" who spends a lot of time crashing into the line of scrimmage to create a four-man front. That'd be Malcolm Roach.
Iowa State will probably just play a pair of inside-backers using Reggan Northrup (perhaps) and then the estimable Marcel Spears. Texas uses more of a nickel outside whereas Iowa State uses "space-backer" Willie Harvey out wide, both teams play support safeties over the top with the boundary guy often doubling as a box guy from time to time. Then there's the "robber" box guy in the middle who gets to serve as a rover and free hitter in the middle of the field. Texas isn't sure who will play there yet, maybe multiple guys, whereas with Iowa State it'll probably be either Greg Eisworth or maybe Lawrence White.
These Ds are similar to the WVU scheme except they play quarters where the Mountaineers are more of a cover 3 team and they use the box safety/robber a good deal more than WVU. The Mountaineers also gamble quite a bit more.