As a close follower of the Texas Longhorns, my starting assumption to the question of whether you can recruit a top defense is "no, you cannot." Texas has regularly recruited at the highest level in the Big 12 this decade and also put some pretty bad defenses on the field in that time.
However, Texas has also put some of the decade's best Big 12 defenses on the field with top S&P+ finishes in 2011, 2014, and 2017. What always stood out to me about those finishes for the Texas defense was that those were the seasons in which a particular class of interior defenders were seniors.
In 2011 Manny Diaz stepped in and inherited NT Kheeston Randall, ILBs Emmanuel Acho and Keenan Robinson, and S Blake Gideon, all of whom were seniors and all of whom had already played a lot of football. Between those three guys and junior safety Kenny Vaccaro you had your four leading tacklers for S&P+s 9th ranked defense and the second highest rated D in the conference.
Then those guys all graduated and Texas struggled for the next two seasons.
In 2014 Charlie Strong came to Texas and inherited a crew that included junior NT Malcom Brown, ILBs Jordan Hicks and Steve Edmond, and N/CB Quandre Diggs and S/N/CB Mykkele Thompson. The senior LBs led the team in tackles, Diggs and Thompson had strong seasons and then were drafted to the NFL (as was Brown), and the team finished 8th in S&P+ and ahead of the rest of the Big 12.
Those guys all left and Texas fell apart on defense again over the next few seasons.
In 2017 Tom Herman arrived with Todd Orlando and they inherited NT Poona Ford, junior LBs Malik Jefferson, Anthony Wheeler, and Gary Johnson (recruited from a JUCO), and a blue chip secondary filled with third year players like Holton Hill, Kris Boyd, and DeShon Elliott. They finished 21st in S&P+, second highest in the Big 12, and the highly experienced tandem of Poona Ford and Malik Jefferson in the middle of the field owned the season.
I could do a similar exercise with TCU and show how their S&P+ finishes have waxed and waned with the experience level of the middle of their defense. Instead, I decided to collect a few bits of information on the league-wide defenses of 2017. I collected the 11-man starting lineups on D for each team as best as I could and averaged out both their recruiting ranking per 247's composite scores AND the number of years they'd spent in college football.
Quantifying experience is pretty hard, most dudes are better in the long run if they play early and learn lessons by taking part in gameplans, competing in games, and having direct responsibility for outcomes. Other guys are better off if they have a redshirt and sometime to remake and develop their bodies before being asked to take the field. Then there's the XP gained by being coached D by Gary Patterson for a few years while redshirting and practicing vs the XP gained while playing regularly at  JUCO but not while under Gary Patterson. Overall I think years spent in a college program tells a solid story whether or not the guys have played a ton.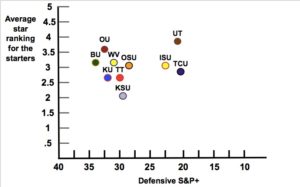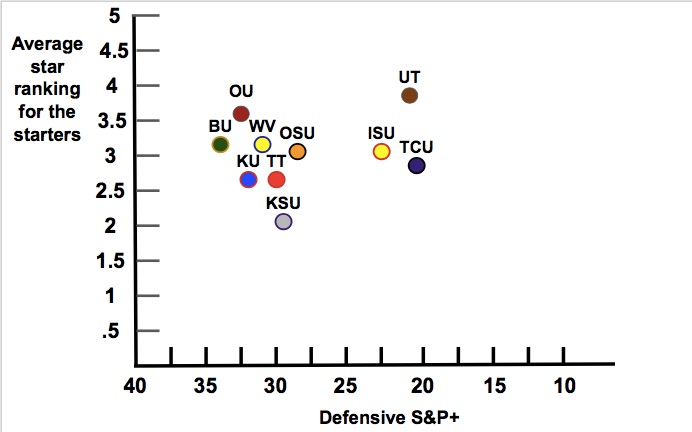 Originally I tried to look at this by examining the average star ranking of DL recruits for every team over three years but quickly found that there was little to no correlation there either between good defense and star ranking. The consistent problem has been that Texas and OU always recruit the highest ranked players and don't always play even good defense while TCU rarely recruits competitively ranked players but consistently rank amongst the league's better units.
Obviously most of the league is clustered around the "we recruit mostly 3-stars and we give up around 30 points (adjusted) a game."
Iowa State, TCU, and Texas all broke out of the pack and the former two did it with pretty standard talent levels (per rankings) while Texas did it with their usual blue-chip laden roster. Here's a look at how these things shook out by experience level.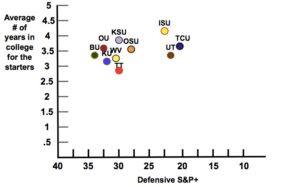 There's a few interesting things here to note. The first is that things are still mostly clustered this time around the "we play mostly third and fourth year players and give up around 30 points (adjusted) per game."
There's a few things on here that both dispel and prove the "talent matters!" perspective. One is that you can see how K-State jumped up above most of the league on the Y-axis by virtue of playing a lot of fifth year seniors so the argument could be made that their higher level of experience negates the recruiting ranking disadvantage. Especially since the 2017 K-State roster included a large number of former 0-stars that were walk-ons.
On the other hand, you can see that Texas was in some sense less experienced than Iowa State or TCU but "made up for it" with talent. However, Texas' "inexperienced talent" included a ton of third-year players who'd been starting for multiple seasons so the idea that talent overcame a lack of experience isn't that strong an argument for explaining Texas' rankings relative to TCU and Iowa State.
So what's the common thread?
The common thread is this, the three teams that played base dime defense (if you count Travin Howard at 210 pounds as a LB/S hybrid) are the teams that broke out of the pack from the rest of the league.
My second assumption going into this was that culture was the big delineator, that the teams that really emphasize defense in their culture and practice regimen are the teams that consistently perform well on defense regardless of talent and experience level. However, in that event Kansas State should probably rank higher more consistently and they don't, neither in 2017 nor over the course of the decade.
Additionally, that doesn't really explain either Iowa State or Texas' superior play in 2017, particularly given that neither performed well in 2016 and Iowa State was in a similar culture. I do think these three teams place a higher value on defense in their culture than the rest of the league, save for K-State and maybe West Virginia, but that wasn't the crucial factor in 2017.
The 2018 season is going to be fascinating because we're going to be able to add more variables here if and when TCU, Iowa State, or Texas fails to play as much dime defense while some other Big 12 program gets wise and runs with a base dime structure. As for 2017 though, having both talent and experience was helpful but regularly playing with tiny LBs was worth almost 10 points (adjusted) per game. Wow.
So when you're evaluating your team's recruits this summer, a key factor you should be looking at is how many DBs they are signing. Everything else is arguably just noise.