Drawn in by that Mike Stoops press conference, I offered some commentary the other day on the shaping of Oklahoma's 2018 defensive identity. An important note within that piece was the fact that the Big 12 is likely to feature a lot of multi-pronged rushing attacks next season and most of Oklahoma's question marks center around whether they'll be able to control the center squares of the chess board between the hash marks.
Since that's a particularly relevant topic for everyone this year, I decided to go ahead and do a little scouting of the whole league. Everyone handles the stresses of all the varying spread rushing tactics differently, for Oklahoma a big piece to the puzzle is leaning on having great athletes and playing man coverage so as to free up the guys inside to focus on the ball. The Kansas State Wildcats are all about that bend don't break zone life.
However, there are still a few key personnel features that make for a good run defense against any style. The nose tackle who can help hold the point of attack and command or resist double teams, the inside linebacker who hits the right gaps and beats blocks, and the support safety who can tackle in the open field.
Let's begin…
Oklahoma
We'll touch on them one more time from this paradigm.
Nose tackle: The Sooners moved Neville Gallimore inside to fill this role for 2018. I've liked Gallimore since he was a surprisingly nimble 300 pound Canadian and he showed on tape regularly last year as a guy that was hard to move around.
Inside-backer:Kenneth Murray is the guy here and he's apparently spent his offseason rewatching the Georgia game repeatedly and studying Luke Kuechly. That's all fine and well but I talked to him at B12 media days and didn't exactly get a clear sense that Oklahoma is resolving their issues with run fits. He's a talented kid that wants to be great, so that's a great start for any defensive player, if they can clear up all of their defenses for him and his teammates this could be a strength as well.
Safety: This is the big question mark for the team, as I outlined the other day. I don't really trust Murray/the staff to consistently have their LBs executing a consistent plan for keeping runs funneled to help but I REALLY don't trust their safeties to do the same from depth. We've covered this a lot, let's move on.
Prognosis: Shaky. They have the talent, they always do, but the total is somehow always smaller than the sum of the parts.
Iowa State
The most important story that isn't well discussed around Big 12 media is whether Iowa State will have a good run blocking OL this season. If they do, this team can win the Big 12. Their run defense is a little more clear cut.
Nose tackle: Ray Lima was great last year, his numbers didn't show much but he consistently caused disruption and tied up blockers at the point of attack to free up the Cyclone LBs and Ss in their 3-3 dime structure D. He's back and they have more coming up behind him, including massive Poly Kamila Tongamoa who seems to be rounding into shape and form.
Inside-backer: They'll probably at least be okay here because will Marcel Spears is back after a 105 tackle, 16 run stuff season. They have to replace the Chief of Police Joel Lanning, who took well to Mike backer after moving from QB. They'll either turn to savvy and experienced OLB Reggan Northrup, who's only like 6-0/210 btw, or RS freshman O'Rien Vance who's more of a traditional ILB.
Safety: The Cyclones are starting over here but they secured JUCO Greg Eisworth, who's a good tackler in the middle of the field, and they're pulling off another interesting move this fall. Onetime 1k-yard freshman rusher Mike Warren has been repping at safety this fall in emulation of former teammate Joel Lanning. It'll be fascinating to see if he shows up in games early in the season.
Prognosis: Very good. They have a culture that demands sound and tough defensive play in Ames and Campbell is constantly tinkering and moving guys to try and squeeze every drop of talent from his roster. Also the talent ain't bad, Ray Lima and Marcel Spears are as good as anyone in the league at their respective positions.
Kansas State
We all know they'll be fine in THIS aspect of defensive play but let's cover it quickly anyways.
Nose tackle: They're losing an excellent college player here with Will Geary finally graduating after three years of clogging offenses with his fireplug, former wrestling champion frame. Trey Dishon is now a RS Junior who played well last year, they'll be fine.
Inside-backer: Last year one of the stories around K-State was whether they'd be okay at LB after replacing Mike Moore and Elijah Lee. I had some questions about whether they had an athlete that could cover ground like Lee but zero doubts about whether their play against the run or at ILB in particular would suffer. Sure enough, Jayd Kirby and Trent Tanking held things down really well last year. The Wildcats plug in fourth year players at this spot every year and Elijah Sullivan, Daquan Patton, and Sam Sizelove is as good a rotation as you'll find.
Safety: Kendall Adams and Denzel Goolsby are both back and it's a fair bet to say that K-State will turn to each of them to supply run support on the reg, particularly with 170 pound Walter Neil, Jr as a nickel corner. Goolsby was solid last year in his first go and Adams has always been solid, whether they'll be great is another question but they won't be a sieve in run defense.
Prognosis: Very good. Kansas State makes run defense a big priority in their culture and are always plugging in multi-year veterans that understand how the system works.
Kansas
Nose tackle: The Jayhawks have Daniel Wise but they like to move him around to boost the pass-rush. Things are a little shaky after him.
Inside-backer: Joe Dineen knows how to find the football, obviously. They like to play him at a little bit of depth so that his ability to read flow and run allows him to come free to the ball. It's a little shaky outside of Dineen.
Safety: The Jayhawks have talent here too, although they seem to get caught trying to run down guys that are squared up and flying downhill. I haven't spent just a ton of time diagnosing the Jayhawks' defense but they are prone to boom or bust plays.
Prognosis: Terrible, of course.
TCU
Like the Wildcats, the Frogs are known for cranking out tough run defenses every year.
Nose tackle: This quickly went from a major strength to a big question mark when Ross Blacklock was lost for the year. I don't know what they're going to do here although I'm sure movement and stunts will be a part of the formula. They have young talent but it's hard to find guys that can just legitimately stand up advancing OL, particularly in the underclassmen ranks.
Inside-backer: This should be okay…I wonder how much Ty Summers will play here as opposed to DE. When he's at LB they have one of the best inside-backers in the league on the field. When he's at DE they need another guy that can reliably plug and help funnel the ball to the speed they have elsewhere, probably between Montrel Wilson and some other increasingly more experienced players they have good options.
Safety: This is typically where the Frogs stand out. Innis Gaines is a very promising dude who probably figures prominently in their plans for run D in 2018. I'm curious to see what they'll do at weak safety which is often a key position for their run support structures.
Prognosis: Good not great. Gary Patterson isn't going to allow this team to be bad at run defense but being great is hard without having great players. We've seen the Frogs take their lumps from teams that could run with balance before.
Oklahoma State
Nose tackle: The Pokes figure to have Darrion Daniels looking to hold the point this season. He had a solid 2017 while playing off the much more disruptive DeQuinton Osborne and now it's his turn to try and be the impact player.
Inside-backer: The 'Pokes have Justin Phillips returning here after a solid 2017 at will linebacker and then Calvin Bundage moving inside from nickel. They have some good range here now and both guys have been playing for a while, even if the schemes are changing. If anything, they'll probably be freed up to play faster in the new defense.
Safety: Here's the big trouble spot. Big Kenneth Edison-MacGruder is taking over the boundary safety spot that was manned for years and years by Daytawion Lowe, Jordan Sterns, and then finally Tre Flowers for a single season. MacGruder! seems like a good piece to the puzzle but the other spots will be manned by youngsters.
Prognosis: Solid. There's a lot in flux here, everyone is playing new positions in a new scheme and it's not obvious that anyone is great even if everyone is solid.
Texas
The Longhorns look like they'll be dominant on D in 2018 but the run D is less the obvious strength than the pass D.
Nose tackle: Texas has Chris Nelson here, a very sturdy DL who was useful a year ago against the stouter offensive fronts on the schedule, and then emerging talent Taquon Graham. The younger Graham was recruited as a 4-3 DE and is now at about 285 or so and starting to offer the kind of disruptive play inside that Poona Ford brought in 2017. They won't be as good here as last year but they're a long ways from bad.
Inside-backer: Texas has former JUCO Gary Johnson ready to run wild behind the "tite front" scheme that frees the LBs to scrape hard to their keys. Next to him they have a variety of guys that are big, have been around a while, and haven't sorted themselves out yet. Johnson has All-B12 potential while the other guys should be at least solid.
Safety: While Texas returned loads of experience in the secondary from 2017, none of the elder statesman brought the wood like DeShon Elliott or Jason Hall who are both gone now. Instead, it seems that Texas will turn to five-star freshman Caden Sterns as the primary run support safety.
The reason Sterns was a five star is that he's a bigger and faster version of his brother, who had three consecutive 100-tackle seasons playing this position for Oklahoma State. You can see Caden here, tackling the 220-pound, Wisconsin-bound RB Nakia Watson in the playoffs last year.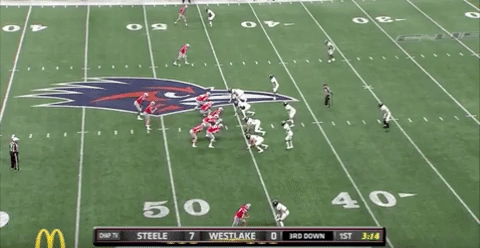 Prognosis: Very good. I hate the idea of Texas starting a freshman safety but they've gotten away with it before (2008) and Sterns seems not only the rare sort of talent who's ready to execute this position (and he enrolled in spring) but also a unique talent that plays run support at a level you don't find outside of the elites. So Texas has seniors at NT and ILB, up and coming talent everywhere, and potentially game-changing ability at ILB and S. They may not realize their ceiling this season but they should be effective.
Baylor
This should eventually be a specialty of Matt Rhule's teams but they still seem a year or two off.
Nose tackle: The Bears are in as good a shape as anyone here with Ira Lewis back after a strong 2017 campaign. Behind him they have a few different guys that could be good and probably won't be great but when paired with Lewis they offer some pretty enviable depth.
Inside-backer: Clay Johnston has been good, will he be able to stick here or will they need to move him to DE to get some pass-rush on the field? Next to him will be one of a few different younger options emerging from the early Rhule classes. They look solid here but still not ready to execute the Snow/Rhule plan for bringing Paterno-esque multiplicity and soundness to run defense. Next year? Look out.
Safety: They moved Blake Lynch back here to try and make the most of his athleticism and then have the rangy and solid Verkedric Vaughns next to him. So much here depends on how well Lynch has taken to safety in the offseason.
Prognosis: Solid. I don't think they're really going to be that great yet and still have holes elsewhere on the defense but they should be improved from a year ago and they're getting some high level coaching. If Lynch pans out in a major way, which I wouldn't count on, that could be a game changer.
West Virginia
Nose tackle: Sounds like one of the Stills brothers, whichever one is bigger, is first in line here but USC former 5-star Kenny Bigelow may factor in as well. Losing Lamont McDougle was a blow, they may be better than a year ago overall though, not that this would be saying much.
Inside-backer: This is mainly about will David Long and mike Dylan Tonkery. I'm lower on Long than most everyone else around the league, he's got some burst that makes him dangerous on stunts and blitzes at times and he's also pretty good in space, but if you get a hat on him that's the end of that. We haven't really seen Tonkery yet but given his history (bulked up, quick safety) I think maybe he'll be another guy that's good but only if well covered up.
Safety: This looks better. Kenny Robinson was solid a year ago as a true freshman, Toyous Avery is back as the bandit in more immediate run support, and behind him is my favorite Mountaineer Jovanni Stewart.
Prognosis: Bad. This team was absolutely dreadful in run D a year ago and the offseason reports of improved DL play and LB production just don't have me convinced.

Texas Tech
Nose tackle: This is the main point, they lost their starter from a year ago who's name I can't recall. They have some bodies here with size but I don't know how much impact they'll get here and given Kliff Kingsbury's overall recruiting and development we probably shouldn't expect too much.
Inside backer: This is a real strength for Tech. I think they're moving Jordyn Brooks to rush-end to get another Mike backer on the field who's name I don't recall but Dakota Allen is as good a true LB as you'll find in the league.
Safety: Justus Parker is their main guy here but he splits his time in a few different roles as the nickel. Jah'Shawn Jamison is often a support guy who's solid and probably Texas' John Bonney will become the third starter in between them who will free up either to play aggressively.
Prognosis: Solid. Texas Tech has a few legit players here and have had the chance to tinker, grow, and plug in a few new pieces in the offseason to make things better. The big question for them is whether their approach to run D will burn them too badly against the pass or not and how many turnovers their young secondary will pick up. Also, this is still Tech…
In summation:
Run defense is more about culture than just about any other aspect of a program, followed closely by rushing offense. In general the personnel is just a lens into whether a team will play good run defense. Oklahoma probably has better athletic talent than K-State at most positions on defense every year but they haven't played better run D than the Wildcats since…probably since Venables left.
Additionally, teams are still going to fling the ball around and try to score lots of points. Stopping that and keeping the number on the scoreboard down is still the name of the game, but for all that here's a good glimpse into which teams should be best positioned to handle the increased emphasis on rushing offense. After all, the teams that can stop the run will be best positioned to hold up when offenses want to start chucking it deep.