I noticed that Mike Stoops recently made a media appearance and I was drawn in like a moth to the flame:
Here's a few of the major takeaways I had from this little session:
"Steady work in progress"
The Sooners haven't yet determined who their starting lineup will be or who/what they'll build their defense around, per Mike. He had a comment about how they're going to zero in from looking at 50 guys to looking at 12-14 or some such number.
Amongst the apparent unknowns at this point:
-the starting safeties? I've heard like 8-9 names mentioned as possibilities, particularly after injuries knocked out Prentice McKinney and Chanse Sylvie from contention.
-Starting Jack-backer? Stoops made a comment about the great "freedom" they gave Obo Okoronkwo and Eric Striker within their scheme to attack opponents that they don't give to just anyone. I'd have to really buckle down and study to know exactly what that meant, off-hand I couldn't tell you what those guys were allowed to do that was indicative of freelancing or making calls on the field.
-The starting weak side linebacker? The persistent mentions of Curtis Bolton and the growth he's made that seem to come from this staff whenever someone asks about Caleb Kelly are pretty interesting, are they not? I get the sense that maybe Kelly has yet to win a first team job over the perhaps more dependable Bolton.
Overall it seems clear enough that Oklahoma is still sorting out the future of their defense and trying to figure out who they can count on to go try and win some games this fall. The talk of the town is how much more talent there is on the defensive side of the roster but I can tell you from a decade of wild swings in defensive performance at Texas that talent doesn't always translate very quickly to good team defense.
"Not having him, I think we noticed that…"
Freshman DB Brendan Radley-Hiles, "Bookie" to his coaches and teammates and "Boo Radley" to yours truly, is obviously an essential piece to the puzzle in 2018. He missed a scrimmage or two with some injury or another but he's said to be full go heading into the FAU game.
They're mentioning him as a guy that can play safety or nickel, my guess is that he'll be the down safety to the field whether that's the strong safety in the base 3-4 when they have a sam linebacker out there or the nickel when they sub that guy out. Probably they'll be in nickel considerably more this season, but that raises the question of who plays strong safety when Bookie is up on a slot.
One of the big changes when moving from base to nickel is that your strong/field safety can become more of an important piece to the run defense. I'll illustrate:
Whether the coverage is cover 4 and the strong safety is picking up that slot vertically or cover 3/man and he's dropping down over him, in either event the sam linebacker is positioned to be the +1 defender who helps stop the run. The interior six defenders are going to look to plug and spill runs outside where he's coming free.
Well Boo Radley may be used that way from time to time but for the most part, the 5-10, 190 pound freshman isn't going to be asked to be the enforcer in the run game I reckon. Instead, he'll replace the strong safety as the main guy responsible for covering down on that slot.
Now one or either safety can be the extra man who hawks down and the linebackers are rolling to the football rather than spilling it with the safeties positioned to clean things up.
With that change, which likely won't be full time as they may still mix in base 3-4 or use the nickel on the edge, you can see why Bolton's experience at LB could be giving him an edge over Kelly who's only ever known the life of a guy you spill the ball to and who didn't live that life in a particularly rich fashion.
The challenge that OU has regularly had over the years has been that they've been a man coverage team who doesn't always get guys down with their LBs, leading to hilarious highlights in which their DBs make varying levels of effort to come off their man, find the ball, and make the tackle: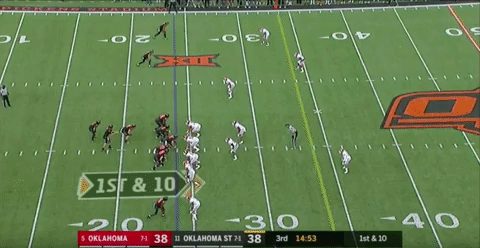 I could post GIFs like that for days and days and once heard from a coach who was breaking down film of OU vs West Virginia that their staff started making a running joke of how the first Sooner DB to the ball would always miss the tackle.
So, the determination that utilizing Caleb Kelly as a Sam linebacker wasn't really helping the run defense was probably not a difficult one for Mike Stoops to make. The problem is where to send the freaking ball when you have a sophomore mike, a will who's either a RS senior that's barely played or the guy who wasn't the answer at sam, and then brand new safeties.
If your plan is to free up Murray to run to the football and Kahlil Haughton to help clean up, you're leaning on the two guys who were the primary participants in this exchange: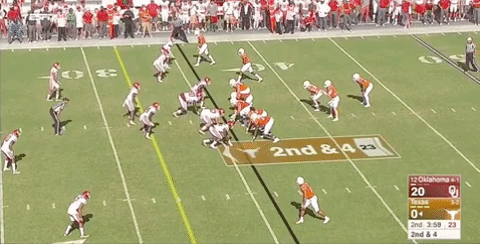 Obviously that's just one play and also doesn't account for an offseason of growth from young Murray or from elder Haughton. The point is, OU doesn't have tackling stalwarts on this team that have proven they can maintain a rule of law in the middle of the field. Those two guys each got a free shot at Ehlinger in the backfield and instead Emmanuel Beal had to illegally drag him down at the marker after nearly getting stiff-armed to the ground.
As I noted yesterday, the young QBs emerging in this conference are mostly running threats and teams are going to throw a lot of spread-option at each other in an effort to confuse LBs and Ss and clear running lanes. It's not a great season to have question marks in the middle of the field.
In positive news, the Sooner interior DL looks solid with Neville Gallimore and Amani Bledsoe back and Kenneth Mann seems to be garnering good reviews as well. They can probably help their LBs out physically, the question is whether those guys can reliably find the ball and make tackles.
Whether this team will play good coverage and get enough pass-rush to disrupt passers is another question entirely. That looks more promising but there are still questions, especially at safety again, and it has less utility in the 2018 Big 12 than it did in 2017 when everyone was flinging it around with veteran passers.