For as long as I've been doing this blog, Mike Stoops' struggles as Oklahoma DC have been a re-occuring theme. I've come to a sharper and sharper sense of what it is that has been so terribly wrong and have been zeroing in on Oklahoma's issues as the years have continued and they've played increasingly bad defense. I'm not even going to attempt to link all the articles I've written on this topic, the number is very safely in the double-digits.
I reviewed the Iowa State film one night a few weeks ago and could see plainly enough that all of the normal Sooner deficiencies on defense remained. There was a lot of flak that came my way when I noted that they didn't look as strong against FAU as commonly assumed but the Cyclones, Army, and then Baylor made that more obvious before Texas finished them off with a historic RRS performance in a 48-45 victory. The Texas win was nearly a blowout if not for a 4th quarter surge by Oklahoma and then the game all came down to a two minute drive by the Longhorn offense in which they marched down the field to set up the game-winning FG.
Whatever Sooners and national pundits realized or hadn't seen yet in Sam Ehlinger and the Texas offense, there was zero chance of Oklahoma winning that game if it came down to their ability to make a crucial stop in the 4th quarter.
Evidently that was it for Mike in Norman. His brother is long gone now and it's kinda remarkable he survived the 2017 season when his historically atrocious defense squandered a historically brilliant offense and wasted a great chance for Oklahoma to win a national title. That's to say nothing about the 1998 Big 12 title that he lost for Kansas State when he blew his final game there before taking the Oklahoma job, or the 2003 Big 12 title that Oklahoma lost while he was setting up the Arizona job…
Zone is for cowards
From the moment he arrived in Norman, Mike Stoops inherited a problem. That problem was the rise in lethal spread offenses across the B12 that were mixing highly effective passers with RPOs and run games. The narrative they quickly began to build in Norman centered around simplification of the defensive schemes from Brent Venables' playbook to allow the Sooners to play fast and aggressive football.
Mike resuscitated the career of safety Javon Harris, who'd had a tough 2011 particularly in OU's showdown with eventual Heisman (especially after that game) RG3. He moved Roy-backer (their nickel) Tony Jefferson to safety alongside Harris, putting two of the Sooners' better tacklers in the middle of the field and sliding talented young safety Aaron Colvin over to cornerback where he clearly belonged.
Early returns were…solid. The Sooners were 2nd in 2012 in passing S&P+ but Stoops' choice to move good tacklers with iffy coverage skills to either safety position meant that they spend the year in 2-read or cover 3 buzz with the safeties free from having to match routes from slots on the hash and out. They played nickel against teams with three WRs and dime against teams with four WRs and were routinely gashed in the run game.
From there Stoops admitted that their scheme did "a disservice to the linebackers" who included 2011's emerging star Corey Nelson, Tom Wort, and Frank Shannon.
In 2013 they moved to a 3-4 hybrid defense that utilized RS freshman OLB Eric Striker as a edge-rusher and spent the year mostly playing nickel and using single-high coverages to guarantee favorable match ups on opposing wideouts. The nickel would take one slot and a safety the other. The next year they continued this bizarre evolution and became more of a full-time 3-4 defense with Strikers as "the nickel" while still leaning on man coverage.
Man coverage has been the consistent, you could generally count on the Sooners to play a ton of man first to protect the safeties that Stoops inherited and later to protect the LBs they recruited to try and use in attacking offenses.
Although Stoops' return was heralded as simplifying the unit, the Sooners ended up changing things up every offseason and mixing in a multitude of fronts, packages, and exotic blitzes every year. They've tended to field undisciplined fronts that were prone to missing run fits backed with man-coverage oriented secondaries that have included horrible tacklers. That's led to some hilariously awful results at times, when explosive ballcarriers have been loosed into secondaries ill-prepared to bring them down.
The seven defining games of the second Mike Stoops era
When Stoops came back from Arizona, who fired him, the thinking was that he was going to bring back the early 2000's OU defenses that had been legendary and propelled them to the only national title of the Bob Stoops era.
Technically the first big slip up of the Mike Stoops era was losing at home to Collin Klein and Kansas State, which allowed the Wildcats to claim a "share" of the B12 title with Oklahoma and giving lie to the eventual "one true champion" campaign. That was always such a farce, especially given that the Wildcats won that game in Norman, once an unthinkable outcome. But while the OU D had a hard time on third down in that game, their offense also got taken down pretty hard by the K-State defense and it wasn't a one-sided event.
Game 1: Tavon Austin
I always loved this edit:
Oklahoma played dime personnel and even "dollar" or whatever they called a seven DB package and were beasted by Dana Holgorsen's Mountaineers playing the game in 10 personnel with Tavon Austin typically lined up at RB.
Austin had 21 carries for 334 yards and two TDs, four receptions for 82 yards, and eight kick returns for another 146 yards. All told, 562 yards of offense and two touchdowns. Oklahoma won 50-49 but it was the first really major "OMG what is happening on defense???" game.
Game 2: Johnny runs wild
The Sooners would go to the Cotton Bowl after their inaugural Stoops campaign and then took their two-high dime package that had asked Tony Jefferson and Javon Harris to corral Tavon Austin in space up against Johnny Manziel.
The results were entirely predictable.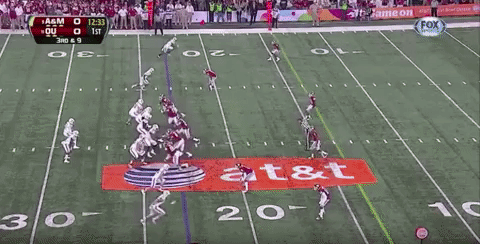 This is everything we've come to know and love about OU D under Mike Stoops in one clip. They bring a LB, play sloppy contain, and then everyone's back is turned in man coverage and they make only a half-hearted attempt to actually tackle.
Johnny went 22-34 for 287 yards, two TDs and an INT in the air and then added 17 carries for 229 more yards and two TDs. 516 total yards and four touchdowns. Oklahoma didn't match on offense this time and they lost 41-13 in a humiliating game that afterwards led to Mike Stoops saying the following choice quotes:
"Never seen anything like that. Never felt as defenseless as we were the other night, that's for sure."

"If they can keep him out of jail or keep him eligible, he's gonna be pretty good."

"If they can keep him off the Twitter, he might have 3-4 Heismans. He'll have that type of ability."
Johnny's off field proclivities were no secret.
Game 3: Derpity derp
In 2013 Oklahoma had administered back to back beatings to the Mack Brown Texas Longhorns and it was widely assumed (especially by me) that they were about to deliver the coup de grace. Texas was without David Ash after some early and bad concussions and were sending Case McCoy out to defend the Mack Brown empire.
Evidently Case McCoy understood the personal legacy at stake and came out firing in a way that was not always typical of his play. In the eventual "de-facto B12 title game" between Texas and Baylor, or "derp on ice" as I called it, McCoy was terrible and plainly disinterested in scrapping with a physical Bear team in freezing conditions. But for a day in the Cotton Bowl he was willing to withstand this…
…for a shot at immortality. He completed 13-21 passes for 190 yards, two scores and a single INT. Nothing amazing, mostly he just made some deep throws that were made available by the fact that Texas' RBs Jonathan Gray and Malcolm Brown combined to run the ball 52 times for 243 yards in one of the only physical beatdowns that Bob Stoops' Sooners had ever received in the Cotton Bowl.
Game 4: He was ready for OU
Bryce Petty came out for a presser after the Bears beat Kansas in 2014 by giving very short answers to every question that all ended and sometimes began with the phrase "ready for OU."
The Bears had taken a tough loss earlier to West Virginia on the road in which the Mountaineers had flustered Petty and the Bears' veer and shoot offense with the "all or nothing" strategy, combining drop eight coverages that bracketed everyone with zero blitzes.
Oklahoma came with a similar strategy…except that they didn't love the idea of big Julian Wilson playing press-man coverage on guys like Corey Coleman…so they played him a bit off.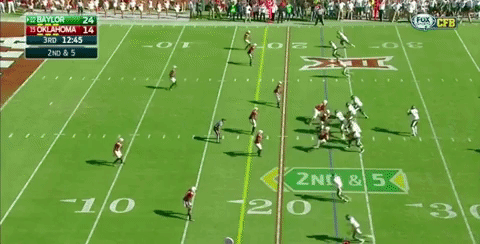 Having your senior CB come over DURING A DRIVE to come yell at you about how stupid your scheme is…that's non-ideal. I love the shot of Bob coming over to send him back out there. The Bears scored two plays later and then Wilson came back to the sideline to have more words.
I'm no lip reader but "what the f— am I supposed to do there???" seems like both a reasonable interpretation and a reasonable question to have been asked. OU lost big.
That was the end of Mike on the sidelines, he was relegated to the booth where he became a hilarious spectacle week after week for the next 3.5 years, nearly breaking his clipboard and chair as he watched his charges blunder about in agony.
Game 5: 734 passing yards
The 2015 season was fairly incident free. Yes the Sooners allowed Texas to beat them in the Cotton Bowl running the single-wing with Jerrod Heard, of course they lost to Clemson in the playoffs, but the defense played pretty well throughout the year thanks a stacked DL and Jordan Thomas' emergence in the secondary. That was the last season in which Oklahoma played anything that could be called good defense and it still included a troublesome early game against Tulsa and the other mentioned incidents.
2016 was just a wreck. The most glaring example was in their trip to Lubbock when they allowed Pat Mahomes to have one of the most historic games in CFB history.
The Sooners simply had no answer for this guy, none at all, and Mike Stoops admitted as much after the game. Mahomes finished the day having gone 52-88 passing for 734 yards, five touchdowns, and a single INT that probably made the difference in a narrow 66-59 Sooner win. He also ran the ball 12 times for 85 yards and two more scores. All told, 819 yards of offense and seven touchdowns…
Game 6: Losing the title
The Sooners played bad defense for nearly the entirety of the 2017 season but the loss to Georgia was really glaring. Their historic offense went in and lit up the Dawgs, building a huge lead, only to give it all back up and waste not only a really good Baker Mayfield game but one of the better offenses in CFB history.
It often appeared during the game that it was a waste of time and energy for Georgia to do anything other than line up and run the ball down Oklahoma's throats. Perhaps no play better illustrated this point than when Jake Fromm audibled to a run on third and seven: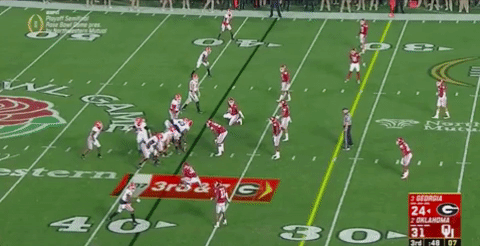 Tie game. The contest would end with OU's defenders allowing Jake Fromm to throw the game winning block on a final scoring run. Nick Chubb and Sonny Michel combined for 25 carries that went for 326 yards and five touchdowns. That's 13 yards per rush and a TD every five runs.
Somehow Stoops survived this.
Lincoln Riley hired Bob Diaco as an analyst though and now Diaco will be up in the booth…werewolf beats vampire.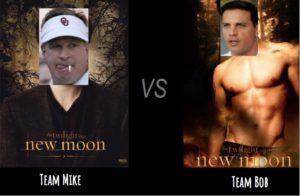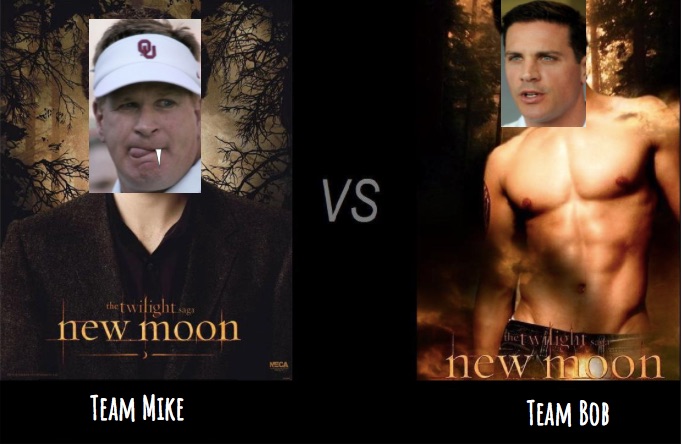 Game 7: Herman's hammer nails the coffin closed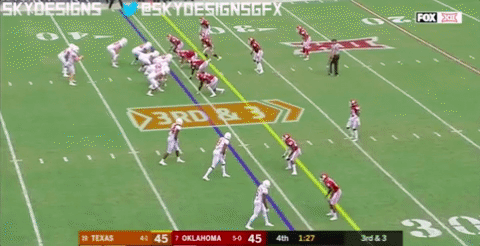 It was hard to find an example where Sam Ehlinger ran someone over on Texas' QB stretch play because usually the Sooners were nowhere to be found when he crossed the line of scrimmage. This was a big one though that made their game-winning FG plausible. They followed it up with a QB draw that picked up another seven yards or so.
Ehlinger finished the day hitting 24 of 35 passes for 314 yards and two TDs without an INT. He also ran 18x for 84 yards (removing a single sack) and another three TDs and even caught a pass for eight yards. All told, 406 yards of offense and five touchdowns along with several third and fourth down conversions.
One of the common threads to the above games is that they didn't regularly waste fantastic efforts by their own offense. They still outscored Tavon Austin, didn't move the ball on the Aggies, didn't move it against the final Mack defense, and outscored Mahomes. The final two? They lost a title and officially wasted the Baker Mayfield era and then wasted a highly successful day by Kyler Murray. That was it.
Making a move at midseason carries only upside, really. They can give Ruffin McNeil (apparently) a chance to take over and try to fix up the defense in time to salvage 2018. If the Sooners won out it's conceivable that they could get into the playoff with, as Nate Heupel noted on Twitter, a compelling "hey we're undefeated without Mike!" narrative to sell. If things don't work out (they probably won't) then they can just make the move to hire a new guy that much faster in the offseason.
It's the end of an era but it sure was an entertaining ride.