Before this weekend's slate I had the most likely outcomes for the Big 12 title game as:
RRS rematch
OU vs pump fake Purdy
OU vs West Virginia
I figured Texas would beat WVU at home coming off the embarrassing road loss to OSU but also knew that ISU was likely to win out and any additional slip ups by Texas could make the Cyclones ascendant while WVU still had the road game against Texas as well as both Oklahoma schools looming on the docket.
Some of that is still true. The RRS rematch is looking pretty dire right now, not only does Texas no longer have a tiebreaker advantage at the top (they'd lose out in a head to head with WVU, obviously) they still have their road trip to Lubbock and a home date with the Cyclones remaining. Maybe worse than that, they have a defense that has collapsed under the microscope of spread iso tactics around the league. They have glaring weak spots, particularly at ILB, that the Raid bro fraternity knows how to demolish. Dana Holgorsen took Mike Gundy's gameplan and amped it up a few notches, completely dominating the Longhorn defense.
Kliff Kingsbury is running out of bullets to shoot at those same weak spots and will presumably get a better response but the Red Raiders are still plenty dangerous and Matt Campbell's Iowa State is playing like they might be the best team in the league.
For Will, I don't really feel all that differently about West Virginia after seeing them pull off what was an undeniably gutty and impressive win in Austin. Grier throws a beautiful deep ball and the WVU OL executed a really good plan to exploit a broken and beat up front, but Texas never made things half as difficult for them as Iowa State did. Meanwhile, the Mountaineer defense got pushed around some and you wonder what happens when they run into the explosive Oklahoma offenses.
Oklahoma just dodged a major bullet. They probably lose that game to Texas Tech if the Red Raiders had not lost their QB Alan Bowman as well as their defensive QB Dakota Allen. After several games into the season, my comp for Kyler Murray is Michael Bishop. The K-State QB was a dominant athlete who could shred teams with his ability to hit targets down the field or to run the ball in their Wildcat run game, but he didn't see the field all that well and was often careless with the football. I see a lot of similar traits in Murray even though he's faster and less powerful than Bishop.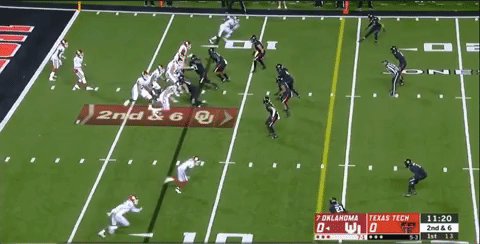 On the first INT he stared this down a little and misread the nickel and maybe his own man's route. This looks a lot like a 4-verticals concept with Marquise Brown running an option route on the far hash and Murray expected to find him sitting on the hash when the nickel came inside (he sorta was but not at the depth that Murray was throwing to). He didn't really read the nickel very well and held the ball a little too long before throwing to a bizarre spot.
The second INT was much worse. I think he just got confused by Tech's coverage and lost control for a moment, wildly overshooting the in route so badly that it just went to the deep safety. This has the marks of a player who's pre-snap read was wrong and who panicked as a result.
Obviously he settled in and put up huge stats over the rest of the game in a 51-46 victory. Whether or not WVU or OSU can make Murray beat them by executing progressions from the pocket remains to be seen but that's how you stop this Oklahoma offense.
So here's the updated standings: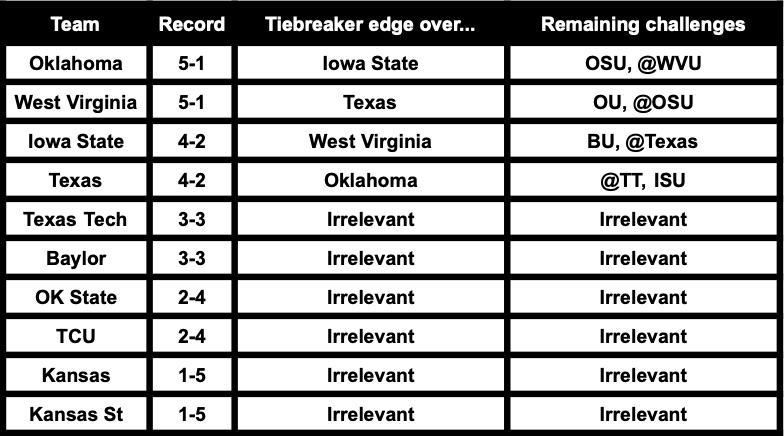 Oklahoma is in control of their own destiny, if they win out they're good. If they only lose to OSU they're good. If they lose to WVU then they need Iowa State to beat Texas. All in all, they're in very good shape.
West Virginia is also in control of their own destiny, if they don't lose again then they're in. They also get Oklahoma at home, which is a big advantage especially considering the cold weather patterns that will be moving into the picture over the coming weeks. A mild disadvantage they have is that in the event of a loss, they're rooting for Texas whereas Oklahoma is rooting for Iowa State and one of those teams is playing better than the other right now.
Iowa State's path is pretty simple. First they need to win out, then they need West Virginia to lose a single game. That's it, they're in. Betting on the Mountaineers beating both Oklahoma schools and Texas beating Iowa State seems slightly worse to me than betting on Iowa State beating Texas and then WVU dropping one of those games.
Finally there's Texas. They very much need to win out and then they need one of the following scenarios to play out:
A) For West Virginia and Texas to both win out, resulting in the Mountaineers being the top team and Texas and OU both in the two slot with the Longhorns possessing a tiebreaker edge from the RRS.
B) For both Oklahoma schools (or TCU, I guess) to beat West Virginia, giving them three losses and negating their tie-breaker edge over Texas.
C) For West Virginia and OSU (or KU, I guess) to both beat Oklahoma, making Texas and WVU the only two teams with seven wins.
D) For WVU to lose to OSU but beat OU in Morgantown, making WVU 2-0 amongst the top three teams (tiebreaker rules linked), Texas 1-1 amongst the top three teams, and OU 0-2.
E) For OSU to beat Oklahoma, and then OU beat WVU, which would make the top three teams all 7-2 and then push the tiebreaker rules down to point differential, where Texas would have needed to make up considerable ground by winning their remaining games (@TT, ISU, KU) by big margins while OU and WVU took big hits to their point differentials.
Obviously all of that is plausible but not exceptionally likely. Lots of intrigue remaining this season!