After the 2017 6A Division 1 state title game between Allen and Lake Travis, a popular assumption was that 2018 might just feature a rematch between the two teams. Lake Travis had to play that game with backup QB and Texas commit Hudson Card, then a sophomore, after senior QB and Ohio State commit Matthew Baldwin went down early. With Card, much of a young OL, and then Ohio State 5-star WR Garrett Wilson all returning the Cavaliers looked like a good bet to get back to the title game for a fourth straight year.
Instead, they struggled to replace some of the key ancillaries from that team that I broke down in the link above, Kyle Wakefield and Carson Cross. Those two guys gave OC Michael Wall (who also left) the ability to run some hybrid sets that made the Cavs a nightmare to figure out. The Cavs went down hard to Galena Park North Shore in the playoffs, 51-10.
Allen was also bringing back QB Grant Tisdale (3-star heading to Ole Miss), WR Theo Wease (5-star heading to Allen) and a fair number of their linemen on either side of the ball. But they couldn't get through the playoffs either, meeting their match against Duncanville in a 44-35 loss. So we got the North Shore-Duncanville title game instead and boy was it a doozy.
The assumption now is that we'll see these two teams again in the finals next year, both were led by exceptionally athletic skill players and QBs that all return next year. I'm less confident, but we'll come back to that later…
Duncanville and North Shore
I'll surely be leaving some places out but here's a map of some of the main or important HS powers in the DFW area: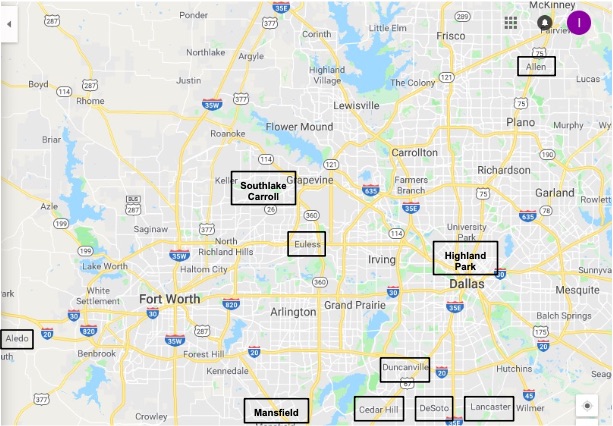 Aledo out west is the Katy of DFW. They're a suburb that pride themselves on the football program and regularly churn out big, maxed out OL that pave a way for some talented backs and an unending rotation of Bishop brothers that provide them with dual-threat QBs. Seriously there's been like four of them.
We talked about Highland Park last year and may do so again, that's THE rich public high school of Dallas. Last year they were led by Jerry Jones' grandson (Stephen Jones' son), this year their QB was Chad Morris' kid. Their head coach wears a suit and a fedora on the sideline in apparent emulation of Tom Landry. Easy team to hate but I deeply respect the fact that we can watch millionaire kids go out and play a violent game with poor kids, there's something inherently good about that.
Way up north you can see Southlake Carroll and Allen, big schools in suburbs that both prioritize football, basically bigger versions of Aledo or Lake Travis. Down south you have a collection of schools that fit a different sort of mold. Mansfield, Duncanville, DeSoto, and Lancaster are schools that recruitniks may know because lots of football talent regularly flows from those locales. All have been a part of a trend across the country of black Americans moving out of cities and into the suburbs, and not just from the city of Dallas into the local suburbs but from cities across the country into the DFW suburbs or other southern locales.
Duncanville has 4278 students, 43% of which are black, and head coach Reginald Samples is an example of the same kind of migration pattern. He coached within Dallas at Skyline for years before moving out for a better salary and opportunity in Duncanville. His son (Ra'Shaad) was a 4-star wideout at Skyline who went to Oklahoma State, transferred to Houston, and is now an offensive analyst at the University of Texas.
North Shore has a similar story, they have 4833 students, 23% of which are black, and they're on the east side of Houston. Both communities have both a large pool of talent and deep investment from the local black communities who take great pride in their football programs. These schools are a bit different than Lake Travis or Allen, they aren't from as wealthy a locale or community but they often have a little more athleticism across their roster because of their demographics.
The big showdown
The feature matchup of this game was the Duncanville defense against North Shore's 5-star running back Zach Evans.
In an interesting microcosm of modern trends, the North Shore offense is a spread attack and Duncanville matched their athletes on defense so that the showdown in the box looked like this: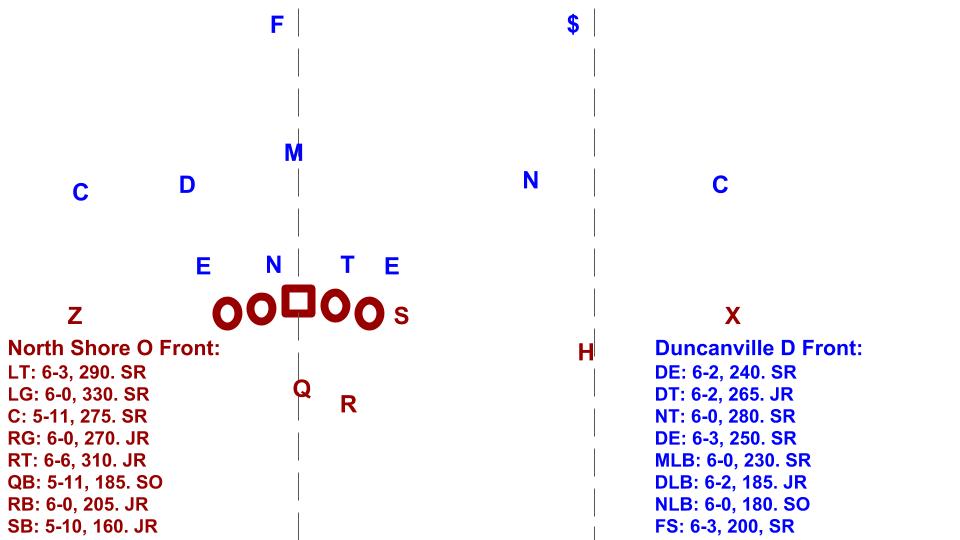 Some things should stand out pretty quickly, especially if you compare it to the table of Allen's front vs the Lake Travis group. In particular, these groups are huge on BOTH sides of the ball. The North Shore OL was massive, especially the sole junior Damieon George who's a 4-star prospect with an offer from Alabama. The Duncanville DL is also pretty big and older and they were backed by stout MLB Anthony Cruz.
The skill players involved up here are mostly smaller but this is where some of the main athletic firepower can be found. North Shore QB Dematrius Davis is already a top QB prospect for 2021 and then of course Zach Evans is a nationally known superstar. Duncanville played 4-star safety prospect Chris Thompson Jr as their dime LB rather than a will-backer and free safety Stacy Brown is a 3-star committed to Missouri. So we're talking about a clash of some above average lines in terms of size (and ability) and then P5 caliber skill players working behind them.
This battle went pretty decisively in Duncanville's favor, to the shock and dismay of recruitniks around the state who saw Zach Evans as an Achilles like figure that would inevitably drag Duncanville's body around Jerry World in exultant triumph. Instead, Evans ran for just 96 yards on 21 carries with no touchdowns.
There's nothing magical happening here. The DTs are exchanging gaps after the snap with the 3-technique shooting the backside A-gap and the nose shooting the frontside B-gap as well. The OLBs are both outside of the box with the nickel covering down on the slot in case they had a bubble or slant RPO called. The Mike is sitting in the backside B-gap, the unblocked DE is playing the QB.
This is basically five blockers for three DL and an ILB and North Shore just loses, decisively. Their massive OL get beat to spots and the essence of zone blocking, which is coverage on DL, doesn't happen. Chris Thompson Jr playing as the dime/will ends up making the tackle for loss on a next to helpless Evans. With D-Ville regularly fitting inside gaps with their DL blowing by the OL and Cruz following up, the ball was routinely spilled outside where they had six DBs closing at speed.
Duncanville essentially created a major crises for the North Shore offense and run game, which is designed to isolate Evans and their OL in the box with the spread and then go dominate. Duncanville denied them the space by playing speedy dime personnel and then did the actual dominating in the trenches.
Eventually North Shore started running more 11 personnel sets with their hybrid slot backs playing inline as a TE. The problem was, as you can see on the diagram above, that their slot back isn't big. Initially they were able to find some success with it:
The Mike LB is unblocked because the double on the nose doesn't get very far but he needs a minute to find the ball which is all Evans needs and his lead escort (the left tackle) is able to skip the mike and go pancake a safety. There's nothing on the edges for Evans but TFL but with a hole punched through the middle he can finally showcase some of his ability.
Duncanville figured out that formation later on after a few punishing runs that provided Evans with most of his yardage on the day (the dart run and then some zone-read):
Now they're shooting the inside gaps with the DTs AND the DEs to spill the ball where their speed and safeties can clean it up. Part of the reason that dime defense is the future is that with good players and tactics up front, you can stop up spread run games from dime as well or better than in other sets while also having greater flexibility in coverage.
The North Shore defensive plan
From what I've seen of North Shore in their two title game appearances over the last few years, they have one standard trick they like to play on defense. They'll lean on their athleticism in the secondary to play cover-1 or cover-0, leading to a situation where the opposing team has to deal with their athleticism up front in the form of loaded boxes and big blitzes. They're just pressuring up on teams and looking to overwhelm them with numbers and blitzes in the box.
The obvious counter to that strategy is to throw the ball to 1-on-1 matchups in the passing game, but that's tough for many HS programs that may or may not be advanced enough in the passing game or good enough in protection. As it happens, Duncanville is not a passing team and QB Ja'Quinden Jackson finished the day 7-14 passing with 43 yards and no TDs or INTs.
Duncanville was well suited to facing a loaded box though with a two-headed run game complemented by single and double TE sets that could allow them to account for defenders at the line and spring their runners to the next level. Their key play was the sweep, which they regularly ran to the TE side where they had sophomore Tyler Quin, a 6-2, 240 pound blocker helping to set the edge.
They mixed in some QB keep options, backside sweeps, and BAsh versions where the RB ran the backside path and the QB was the featured runner. As you can see here, there's not a third level for the North Shore defense. It's third and two so they play the runs pretty aggressively and the safeties are sucked in. The play side LB gets hooked by the TE and that's that.
Duncanville RB Trysten Smith had 21 carries for 153 yards and three touchdowns, dwarfing Evans' production with the same number of carries.
So now what?
Both teams had to deal with the upshot of spread tactics and all-in, "title on the line" gameplans. Duncanville had the means to keep Zach Evans from beating them and North Shore was going to really pressure the line against Duncanville when trying to run the football.
For both teams, the solution was already built-in to the system. Duncanville ran their QB Ja'Quinden Jackson 18x for 226 yards and a TD (very nearly the game winner). They essentially ran something comparable to a modern wishbone, using WR sweeps and QB run options to guarantee that they could get numbers at the point of attack.
This can be a challenging approach in the modern game because defenses necessarily have to be built to handle space and passing if they want to win at the highest levels and it can then be difficult to match up when the other team has a pair of athletic, 200 pound rushers in the backfield and a 240 pound ancillary helping the OTs set the edge for the offense. Jackson is a 6-2, 210 pound 4-star junior that will probably end up as some kind of defensive hybrid down the line at Texas. Like Evans, he's really hard to tackle if you can't prevent him from getting up to speed or getting a two-way go in space.
First and goal from the five with the game on the line, North Shore had nothing left to resist Duncanville finally ditching the sweeps and running tight zone to Jackson down their throats for what appeared to be the game-winner.
It almost looks like North Shore wanted them to score to save time for their own offense but the anguish you can see after the play from their defensive front tells the real story. They were just beat down by that point.
Duncanville out rushed North Shore 445 to 176 on the day…but North Shore out passed Duncanville 333 to 43.
Zach Evans had an enormous impact on this game in a fashion similar to the impact that Stephon Curry had for the Warriors in their first Finals victory over Cleveland. The Cavs were determined to bottle up Curry and his three-point shooting, which led to many an open three for guys like Finals MVP Andre Iquodala. Between his defense of Lebron and solid numbers that included a 25-5-5 in the deciding game 6, Iggy was named MVP mostly because Curry's impact was largely unseen and voters didn't want to give it to LeBron because he lost.
For North Shore, the game was won in large part due to the explosive production of sophomore WR Shadrach Banks, a currently unranked prospect with offers and interest from the who's who of the region. Banks had nine catches in this game for 179 yards and two TDs.
Here's an example of Banks' brilliance early in the game when he passed through the fire of the D-Ville D without harm:
Duncanville learned the lesson from this play that they needed to "cover down" on WRs lined up to the same side of the RB or risk getting RPO'd to death like this. The nickel needed to stay on the slant rather than trying to close on the ball. Banks had over 100 yards and two scores before D-Ville had really adjusted enough to limit his opportunities.
North Shore gave Duncanville fits and held the lead for most of this game because sophomore QB Dematrius Davis (5-11, 185) was connecting in the passing game and running around to buy time (or to get yardage, eight carries for 90 rushing yards) to throw. Davis finished with 333 passing yards and five TDs in the air.
The TDs and finishing of drives was crucial as well because D-Ville had to settle for FG attempts on many a drive whereas Davis' passing allowed North Shore to finish many of their good drives in the end zone.
After Duncanville had North Shore beat down with their run game and a 36-35 lead, the Mustangs got one more possession with about one minute to score and that drive ended with this:
North Shore's quads to the boundary set helped clear out some defenders and I think Davis was just trying to get a good heave into the end zone for Shadrach Banks to pull down. Instead, 6-2 senior Ajani Carter (3-star expected to flip to Indiana from UTEP) got under it and pulled it down. That play will inevitably haunt Duncanville for the rest of their existence but it's a decent example of the terror of the modern passing attack. If you throw it up to big athletes, there's always that chance that they'll pull it down.
In summation
This title matchup came down to two-man games from either team. North Shore would make D-Ville worry about Zach Evans or the pass, D-Ville chose to take away the bell cow RB and were punished by the pass, often by Shadrach Banks in particular. North Shore couldn't deny Duncanville's Jackson or Smith option game but they were able to outproduce it with their own passing-oriented attack.
The trick to the rushing attack is that successful plays often go for 10-20 yards, although North Shore's aggression gifted more than that at times, whereas successful plays in the passing game are designed to avoid cramped quarters and defenders. The passing game is more efficient for scoring points and finishing plays in the end zone. North Shore's win was a miracle but it's the kind of miracle that a passing attack can produce.
That's the reality of the modern game. The 5-star RB's greatest contribution to this game was serving as a constraint to prevent the D from stopping his offense from throwing the ball to a receiver.