Yes, I'm going to volunteer for this annual beating once more and break down every recruiting class in the Big 12. I started with the Texas class, which you can read about over at Inside Texas, next I move through the Big 12 going from north to south.
This is Matt Campbell's highest rated class yet, at Iowa State or in general, and they jumped ahead of West Virginia in the B12 class rankings with a 6th place finish in the league.
Campbell has had a semi-national recruiting strategy, really he just hits the good hot spots like California and Florida and tries to grab infrastructure pieces like OL in the local area. They also try to lock down Iowan kids when they can. They got six guys from "the south" with three from Florida and three from Missouri. Then a single Texan and two Californians along with an Arizonan WR who was a former teammate of Brock Purdy's. The Midwest produced 11 players, including a fair chunk of their linemen and ancillaries but also some of their most promising skill players.
The staff at Iowa State is good at mixing in a physical, run-centric approach on offense with some spread-iso tactics that maximize their key weapons. Defense is how they jump started this program, primarily with their innovation of an inverted Tampa-2 defense that has given opponents fits.
I'm going to invert the format this year, starting with the skill players on D and then working back to the offensive trigger-man at the end. Here's my breakdown of the 2018 Iowa State class.
Defense
Secondary
The Cyclones help their DBs out a lot with their scheme, which includes a good deal of cloud coverage in which the CBs are matching underneath with safeties on the deep hash arks. Their trick of course is that they use the inverted Tampa-2 scheme as their base and then mix in sky coverage (which involves the safeties more aggressively against the run) and also some trap-2 fire zone blitzes. Here's that inverted Tampa-2: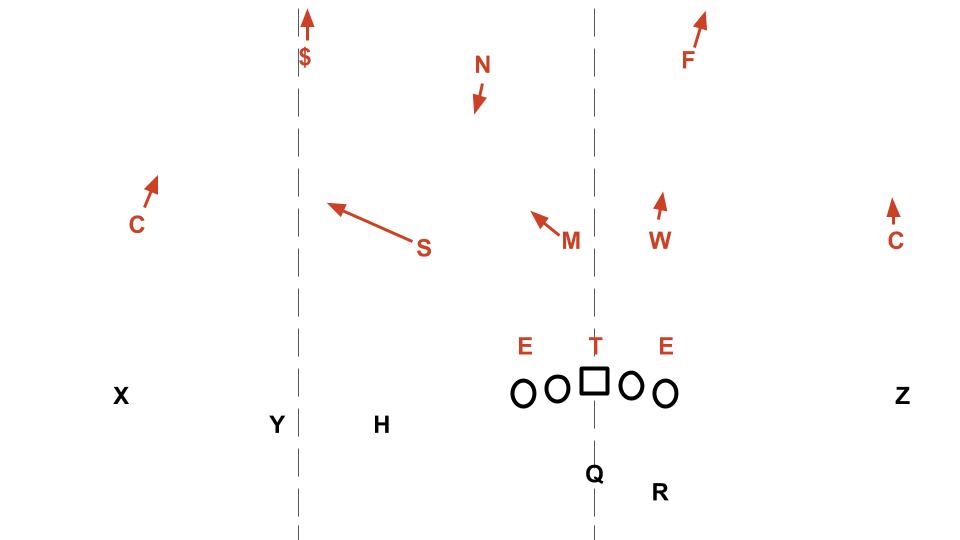 If the corners can play some MOD coverage (man on demand) and free up the safeties to till more aggressively against the run, alls the better. The safeties get a pretty easy job though because it's a match-zone intensive scheme with a lot of coverages that allow them to sit on the hash marks. The middle safety, identified here as the nickel, is probably the big key to the defense. He's the inverted Mike LB and it's his job to hold down the middle space between the hash marks on vertical combos and RPOs before closing on the ball as a free-hitter against the run. It's the perfect position at which to feature a DB with instincts, tackling ability, and good ball skills.
Kym-Mani King: 5-10, 170. 3*** from New Port Richey, FL (James W Mitchell)
King is one of a good sized number of plausible CBs in this class. He's pretty twitchy although I'm not sure what his top end speed is like. He played some corner in FL and has some skill there playing the fade, he's also a willing tackler. At the least he looks like a potentially solid corner when covered up.
Isheem Young: 5-10, 201. 3*** from Philly, PA (Imhotep Institute)
Young is really strong in run support and is a boundary or middle safety all the way in the Cyclone defense. He's good at getting to the ball with leverage in a sky coverage type concept like Iowa State often uses and he'll line guys up for big shots. At 201 coming out of high school he could also grow into an OLB.
Virdel Edwards: 6-1, 185. 3*** from Plano, TX (Prestonwood Christian)
Edwards is a HS corner that will convert inside to safety for the Big 12. He has good ball skills and can close on the ball in the air from an off alignment or coming off a route. His frame will fill out with time and he could project to multiple safety spots.
Vonzell Kelly: 6-0, 175. 3*** from Lee's Summit, MO (Lee's Summit)
Kelly played deep a lot in Missouri and has some nice closing speed when hawking down as well as the fluidity to match routes. He's probably one of the better coverage prospects in this group and will end up being used accordingly, perhaps as a field safety.
Leonard Glass: 5-9, 173. 3*** from Fresno, CA (San Joaquin Memorial)
If you didn't know, Fresno is one of the more mercenary areas of California for college football recruiting. It produces a ton of big time talent and is a frequent destination for out of state recruiters. Glass is one of the better athletes Iowa State landed in this class. He plays really big for his size and could end up as a hybrid on offense but he's a physical support player against the run so perhaps the best bet is that he'll end up playing some corner.
Derrick Miller: 5-11, 168. 3*** from St. Louis, MO (John Burroughs School)
Miller covers up people on film like a glove. It's extremely difficult for receivers to get separation against him and then he has decent length to contest the ball in the air. When he's 185 or so with some more strength to knock guys off their routes he could be a lockdown corner.
Grade: B-
The goal here is basically to use numbers and scheme to set up feisty, twitchy little guys of the sort that Iowa State can expect to successfully recruit for success. Not many of these guys look like All-B12 prospects but they definitely set themselves up to have the athletes they need to defend offenses better than schools with more big hits but fewer players to work with.
Linebackers
Iowa State has been making the most of hybrid-style linebackers at sam and will, guys with burst that may be smaller but can run sideline to sideline, and then a traditional thumper at mike who's protected by the middle safety. Sam and mike are often more of your pass-rushing weapons, the sam comes off the edge a lot like a 3-4 OLB but he needs to be able to match routes underneath in space. The will needs to be able to match routes and then be a tackling machine running to the ball. Mike can just be a downhill guy.
Aric Horne: 6-1, 210. 3*** from Jacksonville, FL (Raines)
Horne is probably a sam in this scheme. He has a lot of film blitzing the backfield from various angles but he has the quickness to drop into coverage. Also shows good instincts and awareness, he should be a great fit.
Coal Flansburg: 6-1, 235. 3*** from Solon, IA (Solon)
Flansburg is a local kid who was a murderous, downhill LB. As a mike for Iowa State he'd be covered up well enough to do what he does best, which is to play the run with downhill angles and aggressively blow up lead blocks against the run and pass-setters on the blitz. He looks iffy as a guy trying to cover in the Big 12 but when you regularly drop eight defenders that's less of a concern.
Grade: C+
Both of these guys are solid fits. With good coaching and time in the system they should be helpful contributors down the line.
Defensive line
This is the one area where Iowa State's scheme tends to ask more of the players. They've been a multiple front team, mixing in the tite front and some other alignments and styles. If they have a good edge-rusher, which ideally they would, he'll get to work some from an outside shade, but both DEs need to be pretty big and powerful to either park in the B-gaps or close them from the outside. The nose needs to be disruptive as well although their drop eight stuff tends to set the mike up to be pretty downhill almost like a de-facto tackle at times.
Corey Suttle: 6-4, 245. 3*** from Jefferson City, MO (Jefferson City)
Suttle fits the bill as a movable piece up front that can play DE violently enough to cancel out B-gaps and take on double teams from time to time. He seems less threatening as an edge-rusher.
Blake Peterson: 6-4, 240. 3*** from Beresford, SD (Beresford)
Peterson should grow very easily into an effective 4i-technique DE but he also has a little more motor and burst off the edge than Suttle. He spent a lot of time in HS as a stand-up guy on the edge and was comfortable there.
Grade: D+
Last year the Cyclones took more edge prospects, this year they got some sturdier 3-4 DEs to get into the program. These guys are solid additions for a few years down the line after S&C but they are neither numerous nor obviously impactful.
Offense
Offensive line
Campbell has still yet to field the kind of OL he envisions for this program that can allow the Cyclones to maul nickel and dime fronts and control the box. Their goal is to build around inside zone but with a dozen variations on that scheme and other spread run schemes to make the most of the talent on hand. For inside zone you generally want size at every position to cover up opposing DL while relying on developed chemistry and numbers/angles to create push with combo blocks.
Jake Remsburg: 6-6, 305. 3*** from West Des Moines, IA (Valley)
Remsburg has great size but he looks a little stiff trying to get wide on the edge in pass pro. As a run blocker of course he's dominant at the HS level, he has a clip pulling that looks comfortable and overall he projects as a long-term project that could be a great IZ guard.
Jarrod Hufford: 6-5, 300. 3*** from Newark, OH (Licking Valley)
Hufford has better quickness than Remsburg but is also clearly inexperienced and less comfortable in pass protection or taking shorter steps to stay square against better athletes. He's good at playing with low pad level though and also projects well to guard if he doesn't make it outside.
Darrell Simmons: 6-3, 295. 3*** from East St. Louis, IL (East St. Louis)
Simmons will be the guy most commonly typecast to guard because of his lack of height but he's also a better athlete than Hufford or Remsburg. I didn't see him change direction to find guys all that often, generally contenting himself with erasing his own man, but he looks like he's a year or two of higher level training away from being a contributor at potentially guard or tackle.
Grant Treiber: 6-6, 295. 3*** from Sioux Falls, SD (Lincoln)
Treiber is maybe the biggest of the group but he's also as smooth an athlete as Simmons and one of the better OL prospects I've seen Iowa State sign yet. I bet he ends up playing sooner than later as they groom him to eventually be the left tackle.
Grade: B-
Anytime you sign a really promising left tackle that's worth a letter grade in this system so long as the other guys signed aren't terrible looking. Iowa State took one iffy guy but with a huge frame, a good athlete who was probably a steal, and then a better big-framed guy on top of Treiber. Pretty solid group here.
Ancillaries
Iowa State is fully into the matchup school of run-centric offense. They would regularly get into multiple TE sets last year with the goal of forcing B12 Ds to get to their second, third, or fourth best run support DB. Then working the inside zone/RPO game from there: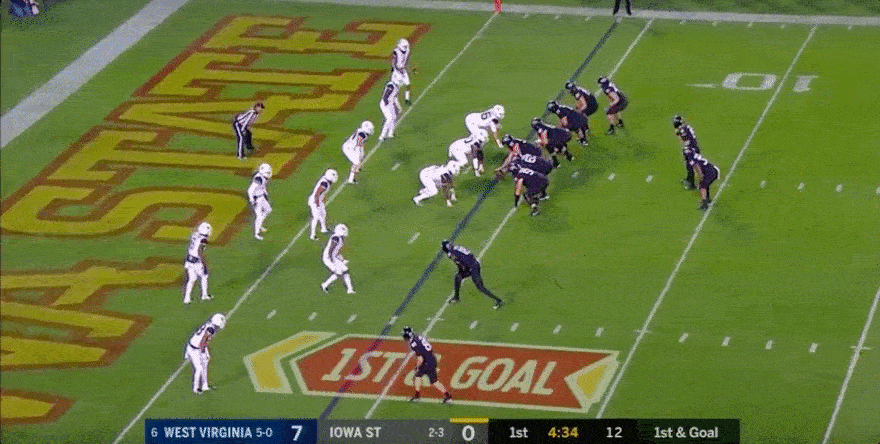 Campbell wants to be able to use TEs to add variety and gaps to his run game but also just to allow the Cyclones to hunt matchups on offense so they can pound weak spots. You couldn't double Hakeem Butler too easily if you were trying to load the box to handle all the blockers.
D'Shayne James: 6-3, 210. 3*** from Gilbert, AZ (Perry)
SPARQ: 4.98 40, 4.58 shuttle, 27.9″ vert, 33.5′ toss
I'm guessing James moves to TE although he may stay permanently flexed out even if he grows to a 235 pound guy. His SPARQ numbers are remarkably bland, he looks much stronger on film because his footwork at the line of scrimmage is fantastic and regularly gets him a good release into his route. He was a 1k-yard wideout as a junior back when pump fake Purdy was his teammate and now he'll be reunited with his QB. At the very least he looks like a guy like Butler that you can move around to throw jump balls to but he has a higher ceiling if he can learn to block.
Skylar Loving-Black: 6-3, 220. 3*** from San Jose, CA (Valley Christian)
SLB is basically a big WR who's a willing blocker. In HS he'd draw some arc block assignments or other easier tasks blocking on the edge but he'd take them on with great enthusiasm and competence. As play-action target off the arc releases or as a flexed out weapon he was very fluid and effective. SLB projects really easily as a flex TE that can come in and block an LB or S and perhaps he can be more if he adds good weight but he's already effective enough as a flexed out target that he may stay smaller.D
Grade: B+
Loving-Black looks really good, the kind of guy that has the hybrid skill set to either punish a smaller defender with his blocking or run by a run-stopper with a good route. James is an interesting prospect as well despite his bad numbers.
Running backs
Iowa State presumably wants to always be a team that can run the ball at volume with some smash mouth schemes. David Montgomery allowed them to do that even when they couldn't block well up front, you figure future RBs will get better opportunities behind an improving OL. Between the tackles running is the name of the game here but they want a feature back who can do as much as possible.
Jirehl Brock: 5-11, 205. 4**** from Quincy, IL (Quincy)
Brock is an explosive athlete who was playing in some sort of Slot-T offense in HS. Basically everyone on offense is either a blocker or one of multiple backs that may be blocking or receiving a hand-off on misdirection every snap. The design of the offense is to generate hesitation and false steps that lead to creases and Brock was exceptional at exploiting them. He could hit one of those creases and be gone in a flash. It can be hard to tell how these guys will project in a college offense but he certainly has the athleticism to be great.
Breece Hall: 6-0, 215. 4**** from Wichita, KS (Northwest)
Hall has some of the thickest legs you'll ever see and he loves to use them to plant and cut downhill. He's one of the better RB prospects I've seen around in the league in the last few years. His specialty is a lightning jump cut that he'll often use to threaten the perimeter only so that he can plant and cut downhill through the resulting crease. He also has film flexing out at WR to run verticals and throwing lead blocks in the QB run game. Total package here and an early enrollee, he may start immediately.
Grade: A-
Two plus athletes added to the team at a position that Iowa State likes to feature with the latter already demonstrating the kind of skills that could make him an All-B12 feature back. Leonard Glass may also figure in here instead of DB as a RB/WR.
Wide receivers
Iowa State made their living last year throwing it up for Hakeem Butler to bring down but Campbell has a knack for spread-iso tactics in general to set up guys to work against favorable matchups. I think we'll see that he can make the most of speed just as easily as he does size, but the Cyclones are missing some size now after losing both Butler and Eaton from last year's squad after losing Allen Lazard the year before.
Darien Porter: 6-3, 180. 3*** from Bettendorf, IA (Bettendorf)
SPARQ: 4.65 40, 4.22 shuttle, 31.3″ vert, 31′ toss
You figure Iowa State kinda has to recruit a guy who's from in-state that can run <4.7 at 6-3, 180. That's a guy that's hard to handle for defenses if he has any ball skills, which Porter does. He's also got a great knack for setting up defenders to get his release off the line and hit his spots. He'll be a guy they can move around and throw it up to and has some real burst to break away down the field.
Ezeriah Anderson: 6-4, 210. 3*** from Seffner, FL (Armwood)
SPARQ: 4.76 40, 4.34 shuttle, 32.5″ vert, 37′ toss
He's got some solid athleticism obviously, nothing amazing but this kind of speed is pretty hard to handle when the dude is 6-4 and 230 like Anderson will be with time. Anderson is a little more obvious as a jump ball target than the other big targets they landed in this class and has good film fighting over the middle.
Grade: C-
It was an obvious priority in this class to reload on taller targets that can be hit down the field and Iowa State landed a few here and then obviously the TEs as well. It's not a bad class but if C+ is an average class around the league and we're grading on a curve then this group isn't impressive by B12 standards. I don't expect it to be an issue though.
Quarterbacks
Savvy and accuracy are probably the biggest factors here, like for most any spread O. Campbell proved quickly capable of playing the same games as everyone else in the Big 12 and setting up his QBs to get pre-snap reads to allow them to throw to spots after the snap. After that it's all about value-add, can the QB beat tight windows? Can he help in the run game? How is he when things break down?
Easton Dean: 6-6, 220. 3*** from Attamont, KS (Labette County)
It should probably be noted that the state of Kansas produced a pair of really promising QBs in Dean and Graham Mertz and they went to Iowa State and Wisconsin, respectively. I don't know if either were a fit for what Chris Klieman is doing at K-State and for both him and Les Miles it was way too late to try and snatch up a well regarded QB by the time they were hired. Just an interesting thing to note, transitions at coach can be costly. Tom Herman was exceptionally lucky that he took over a class from Charlie Strong that already included Sam Ehlinger and was likely to always include Sam Ehlinger. Lincoln Riley of course inherited Baker Mayfield and Kyler Murray. By the time Campbell got Purdy he was ready to get him involved pretty quickly.
Dean is pretty good as well, more similar to Kyle Kempt in that he's a tall pocket passer but with some Taylor Cornelius-esque running ability. One of his strongest suits is his knack for play fakes, which is hilarious in light of the fact that he'll be behind pump fake Purdy. He's truly excellent at using fakes to set up sucker screens that turn into long bombs on wheel routes and posts. He's a great fit for this offense and will probably be ready sooner than later, which is helpful since Purdy has such a physical style but of course also carries the risk that he'll transfer.
Grade: B
Dean is a good passing prospect with an obvious fit in this system. I don't know if he's a world-beater but he definitely looks like a guy that could put up big numbers with time and training and the right supporting cast in Campbell's offense.
In summation
Campbell has put Iowa State on the map quickly because he has a particular knack for building tough and disciplined teams and they figured out the league VERY quickly. Campbell and Heacock innovated on defense to build the sort of unit that is pacing the league (nation, arguably) on defending pass-first spread tactics and the offensive staff quickly put together packages to allow them to play spread-iso ball with the good skill players they inherited from Rhoads even before Campbell had finished (is he done yet?) building the infrastructure to really make his run game work properly.
Iowa State flips the script on the offenses around the league and knows how to play the modern matchup game on offense. When you can make everyone else play your game, you don't need as much talent although you still need some. This group has talent and although they won't compare to the hauls you see at Oklahoma or Texas they did land guys that will allow them to dictate the matchups of the game and then to feature some pretty dangerous players.