Matt Rhule has been fairly obvious about his process for the Bears. From the beginning he was making moves that indicated a preference for rebuilding the program and roster from the ground up. They didn't force a 22 personnel offense on the spread roster or choose schemes that were a needlessly bad fit for their players but they did try to ease Charlie Brewer in to the extent they could and they've been recruiting like there's endless tomorrows.
Class after class has been stocked with lean, raw, high upside athletes. Many of them have had less than obvious projections and it's been clear that the plan is just to get them on campus, bulk them up, and teach them football until they found their place. There's nothing wrong with that strategy and it will likely yield dividends at some point, but they've been collecting lots of talents that needed real time to help them.
You can read the 2017 class breakdown or the 2018 class breakdown and see that theme over and over again. The elephant in the room is that Matt Rhule has seemed very interested in NFL opportunities and might bail before this rebuild is complete, but that wouldn't necessarily be the worst thing in the world for the Bears. His complex approach to defense has yet to connect in the Big 12 and if he did leave, he'd leave a roster full of well developed freaks for the next coach to work with.
On the defensive side, they moved former Cedar Hill HC Joey McGuire to defense, hopefully to help them shore up the plan on that side of the ball some or perhaps just the DL. He's been put in charge of the DEs, which were an essential part of the good Temple defenses that haven't shown up in Baylor and have indeed been a glaring weak spot. Things have gone reasonably well on offense other than Denzel Mims developing alligator hands after Jalen Hurd passed him up as the no. 1 target on the team. It's really just a matter of getting Brewer more familiar still with the offense and finally fielding a good OL.
Towards that end, Rhule made a few additions in this class that could help the Bears break through and win some games. After that? Who knows what's next for Rhule or the Bears. This class is mostly Texan (15) with a few northeasterners (always a few with Rhule) and another Utah Snow college JUCO to join the Big 12.
Defense
Let's start with a note on the #RhuleofLaw defense. The 2016 Bear D was the last of the Phil Bennett era and finished 40th in S&P+. After having major problems fielding top DL either due to off field issues or guys leaving early for the NFL, Bennett actually worked out a 3-down dime package before Iowa State and Texas utilized that approach to great effect in 2017. Meanwhile, Baylor slipped to 77th with the new Phil Snow/Matt Rhule defense. Then last year with the benefit of an extra year in the system…they slipped further to 85th.
The stated goal of the defense is to be multiple and to have lots of fronts, coverages, and blitzes that offenses have to prepare to see every week. That was the Joe Paterno method at Penn State forever, I've seen an old clinic video of the old man from the 70s describing their gameplan for defending the Texas wishbone. I've talked to Rhule himself about their desire to have a similar effect.
The problem is that the HUNH spread makes even a diverse array of defenses still fairly simple for the offense and it was obvious over the last few years that the Bears were regularly playing slow or erroneously in their various defenses. So what we often saw was that the Bears might cause problems one snap and maybe get a TFL in the run game, but the next they'd commit a mistake or get creased in tampa-2 and the other team would score or make a big gain. They were 122th in IsoPPP last year and 107th the year before. Big plays have just killed this unit.
On the flip side, they're a physical unit and the staff understands the values of matchups, in particular finding matchup problems and then building around them.
Secondary
Safety has been the biggest issue for this defense. The Bears have been mixing a variety of different quarters coverages with Tampa-2 and man-free. It's a lot of techniques and disguises to learn and they haven't really had anyone take off with it yet at safety. Additionally, the Bears also use a nickel that has a fair amount on his plate sometimes playing man coverage and other times helping as an overhang on the edge and then like to be able to play man with their corners.
Hakeem Vance: 6-1, 200. 3*** from Hattiesburg, MS (Hattiesburg)
Vance's best attributes are his ball skills and then what he can do with the ball in his hands. In other words, he looks like a good project at wide receiver who plays bigger than his size and knows how to find the end zone. Sounds like they're going to play him on defense though so I'm reluctantly including him in this section. He's fairly fluid navigating the deep field in coverage or coming up to support the run but on the latter he's more of a project.
Solomon Turner: 6-2, 209. 3*** from Plano, TX (Prestonwood Christian)
SPARQ: 4.66 40, 32.2″ vertical, 40′ power toss
Turner is a big, strong, physical dude who did a lot of his work going downhill in a relatively straight line at Prestonwood. He's pretty quick to close on a throw or run and projects well as a boundary, quarters safety but I don't know if he has the hips or change of direction to hold up on the back end if isolated in coverage. He's also pretty big and likely to get bigger so it's possible that a switch to LB is in his future.
Brandon White: 6-0, 170. 3*** from Amarillo, TX (Tascosa)
White has run a 10.45 100m dash, which is elite speed. He was playing as a 2-read safety on a lot of his highlights and completely dominating from the deep field, denying routes and arriving when the QB tried to move off him to deep targets. The ease with which he flips his hips and runs things down combined with his speed makes me think they have to try him at CB first.
Peyton Powell: 6-2, 181. 4**** from Odessa, TX (Permian)
SPARQ: 4.45 40, 4.25 shuttle, 37.6″ vertical, 36.5′ power toss
Powell has also run a 10.76 100m dash and was IT's no. 76 in the state of Texas.. I'm not sure if the 80's Friday Night Lights teams ever had a dude this athletic.
Powell was committed to Texas, then he tried to visit Baylor and conceal it from the Longhorn staff and they encouraged him to decommit, leading to a big coup for the Bears. His reputation is of being more of a finesse player than a physical grinder, but Blake Lynch had that reputation as well and Rhule ended up making a linebacker out of him with time. With a 6-2 dude this athletic, you'd like to see it all translate to cornerback. It sounds though like they'll start him at QB, where he has some skill but he wasn't an amazing passer at Permian and was running an option offense.
It would make a lot of sense to play him at WR, just get him the ball and make things easy, but if Rhule is going to build a champion at Baylor it'll come from grabbing a guy like this and developing him into a defender.
Grade: C+
A couple of elite athletes with lockdown corner potential taken here bump the grade past average but the numbers aren't all that and both Vance and Powell may not even end up on defense. Still, props to Baylor for getting 6-0 or better guys with this kind of quickness and speed and I'll note that Rhule has a solid track record here.
Linebackers
The Bears mix Over and Under fronts but they like to set up the will linebacker to run to the football and accumulate a ton of tackles. They want a guy there with a nose for the ball but also a lot of lateral quickness to scrape and pursue. The middle linebacker has a lot on his plate though, sometimes dropping down the pipe in Tampa-2 and other times doing more typical Big 12 tasks, which also often requires some real speed and quickness.
Tyrone Brown: 6-3, 205. 3*** from Beaumont, TX
IT no. 62 and another projection selection. Brown is one of those classic Texas linebacker recruits that have befuddled recruiters and evaluators for years. Teams in Texas regularly put their better athletes at OLB and give them really simple assignments to erase space and tackle as free-hitters off the edge, but then in the B12 teams have to teach these guys to read flow and fits gaps as inside-backers and it's hard to tell who will take to it and who will not. Brown seems solid enough at taking things on downhill to project there, but then he also might fill out into a 240 pound edge OLB.
Will Williams: 6-1, 200. 3*** from El Paso, TX (Chapin)
IT no. 26 and a man who's run the 100m dash in 10.51 seconds. Man is that fast. What's better is that he plays fast and he plays mean, uncoiling into ballcarriers with some huge licks from his OLB position. Williams could probably play a few positions, including safety, but he's a good blitzes and I think Baylor will want him around the ball. My vote would be to beef him up and use him as a will linebacker.
Grade: C+
Similar to the secondary, the numbers are a bit iffy and the projections are again not terribly clean. I do think Williams will end up being a fantastic football player at some position, it's just hard to be sure of where the best place to deploy him will be. At any rate, Baylor got some good raw tools to work with.
Defensive line
This is a multiple front team but they primarily base out of the 4-3 Under and then mix in the Over and use three-down fronts at times as well. They've used a heavier technique at strongside end some at Baylor than they did in Philly, but they want at least one edge player at DE and would probably prefer two for the flexibility.
Isaiah Howard: 6-3, 285. 3*** from Loganville, GA (Grayson)
Howard played some at DE and some at DT, in either instance he had a pretty similar MO. He's quick off the ball and then big, thick, and hard to move once he's stationed himself in a gap. You don't see Howard using his hands as much yet and he'll probably end up as a developmental take at DT.
Harrison White: 6-5, 263. 3*** from Spring, TX (Klein)
White is also pretty quick off the ball with some reach and fight in him for working past OL to get to the ball. He's pretty aggressive on film and often would attack gaps or shoulders and then work from there, they'll probably use the inevitable time he spends building up to 290+ teaching him how to play DT in a way that also protects the guys behind him. Really solid DT take here.
Niadre Zouzoua: 6-5, 230. 3*** from New Rochelle, NY (Monroe College)
Zouzoua is already on campus and probably there in order to give them more depth and options at DE where they've struggled so much. He can win the edge against tackles and clearly has an idea of how to use his length to help create a path to the QB and how to work an inside move. I'd say there's a chance he could start at rush end.
Garmon Randolph: 6-6, 235. 3*** from Jefferson, GA (Jefferson)
SPARQ: 4.69 40, 4.46 shuttle, 29.8″ vertical, 37′ power toss
Randolph had some decent film as a flex TE but it sounds like they want to bulk him up into a DE. He's pretty quick off the ball and also really strong, he'd be a guy that could set the edge really well in the run game with his length, strength, and ability to move around. I don't know if there's an elite pass-rusher in there or not but perhaps a 6-6, 270 pound strongside end.
Matt Jones: 6-3, 230. 3*** from Odessa, TX (Permian)
SPARQ: 4.79 40, 4.2 shuttle, 30.5″ vertical, 43′ power toss
Jones is a DE all the way and already a very strong pass-rusher. I think he'll start as a rush end but potentially end up at strongside end. He has a lot of power in those hands and some legit quickness to work the inside stunts that Haason Reddick used to wreak havoc on. 11 sacks last year speaks to his production, much more of a finished product here than many of the other takes. IT no. 93.
TJ Franklin: 6-5, 280. 3*** from Temple, TX (Temple)
No. 98 on the IT top 100 and Eric thinks he'll end up as an OL. I like him on defense, at least on his highlights he comes really hard and fast off the ball and projects as real trouble as a Under 3-technique. His numbers last year, 39 tackles, 11 TFL, six sacks, make me wonder if he gives consistent effort or not. Those are good numbers but the guy you see on the highlights should have better numbers than that. If giving consistent effort is an issue then OL makes all the more sense, this guy probably isn't getting smaller.
Grade: B-
The Bears took a lot of numbers and a lot of raw ability. I think they'll be able to fill out a three DL set from this group (strongside DE, 3-tech, nose) and there may be a good rush-end in the mix as well. If not they may find one from another spot. No doubt Rhule is taking a lot of high upside, big bodies to give them a shot to field top lines down the road.
Offense
Offensive line
A fascinating development in 2018 was the Bears, who'd been recruiting smaller athletes from outside zone HS programs for the first two years, moving to more of a tight zone run game. By the bowl game they were even pretty solid at it.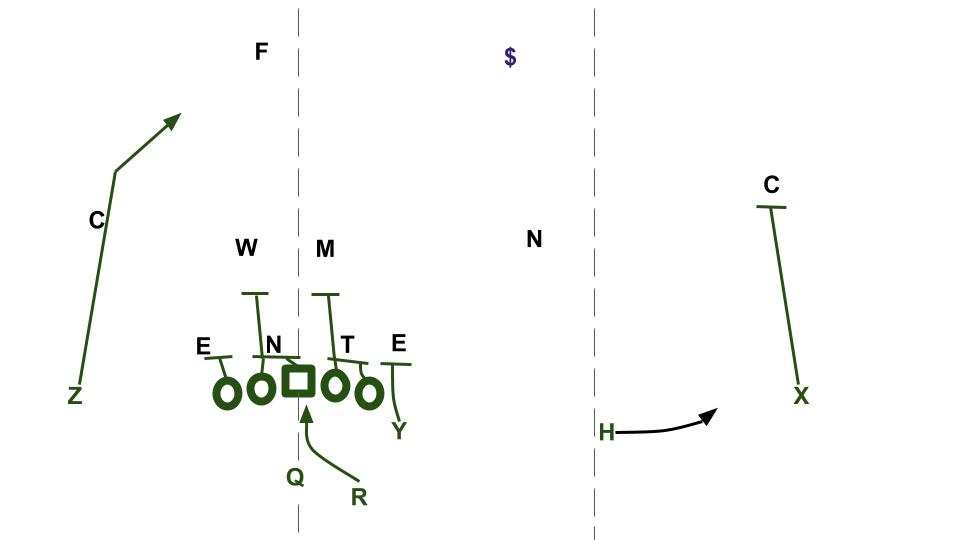 When the TE can block a DE like that then the Over fronts that 11 personnel sets like this tend to draw get into real trouble because the OT and OG can double team the 3-technique. Xavier Newman and Connor Galvin had that guy on skates.
So I'm not sure what the future holds here except recruiting more high upside athletes. Maybe they'll move to outside zone down the line or maybe they'll just continue to mash with tight zone.
Elijah Ellis: 6-6, 280. 3*** from Paris, TX (Paris)
Ellis was pretty good at playing low from a three point stance and moving laterally to connect with guys, although at that point he'd often just grab them and throw them down. He's pretty raw and also is going to fill out his frame quite a bit in college but he's an athlete. His upside is definitely as high as tackle.
Davis DiVall: 6-5, 285. 3*** from Bridton, ME (Bridgton Academy)
DiVall is a mauling guard who's very comfortable on the move or getting low to drive guys, despite his height. He doesn't look uncomfortable finding smaller defenders to flatten and has lots of clips making good, explosive pulls on power and counter plays. He's already on campus with a shot at trying to start at guard or get into the 2-deep.
Gabriel Hall: 6-5, 280. 3*** from Waller, TX (Waller)
IT no 91. I think Hall is listed at DT but me and Eric both think it's more likely that he'll end up on this side of the ball. He's really good at reading plays and then getting to spots and has a lot of burst and power moving off the ball at the snap. It's easy to see him translating his punch and quickness to OL, potentially tackle given his length, although he might be a nose tackle as well.
Paul Matavao-Poialli: 6-4, 330. 3*** from Daly City, CA (Jefferson)
Typical massive Polynesian tape. When he hits guys, they go flying backwards and some of his pass sets are hilarious, you don't want to tangle with him. Guys get absolutely thrown around trying to interact with him and he gets a ton of push. As an inside zone guard he'd be a real problem for defenses trying to hold the point of attack.
Blake Bedier: 6-6, 285. 3*** from Ephraim, UT (Snow College)
Bedier was the starting LT last year at Snow and probably the starting LT or RT for Baylor next year. He's super quick, I don't know about 6-6 but he's not short, and can change direction and move to spots with some real speed. I think it's possible that he could see Galvin moved to RT to make room, he's already on campus as an early enrollee.
Grade: B+
Lots of athleticism and upside here, like everywhere else, but also some numbers and some strong and immediate help as this staff tries to make another leap in year three.
Ancillaries
As demonstrated above, a legitimately strong blocking TE can really open up the spread offense by allowing them to dominate nickel fronts. That's the foundation of the Texas, Oklahoma State, and Iowa State offenses and is likely to play an increased role at Oklahoma, West Virginia, and Texas Tech in the coming years. Baylor has expressed an interest in playing double TE sets, at that point you need the second guy to be a real problem in the passing game. The kind of guy who can do damage flexed out after his blocking forces teams to get into big personnel packages that can't cover.
Honestly it's kind of an iffy strategy in general, although it should be noted that Temple did light up a few teams back in the day by getting into 22 personnel and beating up defenses so badly that they ended up scoring in bunches because their RBs ran wild. As a situational tactic it's extremely effective, it's nice to be able to run the ball to protect a lead and that can be easier with two TEs than just one.
Sam Snyder: 6-5, 215. 3*** from Orange Park, FL (Fleming)
Snyder has most of his tape either flexed out running routes or else releasing fast up the seam from an inline TE spot. He's pretty dangerous as a receiver with enough speed to be a problem for LBs trying to match him in zone and then of course the size to be a problem for safeties. The blocking will be more of a project, you also figure this guy is going to be 230 in no time and 250 or bigger down the line.
Logan Compton: 6-4, 216. 3*** from Tomball, TX (Tomball)
SPARQ: 4.79 40, 4.43 shuttle, 33.2″ vertical, 36′ power toss
Compton is listed at DE but I think he'll be here instead. His tape at DE is fine but there's a lot of guys like him in this class already, there aren't many that have his film in terms of bringing in some difficult catches, blowing by defenders with his routes, or eagerly flattening defenders as a blocker. He's a really good bet to translate into a TE that can block a DE one snap and then flex out and require that you play him carefully over the top in the seam.
Grade: B
These two guys look pretty good, neither have top end lateral quickness but they should both translate pretty well. There's also a chance that Compton will end up at DE and one of the guys at DE will actually play TE, there's a lot of overlapping skill sets in this class. The Bears are going to be long, strong, and skilled on the edges of the box though that much is certain.
Running backs
Baylor has gotten a lot of milage out of using really fast guys here. If you want to get into heavier sets with bigger bodies you need the RB to be a homerun hitter to make up for the explosive plays you lose by not having a WR to throw to down the field. Beyond that, Baylor has also done well by throwing to their RBs.
Jonah White: 6-0, 190. 3*** from Merkel, TX (Merkel)
White has run an 11.16 100m, which is pretty darn quick, and chose Baylor over Army and Kansas. He played a pretty silly QB at HS, making some interesting decisions as a runner work with sheer speed. He has a lot of wiggle in addition to the straight line speed which bodes well for playing RB once he learns how to find the intended gaps rather than trying to create his own. Some of Baylor's current RBs are undergoing the same development, the prognosis is pretty good.
Qualan Jones: 5-11, 219. 3*** from Cedar Hill, TX (Trinity Christian School)
SPARQ: 4.49 40, 4.26 shuttle, 37.1″ vertical, 45.5′ power toss
Jones is a thick bundle of fast twitch muscle fiber with some definite as an actual back. He never had a huge workload in HS but broke 1k yards the last two years thanks to 11 ypc. Eric had him no. 58 in Texas and he combines the breakaway speed of some of their current guys with more downhill power. If the concerns with moving John Lovett to safety concern who would take the short-yardage carries next season I think Qualan Jones could erase those concerns as a freshman.
Grade: B
I'm a big fan of Jones and am intrigued by his upside running behind all of the blockers they're assembling in Waco. This guy is who fans thought Terrance Ganaway or Terence Williams were, he'd have been devastating in the wide open alleys that Briles' offense created. He should be pretty good in this one as well.
Wide receivers
Baylor has leaned towards being run oriented on offense and then recruiting speed to capitalize on teams that are hurrying to the line for fear of getting run over. There hasn't been just a ton of consistency in their WR recruiting though, I think they're just looking for good players and they'll go from there.
Yusuf Terry: 6-3, 170. 3*** from Philly, PA (Imhotep)
SPARQ: 4.7 40, 4.5 shuttle, 34″ vertical, 31′ power toss
Another product of Imhotep institute within the 2019 Big 12 classes, Terry is also apparently a hockey player with the requisite toughness for that sport. When he has space off the line to work in he's pretty dangerous at getting down the field and then presenting a nice, tall target. You figure with his frame and toughness that he can grow as a physical guy getting off the press as well. Good chain-moving project.
Jaylen Ellis: 6-0, 187. 3*** from Round Rock, TX (Cedar Ridge)
SPARQ: 4.59 40, 4.2 shuttle, 36.5″ vertical, 41′ power toss
IT no. 70, Ellis has a lot of highlights where he's facing off coverage and he was very adept at eating the cushion and getting to his spots. Just too fast and also too quick and coordinated an athlete to give this much space. I don't know how he fared against the press, there's no examples of it, but with a 41′ power toss you wonder if perhaps that isn't so great an option either. There's a lot to like here.
Grade: C-
It's kinda funny that Baylor has one of the most athletic classes in the Big 12 with raw potential oozing out of most every position group but then a small number of wideouts that don't compare very favorably to the rest of the league. It's not a huge deal, the run game is going to be a major factor in how good their WRs look in the future, but they certainly aren't separating themselves here.
Quarterbacks
With a run-centric approach to offense in general, generous helpings of RPOs and play-action mixed in, and the WR talent available in this state you really want a strong passer in Waco to make the most of all of it. Charlie Brewer's running ability is a nice boost, but when you have multi-tight end and fullback sets for short-yardage and then lots of explosive WRs the QB really doesn't need to run the ball much. Instead you want a guy that can read coverages and get the ball down the field.
Jacob Zeno: 6-3, 188. 4**** from San Antonio, TX (John Jay)
SPARQ: 4.7 40, 4.51 shuttle, 36″ vertical, 40′ power toss
Zeno is an early enrollee but don't get any ideas, he'll need plenty of time before he's asked to lead the offense on the field. He's listed as a pro-style guy but that really shortchanges his running ability, particularly his knack for inside running where he's quick enough to be a real problem thanks to his speed and burst.
His passing numbers weren't great but at least some of that was a reflection on a WR corps that dropped lots of passes and an OL that wasn't fantastic. He's solid at finding something on the run and has a cannon arm that is accurate and loose even when rolling out of the pocket. When he's reading a single defender on an RPO he uncorks some beautiful fades and other deep shots. I don't know how he'll be at making progressions and throwing accurately to the second or third read, he'll be more of a project in that regard. As a prospect for a run-centric offense there's a ton to like here.
Grade: B-
Comparable tools to Maverick McIvor but with more quickness and also less proven ability to find receivers and distribute at a high level in the Big 12. You gotta give Baylor props for finding a guy with some real talent, but it'll be interesting to see how well he develops at the finer points of quarterbacking.
In summation
Baylor is on good track to field a team that can separate itself from most of the rest of the league with their athleticism and power in the trenches. It's hard to see this class failing to produce some really high level players for the OL and DL down the road. There's also a lot of pieces here that should allow Baylor to build a downhill run game in the future.
At the skill positions though things are inconsistent and don't necessarily point to a team that will be at a high level judging by the standards of the Big 12. They're going to have to work hard to turn some of these athletes into great DBs, LBs, and WRs down the road. The hope will be that all of that is easier if the Bears are particularly strong in the trenches. Phil Snow could probably also do some things that would make it all simpler for the skill athletes they're asking to be at the point of attack for a program priding itself on defense.