How do you control the line of scrimmage with only three or four players? That's a central question in today's Big 12, although it's been a useful skill for some time now.
Back in 2008 when Will Muschamp took over the Texas defense, he was surprised by a number of things he found waiting for him both in Austin and within the Big 12. The Texas roster was discovered to be less athletic than he assumed (although also smarter) and the Big 12 was found to be missing some of the bigger athletes he'd been around in the SEC (LSU and Auburn) but possessing much more skilled and dangerous quarterbacks.
He rebuilt the zone-blitz heavy, 4-3 defense that Texas had been running in 2007 and converted the Longhorns into a primarily quarters team from the 4-2-5 with their most experienced corner moving to the nickel. Then he converted Sergio Kindle from a 4-3 linebacker into a full-time pass-rusher and built a number of packages and fronts designed to create matchups for him, converted DE (now a DT) Lamarr Houston, converted RB (now a DE) Henry Melton, and DE Brian Orakpo.
Nose tackle Roy Miller pushed pockets all year and finished with 5.5 sacks but also flushed QBs into the waiting arms of Kindle (10 sacks) and Orakpo (11.5 sacks). All this made it much easier for Texas to protect a secondary that surrounded RS senior Ryan Palmer with young cornerbacks like Curtis and Chykie Brown, freshman safety Blake Gideon, and RS freshman safety Earl Thomas. Texas went 12-1, narrowly missed both the B12 title game and National Championship, then came back the following year with a similar formula and narrowly missed winning the National Championship. The offensive side of that saga is chronicled in my book on the history of the spread offense's development in the Big 12.
Since Muschamp moved on from Texas, the Longhorns have tended to veer towards the zone blitz with increasingly bad results. Show me a season since Muschamp in which Texas played good defense (2011, 2014, 2017) and I'll show you a team that relied more on dropping seven or eight that year.
So this is the world that new coaches like Neal Brown, Matt Wells, and Chris Klieman have found themselves in for 2019. All three of those coaches were known for managing effective defenses at their previous stops, even though both Wells and Brown are technically "offensive" coaches. Matt Wells hired Todd Orlando at Utah State and oversaw Orlando's education on the Kyle Whittingham/Gary Andersen "mormon mafia" coaching tree defensive scheme, which is zone blitz oriented. At Tech, Wells is having to adjust to the challenges of running that scheme in the Big 12. He's doing alright.
In their last two games, Neal Brown and Chris Klieman both showed off what made them smart hires for the Big 12.
Kansas State goes old school on Oklahoma
Defending this Oklahoma team is absurdly hard, even though the Sooners' personnel is actually pretty limited in comparison to what they've had in recent seasons and what they'll be fielding in 2020. Credit Lincoln Riley and the offensive staff as well as the athleticism and toughness of Hurts, Jalen, even though his limitations as a passer put a lower ceiling on some of Oklahoma's normal package.
The strategic challenge of defending Oklahoma is that their RPOs and play-action schemes are excellent at getting dangerous receivers like CeeDee Lamb or Charleston Rambo running free down the field, as well as their FBs and TEs. That latter point isn't nothing, Oklahoma's upset win at Ohio State back in 2017 occurred in large part due to the FB pop pass.
The obvious priority against the Sooner offense is stopping the run, but the real danger from the Sooner offense are those play-action elements that have Hurts throwing for an impossible 15.3 ypa. The run game is obviously bolstered by Hurts' abilities, and he's currently their leading rusher with 96 carries for 852 yards at 8.9 ypc with 13 TDs.
A lot of that is from scrambling, which has been the coup de grâce for a few defenses trying to stop this offense. In particular, Texas and Kansas State, although it hurt one of those two teams more than the other. The Longhorn gameplan for Hurts was to play man coverage across the board and drop a safety down to try and either blitz Hurts or to track him on scrambles. Texas' ineffective contain on blitzes and inability to tackle Lamb was their downfall.
Kansas State had a different approach, they brought out the foundational piece to their entire defensive structure, the original Tampa 2.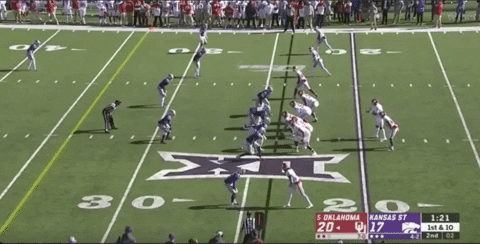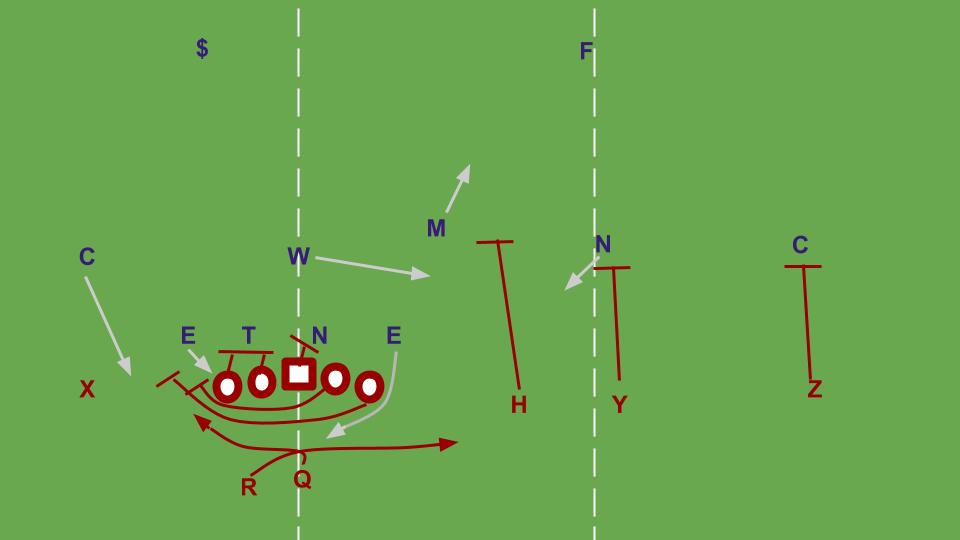 When the RB takes the sweep path on this QB counter play, the will linebacker chases him. The upshot is that K-State plays the QB run game with the four DL and then run support from the boundary cornerback. Not your ideal personnel set-up to stop a gap/power run concept, but it works like a charm.
When I showed this play on Twitter…
…a common discussion centered around whether Jalen Hurts made the right read on this play, or even if he was making a read at all. I suspect that Oklahoma regularly relies on scouting and Riley guesswork rather than having Hurts actually make reads on a lot of his spread-option schemes. It doesn't particularly look like Hurts really read anything on this play, Riley just seems to have been anticipating that the DE would play contain. BUT K-State flipped the nose and the 3-technique just before the snap probably in anticipation of a power/counter-read scheme, and they mucked up the plan.
Of course if Hurts does hand off here, Oklahoma isn't really blocking the nickel and the will is sold out to stop the RB. Best case scenario for OU is that the RB has to get lateral against penetration by the nickel which gives the field CB, MLB, and FS time to close.
When you're playing the option as a four-down DE or an OLB that's serving as a de-facto DE, your rules tend to be dictated by what's inside of you. If there's a nose-tackle inside of you playing the A-gap, then when you're unblocked you need to step inside and defend the B-gap so the offense can't power downhill behind the tackle. Additionally, if that's the plan then the LB can scrape to the perimeter and run around that tackle knowing that you won't get gashed because he left a downhill gap undefended.
If you're playing DE with a 3-technique inside of you in the B-gap then when you're unblocked you need to focus on containing the ball inside. On a scheme like this with the RB on a sweep path, you're playing the RB and forcing the QB to keep it because both LBs are going to be staying inside.
Kansas State thwarted another of Oklahoma's GT-read concepts with a different trick for handling this scheme: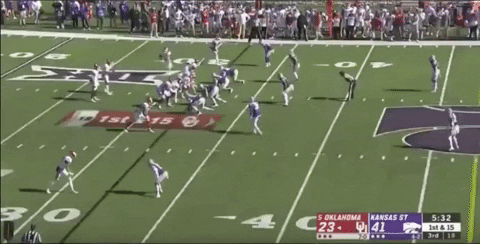 It's Tampa 2 again from the Wildcats and this time it's a WR running the sweep path opposite the QB counter scheme with the RB working as a lead blocker. Essentially the same concept from OU but with different accoutrements, but there's a big difference for the Wildcats.
K-State can't anticipate the play and flip the nose and 3-technique this time to get the nose on the opposite side of the sweeper like on the above play because this time it's a WR running the sweep path instead of the RB. However, they can muddy the read with a tackle-end twist: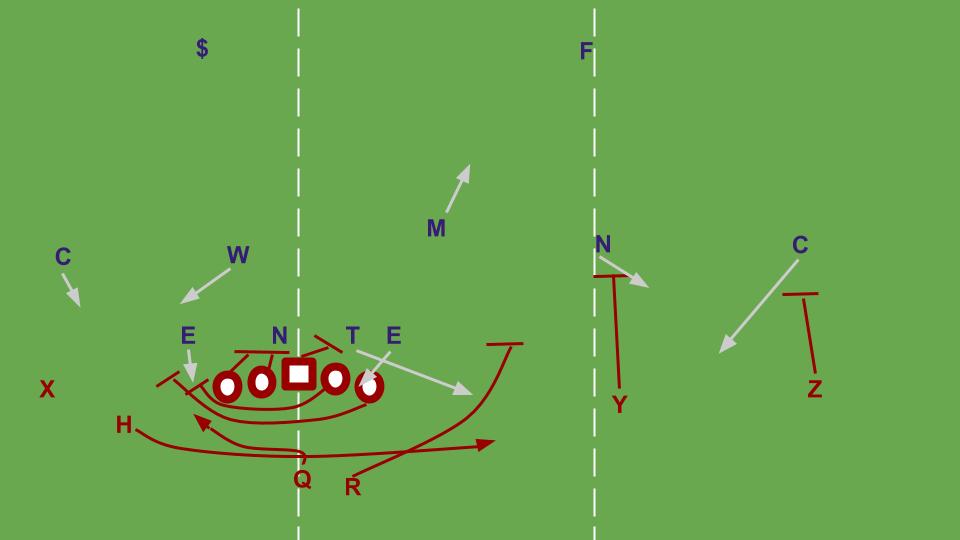 You can see how thrown off the Sooners are by the changeup in who's blocking who. It should also be noted that OU's WR perimeter blocking in this game wasn't good.
What happened here is that K-State decidedly won the battle on the chalkboard and worked out how to leverage having an optioned (unblocked) defender to stuff the run without having to get out of their conservative Tampa 2 look which was effectively denying OU's vertical passing game.
The safeties and middle linebacker are all playing the pass first and ensuring that nothing gets by them for one of OU's easy pitch and catch plays down the field. Instead this game came down to Oklahoma either running the ball on the Wildcats or Hurts scrambling. With all of their difficulties in the option game, they tended to land on the latter and after removing a couple of sacks Hurts ended up with 17 carries for 107 yards and three touchdowns.
Good, but not quite good enough and not as good as Oklahoma normally does on offense. There were a number of red zone possessions where Hurts tried to scramble and was caught short of the marker, leading to four field goals by Oklahoma.
The book on how to defend Oklahoma is out there, there's a lot of consistency in how teams are approaching them on both sides of the ball. On defense it's about taking away the easy candy on play-action and POP passes and then having a plan for the option. After that, it's just a matter of whether your defenders can tackle CeeDee Lamb and Jalen Hurts or not. Kansas State tackled juuuuust well enough.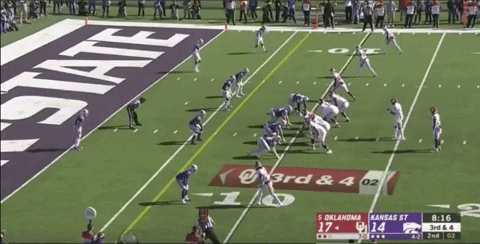 Going on a bear hunt, gonna catch a big one, what a beautiful day! We're not scared!
West Virginia came into Waco running hot…
You think maybe West Virginia had a lot of confidence in their defensive gameplan going into this Halloween primetime battle?
Stills backed up his words too, the Mountaineers sacked Charlie Brewer eight times (three for Darius, two for Dante) and held the Bears to 17 points…only three points more than their own mediocre offense was able to produce.
Missing star will linebacker Josh Chandler, West Virginia downshifted their defensive package into dime for this game and played with three safeties in a 3-2-6 package. Then they brought a lot of disguise and pressure, but typically while only rushing four.
You definitely get the sense that Baylor's offensive tackles in particular were a source of excitement to the West Virginia DL as they prepared for this game…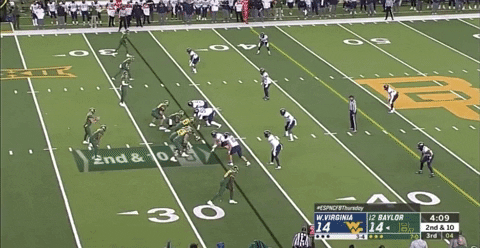 That's two different Stills brothers going through either of Baylor's offensive tackles. There were a few sacks that looked like this, particularly the latter one in which a tackle-end twist shoved through Phillips.
West Virginia is playing cover 2 in the first example and cover 3 in the latter, with DBs dropping very deep in either instance, and they succeed in making Brewer hold the ball past the all-important third second.
Here's how you create pressure on modern spread offenses on passing downs. You find a way to set up your pass-rushers to get to the QB within about four seconds without sending more than four of them at a time and then you make the QB hold the ball past his first read or else the ball is getting out within two or three seconds.
In clip one, Brewer finishes his drop at about three seconds, has to look past that read, and then Stills gets him in the next instant. In clip two, the exact same thing happens, just with a different Stills bro beating a different offensive tackle.
Here's how you get pressure on modern spread offenses on standard downs…you don't, not unless they're dropping back to pass. If they're running an RPO or play-action then either the ball is out instantly or they're probably in max protection and blitzing is useless unless you're dominating up front. In that event, blitzing may be unnecessary anyways.
You need a plan to get there with three or four.
In our feature matchup of week 12, Oklahoma at Baylor, we're going to see the flip side of both of these issues that cropped up in weeks 9 and 10. Baylor is going to look to play off on Oklahoma, keep them in front, mix looks against the option, and I can already tell you that they're a better overall tackling team than K-State or Texas. Meanwhile, Oklahoma has a bunch of talented athletes up front that they love to bring on different twists and stunts, so Baylor better have Connor Galvin healthy and everyone well repped on picking this stuff up or Brewer is gonna take a bunch more sacks.
This won't be their year but West Virginia and Kansas State should feel pretty good about their futures with Neal Brown and Chris Klieman.