Week 10 was destined to be one of little consequence for this season in the Big 12 unless disaster befell some team or another. I guess there were some disastrous events for the TCU Horned Frogs, but they weren't a team of much consequence for this season save for as a potential spoiler, a role which they've already executed once.
Texas, Oklahoma, Iowa State, and Texas Tech all had bye weeks and the Baylor Bears hosted West Virginia early in the week on Thursday night, which I covered to some extent here. On Saturday we got whatever they call the Kansas vs Kansas State rivalry game and then TCU at Oklahoma State.
The Wildcats maintained the normal order for Kansan dynamics with a 38-10 thrashing of the Jayhawks and TCU lost a winnable game while allowing Chuba Hubbard to put up a historic day on the ground with over 200 rushing yards.
Contrar-Ian says the glass is half empty
This one is kind of obvious but that loss at Oklahoma State was a bad one for the Frogs for a lot of reasons. I had a suspicion going into week 9 that the TCU defense is quietly not great this season which wasn't the wisest time to post that tidbit since they were about to pick off Sam Ehlinger four times in an upset victory.
However, what I noted before week 9 was that the TCU DEs have not been up to their normal, play-making standards. Texas didn't really pick at the Frog DE's mastery of assignment football on the option, but Oklahoma State plays that game better than most anyone else in the league because they have both the fastest and most dangerous RB in the Big 12 as well as the fastest and most dangerous running QB.
Jalen Hurts is a great overall runner, particularly in the power game, but when you're talking "who's the most dangerous to pull the ball and win the sideline?" then Spencer Sanders is your no. 1. The Frogs didn't execute their plan here with the necessary precision to pull off a win.
Here are some examples: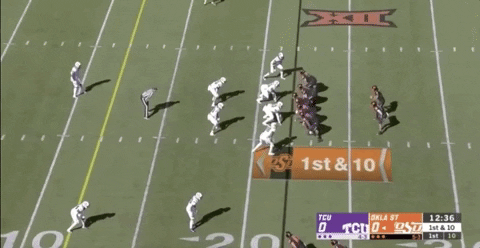 TCU played freshman(ish) Adam Plant at DE, he's a big dude at 6-5, 260 that played for Shameik Blackshear, whom I noted had particular problems with the zone-read against PFPurdy.
By normal four-down rules, the DE should be stepping inside here to deny the RB access to the B-gap on the cutback because the nose inside of him is in the A-gap. Instead Plant gets sorta caught in "no man's land" and Sanders easily darts around him. Garrett Wallow is not scraping around for the QB but playing the B-gap so the job of corralling Sanders is left to the secondary, who's been split extra far from the action by stacked, wide splits designed to do exactly that. Plant needed to be diving inside for the RB and Wallow scraping for Sanders here, that's schematically what makes sense here and it also would have made much better use of their respective skill sets. Trying to control a downhill LT with the 210 pound speed-LB while the 260 pound DE is trying to contain the QB makes not one iota of sense.
Next example…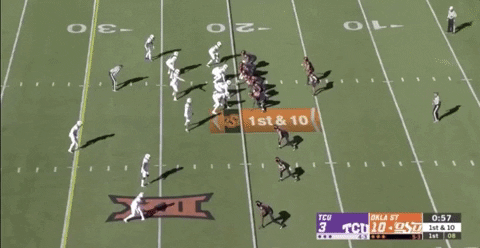 This time the Cowboys hit them with something a little tricky, the unbalanced "quads" formation. The TE is an ineligible receiver here because he's "covered' by the outside receiver also being on the line of scrimmage. Only the first offensive player up on the line of scrimmage (from the sideline) to either side of the center is an eligible receiver.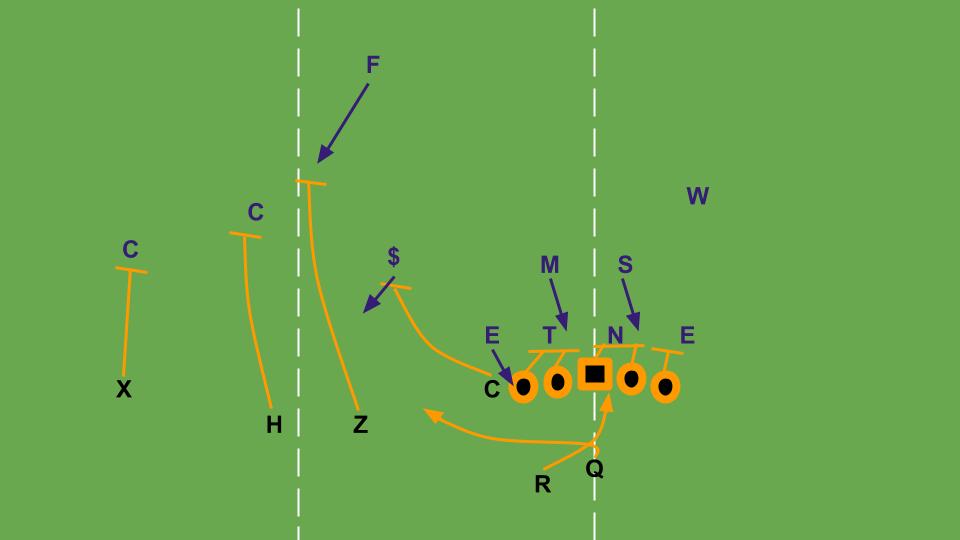 There's a lot going on with the unbalanced set and a few guys in different spots with TCU playing with a corner over, but ultimately it's still the same story in the tackle box. Plant has a 3-technique inside of him, so he needs to contain the ball, he doesn't. Sanders gets to the edge and strong safety Innis Gaines also blows contain despite an immensely favorable angle working against the TE's block. Dillon Stoner, largely unheralded but exceptional blocker, also does a nice job and cuts down FS Trevon Moehrig.
Notice that OSU keeps getting Adam Plant in these situations? No accident, I'm sure.
Next…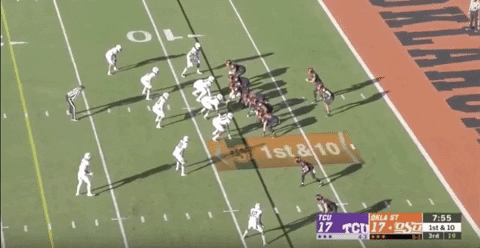 Zone-read from quads again, this time TCU plays it with the nose to the TE, which means the DE SHOULD be crashing and the LB should be scraping. They also have Shameik Blackshear out there now and he plays the QB with a particular focus on not allowing him to break contain while leaving Wallow to handle the LT and MASSIVE cutback lane. This yields a predictable result.
The footwork by Wallow leads me to believe that either this absurd play is the plan, or else the players keep confusing the plan. He doesn't act in either of our two examples so far as though he's expecting to have the QB and gets hung out to dry by the DE's decision.
Next…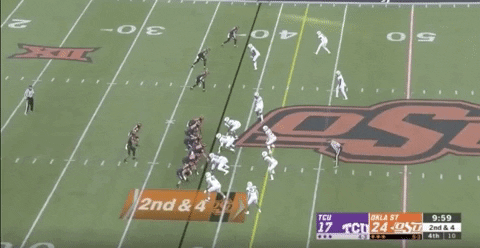 DE is Ochaun Mathis this time. He has a 3-technique inside of him, but this time he and the LB Garrett Wallow are clearly trying to execute a scrape exchange. This is exactly backwards, there's a DT in the B-gap, and when you're going to scrape exchange the DE should really crash and commit. Mathis plays square so that he can help on a Sanders keeper so he isn't able to chase down Hubbard. Meanwhile the playside is just a mess with the nose playing this like an outside zone rather than an inside zone and getting too far upfield while the other DE (Parker Workman now) and the CB both also overplay the edge leaving no one behind to catch Hubbard when he creases the front. Notice also that Wallow trying to execute a scrape exchange to take the QB leads to false steps that also prevent him from getting over to erase the mistakes.
And finally…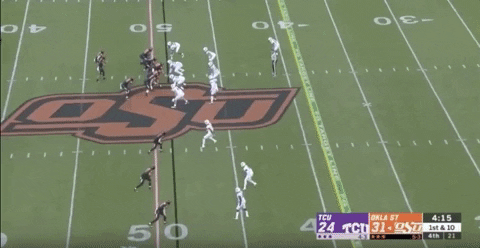 This is the unbalanced 4×1 set again but this time the TE is lined up as an H-back so he can lead on the edge for the QB. Whenever you see a team in this formation, there's at least a 50% chance that they're going to run the zone-read with the H-back arcing around to lead on the boundary for the QB keeper. Also, with the H-back off the ball, one of the split out receivers is ineligible, specifically the second one on the line from the sideline. So that's Dillon Stoner here, you don't need to cover him guys, he can't legally catch a forward pass.
TCU's DE has an open gap inside of him so what does he do? By God, he does the right thing and crashes after the RB. Sanders pulls the ball but the LB has taken a bad angle to contain him and then the weak safety also seems shocked and gets caught by the lead blocker.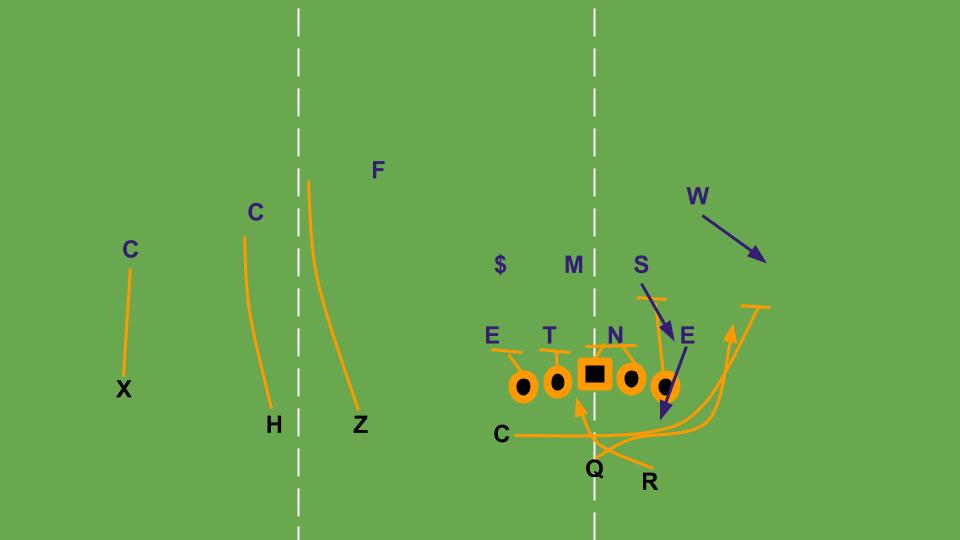 This was Ochaun Mathis this time. It's almost like the TCU coaches told Mathis "always chase the RB" and told the other guys "always contain the QB" regardless of any other context. At any rate, TCU played OSU's zone-read exceptionally poorly all day long and they did it because they didn't execute normal four-down rules to maintain leverage on the ball.
That's just five plays (and there were more) that yielded to 199 yards and 2 TDs with the other three occurring as part of scoring drives. Pretty bad overall. I don't know what Gary Patterson was teaching on these plays but what the Frogs put on film was dreadful. It's not a good look to play crap zone-read defense against the best zone-read team in the conference.
Oh yeah, and Max Duggan broke a finger on his throwing hand…
…and the Frogs get Baylor next. Sounds like Duggan will be out, you gotta wear a splint on that thing for at least two weeks which probably makes throwing a football while large people try to hurt you impossible. Mike Collins came in against OSU and also incurred some sort of injury, if he's out that leaves TCU with Alex Delton and a walk-on, or maybe wild Sewo, against Baylor.
In other "glass is half empty" development, Kansas State took some injuries while beating Kansas. AJ Parker went down and two main RBs were either held out or played sparingly, presumably to try to get them ready for Texas. Kansas State had to move nickel Walter Neil Jr to CB this season to overcome a lack of quality depth and AJ Parker has been having a great season. Without Parker, the Wildcats may have to play a lot of Tampa 2 against Texas like they did against Oklahoma.
In this case, Texas' preference for running tight zone over zone-read could come in handy. The Longhorns aren't going to test Kansas State's ability to slow-play the option from Tampa 2 before closing on the ball, they'll try to mash them up front and blow open holes that the defenders will have to plug from depth.
Who won week 10?
It was a nice win for Kansas State to whip the Jayhawks and maintain their place of in-state supremacy. Kansas had been playing well recently so a win of that magnitude is always a big narrative victory as well.
My vote though is for Chuba Hubbard, Spencer Sanders, and the Oklahoma State Cowboys. OSU is now 6-3 on the season and 3-3 in conference play, they won big without star receiver Tylan Wallace, and the rest of the schedule plays out nicely for them. They get a bye week, then play Kansas at home, then West Virginia on the road, and finally Oklahoma at home.
If they win out (I know, I know) they'll be 9-3 with a chance at a 10-win season in the bowl game coming back for 2020 with a returning Spencer Sanders. Even if they lose to the Sooners but otherwise win, they'll be 8-4 in the regular season, which is a solid year and a much better outcome than seemed likely a month ago.
They're also putting together a nice stretch that will sell the program and help recruiting. Chuba Hubbard is currently at 236 carries for 1604 yards at 6.8 ypc with 18 TDs. The Heisman talk is kinda silly, RBs just aren't as impactful these days and even with the best one in the country the Cowboys are just .500 in Big 12 play. However, it's a nice story and exciting for young RBs thinking about where to play their college ball.
Sanders, after removing sack yardage, is at 108 carries for 698 yards at 6.5 ypc. He's thrown for 11 INTs this season and clearly needs more time and training on recognizing where the ball is supposed to go, but he can only get better at understanding the game and if he does so while maintaining this level of athleticism he has a pretty high ceiling.
Remarkably and contra my notes, Dillon Stoner still has a year of eligibility left, so the Cowboys will have a solid floor for 2020 before finding the next star RB or WR to plug in if and when Wallace and Hubbard go pro. If either return, the Cowboys will be in pretty good shape.
Things look better for OSU after pulling out a couple of wins against Iowa State and TCU. The whole program is getting a pick me up as a result of having played competent defense and getting back to back solid games from Sanders. Their inevitable assault on OU's perimeter defense with spread-option tactics is going to make for compelling television.
********
Read about how QB run game evolved from Nebraska's I-option to the spread offense at Southlake Carroll HS and then in the Big 12 in my book: