Week 11 was a great one for Big 12 football. The Baylor-TCU game took place at noon, which was a big win given the ratings bonanza taking place at 3:30 (not K-State/TX), and then the Big 12 had far and away the best primetime game in the Iowa State-Oklahoma battle.
Perhaps this was inevitable but the results of the games also amped up the drama for these next two weeks. Iowa State was basically knocked out of the race for the Big 12 title, they can only play spoiler from here, but Texas' victory over Kansas State keeps the Longhorns in the hunt. Should Texas win against Iowa State next Saturday, then we'll have back to back weekends of high drama games for the upstart and undefeated Baylor Bears who host Oklahoma and Texas over the next two weeks.
The addition of a Big 12 championship game has had the negative consequence of diminishing the Red River Shootout, but it's had the positive consequence of ramping up the drama and interest in the league's November games because that no. 2 slot team gets a second chance at the title even if they finish a few games behind the no. 1 slot team. Texas and Oklahoma have always given a huge boost to the other schools in this league, it's been something of a win-win also given the favorable path that a strong Texas (theoretically) or Oklahoma has to the playoffs.
Contrar-Ian says the glass is half empty
Baylor is 9-0! Two years after almost going defeated in year one under Matt Rhule before Kansas rallied to defend its crown, the Bears are now threatening to go undefeated. Whatever else happens this season, it's been a huge breakthrough for Matt Rhule and this program and there's no taking anything away from the Bears' 2019 success even if they finish 9-4 from here.
That said, things look shaky for the Bears from here, primarily because of this…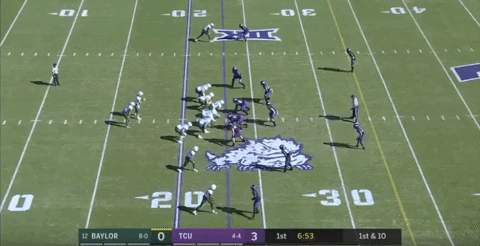 The read here by Brewer? Excellent. He sees the weak safety turn his hips to help bracket Denzel Mims, then he turns and finds Josh Fleeks running deep with inside leverage on the strong safety/nickel with no help because the free safety is robbing underneath. The timing? Fantastic, finishes his read at the end of his drop, immediately steps in and throws.
So what happened? He throws an absolute duck that gets picked. That ball is in the air for three seconds and doesn't come close to leading Fleeks into the open grass that's available to him. Three seconds to travel 36 yards and not on target at all.
Contrast that with a similar throw against Iowa State earlier this season: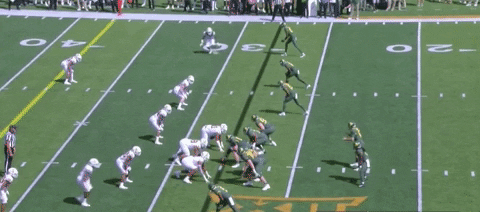 In the same span of time (three seconds) this ball travels over 50 yards in the air and successfully hits the receiver without the target having to drastically slow down his stride.
Here's another one from the same game on Baylor's deadly version of dig-post they've been running from a trips formation: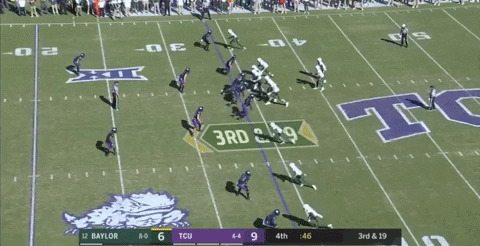 Makes the right read, has time to step into the throw, and can't get the timing right. Contrast that with his performance against Oklahoma State a few weeks back on the same concept: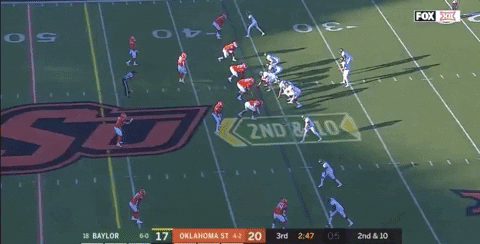 He's generating zip with a lot less effort and that makes the timing much easier.
I'm pretty sure Charlie Brewer is playing through something that is diminishing his ability to push the ball down the field. Playing against an OU team that will apply pressure both in the pass-rush and with some pressed up, handsy coverage outside that's alarming. It's a tough time of the year to be battling an injury that limits you, going up against the two most talented teams in the Big 12 with title stakes on the line, in back to back weeks.
The exhaustion that Baylor must be feeling from having to scratch and claw their way past Texas Tech, West Virginia, and TCU is no joke. So to now face Oklahoma and Texas in back to back weeks before traveling to God-forsaken Lawrence to play the scrappy Jayhawks in miserable conditions to close the year? That's a tough finish. My concern all along has been whether Brewer, who plays like Sam Ehlinger minus 25 pounds or so of armor, can stay healthy enough to get through it. That concern is unfortunately coming to life.
That Baylor D is playing outstanding football though, we'll talk more about that later in the week in discussing their showdown with the Sooners.
PFPurdy goes down in Norman
That battle between Iowa State and Oklahoma was absolutely fantastic. The game actually seemed in control for the Sooners from the start, Iowa State was struggling with Oklahoma's power-option game. But the Cyclones predictably found Brendan Radley-Hiles on the edge in the run game a few times: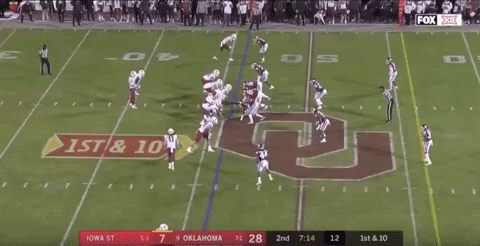 …or found room opposite Radley when Oklahoma weighted their front to keep Radley from having primary run force duties.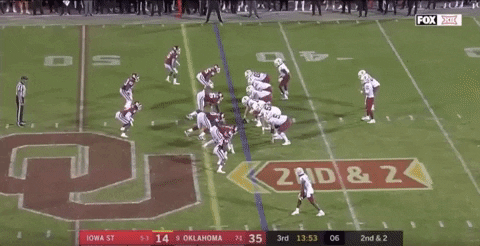 Eventually Radley finally showed some fight…on a helpless receiver away from the play, drawing a personal foul that enabled an Iowa State TD drive. He was benched shortly after for the remainder of the game.
The Cyclones were also able to hit their RB Breece Hall for a few nice gains when Oklahoma was focused on bracketing TE Charlie Kolar. The Sooners couldn't really handle that dude and he was actually open on the two point play, Iowa State should have isolated him with their design on that attempt and they probably would have won the game. If he's isolated opposite a 4×1 set on a QB draw RPO you think OU is stopping that play?
Also worth noting this snafu by Jalen Hurts that gave Iowa State the chance to win.
Whatever his leadership qualities are, Hurts is simply not a very good pocket QB and he's prone to disastrous decision-making. His stats may be amazing but his limitations are the reason Oklahoma took the L against Kansas State and had unnecessarily narrow wins against Texas and Iowa State. That power-option game and CeeDee Lamb are really something though.
Iowa State ultimately lost because PFPurdy just wasn't ready yet. If they can get Kolar back next season and he doesn't decide to go pro, and they don't lose Matt Campbell to another job (I doubt it), 2020 Iowa State will be an exceptional football team. With an offseason to stew on their failures and master more of their system, PFPurdy will work out how to best distribute the ball in crucial moments. He kinda backpedals and tosses the ball up at times, he's probably also dinged up like Brewer though perhaps not on the throwing side. Adding some weight and discretion for 2020 would also be helpful, he dodges big hits better than most QBs but he needs to because his frame is fairly small.
Who won week 11?
Flyover football was a big winner again in week 11. Ever since seeing Joe Burrow carve up Texas in week 2 I've known that LSU was going to take it to Alabama this season. Nick Saban can't help himself, his methodology just isn't good for handling these HUNH spread passing teams and his players rarely prove up for it. In fact, I can't recall a time when Alabama was able to lock down a good spread passing team in a big game. Granted that's hard for everyone, but it's as hard for Alabama as it is for everyone else, and that's important.
You can of course read about the rise of spread offenses and why they really emerged and flourished in the Big 12 in my book:
In chapter one I open with Clemson's big blowout victory over Alabama in the 2018 National Championship and explain why that's how things are going to be from here on out. Presumably I have some more people agreeing with me after Joe Burrow threw for 10 yards per attempt on a Saban D with a year to reflect and adjust, we'll see I guess. After the Clemson game there was a strong counter-narrative that the Tigers were just lucky or timely with their success and that statistically the game was much closer than the final score indicated. I disagreed but my ideas didn't seem to quite prevail in the general takeaways from the game.
Within the Big 12, I'd say the biggest winner was Texas. They nearly had a disastrous loss against Kansas State that would have sunk the entire season, you may not have watched since LSU-Alabama was on but the Wildcats got out to a 14-0 lead in the first quarter of this one. A few of Texas' typically poorly executed and obvious third down blitzes gifted the Wildcats those two early touchdowns before some adjustments and inevitable offense led to the Longhorns dominating the rest of the game.
However, a red zone INT by Sam Ehlinger and a 98-yard kickoff return by the Wildcats still made it close before a 6+ minute final drive by Texas devoured the fourth quarter, Chris Klieman's timeouts, and set up a chip in field goal with time expiring.
Texas isn't really playing exceptional football right now, but they're playing solid and they're getting a lot healthier just in time for the November grind. By avoiding that disaster against the Wildcats, they now have a nice set-up for the stretch run.
First they go to Ames to play Iowa State, which is a very challenging game but comes when the Cyclones are reeling from that narrow defeat and no longer have a realistic shot at the Big 12 championship game. Campbell's bunch will still likely give them their best shot and Texas may not be able to take it, but it sure helps to play them after that grind against Oklahoma.
Ditto the following week, Texas gets the clearly beat up Bears with the B12 title berth potentially on the line a week after the Sooner machine rolls through town. Then they finish at home against Texas Tech.
Baylor and Oklahoma have the lead right now, Texas needs one of these teams to lose twice while the Longhorns win out in order to get into the Big 12 title game. That's a tall order, but the set-up is certainly there given Baylor's upcoming stretch and Oklahoma needing to win on the road at Baylor, then at home vs TCU, then on the road against Oklahoma State.
I imagine Vegas would make Oklahoma most likely to make the B12 title game with Texas and Baylor next and perhaps in that order. However, all three teams have a pretty good shot at this, which means that those of us who enjoy watching Big 12 football are big winners over the next two weeks.