What a week. We got a couple of really big games with consequences for the rest of the season that are a little anticlimactic but things were no less fascinating this week.
Technically Oklahoma, Baylor, Oklahoma State, and Texas are all still in the running to appear in the Big 12 championship. Both Baylor and Oklahoma can clinch a place with one more win and while they face a fairly tough slate, odds are great that they will get a rematch in the Big 12 championship.
It'd be interesting to see this rematch given how that first round went last night. Baylor caught the OU defense with a right hook early and then put them on the ropes for virtually the entire first half. Meanwhile the Baylor defense was doing exactly what we expected, swarming to the run and confusing Jalen Hurts.
In the second half, the Baylor offense frankly choked the game away. OU used the halftime to adjust to the QB draw RPOs that had torched them in the first half and Baylor had a couple of misfires in the passing game, such as the Tyquan Thornton drop, that led to some 3'n'out's. They also had a big run and promising drive quickly thwarted by a JaMycal Hasty fumble.
Oklahoma ended up with 41:18 in time of possession as they carefully and methodically pounded the Bear defense in the second half with Snyder-ball. Spreading them out only to run Jalen Hurts 27 times for 114 yards at 4.2 ypc. Baylor didn't even do a bad job defending the Sooners but played what I think is only fair to call a well above average defensive game.
But if the QB is a 220 pound power back and they're direct snap running the ball to him it's hard to stop them from getting consistent gains. Kansas State won a B12 title this way with Collin Klein, the only trick is that your QB has to be an exceptionally tough dude to make this work. Hurts' performance in this game was truly an all-timer, even with the turnover mistakes. Dude is relentless.
So how do things play out in a rematch? Can Baylor get a little healthier at QB after two more league games and mix in more passing to punish the Sooners deep? Can they repeat their performance in pass defense when CeeDee Lamb is on the field, breaking tackles and turning hitch routes and screens into explosive gains?
Additionally, how will Baylor handle that loss psychologically? I don't think Matt Rhule will panic or get down, but how will the team respond? Will Oklahoma be in their heads? Will memories of Jalen Hurts breaking tackles on 3rd down, coming time and again behind that big OL haunt this team?
Contrar-Ian says the glass is empty
There's sugar coating the truth about what happened in Ames, Iowa. The Cyclones finally came out ahead in a big game, despite a nearly disastrous failure to catch Texas' last punt. Texas meanwhile, completely choked the game away and concluded their season in a fitting fashion, committing an egregiously dumb offsides penalty on a 40+ yard field goal attempt that allowed Iowa State to run out the clock and kick again from a safer distance.
Texas' injuries and the fact that Iowa State was -7 for this game could paint a clear picture of the Longhorns losing a tough game to a good team. However, within the context of the whole season it was a catastrophic defeat that put the bow on a failure of a season. With the best QB in the Big 12 and the best QB Texas has had this decade, the Longhorns are about to go 8-4 at best and almost certainly miss the Big 12 title game.
This was a season where Oklahoma had to overhaul their offense to get by without a great passer while retooling their defense. A season where most of the league was starting over at QB. Next season will feature Spencer Rattler at the helm of a loaded Oklahoma offense and the following returning starters:
Charlie Brewer, Baylor
Pump fake Purdy, Iowa State
Spencer Sanders, Oklahoma State
Skylar Thompson, Kansas State
Max Duggan, TCU
Alan Bowman/Jett Duffey, Texas Tech
Jarrett Doege, West Virginia (he'll get four games of action and then no more to preserve the redshirt, so if they get to bowl eligibility someone else will have to take the snaps).
Essentially everyone but Carter Stanley and Jalen Hurts.
Texas also only had two games out of the state of Texas in 2019 and a pretty favorable scheduling draw overall. All squandered by unsound defense, injuries, horrendous and weekly special teams gaffes, and ultimately stagnant offense. The loss at Iowa State also included a series where Texas, up 21-20, got the ball on their own 15 and proceeded to run a pair of obvious zone dives from 12 personnel to try and chew up clock with 4:01 left in the fourth quarter. The Cyclones had been whipping the Texas run game and iffy TEs all game and easily stuffed these two runs, then broke up the obvious tunnel screen on third down and Texas had to punt the ball back to them from their own 5.
It was a spectacular choke job from Herman that came after two long TD drives engineered by putting Sam Ehlinger in the spread and letting him run round and make plays. The 'Horns almost got lucky when Iowa State didn't field the punt but allowed it to bounce to their own 18 yard line, but PFPurdy made a few throws and Texas gifted them a few extra yards here and there with penalties. The offsides penalty was also unbelievably dumb by Texas. There was still 2:16 on the clock, so either the Cyclones were going to go up 23-21 and give the ball back to Texas with a chance for another drive or they were going to miss the field goal and Texas could probably chew up the rest of the clock.
Remarkably, after a fantastic year two and a second year of one of the better Texas QBs I've seen, Herman will be facing the need to overhaul his staff before 2020 and produce results in what could be the toughest Big 12 season since 2008. The 2019 season was one to build margin and pad the resume with a Big 12 title, now things are going to heat up for Herman.
Who won week 12 in the Big 12?
Outside of the big games with conference title stakes, there were some other developments around the league. Somehow I was unaware that West Virginia had a Bowling Green transfer QB on the roster redshirting in order to take over for 2020 and 2021 named Jarrett Doege. When he started to get into the action late in the year I assumed he was a freshman they were getting acclimated, but he was actually a 2660-yard passer for the 2018 Falcons.
I knew the Mountaineers would trip up someone this year in the Big 12, Neal Brown seems the real deal, and it turned out to be the Wildcats. Here's Doege beating the "Cats" on a very well thrown slot fade:
You may recall Seth Doege, who played for Neal Brown at Texas Tech back in the early part of the decade. That's Jarrett's older bro. This guy can execute the Neal Brown Air Raid at a much higher level then can Austin Kendall and they'll be trouble next season.
TCU and Oklahoma State also had nice wins, the Frogs are a victory away from bowl eligibility. Technically the Cowboys can still make the Big 12 title game. Here are the scenarios where we don't get a Baylor-OU rematch.
Scenario 1: Texas beats Baylor and so does Kansas. The Bears are 6-3 in B12 play and Texas beats Tech to also finish 6-3 with a tiebreaker over Baylor from a head2head win.
Scenario 2: TCU beats Oklahoma and then so does Oklahoma State. The Cowboys finish 6-3 with a tie-breaker over the Sooners.
Scenario 3: Both of the above happen and we get some kind of convoluted mess with as many as five 6-3 teams. Oklahoma, Baylor, Texas, Oklahoma State, and Iowa State. I don't know how that would sort out, perhaps record against the top five. In which case it would go:
OU: 3-1
Baylor: 2-2
Texas: 2-2
Oklahoma St: 2-2
Iowa St: 1-3
Then there'd be a tiebreaker to sort out between Baylor, Texas, and OSU which I assume would go to Texas since they'd be 2-0 in this hypothetical.
I think the most likely scenario is that things get interesting with Baylor and/or OU dropping one more game, perhaps one more apiece, but then ultimately still finishing out as #1 and #2.
The big winner of week 12 was Jalen Hurts. 27 carries for 114 yards and his consistent scrambling and power running allowed Oklahoma to completely control the second half while squeezing the life out of Baylor. We're going to have to dub him "Hurts, the relentless" from now on. He also hit a half dozen or so crossing routes against man coverage that converted multiple third downs for Oklahoma.
Salute to the fallen: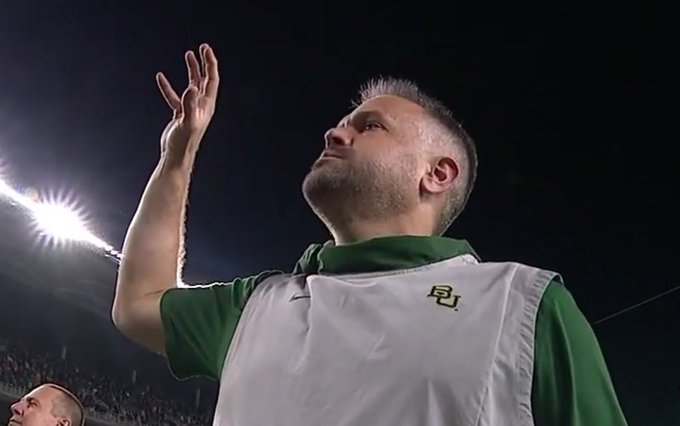 I think the TCU-OU game may be worth some notes later this week. I'll be previewing Texas-Baylor over at Inside Texas, that could also be a good game that comes down to the wire.
That was almost a special night in Waco for the Bears with shades of 2011 when RG3's big night offered the big proof of concept for their style of offense and burgeoning program. I broke down that game in my book:
But the Bears have a very good chance here to get to the B12 title game and avenge that loss.