The other day I explained my "space force enlistment" metric in my last post but I'll summarize the gist of it.
Controlling the middle of the field comes down to feel, team cohesion, strategy, experience, and toughness moreso than pure athleticism. A squad of well picked and developed 3-stars can lock down the middle of the field. But on the flanks, where tackles battle edge-rushers and WRs battle CBs, there's really no substitute for athleticism. Smart corners can get you a fair ways and WRs that have good hands and know how to run routes will do damage but at the highest level it's about who has guys that can win 1-on-1 matchups and it's hard to beat the best in those matchups if you don't have great athletes.
So we're breaking down the "space force" athletes each team landed at edge rusher, offensive tackle, cornerback, and wide receiver.
The Kansas Jayhawks
Under David Beaty the Jayhawks' main struggle was an inability to field savvy, cohesive units in the middle of the field. They actually had some pretty good athletes in the "space force," including notable guys left behind for Les Miles. LT Hakeem Adeniji will be drafted, CB Hasan Defense may as well, and they had a few good edge-rushers in the last few years as well. But they couldn't field competent players at every position due to a lack of development and a lack of scholarship players to fill out the depth chart.
When people assume that the Miles Jayhawks will be terrible next year because of how many starters are moving on, they're not grappling with how much improvement has come to the overall roster in terms of numbers and sheer competence in developing the unit.
Miles took 27 players in this class in an effort to rebuild the roster numbers, and any time you take 27 you're going to end up with a high number of promising players. The key is that many of them need to be developmentally valuable and others need to be able to contribute early so that you can spread their eligibility out and also you need to have a high hit rate. Attrition can help you recover from some bad signings down the line but if Miles is hoping to build his program from this class then he needs a high hit rate of contributors.
Here's how the space cadets look:
Offense
The Jayhawks are an RPO spread squad that want to be able to hit you in the box with some lead runs and option schemes but Brent DeArmon has shown that he sees the real value is in getting 1-on-1 matchups to throw the ball down the field.
Tackle
Nicholas Martinez: 6-5, 285. 3*** from Servite HS (SoCal)
Big dude with some solid feet and film at guard and tackle playing against some of the big time schools in California like Mater Dei. I think he's more about power and solid technique than athleticism though and probably ends up inside as an inside zone guard who can eliminate penetration.
Jackson Satterwhite: 6-5, 283. 3*** from Miami HS (OK)
Satterwhite is fairly explosive in his first step and also generates a lot of power for the same reason. Tackle requires a little more fluidity and flexibility than sheer explosiveness but he'd at least get a look outside. Probably better served at guard though and he has some film as a run blocker that is eye catching.
Armaj Adams-Reed: 6-5, 350. 3*** from DeSoto HS (DFW)
Lousy technician, barely knows what he's doing in terms of a kick step or other technical details of being a pass protector BUT he's a sensational athlete with a massive wingspan. If his issues are sheerly technical and developmental rather than related to some stiffness or other limitation than he might end up being an All-B12 caliber tackle when he's a RS junior or senior. He's a great athlete whatever the case might be.
Bryce Cabeldue: 6-6, 245. 3*** from Clovis HS (NM)
These guys are often my favorites, the multi-sport athletes that have the frame and athleticism you need and lack only the sheer size and power. The service rankings often value the guys that move pretty well with size but the 3-stars that end up being star tackles are usually the guys that are great athletes but haven't yet zeroed in on developing their bodies for football or else just haven't grown enough to play there. Cabeldue has all the physical traits you want except the ones that come with time.
Btw, here's the list of tackles who were named All-B12 in 2019: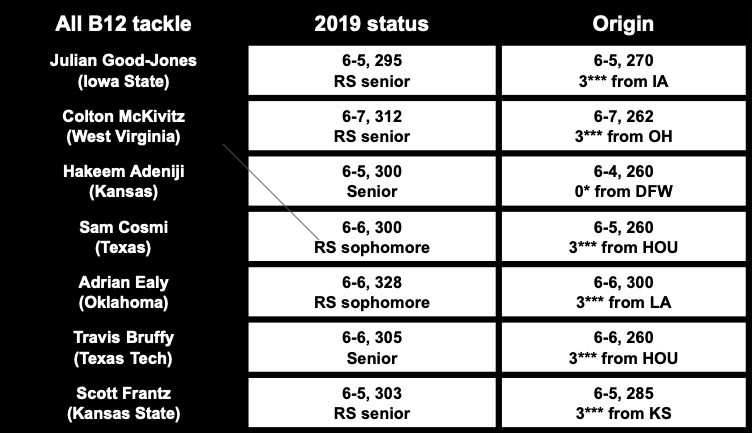 Of course the percentage of blue chips here is low in part because most of the B12 isn't able to recruit very many blue chips in general (aside from Texas and Oklahoma). However, you can clearly see that most of the league's best tackles were the guys that had the athleticism and frame in HS and lacked only the size. Hakeem Adeniji might be the best talent on this list and he was unranked as a HS player. If it's not Adeniji it's Sam Cosmi, a player that even optimistic Texas fans took to be a throw-in that Tom Herman took because they'd evaluated and recruited him while at Houston and didn't have time to try and snag a better prospect.
The highest rated guy here, Ealy, played RT last season for Oklahoma and is on here mostly for his run blocking.
Summary
I think Kansas did pretty well here. They got two guys that have a ceiling of an All-B12 left tackle, which is probably about what a team like this should be aiming for.
Receiver
Kyler Pearson: 5-8, 150. 3*** from Union HS (OK)
Pearson is water bug quick but lacks top end speed in the open field. He ran the 100m as a sophomore in HS at 12.71, I'm sure he could do better now but his strength is in changing directions and hitting top speed quickly with high leg turnover. He might not even be 5-8, he's a little guy. He's a slot and punt return project, perhaps most dangerous running pick plays and pivot routes on the goal line.
Luke Grimm: 5-11, 175. 3*** from Raymore-Peculiar HS (KC)
Grimm has some real agility and quicks, he's tested with a 4.6 40, 4.2 shuttle, and 32.8″ vertical. His HS used him in the slot, outside, and at RB and he flashes the ability to run by people, make lateral cuts, and also has really strong hands. He'd probably be best in the slot.
Malik Johnson: 5-9, 175. 3*** from The Woodlands HS (HOU)
Twitchy, powerful slot receiver that also served as a Wildcat QB for The Woodlands. They basically just tried to get him the ball in space and threw him a ton of corner routes against teams playing quarters. His route running on those is interesting, he overran them at times and didn't give his QB the widest windows considering how much faster he was than everyone else on the field. He's rushing a bit, basically. Very high level athlete though that can run vertical routes from the slot though, much like Grimm.
Johnquai Lewis: 6-0, 170. 3*** from Champagnet Catholic (SFL)
4.78 40, 4.53 shuttle, 31.3″ vertical suggest a limited athlete but sometimes you see this with South Florida kids that look an awful lot faster on film than they test. He has a really good feel for the game and some short area quickness, I think he might be a useful possession receiver outside or in the slot.
Steven McBride: 6-0, 160. 3*** from East Ascension HS (LA)
4.62 40, 4.56 shuttle, 35.1″ vertical at 153 pounds. Pretty twitchy and lanky dude that reminds me a bit of Tyquan Thornton. Similarly to that guy, he can take the top off running vertical routes from the slot but he'll have big problems getting pressed by high level athletes if he's on the line and while he'll surely get bigger, he has some skinny wrists. It's hard to imagine him getting heavier than 180. He's tough and has good hands though.
Tristan Golightly: 6-4, 205. 3*** from Poteet HS (DFW)
Golightly also spent a fair amount of time in the slot in HS but he'd ideally be an outside guy in this offense, especially given the other players in this class. He's a big guy with some nice agility that regularly wins 50-50 balls and will go up for throws over the middle with a safety coming at him. Could be a good possession guy on the outside.
Lawrence Arnold: 6-4, 181. 3*** from DeSoto HS (DFW)
4.74 40, 4.37 shuttle, 33.9″ vertical but the film suggests that's just the beginning. Arnold has elite level power and suddenness on film and had competing offers from Cal, Harvard, Boston College, and Colorado. You know who was another brainy, overlooked athlete from DFW that ended up being great for Kansas? Adeniji. I think Arnold will be a starter by 2021 and a contributor in 2020, he has the look of a dominant athlete.
Summary
Arnold is the kind of guy that can help you win a championship, he's just an absolute load with his suddenness, size, and feel for the game. The other guys range from "potentially serviceable" to "highly dangerous if working in the slot with space."
Defense
Kansas is now a 3-4 base team, although they've shown a knack for being creative with nickel and dime sets for a while now and may continue down that road.
Edge rushers
Caleb Taylor: 6-2, 255. 3*** from Staley HS (KC)
Taylor is pretty quick off the ball and played some 4 and 5-technique in a 3-down defense. He's a bit better setting the edge or powering inside than turning the corner off the edge and since he's already 255 I imagine he's probably a 3-down DL project in their defense.
Clinton Anokwuru: 6-3, 235. 3*** from Fort Bend Bush HS (HOU)
The Jayhawks had another ultra-explosive OLB in the class but Gary Patterson stole him late in the cycle, we'll get to him when we talk about TCU. Anokwuru is really promising at the role of an OLB against the run, setting the edge in contain, responding to blockers coming at him from different angles, and also changing direction and thwarting option schemes by chasing down the back from behind or not allowing the QB to win the corner. As a pass-rusher he looks promising but not necessarily a "dominate the game" sort of player.
Summary
This is a potential weak spot for Kansas down the line. They've shown a remarkable ability to find some really good OLBs in the past that were wasted by Kansas having glaring weak spots. These guys look more like the sorts of players that eliminate glaring weak spots but not necessarily who elevate the rest of the team.
Cornerbacks
JaCobee Bryant: 6-0, 170. 3*** from Hillcrest HS (AL)
Bryant looks most promising playing off receivers in zone and using his eyes to position himself and close on the ball. I doubt he'll ever lock down another top athlete and erase them from the game, he might also be a safety down the line. Good player though.
Duece Mayberry: 6-0, 185. 3*** from Owasso HS (OK)
A little less athletic than his brother, who's already on the roster at Kansas, but maybe a better cornerback. He tested with a 4.63 40, 4.21 shuttle, and 34″ vertical which are basically numbers that you want to hit or beat to be a top cornerback. Better than that would be exciting, worse would just about be disqualifying. What makes Mayberry look potentially underrated is that he's got pretty good size and reach, has the hips (and maybe the dirty tricks) to stick on guys, and then uses his reach well to break up passes when they arrive.
Karon Prunty: 6-1, 190. 3*** from IC Norcom HS (VA)
Prunty has really high level top speed, but he looks best when he's doing that rather than changing direction or flipping his hips at cornerback. His best defensive film is when he's playing safety and arriving to make tackles from depth. Good ball skills as well, could be very valuable but I don't see "lockdown corner" on his film.
Ra'Mello Dotson: 6-1, 170. 3*** from Mainland HS (CFL)
Dotson looks a little more smooth than Prunty and has a lot of film coming off his guys to make plays on the ball in zone, which isn't a great habit for a man coverage cornerback but suggests a potentially really good football player. He could be taught to turn and run well with receivers but like Prunty, I wonder if he'd be better translating his eyes and ball skills at a position like nickel or safety where he can play more zone.
Summary
Lots of guys that could be developed into good Big 12 players but probably not anyone that will allow them to match up with an opposing team's no. 1 or no. 2 guy without some real attention from the safeties.
Could the Kansas Jayhawks win a B12 title with these guys?
I mean, probably not. This is much closer to the sort of class that a non-TX/OU contender would have though. As it happens, Kansas has long had an eye for finding legitimately good space cadets, the real question is whether Les Miles can fill out their infrastructure and find some QBs.
I think Miles has the Jayhawks trending in the right direction, which is probably shocking to anyone that's heard him speak at a media event in the last year or so. I don't think their ceiling includes a B12 title but we've seen them get within range before which would be plenty exciting for that program.
********
Read about how Kansas was once at the forefront of the spread revolution when they had an All-American LT named Anthony Collins (a 2-star, 6-4, 260 pound "strongside end" from the Golden Triangle) and a savvy young Lake Travis QB named Todd Reesing in my book.