One of the more fascinating subplots of 2020 in the Big 12 was always going to be what Baylor made of one of Matt Rhule's favorite young talents, Matt Jones.
The 6-3, 240 pound freshman played in three games last year early before shutting it down to redshirt and preserve eligibility for the future. He's out of Odessa Permian, home to the Panthers of "Friday Night Lights" fame, and Rhule had him at middle linebacker last season. Jones is an explosive player but he didn't look like a natural as a freshman in limited snaps at middle linebacker and his skill set doesn't really match the profile of what worked at that position for Baylor in 2019.
At Odessa, Jones was an outside-backer that racked up 14 sacks as a senior. His strongest traits include generating power on the edge and turning the corner as a pass-rusher. Jones is the sort NFL caliber DE/OLB that powered Rhule's Temple teams but was missing from any of his three Baylor rosters. It's strange he wasn't more highly regarded, he tested with a 4.79 40, 4.2 shuttle, 30.5″ vertical, and 43′ power throw. That last number is particularly crazy, this dude is extremely powerful and can generate that power very quickly in close quarters with his hands and feet.
What do you get when you combine heavy hands with lateral agility? Edge rush.
Presumably Rhule would have tweaked the defense when Jones was ready and moved away from the 3-down structure. Actually I don't know that Rhule ever intended to be around long enough for that to matter but if he did have any plan B after getting to the NFL then I assume it would have included some further schematic tinkering.
Now Jones is a redshirt freshman that happens to be waiting around for Dave Aranda and his staff to install something different.
Another promising, freakish athlete that Aranda will find waiting for him on the roster is rising junior Kalon Barnes. Rhule took Art Briles' practice of only choosing <11.00 100m wide receivers to a new level and went after the fastest players in the state at most every position. Then, unlike Briles, he'd often move some of the best and most promising athletes to defense and try to condition them into being dogs.
Barnes ran the 100m as a senior in HS in 10.03 seconds. That's probably as fast as any football player in college football or the NFL. He's new to cornerback, which is exactly where guys that fast should play, but he's now a junior with a couple of years of corner training from the Rhule staff.
These two guys are now in place to fill crucial roles in the Aranda defense.
The Dave Aranda defense
My man Cody Alexander did a little writeup on a recent Aranda presentation and my other guy Travis Roeder also just did a long writeup on Baylor's evolving defense. My third guy Cameron Soran has also done an extensive writeup on Aranda's base defense.
Aranda has done quite a few things at his different stops with a few consistent themes. He likes man coverage outside and he likes to bring zone blitzes, often the "simulated" variety where he shows you one pressure to encourage your tendency to check to a protection before instead bringing the sort of blitz designed to attack the protection you just audibled to.
Now as a head coach Aranda will surely back off defense to some degree, but on the other hand all he and his staff have been able to do on quarantine is study film and draw up schemes for the coming year. His DC Ron Roberts comes from the same defensive school, one which has actually been getting eviscerated in the Big 12.
The difficulty this zone blitz scheme has had in the Big 12 is that it's designed to attack offenses off outdated assumptions. The traditional nickel compromises to spread spacing don't cut it against elite, modern spread systems which can still hunt linebackers in space and will also take regular deep shots on three step drops when they can catch a slow-footed defensive back solely responsible for a vertical by a fast receiver.
Fire zone blitzes (five pass rushers, three underneath droppers, three deep droppers) become a risky bet because they leave too many defenders isolated in space. Additionally, the varieties of quarters coverage that these defensive coaches love to employ often ask their cornerbacks to play the fade and maybe even the post route without help.
At Wisconsin Aranda played a fair amount of off man quarters, at LSU it was press-quarters. In either event, the corners were left on their lonesome outside. What's more, as Alexander noted in his notes from Aranda's clinic notes, Aranda tends to use the boundary safety to help on deep crossers and post routes from the field, leaving his boundary corner to survive on his own. So against the dreaded dig-post off play-action…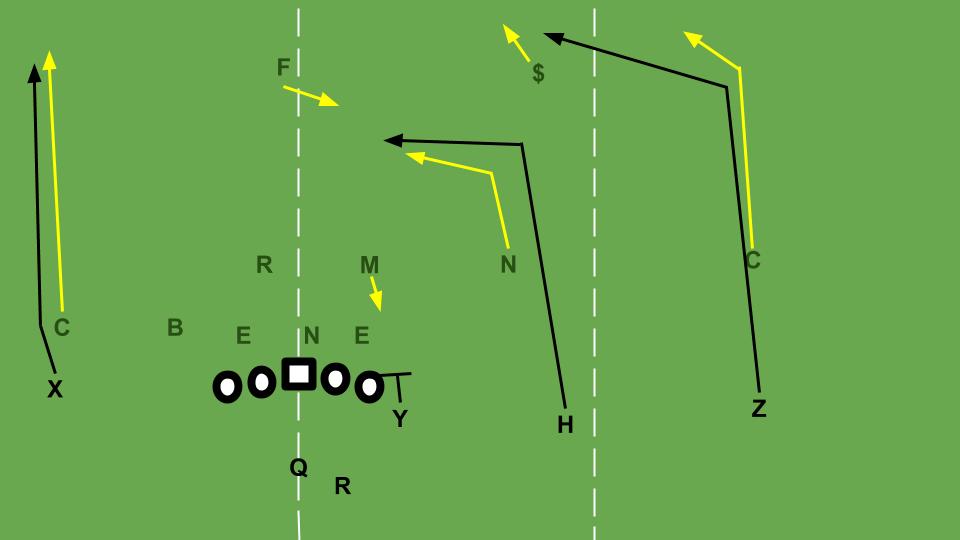 …the strong safety can hang deep and not worry about biting on the dig route and leaving his corner exposed against the post. Additionally, the middle linebacker can still play aggressively against the run because he doesn't have to get depth in his drop to protect the safeties. The trade-off is that the boundary corner is left to handle that vertical route on the backside on his lonesome. Btw, this is exactly how Phil Bennett was defending this stuff back in 2013 and 2014.
This is always the calculation that guys bring into the Big 12 that then can run into serious trouble. What about that 9 route? The fade?
"Meh, that's a low percentage throw." -most every defensive coordinator alive.
Well, it's not as low percentage a throw these days, even when you have the best freshman corner I've ever seen.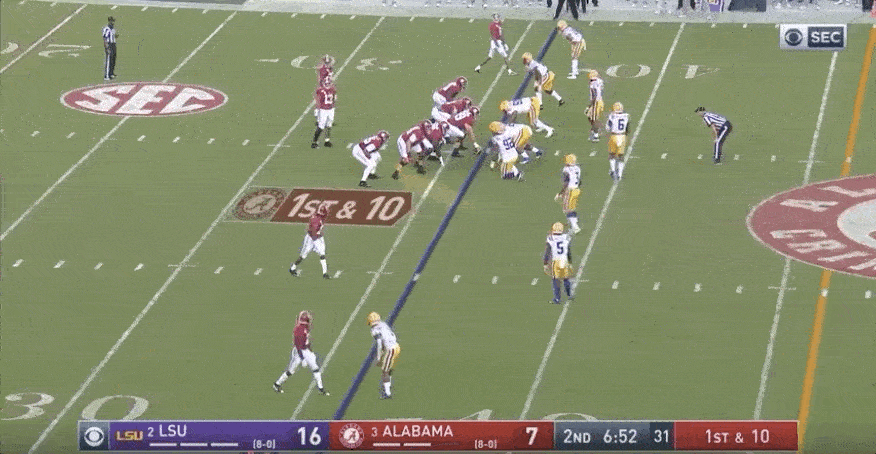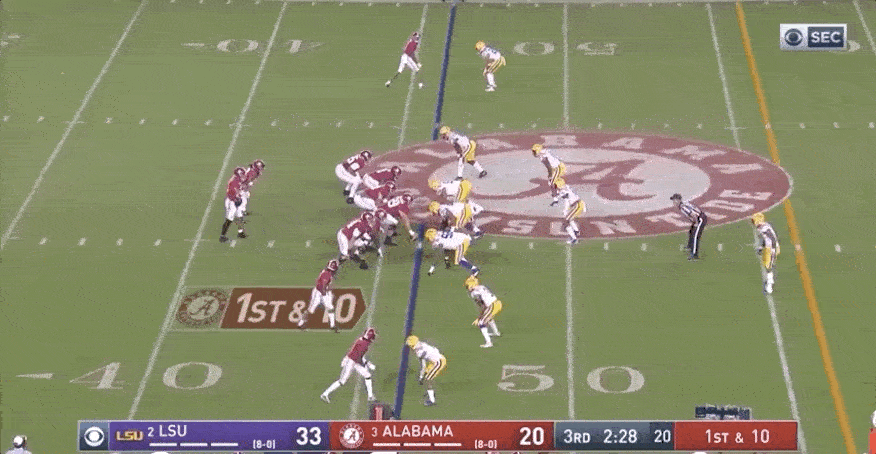 This approach hinges on having a boundary corner that can hold up against guys like Tylan Wallace, Brennan Eagles, Jadon Haselwood, Xavier Hutchinson, etc. There's fresh hell for that defender every week and if his confidence dips it can crash in a hurry from the relentless assault. Certainly a tough assignment for a first year starter like Barnes.
The Bears could start senior Raleigh Texada there but he played to the field a year ago, he's a little small at 5-10, 176, and his HS 40 time was 4.57. That's not terrible but that's not great press-man recovery speed when you're being asked to turn and run with Tylan Wallace.
If the Bears can't utilize Aranda's preferred methods then they'll be stuck playing palms every play (2-read coverage with the safeties playing over the top). On the other hand, they only need one really good cornerback to realize this vision.
Then there's Jones and the pass-rush.
Aranda's pass-rushing quirk
As I just noted in an article over at Inside Texas, Todd Orlando got himself into big trouble at Texas for putting out some weak defenses while failing to make the most of the edge-rushing talents on the roster. In particular, he turned 6-4, 245 pound linebacker Joe Ossai into a swiss army knife that did most everything for Texas EXCEPT play the edge like a traditional DE/OLB.
Until the Alamo Bowl, when Texas moved him back down there and he produced six TFL and three sacks in a single game.
Aranda has a more mixed history of utilizing edge rushers. Here's where sacks were coming from at LSU and Wisconsin: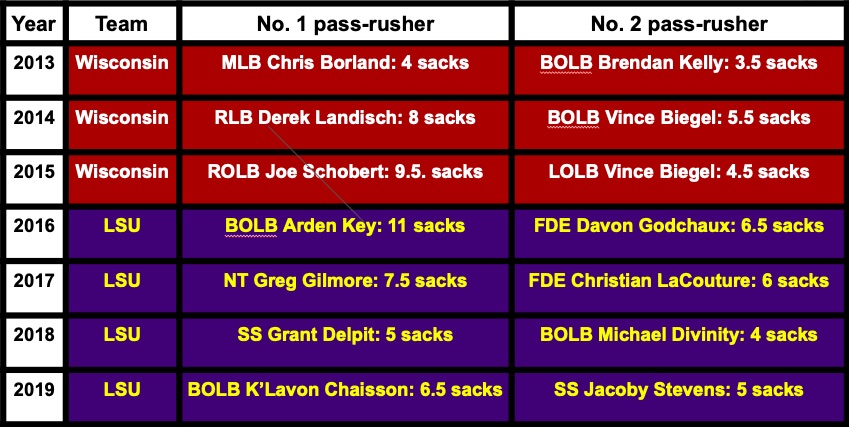 That's right, star and NFL-bound outside linebacker K'Lavon Chaisson put up only 6.5 sacks last year, putting him behind players like the 2017 LSU nose tackle and tied with multiple 4i-technique defensive ends. The only time that Aranda really featured outside backers on the edge was in 2015 when he had Joe Schobert and Vince Biegel on either edge and would play them right and left and spin them down to defensive end in the nickel package in their 2-4-5 "peso" defense.
The boundary outside linebacker, ostensibly the featured edge-rusher in this scheme, lead the defense in sacks three years (if you count Schobert) out of seven total. Nevertheless, that's where Matt Jones figures to start for Aranda in 2020.
What Aranda has always loved to do is to attack protections rather than to set the table for particular defenders. Chaisson, for instance, was regularly asked to slant inside to the B-gap to open up the edge for someone else to come unblocked. Or in the scheme that is described in Alexander's clinic notes, he chooses his blitz path based on the behavior of the offensive tackle.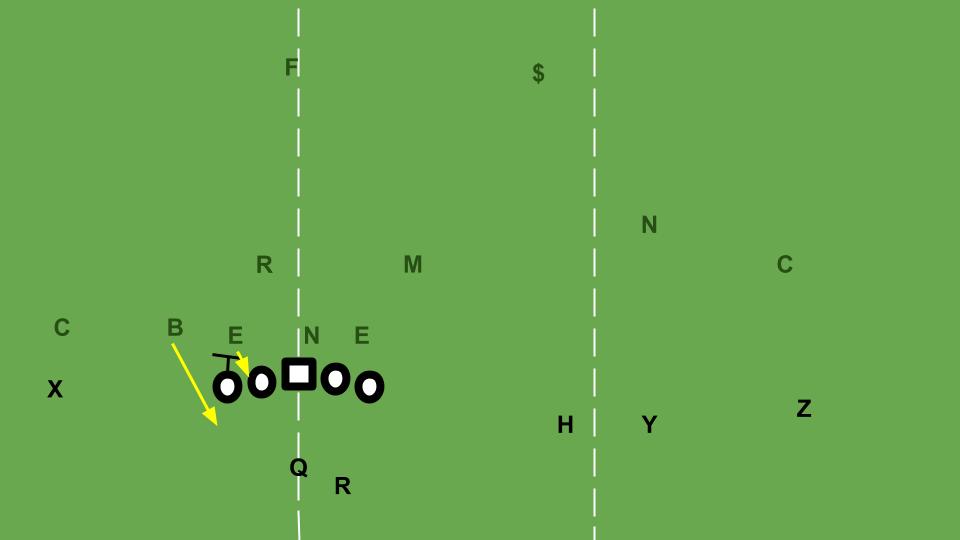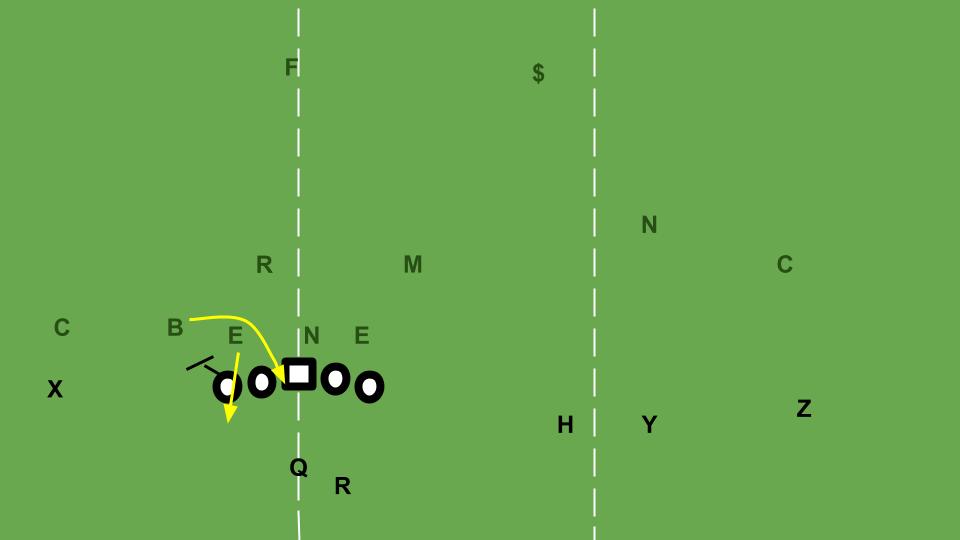 Aranda is always aiming to scheme up angles and advantages, up front he doesn't just drill technique and rely on playmakers to win traditionally he wants to give them a leg up.
Because he's so explosive and agile, Jones is a perfect fit for this scheme. Having spent a year learning how to play ILB under Rhule will likely amplify, rather than diminish, his potential impact in the new system that probably won't just send him over the edge every play. Aranda can play him off a bit and let him read and attack and Jones has the hands and power to make it work.
Additionally, Terrell Bernard, who had 4.5 sacks after stepping in for injured Clay Johnston, is a great pass-rusher who will get his looks. It's possible that neither will drop big numbers (big would be > six sacks) but that doesn't mean they weren't extremely important to the scheme. Aranda's aim isn't to boost the numbers of an individual player but to systematically attack the offense's ability to protect their quarterback. It's worked out pretty well to date, obviously the Big 12 will present fresh challenges.
The big problems for Aranda in 2020
There's three obstacles to a new defensive coach like Aranda entering the Big 12 for the first time. The first obstacle is personnel fit, a new coach's predecessor may or may not have been interested in recruiting and developing the roster to execute executing comparable tactics. In this case, Rhule wanted to assemble the best athletes he could and then teach them a lot of fundamentals, so consequently the roster fit is pretty good.
Matt Jones and Kalon Barnes are on the positive end of the spectrum in terms of what Aranda would be hoping to find in place for him at key positions. They both have elite physical attributes to execute the sorts of schemes that Aranda wants to run.
The second problem is the adjustment everyone has to make in trying to defend Big 12 offenses, which are both vastly more aggressive and more skilled than your run of the mill offenses in other leagues. I explained why the Big 12 is unique in this regard in my book…
There's one team in 2019 that was also designed around attacking the structure of the defense with spread spacing, vertical passing, full-bore RPO schemes, and savvy/skilled quarterback play…the LSU Tigers. Aranda watched Joe Brady's designs absolutely torch his own defense all offseason and derived some considerable lessons. He then took some knockdown punches in week two when they visited Austin and Sam Ehlinger threw for 401 yards and four touchdowns. Aranda is also replacing a head coach that left Baylor for the NFL after overhauling his own defense to build a 3-2-6 base dime.
His eyes should be more open than your typical incoming defensive coach, he's arguably already received what I often call the Air Raid baptism.
The third obstacle is the limitation of time. The new staff has to get to know their own roster better while installing as much of their playbook as they can and repping their players to the point where they can execute any of it at a high level. Then they also have to try and absorb an understanding of the different teams and personnel in the Big 12 and then build institutional knowledge that is also carried by their players of how different matchups tend to work out.
All of that is hard enough before you lose spring practice and your team is sent home to be quarantined because of a global pandemic. So in this particular regard, Aranda's normal first year coach problems are seriously exacerbated. Still, everyone should keep an eye on Kalon Barnes and Matt Jones not just for the important roles they'll play in 2020 but for the fact that both of them have more than one year of eligibility left, so if it takes Aranda an extra year to get things rolling he'll have these two potential cornerstones around.