My man Eric Nahlin over at Inside Texas has an annual tradition where he ranks the top 100 high school players in the state of Texas every year. His choice for no. 1 in 2020 was one of the most fascinating prospects I've seen from the state in recent years, as much for his unique gifts as for his recruiting choices.
The no. 1 player per Eric, no. 3 per 247, was Denton Ryan's Drew Sanders.
Sanders measured in at 6-5, 232 at an opening event and ran a 4.65 40 with a 4.44 shuttle and 33.2″ vertical. Pretty good for a 230 pounder with that kind of size, but also probably not truly indicative of his athletic upside because he has a 10.91 100m time on his resume as well.
Judging by his various testing numbers and film, Sanders is a truly unique athlete of the sort who tends to end up becoming a dominant player in the NFL. He chose to trust Nick Saban to get him there and committed to Alabama.
The recruiting back drop
Initially Sanders was an Oklahoma commit. He gave Lincoln Riley his verbal pledge in November of 2017 but then de-committed in the summer of 2019 and signed with Alabama on NSD1.
Here's the interesting twist, when Sanders committed to Oklahoma he was listed as an athlete and most likely to end up playing tight end in their offense. The Sooners of course have made waves by regularly mixing in what I call a "21 spread" personnel package that utilizes an NFL-style tight end flexed out (usually in the slot) and then a college-style tight end/fullback hybrid in the box. Their 2017 offense in particular was devastating with that package, owning the middle of the field with FB/TE Dmitri Flowers and then keeping big Mark Andrews flexed out probably 90% of the time.
Once Sanders de-committed and trended towards Alabama, he was listed as an outside linebacker prospect. Per Sanders, Oklahoma didn't necessarily view him as such, but Saban intends to start him out at linebacker. No big surprise that Riley looked at him and saw a lethal offensive weapon and Saban saw a defender.
On review of his film…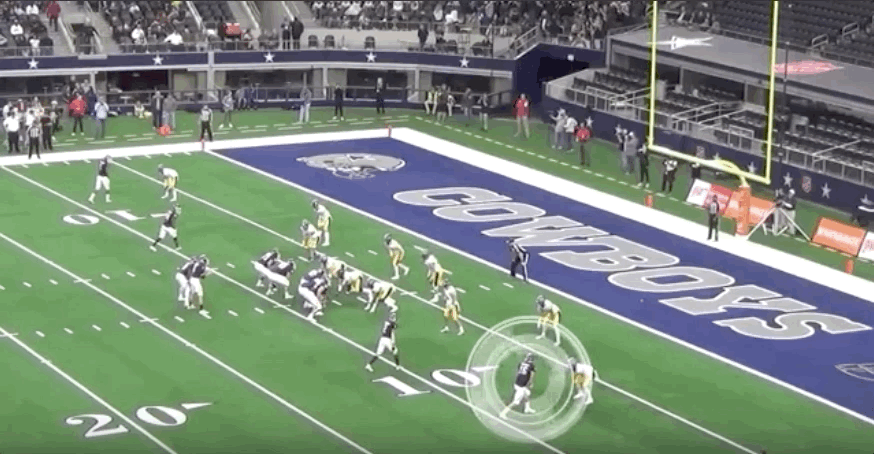 …I actually found that development kind of surprising. I mused over whether he was watching the NFL playoffs these days, where the following players have been featured in recent Super Bowls. Check out the last five years of Super Bowl tight ends: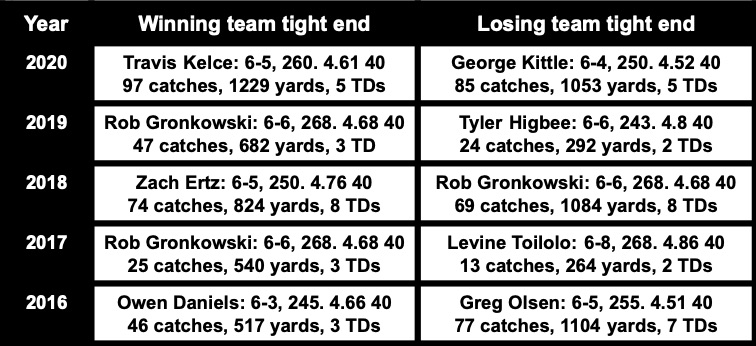 These guys are basically space force "dreadnoughts." I've detailed in recent NFL posts over the year how teams like the Chiefs or Patriots would move guys like Travis Kelce or Rob Gronkowski around to put defenses in a matchup bind. Sometimes isolating them on the weakside of trips formations, flexed out like you would a receiver such as Randy Moss or Jerry Rice.
Pro-spread offensive tactics these days revolve around using spread formations to isolate matchups in space and there are few matchups that cause defenses fits like a big, receiving tight end who can run.
There's some question over exactly how feasible it is to win a championship in the modern game WITHOUT a big, athletic receiving tight end. Why would that be? Because these hybrids, who are increasingly not even that hybridized in their skill sets, don't have a matchup equivalent on modern defenses.
Where do you find guys that are at least 6-4, 250 pounders and can run the 40 in 4.7 seconds or less on defense???
At defensive end or outside linebacker rushing the passer, where Drew Sanders figures to play for Nick Saban.
Market inefficiency in the NFL?
Over on the Inside Texas message board I expressed my surprise that Drew Sanders would apparently opt to rush the passer for Nick Saban rather than heading to Oklahoma to catch 70 balls for 1k yards under Lincoln Riley. The latter path would allow him to market himself as the next flex tight end that could be a centerpiece on a Super Bowl team.
More NFL-aware posters there then corrected an underlying assumption I was making that was wrong. "He'll make more money rushing the passer," I was told. Fact check? True.
Here are the Super Bowl tight ends that were good receivers and not just blockers for Shanahan style schemes on losing teams and the biggest contracts they've commanded with their abilities contrasted with their top edge-rushing teammate and their Super Bowl era contracts:

Everyone on our list is making less money than their best, edge-rushing teammate except for Greg Olsen because the Panthers' top edge-rusher in 2015 was Kony Ealy, a rookie who had very few sacks and wasn't resigned. The Panthers really relied on Kawann Short, a defensive tackle who signed a 5-year deal worth $80 million.
George Kittle is currently making something paltry, like $2 million or so, on a rookie deal but he'll get paid soon. Judging by our table, the most likely outcome is something like the Kelce or Gronk contracts and the current franchise tag for a tight end is worth $10.6 million.
Three things here worth exploring.
First of all, there's an awful lot more pass-rushers who can put up numbers like the highly paid players mentioned here than there are star tight ends like Travis Kelce. These market values don't really make sense in light of the supply-demand dynamics at play.
Secondly, teams with dominant tight ends clearly have a leg up in executing the sort of winning strategies that are resulting in playoff success. It's the pro-spread, matchup-hunting dimension I discussed above.
The 2019 49ers could put Dee Ford on the field with Nick Bosa (contract coming), Arik Armstead, and DeForrest Buckner to create arguably the most lethal four-man pass rush in this decade of the NFL. They lost to the team that had a freak quarterback running around and throwing to Travis Kelce.
Finally, if these guys' market values are being capped at around $11 million per year that means that if you have such a player you can underpay him relative to his value in producing victories.
If I were an NFL GM I'd rather have one of these dreadnoughts in my space force then a star edge-rusher and it would appear that Bill Belichik agrees since he let the Detroit Lions hand Trey Flowers that big contract off the Patriots' last Super Bowl win.
What does the future hold for players like Drew Sanders?
Judging by today's NFL contracts, Drew Sanders made the right choice to have Nick Saban work to mold him into a pro-caliber defensive end or outside linebacker. Oklahoma's Mark Andrews is currently on a rookie deal of 4 years for $3.4 million, we'll see what he commands in future deals. Alabama's Ryan Anderson signed an initial rookie deal of 4 years for $5.3 million and he's just one of many, many DE/OLB products for Bama over the last few years.
But I have two questions about the future of these positions in the NFL. One, how long will this remain the case? Doesn't it already look ridiculous that Rob Gronkowski was being paid under $10 million per year? He's probably one of the greatest and most impactful offensive weapons to ever play this game. The legendary Legion of Boom was ultimately undone by their inability to match up against him.
Secondly, as teams do increasing damage with these dreadnought tight ends, how long are defenses going to continue to use equivalent freaks on their side of the roster to rush the passer?
If the offense can consistently put my defense in positions where we have to tip our hand on what coverage we're in because we struggle so much to match up against a 6-5, 250 pound freak and their quarterback is getting the ball out quickly and killing us, eventually my 6-5, 250 pound freaks are going to learn some new skills. In particular, I'm teaching them to try and go cover those tight ends.
Isaiah Simmons will probably be the first one up here, simply because he's already a 6-4, 230 pounder that played a lot of safety at Clemson so it won't be a big stretch for him to chase tight ends around. If he ends up being particularly adept at it, look for more big defenders that would have been deployed as pass-rushers in previous years to instead be trained as anti-tight end linebacker/safety hybrids.
Texas' best player in the 2020 class made a decision based on today's market values, but "past success is no guarantee of future success." The modern game is changing and big guys that can hold up in space are increasingly going to find themselves compensated to do so.
Of course, there's always the chance that Saban will be the one to work this out with Sanders, who's just the man for it.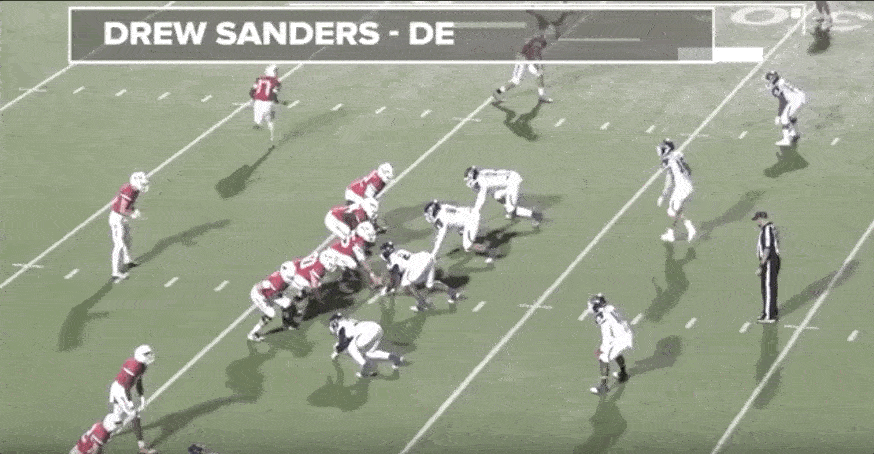 ********
Read more about how modern offenses evolved and why the Big 12 has been the frontier of spread systems in my book!