In the last post I went over the top 10 Big 12 defenses of the 2010s based on scoring defense within league play. That gave us the following list: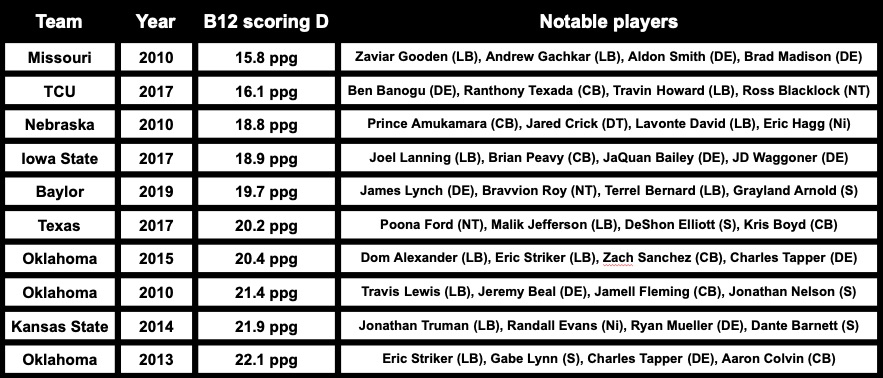 I like the 2017 TCU Horned Frogs, 2010 Nebraska Cornhuskers, and 2017 Iowa State Cyclones from that list for their performance and/or innovative impact on the league. But there are some other defenses I thought should get some mention that didn't score as high in Big 12 scoring defense for one reason or another.
Without considering these units, you're just not going to get at some of the units that have really contributed to winning football. I thought about including the 2011 Oklahoma Sooners here but while they were as good or better than some of these units, they weren't really better than the 2010 Sooners that did make the previous list.
The uniques
There were a few teams over the decade that were unique or innovative in how they tackled the problem of stopping Big 12 offenses. I almost mentioned the 2016 Baylor defense here for their experimentation with a 3-2-6 base dime that preceded the Iowa State inverted Tampa 2, but that whole team quit after they lost to Texas midseason.
The 2018 Iowa State Cyclones
This one is really simple, take everything good about the 2017 Cyclones and then add an offseason of further development and tweaking of the inverted Tampa 2 scheme plus the infusion of more talent.
They had to replace Joel Lanning at middle linebacker but did so with freshman Mike Rose, retained JaQuan Bailey (DE) and Brian Peavy (CB) in the space force along with Willie Harvey and Marcel Spears, Jr at linebacker, and then they added Greg Eisworth at "star" safety.
They went from giving up 18.9 ppg in league play to 24.4 partly due to a few problems they had around the league. Kyler Murray and Oklahoma dropped 37 points on them early in the year (before pump fake Purdy took over), Oklahoma State scored 42 but were outscored by PFPurdy, and then they nearly lost "Farmageddon" because K-State's Alex Barnes turned 28 carries into 184 yards.
So their resume was a little more checkered than the 2017 unit, but they were a more talented unit and they also obliterated a very good Will Grier/Dana Holgorsen West Virginia offense.
The 2019 Cyclones lost Bailey and Eisworth with injuries and didn't have another Brian Peavy ready to go, the 2020 Cyclones could end up being the best yet.
The 2014 Texas Longhorns
This unit wasn't exactly "innovative" so much as they successfully stumbled upon a winning formula that they didn't even really recognize or take advantage of.
This was one of the most talented defenses of the entire decade within the Big 12. After hilariously getting abused again by Taysom Hill and BYU, they locked down most everyone else for the rest of the year save for pesky Iowa State.
It was Charlie Strong's first year on the job and he inherited the following lineup: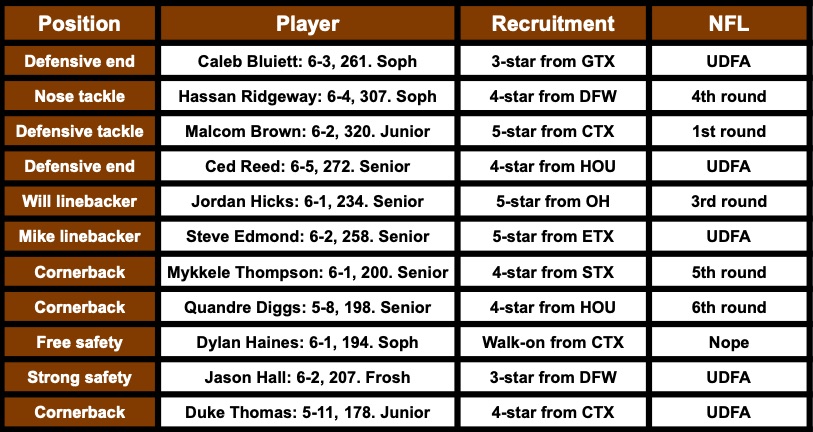 They didn't fully capitalize on their recruiting promise in terms of the NFL but in 2014 this unit was healthier and more complete than in previous or successive seasons. With Mykkele Thompson, Quandre Diggs, and Duke Thomas on the field Texas could put NFL players on opponents' top three receivers. Thanks to Malcom Brown, Hassan Ridgeway, and Ced Reed they spent a large amount of time playing in a 3-3-5 and dropping eight into coverage.
Of course they also brought a lot of fire zone blitzes, that was Charlie's thing, and it netted 8.5 combined sacks from Hicks and Edmond. But what really made this defense effective and a glimpse into the future was their ability to drop eight and how much coverage ability they could put on the field. Even walk-on Dylan Haines was a converted scout team cornerback that could play some man coverage.
The resume was quite good. They gave Baylor as much trouble as anyone and had defeats against Oklahoma (31-26) and TCU (48-10) that were mostly due to the three defensive touchdowns those two teams scored (two by TCU) and the seven total turnovers committed by Texas (six by TCU).
Their offense was dreadful this season, absolutely dreadful, pair this defense with a competent offense and they would be remembered differently. Subsequent Charlie Strong defenses were horrible, although he did recruit what would become the 2017 unit.
Texas' defenses have tended to go through three-year boom/bust cycles this decade. Good in 2011, awful in 2012 and 2013 leading to the DC fired, good in 2014, awful in 2015 and 2016 leading to the DC being fired, good in 2017, solid in 2018 and mediocre in 2019 leading to the DC being fired. Good in 2020?
The 2016 West Virginia Mountaineers
If you ask Dana Holgorsen, as I once did, he'll tell you that this was the real unit that revolutionized the approach to defending Big 12 offenses. The 2016 Mountaineers went 7-2 in the Big 12 and 10-3 overall with Skyler Howard at quarterback, largely due to the defense.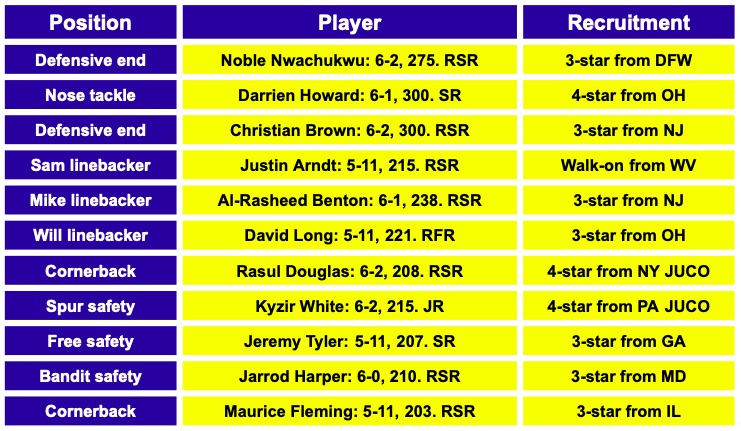 The defensive front was pretty solid, those three plus Adam Shuler held up pretty with one big exception in the frost against Oklahoma. Nearly the whole unit was redshirted and developed over time in Tony Gibson's 3-3-5 stack system, and they had a few JUCO additions that made all the difference.
If you don't remember or can't tell, that'd be Kyzir White and Rasul Douglas. Those are the only guys from this unit that would be drafted save for David Long many years later. Kyzir was the brother of Ka'Raun and Kevin White, he had seven TFL and three sacks coming off the edge regularly in the zero blitzes that made this defense fearsome. Douglas had an unreal eight interceptions along with 70 tackles and his own sack.
They swarmed people with their blitz package, could play man coverage and disguise it because they had so many veterans in the secondary, and made a mess of many Big 12 offenses.
But the Lincoln Riley Sooners just ran them over.
A bunch of turnovers also doomed them against Oklahoma State.
The 3-down model with flexibility and disguise in the backfield took hold, although it wasn't really until Iowa State introduced the 3-safety base defense. There's a difference between fielding 3-4 safeties and playing with three safeties that all align deep before the snap. Iowa State introduced the latter concept.
The "bend don't break" 4-2-5s
The 2012 Kansas State Wildcats
If the 2014 Wildcat defense exemplified Bill Snyder's knack for building good defenses from walk-ons (albeit often PWOs from the local JUCOs), the 2012 defense was an example of the older model of Wildcat team building.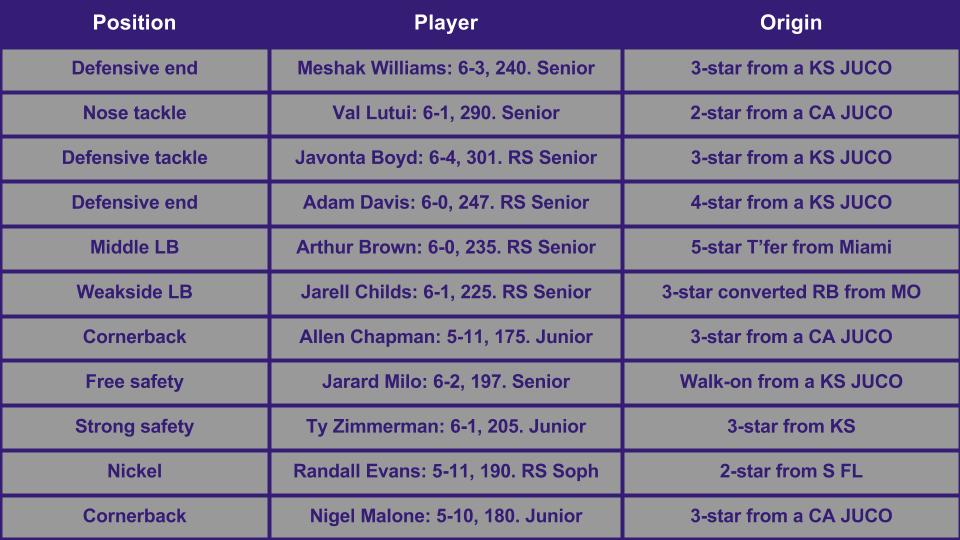 Alright so there's still a few walk-ons in the mix, but this team had some really good athletes in the space force spots from the JUCO ranks. Meshak Williams and Adam Davis had 10.5 and seven sacks while Nigel Malone and Allen Chapman each had five INTs.
Oh yeah, and then they had Miami transfer and former 5-star Arthur Brown in the middle at the eventual Jonathan Truman position, collecting 100 tackles. Ty Zimmerman added five more INTs from his field safety position and was the capstone of unquestionably the most talented Kansas State defense of the decade.
The resume for this unit was strong as well. Technically they split the Big 12 championship with Oklahoma but early in the conference season they went into Norman and beat the Sooners 24-19 so only the most die-hard Oklahoma fans will salute that title in any context other than another tally towards the total. Then they dominated every Big 12 offense, including Tavon Austin's West Virginia and Eric Ward's Texas Tech, and even took down Gundy. Oklahoma State scored 30 but they had a kickoff return padding the number and their Clint Chelf/Wes Lunt quarterback tandem threw four interceptions, including a pick-6.
No one really caught this unit until they played at Baylor late in the year without steady Ty Zimmerman, turning instead to a young Dante Barnett, and the Briles veer and shoot tore them apart 52-24. Their bend don't break quarters scheme was bent and broken repeatedly over the course of the game. Then they met Oregon in the Cotton Bowl and took some damage in a 35-17 loss against a team with a freshman Marcus Mariota, Kenjon Barner, D'Anthony Thomas, Josh Huff, Byron Marshall, and Colt Lyerla. All things considered, that was a solid defensive performance.
Ultimately only two players from this unit would be drafted, Arthur Brown went in the second round of the next draft and a couple of years later Randall Evans went in the sixth. What Snyder had here was the ultimate collection of "good but not quite NFL good" upperclassman executing with good fundamentals.
The 2011 Oklahoma State Cowboys
The forgotten detail (perhaps not outside of Stillwater) of the Cowboys' sole Big 12 championship under Mike Gundy is that it wasn't really about Brandon Weeden and Justin Blackmon. Sure, those guys drove the success of that team, but Mason Rudolph to James Washington was a comparably great combo.
What 2011 had that 2015, 2016, and 2017 didn't was a really good defense. Bill Young ran a Snyder-esque, ultra simple 4-3 quarters defense with hybrid Shaun Lewis (5-10, 225) as the nickel linebacker. It was a really good unit, Markelle Martin was a rangy field safety that would be drafted in the 6th round, cornerback Broderick Brown broke up 20 passes while getting regularly targeted by teams trying to avoid future 1st round cornerback Justin Gilbert, and safety Daytawion Lowe was active in run support playing off Gilbert.
Up front they had a pretty solid pass-rush with 3-technique Nigel Nicholas, some other solid ends, and then weakside end Jamie Blatnick. The Cowboys have really only ever had two, maybe three, edge rushers that could really scare an offense this last decade. Emmanuel Ogbah, Jordan Brailford (ish), and Jamie Blatnick. He had suddenness off the edge that helped make their simple, often static scheme work.
The resume won't blow anyone away at first blush, they gave up 26.7 ppg in B12 play, but they were in the B12 South in a year with Landry Jones, Ryan Tannehill, Collin Klein, James Franklin, Seth Doege, and Heisman-winner RG3. They won at A&M with a second half comeback (one of many against General Sherman's final march), at Missouri 45-24, and smashed Baylor 59-24 by stopping the run and picking off RG3 twice.
Kansas State dropped 45 points on them in an epic shootout that OSU won and Iowa State famously beat them in overtime in Ames with several turnovers. Then the Cowboys destroyed Oklahoma in a rare Bedlam blowout by Gundy 44-10. They were denied the shot at a National Championship because of the Iowa State disaster and took on Andrew Luck and Stanford instead in the Fiesta Bowl.
Luck took them apart with 347 passing yards at 11 ypa and Stepfan Taylor ran for 177 yards. The Cardinal D also stuffed Joseph Randle and the OSU run game…but the Cowboys pulled out a 41-38 win in overtime and Blackmon had 166 yards and three touchdowns.
The aggressors
These teams had high level talent or aggressive strategies that they tried to employ to really turn the tables on Big 12 offenses and get after them.
The 2014 Baylor Bears
The 2013 defense was a little better statistically but the 2014 squad had a more talented unit and they faced a pretty rough slate drawing Pat Mahomes in Jerry World and then Connor Cook in the same venue not long afterwards.
The Bears played the same, K.I.S.S. 4-2-5 quarters defense that K-State and Oklahoma State had rode in earlier seasons with just two key differences. They played press-quarters outside with their cornerbacks and they had a better blitz package, using less fire zone blitzing and more combo pressures where they'd play quarters to one side of the field and zero-man to the other. It seemed like they were going to suffer a major loss with Eddie Lackey graduating, especially after UCF tortured his replacement in the 2013 Fiesta Bowl, but then Taylor Young emerged and proved a truly nasty weapon on those combo blitzes.
Young was paired with Bryce Hager at inside linebacker and they played behind a D-line of Shawn Oakman-Andrew Billings-Beau Blackshear-KJ Young. That was far and away their most talented D-line of the decade and one of the more talented units for the Big 12 in general over that span.
Cornerbacks Xavien Howard and Ryan Reid was an impressive tandem and Howard was eventually drafted in the 2nd round. They played Terrel Burt and Orion Stewart at safety with walk-on Collin Brence as the sam/nickel, this was a capable crew and really the only weak spot but only against high level opponents.
The resume was good. TCU scored 58 points but it wasn't all their offense. They scored 14 points directly with defense and special teams and had a short field due to another pick. The last three TCU possessions were quiet. Per the Baylor strategy with their aggressive press-quarters scheme, TCU tended to either land a big play that lead to quick points and Baylor possession or they were choked out.
Michigan State took it to this defense in the Cotton Bowl but Connor Cook did throw a pair of picks and they managed a victory in large part thanks to blocking a field goal attempt.
The 2014 Bear strategy on defense paired really well with their offensive strategy. They wanted to win shootouts and they didn't care if you scored quickly or even if that happened fairly often so long as they could make you less efficient than their own offense. They took two Ls all season, against Michigan State and then a shocker on the road in Morgantown coming off the high of their 61-58 win at home against TCU. The West Virginia D gave their offense fits and Kevin White beat them with a few quick scores.
The 2013 Oklahoma State Cowboys
Two years after their very fundamentally sound 2011 unit, the Cowboys had a lot of the same players involved including Daytawion Lowe and Justin Gilbert. The difference was that Mike Gundy had fired Bill Young because he was too old and didn't recruit or something and promoted linebacker coach Glenn Spencer to take over the unit.
Spencer had been cranking out really good linebackers under Young's coordination but he felt that the scheme should move away from the conservative 4-2-5 quarters approach they'd played and mix in more pressure and single high coverage. This is the unit that famously took on the seemingly unstoppable Bears and shut them down 49-17 by playing man-free coverage.
They didn't have a Jamie Blatnick but they had a number of capable defensive ends and the defensive backfield had something like nine seniors they could mix in with a variety of packages. Justin Gilbert and Kevin Peterson made for a good cornerback tandem. They did benefit from the Bears going into this game without Tevin Reese, who probably would have made their man-free approach a no-no.
Stains on their resume include finding a way to lose to an Oklahoma team that played Blake Bell, Trevor Knight, and Kendall Thompson at quarterback in this game and got ripped up some by Missouri's Henry Josey in the bowl game. Unsurprisingly, after this season the Cowboys graduated all of their seniors raised up in Bill Young's fundamentals and Glenn Spencer never fielded another particularly good OSU defense until he was eventually fired.
The 2014 TCU Horned Frogs
This was Gary Patterson's second best unit after the 2017 crew and they had a really nice season other then that time when they couldn't stop Baylor's power/RPO game and blew a huge lead before losing 61-58 on the road.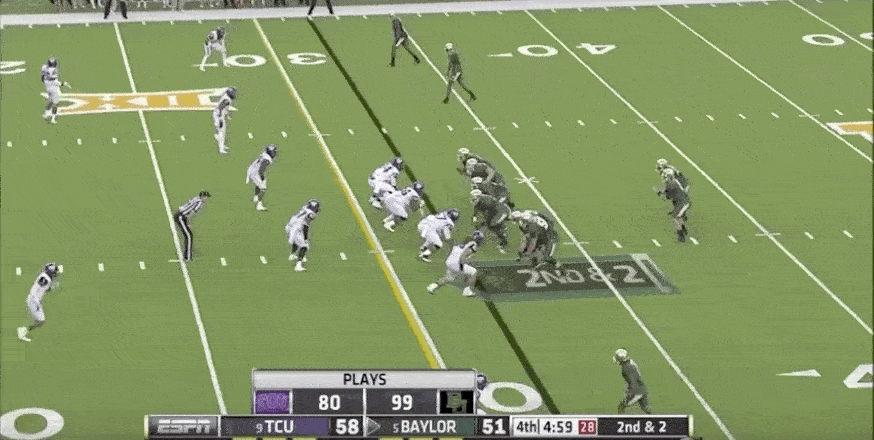 The 2014 Horned Frogs were secretly kinda slow and ill-prepared to handle the breed of smashmouth spreads under development in the Big 12. Here's a look at their defensive backfield that season:

They were decently quick at cornerback but they played a lot of ton of tight MOD quarters that asked those guys to hold up without a safety over the top or a cushion underneath. And they were pretty small.
Dawson and Hackett, while insanely productive, were secretly kinda slow (not so secretly later on as Gary Patterson mentioned it while talking up his new defenders) and they just didn't have the speed advantages against modern offenses that the 4-2-5 was designed to bring.
But outside of Baylor, no one else really exposed them for it and these guys were all multi-year vets that knew the scheme really well. A few teams put up some points but they had a really strong year and paired with the suddenly explosive Air Raid Trevone Boykin to go 12-1 and win a share of the Big 12 title. They also destroyed Dr. Bo Wallace and the Ole Miss Rebels in the bowl game.
After that season-ruining debacle in Waco, Patterson started to tweak his 4-2-5 and developed the cover 1/quarters hybrid coverage that hasn't held up and his "box plays in with the DEs" approach that Oklahoma State torched last year. Basically, Patterson had defense figured out up until Art Briles and this season was the turning point.
The greatest?
There's a lot of defenses among this group that didn't have the raw numbers of the previous list but were very successful at executing a winning strategy for competing in the Big 12. Except for stopping Briles Baylor or Riley Oklahoma, most of them weren't very good at that.
If I was drafting a unit to win the league the year that they were competing in, I'd probably take the 2014 Longhorns. If I had to pick a unit that a "Lil 8" (not Texas or Oklahoma) program could reasonably recruit, I'd be hard-pressed to choose between the other options.
Who would you pick and would you take any of them over the first list?
********
Art Briles and Lincoln Riley haunt the 2010s like ghosts. Read about their offensive breakthroughs that combined to dominate a full decade of Big 12 football in my book!