The 2018 Kansas State football season was one of the most bizarre and baffling I've ever seen. In this fairly rambling post where I was obviously still trying to work out what exactly was going wrong with Bill Snyder's formula you can see me probing at some of the underlying issues.
The big one was that the team's infrastructure wasn't suited to make the most of their skill talent.
Getting that right is normally the cornerstone for makes teams like Kansas State successful even when they don't have as many top athletes as other programs. When you can plug in local linemen and start walk-ons at multiple positions and still successfully set up your featured playmakers to look better than the top athletes at other schools, that's when you really nail the typical Midwest formula for contention.
Well they didn't have it in 2018. I learned afterwards that they had a rather lackluster senior class that wasn't as committed or bought in as a typical K-State roster would enjoy and the coaches were optimistic that they could turn it around. But a 5-7 season, aging coach, and perhaps also the late season run when they finally figured out how to maximize Alex Barnes all worked against Snyder getting another season to make it right.
What's more, new athletic director Gene Taylor wasn't keen on a Snyder-guided succession plan and probably always intended to replace Snyder with his own guy. That guy being Chris Klieman, who's hire at North Dakota State triggered that program's boost from a sturdy regional power to a dynasty that won seven national championships in eight seasons.
The fact that Snyder went out only after multiple meetings and the acceptance of a "gift" from the university that happened to be the exact sum of his contract's buyout suggests a pretty obvious underlying story. The failure of Bill Snyder to maintain a roster and strategic infrastructure that could propel K-State beyond the sum of its parts lead to a loss of confidence.
The failed 2018 infrastructure
Skylar Thompson was considered highly promising after 2017 because of his part in helping to replace Jesse Ertz when the senior quarterback was injured again. He threw for three touchdowns in a 45-40 upset win at Oklahoma State and the winning touchdown pass in a 20-19 home win in the "Farmageddon" series against Iowa State.
But in 2018 the Wildcats were not returning Byron Pringle, the speedy receiver who torched Oklahoma State, nor big tight end Dayton Valentine or star fullback Winston Dimel. The 2018 Wildcats got away with playing either Thompson or Alex Delton at quarterback and had the pieces to make the most of either.
They could flood the field with receivers such as Isaiah Zuber, Dalton Schoen, and Dominique Heath to make the most of Pringle or Zuber. Then they could bringing Dimel and Valentine to block for Delton or Barnes.
The 2018 Wildcats really only had one true weapon at the skill positions, Barnes. They returned Zuber but didn't have another top receiver to ease the pressure off him. Alex Delton could be a weapon in the run game but they didn't have a Dimel or a Valentine to block for him and asked Blaise Gammon to serve both roles. Skylar Thompson struggled trying to guide a team without an identity or weapons until the end of the season when they finally embraced more of a spread-option approach designed to clear space for Barnes.
The roster that for years had turned up an endless supply of All-B12 tight ends, fullbacks, and skilled possession receivers came up empty.
The 2019 rebuild
Heading into 2019 things looked truly grim for the Wildcats. Their only real weapon, Alex Barnes, left for the NFL. The top wide receiver Zuber transferred to Mississippi State. Alex Delton, who was a potentially great runner if horribly limited quarterback, transferred to UTEP where departed offensive coordinator Dana Dimel had gone and then to TCU.
Klieman's solutions included the taking in of multiple grad transfer running backs and the move of some players to tight end to guarantee a functional depth chart at that key spot. They didn't really have any obvious weapons to feature in this offense but all of the returning starters on the offensive line, Skylar Thompson's improving skill, growing comfort as a runner, and sharp decision-making in the new offense offered up the infrastructure for the Wildcats to make the most of what they had.
The team even started to make game-changing plays on special teams again and the defense, which was quietly pretty solid in 2018, got stronger under Klieman's oversight with sharper game planning to go along with the typically strong fundamentals.
Most people made the offensive line the hero of the story. The 2019 Wildcat O-line which helped propel the two grad transfer RBs and Skylar Thompson to 21 rushing touchdowns in a power run game looked like this heading into the year: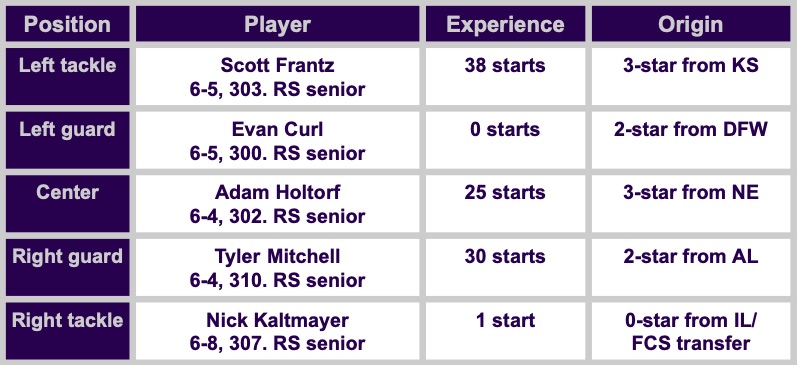 How come K-State was so much better than expected in 2019? Must have been the offensive line, right? We all saw that clip where the pulling guard aborted his mission on power to instead lead into the cutback lane against Oklahoma right? That's what you get when you put five redshirt seniors with multiple multi-year starters on the field.
Now in contrast, here's the prospective 2020 offensive line for the Wildcats: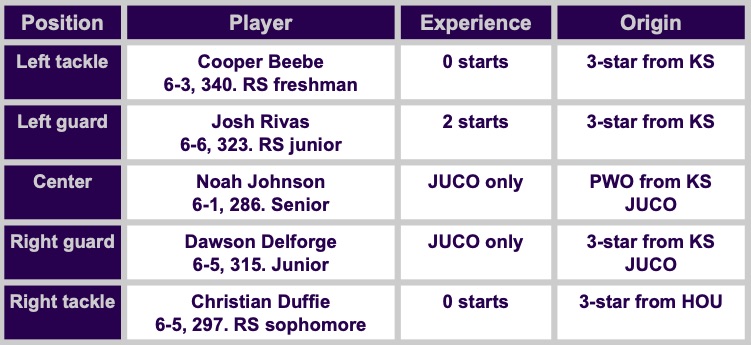 Inexperienced, younger, and actually much more "locally sourced" than the 2019 offensive line. So…2020 is the real rebuild?
The mystery of O-line performance
My favorite example of all time when talking Midwestern football is 1995 Nebraska and I've already linked the article I wrote about that team in this post up above. One of the interesting dimensions to that team was that they were starting over on the offensive line from the group that had won a National Championship in 1992 and 1994.
They had some redshirted players to plug in, including a pair of seniors on the right side, but to the outside world most of them were relative unknowns. The 95 Nebraska line ended up surpassing the previous units and absolutely mauling everyone in their path.
2014 Ohio State is another example of this phenomenon. The Buckeyes lost four starters, including star left tackle and 2nd round pick Jack Mewhort, from the 2013 line. They moved right tackle Taylor Decker to the left side and plugged in a trio of relative unknowns across the interior that would include future Rimington award winners at either guard position. Obviously the 2014 Buckeyes ended up winning the National Championship while their O-line blew holes open for Zeke Elliott.
You never quite know when the young guys that emerge to replace entrenched veterans will be prone to falling off or quietly a more talented group that used the time behind the scenes to surpass their predecessors.
The prospective 2020 offensive line in Manhattan is an interesting group that are hard to judge from the outside. Cooper Beebe is a well regarded talent who's proportions are not that of a typical left tackle. He's insanely thick and powerful and not particularly tall or long from what I can tell. Josh Rivas was an excellent guard in 2019 who played about as much as Curl and arguably better.
Noah Johnson has experience both as a JUCO player and a back-up for K-State that was expected to play in 2019 but ended up waiting his turn behind Rivas and all those seniors. Dawson Delforge was a starter last year at the JUCO level who excelled pulling on gap schemes like power. Christian Duffie was a promising tackle in a Houston burb that helped block for teammate John Holcombe. He redshirted and has been waiting his turn. Another player likely to be involved is Tanner Mordecai's left tackle from a state title runner-up team (Waco Midway) Kaitori Leveston.
This group doesn't really look like the kind of unit that you'd want protecting Skylar Thompson while he attempted to execute a pro-spread attack, but that wasn't in the cards anyways.
Typically when a new line steps up for an older group and exceeds their performance it's a result of a few factors.
One, the new coaching and system is strong and the guys who've spent more time developed within it are better. Nebraska was a well-oiled machine by the 90s under Tom Osborne and everyone that made it through the ranks to start on the offensive line had received a lot of reps and oversight in practice. The 2014 Buckeye line was raised up almost entirely in Urban Meyer's system whereas their predecessors were mostly inherited by Meyer and his staff.
Two, the surrounding cast are better. One of the major factors in whether a run game is successful or not is the quality of run game constraints. What's stopping the defense from loading up to stop the rushing attack? Or overloading the pass protection with blitzes?
The 2019 K-State O-line was well supported by shifting formations, much better blocking from tight end, and some play-action and quarterback option schemes designed to punish overplays. When they faced Texas in Austin and the Longhorns parked some athletes on the edge to keep the ball contained inside to the D-line, things looked different. The Wildcats were beat up at running back and starting back-ups and their senior-driven O-line was totally overmatched by Texas' blue chip defenders like 330-pound nose tackle Keondre Coburn or athletic ends Taquon Graham and Malcolm Roach.
Three, when the new starters are better athletes. Young replacements that are more talented can reach the level of elder veterans more quickly in their careers assuming good coaching. Many of the replacements stepping in for K-State are similar to the guys they're replacing. Noah Johnson, Dawson Delforge, and Josh Rivas are guys that are older and have been in the program or playing college football for a few years now. Beebe and Duffie at tackle will dictate whether this group struggles, matches 2019, or exceeds them.
Will 2020 K-State have the infrastructure to support their playmakers?
That's the central question of the offseason for the Wildcats and the area of greatest concern given the COVID-shortened offseason. Will their starters at the "inside receiver" positions match the vision and goals of the offense? How well can the starters at the featured outside receiver and running back positions land knockout shots working off the "jabs" by the supporting blockers?
The philosophy of the offense is to use multiple formations with frequent shifts and motions to set up the power run game while creating confusion and holding attention so that leaking tight ends or speedster wide receivers can get behind the defense on play-action.
Here's the likely lineup outside of the offensive line that will be working to execute the offensive vision.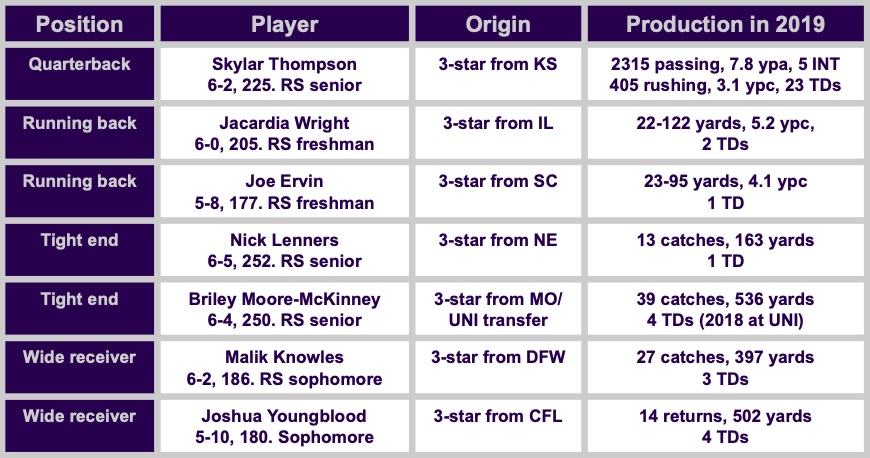 Briley Moore-McKinney didn't play much in 2019 after getting injured early in the season. But Chris Klieman was familiar with him from the 2018 season…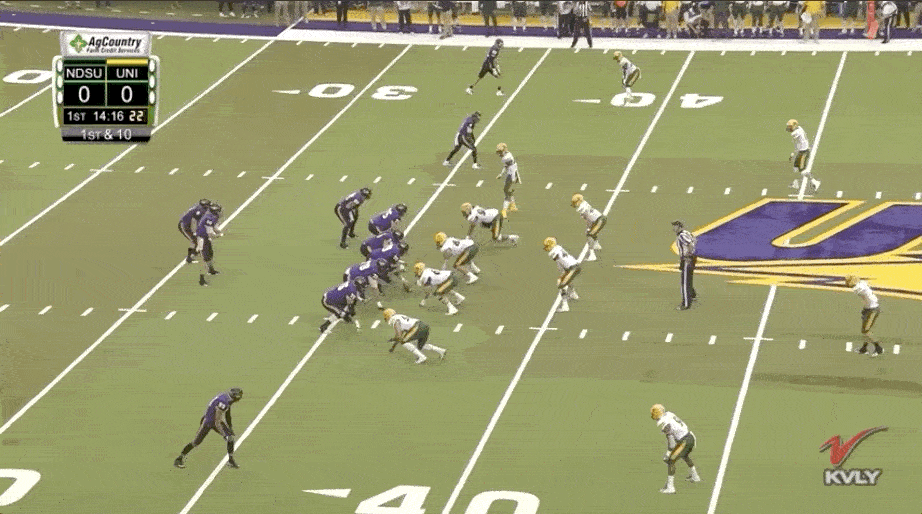 For the purpose of running a lot of 12 personnel, basing around the power run game, and having dangerous targets to hit on play-action, K-State is in excellent shape. The biggest likely weakness to their offense is their ability to protect Skylar Thompson in spread passing sets, which is likely to be one of the less emphasized components to their offense and potentially mitigated by the use of those big tight ends and Thompson's own mobility.
Malik Knowles flashed a lot of ability in 2019 in limited snaps while battling injuries and Youngblood is an obvious home-run hitter who needs to refine his skills as a receiver. Here's how Jacardia Wright looked in limited action last year:
By all accounts, Joe Ervin might be even better and comparable to this guy.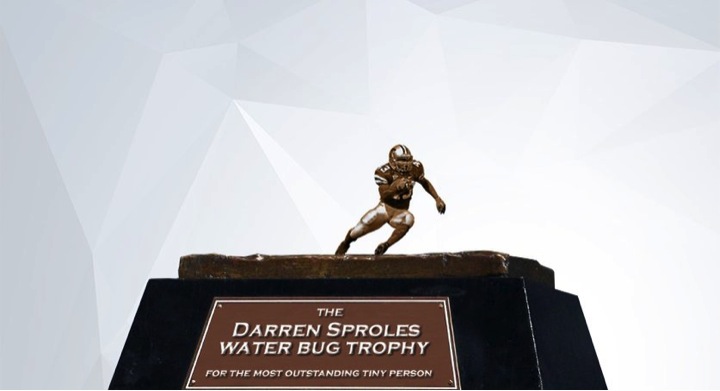 A challenge for every team in a shortened offseason is to develop their players that will be counted on to step into bigger roles and also to hone their identity so they can make the most of their available talent.
The 2018 Wildcats needed much of their season before they could even get their talents in the right positions with the right supporting structure and teammates to make the most of them. The 2020 Wildcats have an obvious path, obvious team strengths, and still a fair amount of their trademark experience to build around.
Perhaps that will put them unexpectedly ahead of some other Big 12 teams in 2020 that don't have clear identities chosen or supporting roles carved out.
********
The early K-State Wildcats of the Big 12 come up a bit in my book as a team that borrowed some of the quarterback run game components of the Tom Osborne Cornhuskers and took them to another level.