Over at Football Study Hall I wrote a column explaining the formula that Dana Holgorsen has been honing for making the West Virginia Mountaineers competitive in the Big 12.
The big thing is this…with Will Grier and his arm strength executing their RPO game alongside this Wickline-taught OL and RB Justin Crawford, this might be a very difficult offense to defend. You add to that another Tony Gibson defense of the quality they've been putting out since embracing more physical practices and you have a dark horse B12 contender.
Anyways, while researching that article I decided to watch all of Justin Crawford's big runs against Oklahoma. I found something that I found to be rather interesting.
Check out these five Crawford runs and let's see if you notice what I noticed: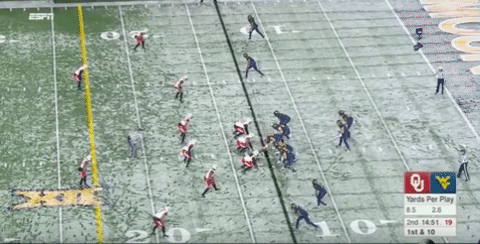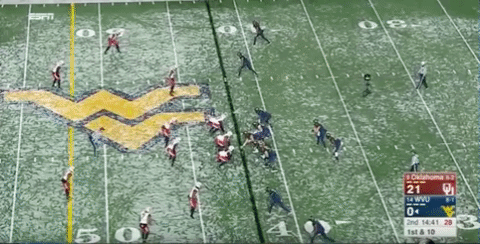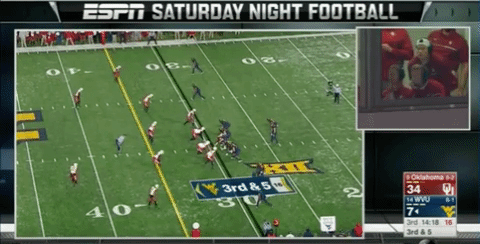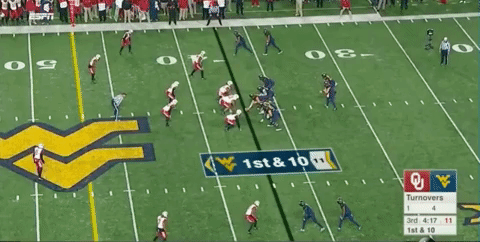 The fourth is my personal favorite, since it includes the "Cautious Mike cam" on the right side as the Sooner DC and support staff watch with resignation as West Virginia continues to run over them with the same play.
That's five carries for 207 yards on what basically amounts to the exact same play. It's 10 personnel (one RB, zero TEs), an initial 2×2 set, and then a single perimeter pass option for Howard to keep tabs on pre-snap before executing a standard zone-read.
And Oklahoma is totally lost.
I'm tempted to get into video editing and feature these runs to "Baby it's cold outside" but this will have to do for now. Anyways, for everyone that doesn't think Oklahoma breaking in a new middle linebacker next season might be an issue in terms of dealing with good run games (particularly ones with dual-threat QBs) this game stands as a piece of troubling evidence. They fail to fit all of the gaps properly on play after play.
In the first clip DE Neville Gallimore fails to take away the B-gap and the weak side linebacker fills C too hard to recover. Additionally, the single-high/man coverage structure of the defense means there's only one deep safety to help clean up.
In the second clip the LBs rock back to fill the cutbacks and leave the play side B-gap to Steven Parker, playing as a nickel. It's understandable for a DB to struggle to fill an interior gap but it's kinda sad that he got taken out by a slot WR. Their two-high safety structure here doesn't help them much either.
The third clip has them fitting the run properly but weak side linebacker Emmanuel Beal just doesn't tackle in the cutback lane. The single-high safety coverage rears its head again in the lack of clean-up pursuit.
Clip four involved a fire zone blitz in which Obo Okoronkwo fails to get inside tightly enough to take away the cutback lane. Just bad execution on a scheme that is very vulnerable when you don't play the edge carefully against the option.
Our final clip involves Emmanuel Beal rocking back into the C-gap when he needs to be fitting in the A-gap because Obo is already there. Two linebackers in one gap, one major crease in another.
The quarters coverage that OU was practicing in their spring game would make them a little more resistant to these issues but only if they actually nail down their assignments at safety and become a better tackling team. This had better be a priority if they want to repeat as league champions because they aren't going to be able to win the title winning a shootout every week again.