Over the last couple of years, particularly while researching and writing my book…
…I developed a theory that the college football playoffs essentially come down to which teams have the best spread passing attacks. I reference this theory all the time here, at Football Outsiders, and at Inside Texas but I haven't fleshed out the full argument before.
With LSU dominating this season, Trevor Lawrence's championship-defending Clemson team looming, and early semifinal matchups with strong running teams, it seemed like a good time to put this together.
What do I mean by spread passing?
This is a crucial piece of the puzzle. There are two types of teams that can regularly drop big passing yardage on you:
-The smashmouth spread teams that can light up the scoreboard dropping bombs while you worry about their power run game.
-The pro-spread passing teams that are designed to create matchups for the QB so that he can execute dropback passing all day.
2019's big story has been LSU applying a pro-spread approach on standard downs. Previously the common tactic amongst "pro-style" blue blood programs has been to utilize a power-spread offense on standard downs, spreading you out to create space to run the ball so they can control the game in the box. Those teams would then use pro-spread tactics for two-minute offense, third downs, or playing from behind.
Michigan State went to the playoffs in 2015 running a TOFKAP (the offense formerly known as pro-style) offense with fullbacks and a power run game. Their run game was barely effective, what really made that team go was their ability to get into spread passing sets on third down. The Spartans were 7th nationally with a 48.5% conversation rate.
Lead rusher LJ Scott had 146 carries for 699 yards at 4.8 ypc with 11 TDs and QB Connor Cook only averaged 7.7 ypa but the Spartans could control the ball on long drives by running for gains that shouldn't move the chains consistently before bailing the drives out with the spread passing game. That helped them limit the number of possessions and protect their ever-stout defense. The Texas Longhorns with Sam Ehlinger have followed a similar strategy in recent years, falling off considerably in 2019 because they didn't have a good TE (Sparty had Josiah Price) and also because their D hasn't been worthy of this kind of approach.
Clemson has tended to be a smashmouth spread team up until they make the playoffs. Travis Etienne ran over the ACC and then once the Tigers reached the playoffs he got 14 carries in each playoff game while Trevor Lawrence and Justyn Ross took them home. The Deshaun Watson teams had a similar dynamic, when those teams got into trouble they'd spread teams out by flexing out TE Jordan Leggett (often the RB too) and having Watson dropback and throw them out of it.
Well LSU relies on spread passing on first and second down. They don't wait until third down or the big games to unlock that dimension of their offense in deference to a defensive strategy. The result? Joe Burrow has thrown for 4715 yards at 10.7 ypa with 48 TDs to six INT and the Tigers are 13-0 with wins over some of the best teams in college football.
We haven't really seen a team get this far with such an approach since the Colt McCoy Texas Longhorns, whom I detail in the book as having nearly broken through for the spread passing game only to be relegated to the historical dustbin when the season concluded with a narrow 13-12 win over Nebraska and then McCoy going down in a loss to Alabama.
The spread passing teams are the ones that I'm arguing have THE playoff trump card, not the smashmouth spread teams who are always vulnerable to pass-first defense.
The reason? The sorts of teams you have to beat in order to win in the playoffs.
What kinda team makes the playoffs?
Getting into the playoffs means dominating a particular region and dominating most every region in the college game generally occurs when you can stop the run. In particular, when you can stop the run with your defensive front without necessarily needing to swarm the ball with your secondary as well.
Here's a glimpse of the sorts of fronts employed by our National Champions in the playoff era: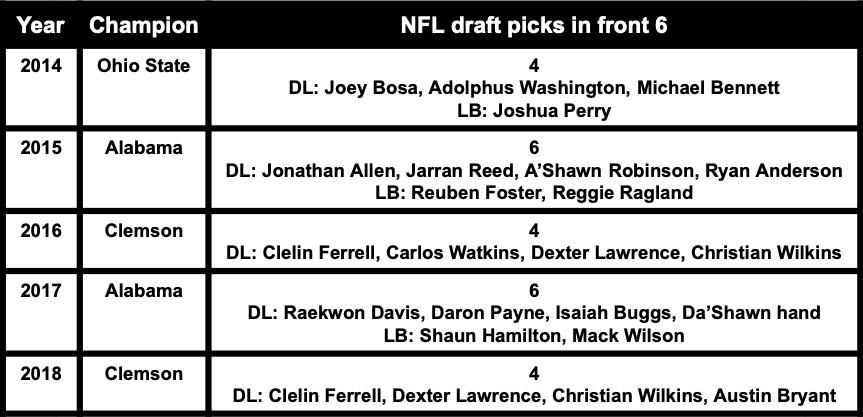 Obviously two particular teams and their styles of D are overrepresented, but if you look at some of the challengers you'll find a similar theme. Winning in the playoffs means beating teams with big, NFL athletes playing up front on defense.
What's the best way to beat these teams? Not with the run game.
You can tell me all about how these teams are too good at rushing the passer while bringing four or five to win without the run game if you like, the evidence is already in. You can beat them that way. Not only can you do it but you're better off that way than trying to run the ball on these guys.
It's a simple matter of math and geometry. On running plays, the defense is keying a single offensive skill player who starts at a fixed point in the backfield. On passing plays, they have to defend five skill players at the same time on very different areas of the field. When offenses are skilled at distributing the ball to different areas of the field with star athletes serving as targets, that's the harder dynamic to stop.
We all know this. When a RB averages five yards per carry we give a standing ovation, when a WR averages eight yards per target he's a JAG. Being able to run the ball is considered to be more valuable but most people can't articulate why except to point to the fact that many a champion at every level relies on it as the basis of their offense.
Here's the typical argumentation:
Running the ball allows you to impose your will with big men in the trenches, where games are truly won.
Truly the game is won in the end zone by the teams that most efficiently put the ball there. Passing accomplishes this more efficiently than running. What's more, there's a certain "imposition of will" that occurs when a defense drops into coverage and you still beat them with a well placed ball to a big receiver that Mosses a defender and then runs through the safety for a touchdown.
Is this not an imposition of will?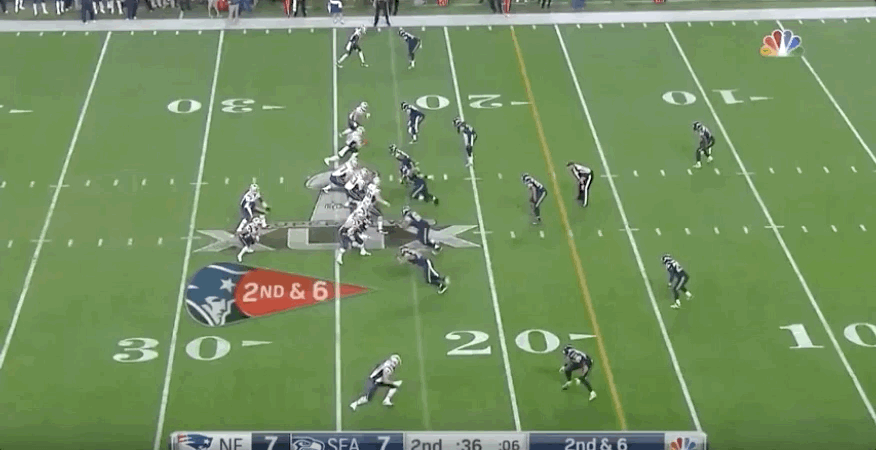 Throwing to a massive person that the other team can't cover seems to be pretty forceful, it just takes place out in space rather than in the box. The Patriots beat THE modern defense of our times by having Tom Brady dropback to throw 50 times and pick up yards at 6.6 per attempt. Not super efficient, but better than trying to run on the Legion of Boom.
You can't be a tough team if you don't run the ball.
There seems to be less and less to this as the years go by. You do need toughness on defense, you need to be able to punch the ball in situationally on offense when facing short-yardage, and you can't be all finesse all the time. But lots of teams are figuring this out without having to sacrifice efficiency with their approach on offense.
The 2019 LSU Tigers have a power run game they run from 11 personnel sets that feature flex TEs, it's almost all they use for their run game and their RB went for over 1k yards this year. The potency of their passing game made their power run game an effective constraint.
Running the ball allows you to throw the ball more effectively.
The smashmouth spread teams essentially prey on opponents that aim to stop the run as their first principle on defense. That's the underpinning of the entire philosophy, use run-action on RPOs or play-action to lure in defenders so that you can get matchups to throw deep to. It's a wonderfully effective style and hasn't even finished dominating the college game.
The problem these teams have in the playoffs though is facing defensive fronts like the one I illustrated above. The 2009 Crimson Tide played Texas in dime personnel with a plan to stop the run with five in the box so they wouldn't leave themselves vulnerable to the Longhorns' perimeter screens. That worked out okay, what Texas ultimately leaned on to beat them was simply throwing the ball from 10 personnel sets even though the Tide were mostly playing two-deep/man under with a DB matched up underneath on every Texas WR.
Schematically Saban thought he had it figured out, that Texas would out-execute his DBs in the passing game didn't really cross his mind. I think it crossed his mind against Clemson in last year's final or against LSU at home this year, but there wasn't anything he could do about it. Those teams simply imposed their will.
On that note, Saban has adopted a smashmouth spread approach because he accurately calculated that this was the best way to run the ball and control the game in the trenches. Then Clemson played the Tide in two-deep and said, "yes, you try to win by running the ball with advantages in the box and we'll try to win by throwing the ball to the perimeter with advantages down the field on the sideline."
Clemson only outgained Alabama 482 yards to 443 and with much of that coming in garbage time. But they outscored them 44-16. Why? Because when Clemson won a 1-on-1 battle, it meant Justyn Ross going for 60 and a score. When Alabama won a 1-on-1 battle it meant Damien Harris rushing for six yards.
The problem for smashmouth spread teams or other teams saying "yes, we agree that passing is the way to go, that's why we run the ball!" is that they're giving the defense a choice. Championship-caliber defenses will choose to defend the run rather than the pass and make you earn it the hard way against elite fronts.
Similar deal when Bill Belichik pantsed Sean McVay last year. The Rams' passing game was built off the run game, try to stop one and you get gashed by the other. Then the Patriots worked out how to play the run honestly without over-committing against the play-action passing game and the Rams were crushed. Also they handed that ridiculous contract to Todd Gurley…
The pro-spread teams don't give the defense the same kind of choice.
The Oklahoma exception
Some of you might be saying something in your head right now along the lines of "okay smart guy, so why doesn't Oklahoma have a half dozen national championships this decade and how come the Air Raid teams never win."
The Oklahoma example is a really interesting one. The short answer that would be easy to give is that the Sooners have taken some atrocious defenses to the playoffs and yielded too much of an advantage for their own offense to overcome. That's probably true, but there's another dimension to this as well.
For starters, Oklahoma tends to blend smashmouth spread tactics with the pro-spread approach. I think Lincoln Riley has a tendency to prefer the former, where things come down to his ability to game up defenders and create easy reads and openings down the field with the threat of the run game. The 2017 Sooners had a pretty good pro-spread dimension to their team because Mark Andrews was such a fantastic flex TE, but Georgia started doubling him and playing cover 1 from nickel and Riley didn't trust Mayfield to beat the Dawgs by beating 1-on-1 coverage outside with freshman CeeDee Lamb and Marquise Brown.
They did it some, enough to get to overtime, but they relied more on trying to run some play-action and a few misdirection fakes that failed because Roquan Smith is really fast. It's possible that the 2017 Sooners win a title if they'd relied more on Baker Mayfield and their outside receivers.
The 2018 Sooners had just an absymal defense that couldn't stop Bama's smashmouth spread approach. They also gave up an additional early edge to Alabama by trying to play a hobble Marquise Brown before giving up on the injured star.
As for the complaint that passing teams never win, it's just not really accurate. The 2009 Longhorns nearly erased this argument a decade ago and probably would have if Colt McCoy hadn't been injured. The 2013 Florida State Seminoles ultimately won by spreading out all of their NFL WRs and having Jameis Winston guide them down the field on two TD drives late in the fourth quarter.
The 2016 and 2018 Clemson Tigers won by spreading out Alabama and chucking the ball around for huge gains in the dropback passing game. For a team to use that gear to their offense in the regular season is a new feature in 2019, but for teams to win that way in the playoffs is more or less the underlying theme of this decade, obscured by Saban's dominance against every other style.
My guess is that the 2019 playoffs will be won either by Clemson or LSU. When going gets tough, the tough start passing.