Tom Osborne was the head coach at Nebraska for 25 years, the OC for four years before that, and an assistant for four more years before that. Almost the entirety of the Nebraska Cornhusker football tradition and legacy is built off what he instituted and oversaw there. People today know Nebraska for their dominant run in the 90s, their marginal decline under Frank Solich, and then their total inability to match Osborne's success with any coach since.
Since then the big question regarding Nebraska football has been "what are reasonable expectations for this program?" Osborne was not an average hire for either a P5 program or an elite institution of football excellence, he was an offensive genius who perfected a power/option I-formation offense in the 80s and then managed to upgrade his defense enough to convert that offense into a five year run of domination from 1993-1997. That stretch included three national championships, four conference titles, and only three losses.
I'm not sure there's ever been a more impressive run by any other college program, if you want to quibble I'm happy to debate it in the comments and open to other suggestions.
Anyways, Nebraska was absurdly excellent but they didn't arrive there by today's standards of how greatness is expected to be achieved. In particular they were not the recruiting behemoth that, say Nick Saban's Alabama has been.
Championship caliber recruiting
My colleague Bud Elliott of SB Nation has a regular feature in his recruiting coverage in which he reveals which teams are recruiting at a "championship level." It's all based on a concept called "blue-chip ratio" that makes a certain amount of obvious sense. Even someone who is considerably more skeptical of recruiting rankings, like myself, will acknowledge that the rankings do reflect a general consensus on who the known talents are in a given year.
Snagging a large number of obvious athletes with NFL measurables isn't a terrible way to build out your roster. "Blue-chip ratio" says that a roster needs to have a higher number of 4 and 5-star players than 2 and 3-star players in order to win a championship. As Elliott notes, that pretty much reduces the number of potential champions to about 10 or less in a given year and they're all going to be traditional blue blood programs.
Nebraska is still sometimes considered a blue blood program but that perspective is dying in a real hurry. I detailed some of the reasons for that when examining what makes Wisconsin so effective (it's not blue-chip ratio) but the gist of it is that Nebraska doesn't have the demographics to comprise a realistic recruiting base to build blue-chip championship rosters from.
Now Elliott's "blue-chip ratio" theory is already on pretty shaky ground. There have been a few different teams included in the playoffs that didn't meet that criteria, such as 2015 Michigan State who ended up getting blown out by Alabama, the winning Clemson team only just barely cleared the bar, or 2017 Oklahoma who were a touch below. It almost went down in flames last year due to OU's lack of bluechip recruits on their roster but was bailed out when Georgia squeaked by the Sooners in overtime.
Now the reason that OU was competitive had a lot to do with an OL stocked with 3-stars and a walk-on (Erik Wren), 3-star FB Dmitri Flowers, and 3-star QB Baker Mayfield. The reason they failed was their defense, which enjoyed a better percentage of blue-chip players but wasn't any good at all. That alone suggests that blue-chip ratio is not an immutable law, but more of a guideline on how to bet, but I suggest that the issue was already settled in the 90s by Osborne's Nebraska Cornhuskers.
The 1995 Nebraska Cornhuskers
Looking back at the 90s it's generally the 95 team that's considered to be the greatest Nebraska team and perhaps the greatest college team of all time. They were never really tested all year but blasted everyone on the schedule and defeated three top 10 ranked Big 8 schools by scores of 49-25 (K-State), 44-21 (at Colorado), and 41-3 (at Kansas). They also shut out a bad Oklahoma team and went on to face Ol ball coach Steve Spurrier and Danny Wuerffel in the Fiesta Bowl where they beat the no. 2 ranked Florida Gators by a score of 62-24.
Here was an early run from that game that illustrates what that team was all about: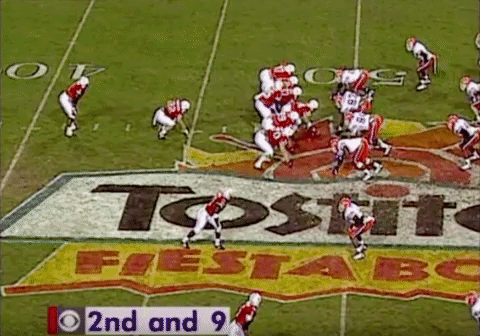 The Osborne I-formation option offense was actually very similar to the style of Wing-T that the Permian Panthers played in and I broke down while talking about "Friday Night Lights." There's a lot of stretch blocking and aiming to flank the defense on the perimeter. That's followed up with various constraints to allow the offense to prevent defenders from beating them to the edge such as the FB dive on option, counters, or trap plays.
I noted that the 1988 season saw Permian's Wing-T evolve from featuring both the fullback and the tailback as runners to focusing on the fullback in the run game and then passes to the split end as the second big component of the offense. This made better use of the QBs Permian had, who could throw pretty well, and the skill athletes at split end.
Well Nebraska's second feature after the I-back was the QB in the option. In 1995 Lawrence Phillips and Ahman Green split time at I-back due to some troubles Phillips had. Green had 141 carries for 1086 yards and 14 TDs at 7.7 ypc. Phillips got 71 carries for 547 yards and 9 TDs at 7.7 ypc, then QB Tommie Frazier had another 604 rushing yards and 14 TDs at 6.2 ypc with 1362 passing yards. The Cornhuskers COULD throw the ball some, but there was little need when the run game was picking up a first down every other run on handoffs to their RBs.
If you watch the clip above carefully you'll see that the offense executes multiple reach blocks, the WRs block well, they cut on the backside, and the fullback nearly lifts a LB off his feet when he meets him in the crease. They were just beating the Gators to spots and then whipping them whenever the Gators finally arrived, which was typically with poor leverage and positioning.
This system didn't require a pro-style TE that could run option routes, nor did it ask a ton in the passing game of the WRs save to try and run past conflicted safeties at times on play-action. The OL needn't have the length and feet for pass protection (note the 6-2 LT), just the quickness, meanness, and necessary power to reach and drive defenders. Even the QB and RBs, while they needed to be superior athletes, could be recruited from a national pool due to the 'Huskers brand and reputation for setting up their runners to look very good.
On defense things were different. Osborne's genius extended to offense and he had to update his "blackshirts" tactics and methods when his teams were regularly foiled by their inability to stop pro-style passing attacks from schools like Miami. Their defensive strategy essentially became to play the same style of 4-3 defense as everyone else with great athletes at outside linebacker and safety that would have to be recruited. No doubt their defenses were greatly aided by the fact that the offenses controlled the ball, ran clock, and scored lots of touchdowns.
The great battleground of Nebraska's 90's recruiting
Explaining the reasons for Nebraska's brilliance from 93-97 is a very common undertaking for the average college football message board. There's a lot of theories, info, and misinformation out there about what exactly made the Huskers so great.
First there's the walk-on program, which was rumored to be set up so that all the good in-state players didn't have to be put on scholarship. A glance at the 95 depth chart reveals this wasn't really the case. They had plenty of starters from in-state but they were mostly on scholarship and there can't have been that many great athletes other top programs would have been poaching if not for Nebraska's walk-on program. Walk-ons were a focus and their inclusion surely helped, but it would have been marginal and it certainly wouldn't have allowed them to achieve a championship "blue-chip ratio." Those walk-ons weren't missing out on scholarships that then went to blue-chippers from distant lands.
Next there's the strength and conditioning program, which cranked out a ton of really strong players and is generally regarded as having been ahead of it's time. Reading between the lines or from rumors here and there it sounds like Nebraska was out in front of a lot of schools in terms of utilizing PEDs to boost the abilities of their recruits. It's really hard to know how much impact this had, how widespread that sort of thing is anywhere (I assume it's widespread to some degree even at the HS level these days), and how much Nebraska benefitted from PEDs (if they even used them systematically in the first place). It's not the kind of thing that people typically explore or quantify and if they did it would be covered from the perspective of a scandal, not researched in the interest of acquiring information. Probably Nebraska used PEDs and used them well, how much of an advantage that brought them is hard to say.
Finally there's Tom Osborne's recruiting, which some say was nothing exceptional and others say absolutely was regularly yielding top 10 classes. I found this helpful article which sums up that entire topic quite well with feedback from Osborne himself.
Some evaluators of the time had Nebraska consistently recruiting at a top 10-25 type level with occasional top 10 classes such as in 95 and 96. Other evaluators, or Max Emfinger in particular, had his classes ranking in the top 10 more often. If we take a consensus of the different rankings we have a Nebraska that probably is borderline at best in terms of their roster or two-deep meeting the "blue-chip ratio." Osborne himself seems to feel that while they did compete nationally they relied heavily on local kids or undervalued players.
The main element to their roster that makes these teams meeting that blue-chip ratio exceptionally dubious is the heavy emphasis they put on Nebraska players. We have 17 years now of good, 247 state rankings of players dating back to the 2002 classes. I looked at the state of Nebraska rankings for all of those years and added up how many blue-chippers were coming out. I predictably found that this state of less than two million people that's smaller than 34 different metroplexes across the US doesn't produce a ton of blue chip recruits.
Over 17 years the state has produced ZERO five-star players, 14 4-star players, and 79 3-star players. That's an average of .82 4-star players and 4.65 3-star players PER YEAR. In other words, it'd be impossible to build out a class ranked anywhere near the top 25 while relying on Nebraska kids and a roster with a large percentage of Nebraskans could never touch the blue-chip ratio.
Perhaps Nebraska players were better back then…but that seems pretty dubious considering the consistent population issues. Even if stocky blockers of the sort you find in Nebraska towns were more valuable then than now, the state couldn't have produced too many more great ones than elsewhere in the union. If you take a glance at the roster you can see that there were tons of Nebraskans on it, too many for the ratio to work out. The starting lineup on offense included eight Nebraskan starters, two of which were walk-ons. On defense they relied on a much more national recruiting strategy but still started two Nebraskans and a walk-on from Indiana.
I jotted down their 1995 starting lineup myself and took note of who was on the team and where they came from and then I took some stabs at guessing what their recruiting ranking might have been: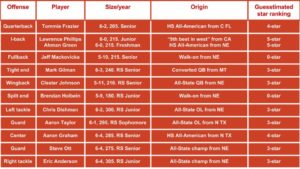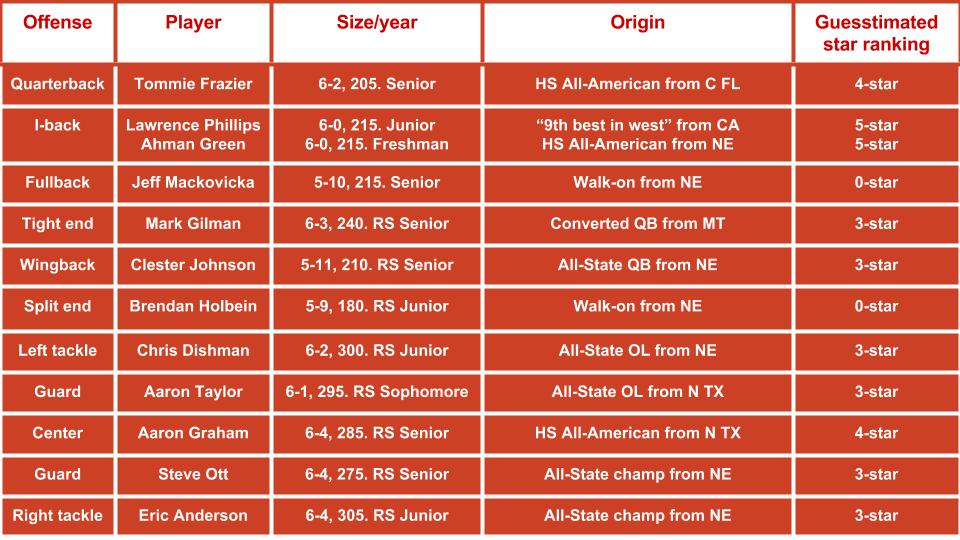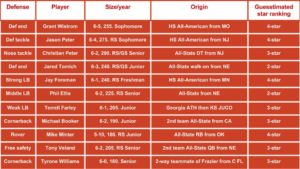 There are some places where I was probably not generous enough and others where I was too generous, it's very difficult to make these guesses decades later. The most difficult places regard how short OL would have been evaluated back then before the passing game was quite as prevalent as it is today. That said, the blocking positions is where Osborne leaned most heavily on Nebraskans so even if 6-2 tackles were more valuable back then you're still talking about him picking from a tiny pool out of a populous nation.
With these guesstimates the starting lineup for Nebraska's greatest team would have averaged at 2.8 stars on offense and 3.2 stars on defense. Some will surely scoff, perhaps I have Wistrom rated too low or made some other error or another in the eyes of people who followed these kinds of things back in 1992. Still, it's hard to see this team having been comprised of blue-chip players when you look at who was involved and where they came from.
In fact, what stands out as a much more plausible explanation for Nebraska's dominance is their development track and system. They were redshirting almost everyone and even greyshirting multiple guys. No doubt they didn't lack for some good athletes on defense or at the ballcarrier positions on offense, but elsewhere they were maxing out role players from accessible talent pools via S&C, scheme, and just time.
The "blue-chip ratio" theory of who wins championships in college football should have to contend with the reality that one of the most dominant runs in CFB history was achieved in relative recent history by a team for whom achieving the ratio was nearly impossible. Either the ratio is mostly true but has exceptions, it's true today but wasn't then, or it's not true at all and happens to conveniently correlate to the programs that have elite resources and are popular destinations for bluechip players in a given era.
My explanation for Nebraska's dominance
The thing about teams, particularly football teams, is that no matter how talented your squad is you're still going to have just a few main guys and then lots of role players. The way blue-chip theory works out in practice is you have a flexible team that has the star players determined by merit and then the other bluechip recruits are expected to fit into roles around the star player either with the understanding that they may become the stars down the line or by coming to an understanding that at the college game their ceiling in that program is as role players. Given how much praise and attention blue-chippers get these days, this is a more difficult process than many seem to assume.
Ideally the effect of a blue chip team is marginal advantage in every mini-battle of every play that eventually creates an overwhelming victory. This tends to play out much more on defense, since the offense can choose the point of attack but the defense has to be solid everywhere. On offense it's harder to gain advantages from how talented your role players are because the ceiling for what a role player can accomplish in his duties is often lower than what a blue chip player might be athletically capable of. The other ideal with blue chip theory is that who you rely on can change from year to year based on which positions are stronger, although that requires great tactical flexibility from the coordinators and coaches.
The challenges of blue chip strategy though are in your role player duties. Will the bluechip athlete buy in to a sacrificial, glory-less role? And do the athletic traits that saw him gain a high ranking translate to role player duties? A 10.6 burner at wideout may or may not be good at running precise routes, reading coverages, or executing blocks. Does he have a role if there's a 10.5 burner with slightly better hands and better reach? The 6-4, 230 pound athletic TE with flypaper hands may or may not relish the role of using those hands to seal the edge in the run game after flexing out wide and running routes in high school.
The teams that succeed in translating top talent to wins on the field are often exceptionally demanding and martial in culture, ruthless about player development, and emphasizing an "up or out" involvement on the team.
The other strategy for excellence is to purposefully recruit guys that are likely to thrive as role players with a narrower range of duties and then only rely on the exceptional talents at the positions that are necessarily featured by the scheme. Obviously that's what Tom Osborne achieved. The local high schools in Nebraska were running his system and he was plucking the best and brightest talents from a limited pool in terms of executing the essential points of his system while recruiting nationally for the RBs, QBs, and defenders necessary to hold up against South Floridian athletes in championship games. They were able to recruit and develop well enough in conjunction with that system that they achieved the same effect and more of a team that's really good at convincing brilliant athletes to master supporting roles.
It's the Jerod McDougal effect basically, every team can field a couple of great talents but the best teams have role players that will give anything and everything they have to thrive in a narrow and sacrificial role. Nebraska recruited guys to do that rather than asking stars to figure it out.
The Art Briles Baylor Bears are probably the closest college football has come to what Osborne achieved in terms of building a system that could develop and max out players without needing more than one or two truly elite athletes. It's typically on offense where this is more easily achieved for the reason I gave above. If your TE can't run routes than you just don't make that the focal point of your offense. But if your strong safety can't fit the run consistently then you're going to face runs designed to make him be the tackler.
I believe it's only a matter of time before another team is able to match Osborne's success, at least in terms of winning a championship, without following a blue chip theory strategy for building the team. With the hire of offensive genius Scott Frost, it might even be Nebraska again.
********
Read more on how Nebraska's offense dominated the early Big 12 and necessitated evolutions from opponents that led to the takeover of the spread offense in my book: