The 2020 Iowa State Cyclones are going to make a big push to become the 5th Midwestern team to win a Big 12 championship in this upcoming season. They may not have it in them, God knows the league could be competitive this season (or be hampered in a dozen fashions by COVID-19), but their approach is so different that I keep circling back to them as one of the more interesting teams to observe.
Here are the four Midwestern teams that have won a Big 12 Championship.
1997 Nebraska Cornhuskers
1999 Nebraska Cornhuskers
2003 Kansas State Wildcats
2012 Kansas State Wildcats
That's the list.
The existing model for Midwestern Big 12 championship offense
There's also really only one model that's been demonstrated to work in winning a Big 12 title for these Midwestern programs. A run-heavy, power-option system utilizing a running quarterback paired with a defense built from national/JUCO recruiting geared around fielding as fast a defense as possible. Here are the numbers from the quarterbacks listed above in the seasons they won a title:

Obviously offensive line play was crucial to all of these teams since a primary strategy was to run the football early and often while utilizing the quarterback within the scheme.
Here were the four, Midwestern offensive lines that won Big 12 championships.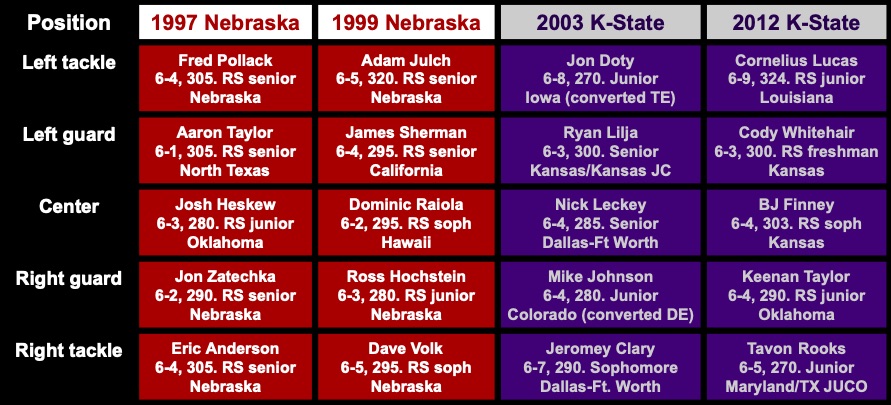 As I've detailed and hammered time and again, Nebraska's offenses were "locally sourced." It's really hard to build a sustainable infrastructure in college football if you the recruits you need to man those infrastructure positions cannot be found within your natural recruiting territory.
Both of these schools tended to recruit players from within the state or within a realistic recruiting radius (DFW makes sense for most all Big 12 schools to visit), develop them over time, and plug them in as upperclassmen.
Only three of the Nebraskan offensive linemen mentioned here were drafted. Aaron Taylor, Dominic Raiola, and Ross Hochstein, all interior players. For the K-State squads, four players would be drafted. Nick Leckey, Jeromy Clary, Tavon Rooks, and Cody Whitehair. Rooks and Clary are your only offensive tackles from the entire group, unless you count Whitehair whom K-State later moved to left tackle out of necessity but moved back inside in the NFL.
The running backs these teams plugged in and turned into stars are a different story. The '97 Cornhuskers featured Ahman Green, who was actually from Nebraska himself, but the '99 'Huskers had Missourian Dan Alexander and Mississippian Correll Buckhalter. The '03 Wildcats had Kansan Darren Sproles, the '12 Wildcats had central Texan John Hubert.
A strong program that wins games can always utilize national recruiting to acquire good skill talent. The question is what strategies do you rely on for building a system that can be sustained from "locally sourced" players? You might be able to find a running back or wide receiver from any number of national locations that will come to your program, but for all those other positions that set up the skill players you can't cast so wide a net.
For all four of these teams the solution was some brand of power-option football that minimized the need for NFL-caliber pass protectors at offensive tackle.
This really gets at the challenge for Midwestern teams in competing against schools like Texas, Oklahoma, or even the smaller schools down south. The modern game increasingly features skill athletes and the Midwest is short on those types of players. Instead it produces a perhaps above average number of players like the classic Nebraska 6-2, 300 pound offensive linemen that can be redshirted, beefed up, and drilled to do one thing really well.
Additionally, both Nebraska and K-State had systems that helped them execute run blocking better than other schools. I detail it some in my book…
…but the short version is that reach blocking and the GT counter scheme were important components for both schools. If the duty on a given play is to beat a defensive lineman to a spot and then get low, or to double team, or to pull, then having shorter linemen is not a limiting factor for a team.
The existing model for Midwestern Big 12 championship defense
Every program that has played great defense in the Big 12 up til the 2017 Iowa State Cyclones did so by following some version of the same model.
Find ways to get as many fast athletes on the field as possible.
Nebraska's ability to figure that out, combined with their improvements in the 90s at incorporating quarterback run game/option, was a major reason for their dominance in the 90s. The 1997 Huskers started a linebacker corps that went as follows:
Weakside linebacker: Octavious McFarlin. 5-11, 200 pounder from Central Texas.
Middle linebacker: Jay Foreman. 6-1, 235 pounder from Minnesota.
Strongside linebacker: Steve Raymond. 6-0, 205 pound walk-on from Nebraska.
K-State followed the same model both in 2003 when their All-B12 strongside linebacker was the 6-0, 210 pounder Josh Buhl from DFW and then of course in 2012 when they were a base nickel team who's biggest linebacker was the 6-0, 230 pound and highly athletic Arthur Brown.
Neither Nebraska nor K-State could consistently recruit many elite athletes nationally but they could both find some pretty good defensive linemen within their normal recruiting territory and they could both emphasize speed over size in the defensive backfield to also find defensive players within their normal turf.
The collapse of the Midwestern model
If you've been following along you'll notice there are a few problems with the stratagems employed by the 90s Cornhuskers or Bill Snyder Wildcats in terms of fielding winners in today's Big 12 or the modern game.
One problem is trying to win with the run game, which simply isn't a very good way to beat programs that are employing spread passing attacks. It's hard to keep up in a shootout with a team that can score in an instant and it's hard to control the game and limit possessions if the opponent can always just score quickly at the end and eliminate the value of your "game control."
It's also hard to be as efficient in the run game as in the past. Nebraska used to score tons and tons of points on opponents in the 90s. They averaged 46.7 ppg in 1997 and 34 ppg in 1999, it was a well-oiled machine. But quarters defenses began to proliferate and opponents found that speed and zone blitzing could stop rushing attacks.
If you give up eight yards instead of 20 on the pitch because you have so many fast defenders on the field, that's good. If you can put a rushing team in second-and-12 because you inflicted a tackle for loss on first down, that's much, much better.
Then in terms of building great defenses, prioritizing speed doesn't set you apart anymore. Everyone is doing that, including schools that can now prioritize recruiting the best "space force" athletes. Oklahoma managed that transition in 2000 and have won 12.5 of the 21 Big 12 championships awarded since their adjustment in hiring Bob Stoops in 1999.
You'll notice that Nebraska has endured a long "is Nebraska ever coming back???" narrative ever since firing Frank Solich in 2003 after consecutive seasons without winning 10 games (7-7, 9-3).
Then along came Matt Campbell to lowly Iowa State and brought about an entirely new model.
The Iowa State model for a Big 12 championship
Matt Campbell developed as a coach at Bowling Green under Gregg Brandon and at Mount Union under Larry Kehres and has been on the cutting edge of spread offense basically since the beginning of the trend.
You can actually draw a line from Tom Osborne to Matt Campbell fairly easily. Osborne clearly influenced Snyder, who directly influenced Urban Meyer (came to him to learn his quarterback run game), who employed Gregg Brandon at Bowling Green and then left the program to him when he went to Utah. Brandon hired Campbell as a GA and he worked there on a staff that included Greg Studrawa, the current Ohio State OL coach. Then Kehres hired Campbell to come to Mount Union and help them run spread concepts.
I've talked about Iowa State's offense a fair amount on here. They utilize basically all the best attributes of modern spread teams. They can use tempo with dual-threat tight ends, they flex their tight ends out to create matchups, they have vertical RPOs, they have quarterback run RPOs, and they are really good in the pro-style dropback game particularly with shallow cross concepts.
It's similar to the Bill Snyder Wildcats save for with better pass game schemes and personnel and with similar challenges trying to get NFL-caliber athletes on the field at tackle to protect for those superior pass game concepts. Fortunately for Campbell, Brock "pump fake" Purdy is a wizard at mitigating pressure.
An unexplored possibility for a lot of Midwestern teams is to put more emphasis on the tight end position. Nebraska used thick-necked dudes that were probably too slow to play linebacker but too small to play offensive line and just extended their line. K-State did some more of that and, like the later Nebraska teams that had eventual NFL tight end Tracey Wistrom, they also mixed in the tight end as part of their pass game strategy.
But as the modern NFL is revealing, tight ends that can flex out as receivers are a cheat code to executing modern offense at a high level. A 250 pound blocker on the edge is nice, a 250 pound matchup weapon in space that ruins traditional defensive coverage assignments and attacks their systems and structures? That's even better than a good slot and arguably even better than a deep threat on the outside. What's more, he can easily coexist with a good slot and a deep threat on the outside and increase their potency.
They need to solve for the issue of fielding NFL athletes at tackle in 2020, but Iowa State does have "space force dreadnoughts" in their tight end room that can give their spread passing game an extra gear most of the Big 12 can only dream of having. They can consistently recruit here as well. Charlie Kolar came from Oklahoma, amusingly overlooked by Oklahoma and Oklahoma State, and Chase Allen came from Missouri. Both of those states are normal, reasonable recruiting territories for a Midwestern program like Iowa State. Down the line they expect Easton Dean to be their best tight end yet, he was a 3-star quarterback recruit from Kansas they moved to tight end.
In-state rival Iowa sends tight ends into the NFL almost every other year at this point, it's the sort of player that can be found in that area.
Then defense is where things have been wild and regularly commented on in this space and even in the book. Their "flyover defense" flips the script from normal procedure. Instead of moving away from relying on linebackers, which the Midwest actually produces pretty consistently, the Cyclones restructured their defense in order to give their linebackers a chance to control games.
Here's a look at the linebacker corps for the four previous Midwestern champions and then 2020 Iowa State.

You can witness the evolution of the 4-down strongside linebacker position occurring on this table. Nebraska was ahead of the curve in using smaller, safety-types at that position to improve their team speed and also to allow them to emphasize blitzing as a solution for 3-WR formations. They actually spun down Octavious McFarlin from safety at the end of the year in 1997 because of injuries or else that position perhaps looks closer to 1999 when they had the more traditionally sized Julius Jackson.
2003 Kansas State had the same sort of converted safety kind of player with Josh Buhl, the 2012 Wildcats were again ahead of the curve in the new thinking. Instead of playing a safety-linebacker hybrid at the sam they played a full-time nickel in Randall Evans that could play man coverage like a corner and free up the middle linebacker and strong safety (Ty Zimmerman, then Dante Barnett) to play the run flat-footed.
With 2020 Iowa State we see the trend reversed with their prototypical inside linebacker Mike Rose playing out in space. How does that work? Because they are 3-down along the line and trade in a defensive tackle for a nickel safety who lines up in the deep backfield in between two other safeties. With an additional safety on the back end, the sam linebacker is freed up to stay underneath and be a forceful presence on the perimeter that you can't just hunt off the field with vertical routes.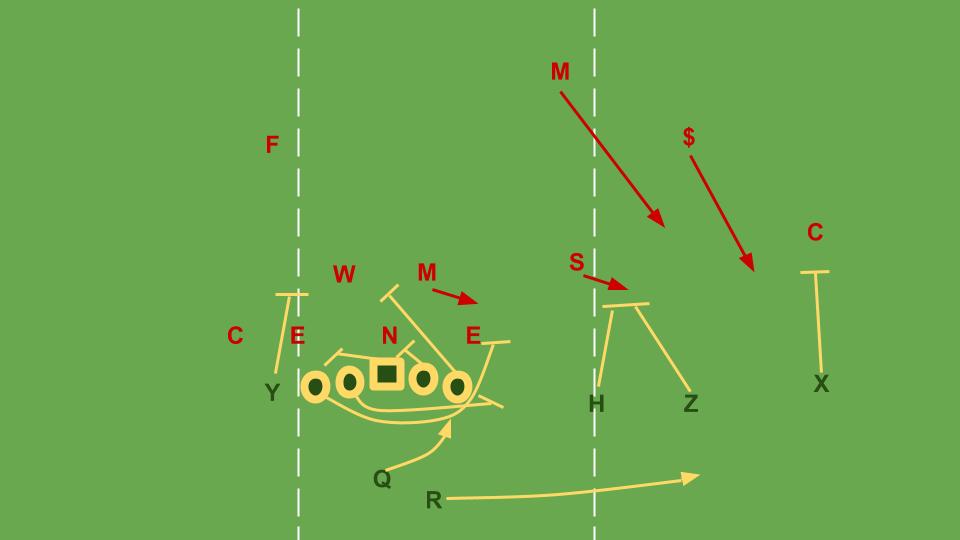 In the past, football games were won in the trenches. The Midwestern teams drew an advantage from their ability to develop systems that could be competitive in the trenches with regionally recruited players, despite the sparse populations. Nowadays, football games are won in space by explosively fast athletes of the sort that aren't as common in the Midwest.
The solution? Develop systems that allow the bigger athletes that are found in the Midwest to be competitive. Pro-spread schemes that take advantage of skilled, receiving tight ends that are hard for faster players to check. The "flyover defense" model that allows linebackers to diagnose plays, beat blocks, and make tackles with protection over the top that prevents them from having to keep up with faster players in space.
This could be the new model going forward for how to win for football-obsessed programs in the Midwest. The most fascinating detail is that no one was betting on Iowa State to be the program that figured it out.