Bill Snyder's teams were designed to win football games in a particular fashion. He built something akin to a powerhouse HS team, fielding maxed out seniors at most positions and bringing a level of discipline and precision to bear that other teams couldn't overcome with superior talent.
The team that Chris Klieman inherited for 2019 still had a lot of those elements, even though there were some glaring weak spots like the absence of any RBs. The TE/FB spots proved to be better stocked than you'd guess from watching the Wildcats struggle there in 2018, in part because Klieman moved QB Sammy Wheeler to TE, recruited freshman Jax "the destroyer" Dineen, and got a healthy Nick Lenners back on the field.
Here's the OL that Klieman inherited, which was one of two key ingredient to their success in year one: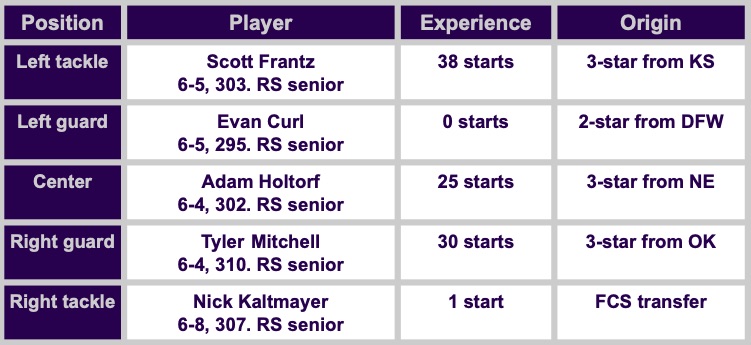 Five redshirt seniors who'd received high level instruction and practice reps for multiple seasons in the Snyder program. Obviously Holtorf, Frantz, and Mitchell were even multi-year starters while Curl and Kaltmayer had been subbing in for multiple seasons.
The other key ingredient was a defense that had a similarly ridiculous amount of experience. The Wildcats didn't rate very highly by adjusted stat defensive metrics in 2019 but they were second in the whole nation in third down conversion defense at 28%. Yes, Kansas State.
Like any of the better Snyder-ball teams, Klieman's Wildcats manufactured wins on the margins by having an experienced team that could clamp down and execute with precision in key moments.
That's all been pointing to a fascinating 2020 in which K-State will lose an enormous chunk of their contributions from that departing senior class. This is further exacerbated by the Klieman model of roster construction, which has one key difference to Snyder's approach.
Adoption vs natural birth
Bill Snyder didn't put much of an emphasis on high school recruiting. He regularly filled out his rosters with JUCO transfers from within the state, either as scholarship additions or preferred walk-ons, and he took other transfers as well. The Snyder K-State rosters regularly included a large number of 21+ year old athletes. When he did recruit high schoolers, he often went extra hard into the home grown development model, handing out grey shirts and deferring enrollment for some of their local additions so that they'd be 23-24 when they were redshirt seniors. That was a favorite tactic of Tom Osborne as well in building out those precise Nebraska machines back in the day.
Chris Klieman's model is a little heavier on high school recruiting and natural development. His North Dakota State teams dominated by fielding spectacularly massive and skilled OL that he built from lanky midwestern kids that were abundant and often overlooked in the Dakotas, Minnesota, and surrounding states.
On the OL in particular, Snyder hit the JUCOs and transfer market, but also recruited long-term developmental players from the HS ranks. The 2019 OL was 4/5ths comprised of high schoolers K-State recruited. However, Snyder also chose players differently. Of the five starters on the 2019 line, only Holtorf came to campus weighing less than 280. Snyder-ball was about grabbing guys that knew how to play and drilling them into finely-tuned machines.
The challenge for Klieman now has been maintaining a roster that can put savvy veterans on the field to out-execute Big 12 opponents when your preferred method of talent acquisition is to grab raw high schoolers and develop them over time. Snyder didn't leave just a ton of ingredients in the crock pot because he would have inevitably filled in the cracks later on via the JUCO and transfer ranks.
To put it in midwestern terms, the differences are similar to a farm run by a big family in which the father tried to have as many sons as possible vs one in which they'd just hire field hands for harvest season.
For 2020, Kansas State's OL in particular has only a thin collection of mostly second and third year OL as the primary options for manning their OL. Particularly at the tackle positions. Before we factor in the 2020 transfer/recruiting additions you're looking at redshirt senior Justin Eichman (KS JUCO), redshirt sophomores Kaitori Leveston and Christian Duffie (Texas kids), or maybe redshirt freshman Cooper Beebe (Kansas kid) as your potential starting tackles.
Klieman's balancing act in 2020
The 2020 class for K-State included six OL, pending one of their TE additions ballooning in their S&C program into a seventh, which I don't anticipate with this group.
Here's the additions:
Early enrollees
Carver Willis: 6-5, 260. 3-star from rural Colorado.
Sam Shields: 6-5, 285. 3-star from Manhattan, KS (connected to the program).
Dawson Delforge: 6-5, 317. 3-star from a Kansas JUCO.
Summer enrollees
Will Mitchum: 6-7, 250. 3-star from rural Tennessee.
Hadley Panzer: 6-4, 295. 3-star from rural Kansas.
Taylor Warner: 6-4, 265. 3-star from a Kansas City suburb.
Two things should stick out to you from this list. First, that Klieman found an OL prospect who's name is "panzer," which is just terrific and uber-midwestern. Secondly, that most of these guys are developmental prospects from rural areas who are going to be bulked up and developed over time.
The only exception is Delforge, who played RG in the JUCO ranks and is more of a run-blocking, "eliminate penetration" interior OL than a tackle prospect. Presumably his job will be to maintain K-State's ability to execute the power run game with consistency since he did so at Butler C.C. last year.
Three conclusions are plausible from this information and more than one could be true.
One, Klieman still has every intention of adding a grad transfer tackle that can slide in and play immediately despite missing the spring.
Two, having coached all these younger tackles for a year already, Klieman and his staff feel good about what they have there.
Three, Klieman is willing to take some lumps in 2020 after having a stronger than expected 2019 in order to avoid sacrificing his preference for building the roster the natural way.
There are some mitigating factors to consider in all of this. Particularly, the structure of the K-State offense, the 2020 roster in particular, and the defense.
Scouting 2020 Kansas State
There's two different directions this could go based on what the staff feels the strength of their team will be. If they think this defense is where it's at, then the lack of expertise at tackle is less of an issue as they'll likely lean more on running clock and running the ball while taking shots on play-action or third down. If it's Skylar Thompson that is the strongest engine on this team then perhaps Klein should be mining the grad transfer market pretty hard over the coming months.
The Wildcats are much more imposing at the skill positions for 2020 than they were in 2019 when Klieman was taking every grad transfer RB with a pulse in order to make anything of their senior OL.
Skylar Thompson returns as a senior and while he wasn't jaw dropping in 2019, he again showed that he is very capable of getting the ball to playmakers if you have them and also of using his legs to bring extra punch to third down or the red zone. He threw for only 2315 yards at 7.8 ypa with 12 TDs to five INT but he had 11 rushing TDs and K-State was 34th nationally in 3rd down conversion rate. Again, situational superiority.
He's losing Dalton Schoen but young targets like Malik Knowles, Wykeen Gil, and Joshua Youngblood could all be much improved. The run game will probably lean on the magical Harry Trotter and then promising redshirt freshman Jacardia Wright. In all likelihood, this team will be at their best mixing in more passing which would point to the need to having sturdy tackle play.
But then, the K-State offense doesn't ask as much of the tackles as your typical offense. There's a lot more play-action and max protection with big TEs and FBs moving around to chip rushers, hang back to block, or releasing as check downs. It's possible that the staff feels that they can get by with younger, less experienced tackles if they are bringing it in the run game.
Here's a guess at the 2020 OL that will be setting the floor for what this team can do: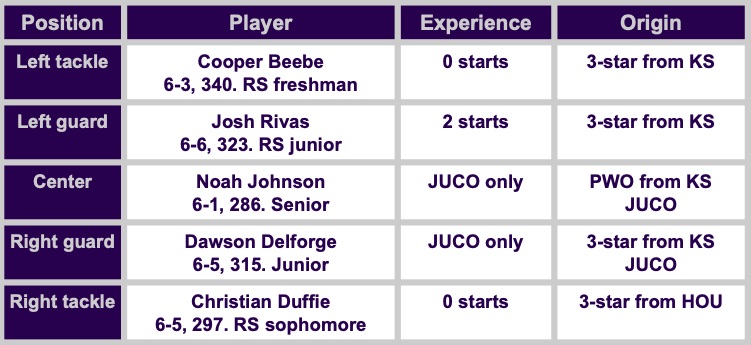 Beebe as a starting tackle is something of a surprise but by all accounts he's one of the more talented kids on the roster. Kaitori Leveston was a back-up tackle in 2019 and could figure in here, as could homegrown RS junior Ben Adler. Rivas was basically a starter in 2019 and a PFF All-B12 player. Duffie is a better athletes than you often associate with K-State lines, he's just inexperienced and was the departed John Holcombe's tackle in a run-centric offense down in Houston.
Overall this group could have some upside in run blocking but they don't have much experience and may not hold up if asked to protect Skylar Thompson from spread sets. Especially considering how much practice time will be devoted to that vs executing their diverse, power run game.
Scottie Hazelton's defense is potentially wildly underrated heading into 2020. It's easy to get caught up in the departure of two of the top four tacklers and starting tackles Trey Dishon and Jordan Mittie. The Wildcats are quietly in great shape though. Drew Wiley flashed at times as potentially the best DT on the roster and DE Wyatt Hubert was certainly the best DL overall. Cornerbacks AJ Parker and Walter Neil are back as well as nickel Jahron McPherson, strong safety Wayne Jones, and dime Jonathan Alexander. At linebacker they have leading tackler Elijah Sullivan back and then also Justin Hughes, who was expected to lead the team last year before an injury.
Interestingly enough, they are following different rules for roster construction on this side of the ball. The DL figures to be supplemented by JUCO additions Derick Newton and Kirmari Gainous, either of which may play significant roles in 2020. In other words, they have all the pieces to be situationally brilliant again and potentially a lot better on standard downs as well.
My best guess right now is that Klieman will lean into the ground and pound method of 2019 and trust in a more explosive skill position crew to make it work with a less experienced OL while trying to win with defense. Given the surrounding context of the league heading into 2020 and the current status of his roster and tenure, Klieman can probably afford to maintain a steady approach to retooling this program so long as they are winning 7-8 games a year.
********
Read up on Tom Osborne's early dominance of the Big 12 and how the league evolved from there in my book!