The 2020 NFL draft selected 14 players from LSU's 2019 team. I think there's a real chance that this unit will go down with the 2001 Miami Hurricanes as one of the greatest teams of all time, particularly in an era where NFL draft selections and subsequent success weighs so heavily into how people perceive these things.
The 1995 Nebraska Cornhuskers were totally dominant, but when you look back at their team you don't see a lot of future pro bowlers because their style was distinctly collegiate and their roster wasn't stocked with elite athletes like teams aim for today.
It's amusing to note that the LSU Tigers, after years of being frustrated by Nick Saban's Alabama, are going to end up with the greatest and perhaps most memorable team of the decade. The Alabama fans know it too and it really gets under their skin.
While LSU had 14 players taken, the Big 12 had 21 placing them safely last amongst the P5 conferences despite their competitive number of 1st round picks. Here's how things shook out: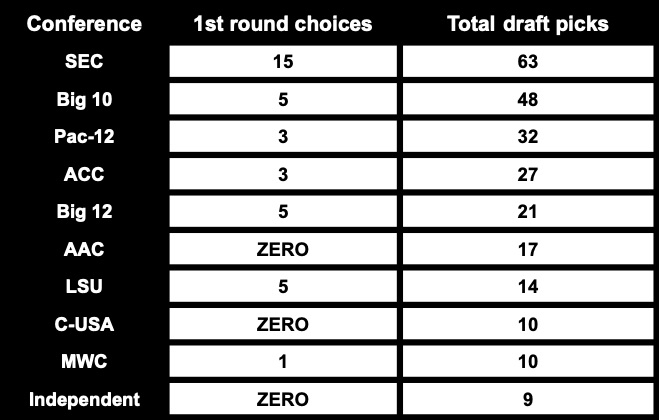 Things started out very positively for the oft-maligned Big 12 before eventually looking pretty normal for the league in its current state. If we break things down by team (in order of league finish) we get an interesting peak into the 2019 season and the relative state of each program.
The Oklahoma Sooners
Drafted players (4): WR CeeDee Lamb (1st), LB Kenneth Murray (1st), QB/RB Jalen Hurts (2nd), DT Neville Gallimore (3rd)
The creativity and flexibility of Lincoln Riley, and now arguably Alex Grinch through one year, is on nice display with these draft choices. The team was unquestionably powered by Jalen Hurts in the run game, CeeDee Lamb, and then the pressure they generated on teams with Neville Gallimore stunting from the nose tackle position and Kenneth Murray playing behind him. When Oklahoma beat teams in 2019 it was generally due to the abilities of those four guys to impact games.
There were also some other defensive linemen and the interior offensive line that were key to Oklahoma's success but those guys weren't draft eligible yet.
Lamb dropping to the Cowboys was amazing and arguably the story of the first night. You knew Jerry Jones wasn't going to pass on that opportunity and this definitely boosts the Cowboys chances in 2020 when they can play him opposite Amari Cooper. Jalen Hurts going in the 2nd round to be a "Taysom Hill-type" for the Eagles is more or less exactly what I explained should be his fate in a column from January.
The 2nd round is a pricey spot to get a guy that will run quarterback power when Philly is in the red zone but maybe they have more planned for him. They're definitely not going to get their bang for their buck unless he can share the field with Wentz and play at running back or wide receiver.
For the 2020 season the Sooners main draft prospects might project more to the 2021 draft. They'll be a younger team and most of their strong, older players are going to be juniors on the interior offensive line.
The Baylor Bears
Drafted players (4): WR Denzel Mims (2nd), DL James Lynch (4th), NT Bravvion Roy (6th), LB Clay Johnston (7th)
Like with Oklahoma, the Big 12 runner-ups' drafted players coincide with the the players that served as engines for their 2019 success. Matt Rhule's inverted Tampa 2 defense essentially revolved around playing eight fast defenders off the ball while asking Lynch and Roy to hold down the line of scrimmage. The Baylor offense was good mostly when they were throwing RPOs on the boundary to Denzel Mims against 1-on-1 coverage.
The Oklahoma State Cowboys
Drafted players: ZERO
LOL.
Mike Gundy has legit NFL talent on his roster in Tylan Wallace and Chuba Hubbard and somehow convinced both to return to Stillwater for 2020. The Pokes also have some NFL-caliber talent in Amen Ogbongbemiga, Trace Ford (2022), and maybe Spencer Sanders if he learns to read defenses.
The Kansas State Wildcats
Drafted players: ZERO
The Wildcats didn't have much in the way of NFL athleticism on their 2019 team and what guys they did have that resemble that metric were younger and are back for 2020. In particular, cornerback AJ Parker and defensive end Wyatt Hubert.
The main strength of their team was having a dozen veterans on defense that played good situational football, a senior offensive line, and then a quarterback run game to convert short-yardage and goal line opportunities.
The Iowa State Cyclones
Drafted players: ZERO
The Cyclones' higher level talents were a year away (more or less) in 2019 and they were also THIS close to winning more games. Quarterback Brock "pump fake" Purdy will get a look from the NFL in future seasons and tight end Charlie Kolar will definitely draw some attention.
The 2019 offense often came down to running the shallow cross concept with veteran, talented slot Deshaunte Jones (not interesting to the NFL at 5-9, 185 without great speed) and Kolar in the middle and then a cast of non-NFL wide receivers outside. The defense had maybe three players that could have been really interesting to the NFL for the 2020 draft.
Safety Greg Eisworth: Played hurt most of the year and is coming back.
Defensive end Jaquan Bailey: Hurt most of the season and didn't even play.
Nose tackle Ray Lima: The NFL has shown for multiple years now that they aren't about squatty Big 12 nose tackles that can eat double teams but aren't high level pass-rushers. Andrew Billings, Poona Ford, etc.
The Texas Longhorns
Drafted players (3): Saf Brandon Jones (3rd), WR Devin Duvernay (3rd), WR Collin Johnson (5th)
For the 2019 season Texas had a potential star 3-technique in Malcolm Roach, who went to the combine and ran a 4.84 at 6-2, 297, a future NFL pick in edge-rusher Joe Ossai, and then box safety extraordinaire Brandon Jones. Because of Todd Orlando's difficulty in developing linebackers and distaste for rushing the passer in a traditional fashion up front, Malcolm Roach spent the season slanting to create openings for other pass rushers, Joe Ossai played every linebacker position except 3-4 outside-backer until the bowl game when he had three sacks, and Brandon Jones played every safety position imaginable covering for constant injuries across the unit.
In a related story, Texas played terrible defense that cost them multiple games.
On offense, they got a good return on Duvernay (106 catches, 1386 yards, nine TDs) but Johnson was injured for large chunks of the season. Texas' back-ups at that spot were notably untrustworthy in the RPO game, removing the backside glance option for the Longhorns in multiple games where it was needed (Iowa State). Texas also didn't protect consistently well.
For 2020 they'll have Sam Ehlinger, a bunch of young wide receivers (and Michigan transfer Tarik Black), possible 1st round tackle Sam Cosmi, and then a few NFL athletes across the defense. As always, it's a matter of whether they can actually put it all together and get the right kind of production in key roles. They're like, one for 10 in the last decade.
The West Virginia Mountaineers
Players drafted (2): S Kenny Robinson (5th), OT Colton McKivitz (5th)
These two guys were actually drafted back to back. If you didn't play close attention to West Virginia football last year, Kenny Robinson left school and then played in the XFL. Remarkably, the Mountaineers still played pretty well on defense despite losing him.
The TCU Horned Frogs
McKivitz was a big part of what they did well on offense with his protection, especially when they finally reached the end of the year and were able to bench Austin Kendall for Jarrett Doege. It's going to be painful for them to lose him AND Josh Sills (transferred to Ok State after sitting out 2019). That's the most obvious concern for this team, which otherwise should be in a better place in their normal talent cycle with lots of young athletes becoming 2nd and 3rd year players.
Drafted players (5): WR Jalen Reagor (1st), CB Jeff Gladney (1st), DT Ross Blacklock (2nd), OT Lucas Niang (3rd), S Vernon Scott (7th)
The Fort Worth-Star Telegram hilarious published an article that buzzed around Twitter today in which anonymous NFL people talk about how Jalen Reagor has amazing potential and that they didn't hold it against him that the quarterback play and offense at TCU was garbage. Within the article, Gary Patterson is allowed to zero the criticism around the play of promising freshman Max Duggan, rather than himself or his staff.
TCU has had a knack for recruiting better than most of the Big 12 and evaluating well enough to end up with a lot of NFL athletes across their roster. However, they've been really uneven in terms of having athletes and developed players at key positions. Check out how many "space force" fighters they had drafted at positions where you need star athletes.
The saga at quarterback was stunning to watch and involved the Frogs welcoming Alex Delton from Kansas State and Gary Patterson talking him up as a possible solution over the offseason. They also added Matthew Baldwin and Mike Collins, either of whom would have been better solutions if not for injuries sustained before the 2019 season.
For 2020 the Frogs are in a tough spot. They have a young roster with sophomores littered across the starting lineup, they missed the bowl practices, they missed spring practices, and they've tended to use Patterson's offseason program and rigorous practice schedule as key ingredients to their strategy.
The Texas Tech Red Raiders
Drafted players (2): LB Jordyn Brooks (1st), DT Broderick Washington, Jr (5th)
There was talk all year of Brooks being a high draft pick after showing well at inside-backer, I never really thought he'd go in the first round though. Optimistic Seahawk fans have been talking up his quickness but at Tech he mostly sat behind the line at about five or more yards and then closed on the ball with favorable angles. He's kinda like Kenneth Murray, hypothetically he's the rare sort of athlete with the size AND speed to do everything that an NFL linebacker has to do these days taking on the run and not getting dusted against the pass. We haven't actually seen that though.
Washington was a really good player that helped Brooks' transition by making a mess between the tackles and allowing him to play "see ball, hit ball" from depth.
Texas Tech didn't translate that to anything close to competence on defense and now will enter year two for Matt Wells without either. If they get a healthy year of Alan Bowman then I think we'll see some of their offensive talents emerge as draftable prospects next year.
The Kansas Jayhawks
Drafted players (1): OT Hakeem Adeniji (6th)
Classic 2010s Kansas draft. They had a really good athlete at a position where it's hard to find NFL talent, but the rest of their team largely sucked.
There's not a lot of NFL talent in the Big 12, top to bottom, and things tend to come down to which teams are best able to squeeze the value out of their NFL athletes. This is where Texas and TCU have failed miserably of late (and of less late for Texas), and why Oklahoma tends to run roughshod over the rest of the league before getting beat when they play other programs with comparable levels of NFL talent in the playoffs.
********
The Big 12 has long been at a disadvantage relative to other P5 conferences in terms of how much talent is available within the participating programs' borders. Consequently, it's become a laboratory for innovative and experimental offense. Read up on how that has helped fashion the Big 12 into college football's most cutting edge, offensive league in my book: