High school football, and sometimes college football, regularly takes simple spread strategy to its logical end points. After throwing for 333 yards and five touchdowns as a sophomore in their victory over Duncanville in 2018, North Shore QB DeMatrius Davis took a different approach in 2019.
He completed 6-12 passes for 91 yards but had 16 carries he turned into 115 yards and a touchdown and the Mustangs beat up on a D-Ville team that had to start a freshman QB after star senior Ja'Quinden Jackson hurt his knee in the semifinal.
If the goal of your offense is to spread your opponent out and out leverage them in space then ultimately you trend in one of two directions. Either you whip them by featuring a star distributor at QB that can get the ball to athletes down the field, or you put your best athlete at QB so he touches the ball every play and teach him to pass well enough to maintain space for him to run the football. Lots of high schools opt for option B, including Duncanville, much like how teams used to (some still do) just play their best athlete at RB. Davis is a little more versatile than that, evidenced by the way he threw the ball as a sophomore when North Shore WR Shadrach Banks was healthy, but he trended in that direction in the title game this season.
In high school it's a lot easier to get away with this as the primary limiting factor is the durability of the QB. Sticking your best athlete at RB and feeding him the ball with 20 carries a game is simpler than playing him at QB and trusting him to handle that workload while staying staying healthy enough to throw the ball effectively and to be sharp and not mentally exhausted when making decisions with the football. That's generally too challenging in the NFL.
But in high school where opposing LBs may weigh 180 pounds and the games are shorter? It's more manageable. This century it's become much more common in the college game as well.
So it's common for high school programs to build their programs around developing their best athletes/overall players in the passing game from a young age, even if they are too limited or small to stick at that position in the college game. The guys that have the most skill or the most outrageous skill in the run game can still make it in college, and then we have to figure out what to do with them at the next level.
The Taysom Hill experiment
Taysom Hill was exactly this sort of player. He was at BYU for five years from 2012 to 2016 and had only two seasons where he was able to play close to a full season. Despite being pretty sturdy at 6-2, 220 (about the same size as Hurts), he kept injuries his knees. He only managed to stay healthy for two seasons, 2013 and 2016, and when you see his workload in 2013 it'll be easy to understand why it was three years before he could put together another similar effort.
Hill's 2013 season put him in the 300-200 club of QBs that attempted 300 or more passes and 200 or more rushing attempts in the same season. Here's the full list: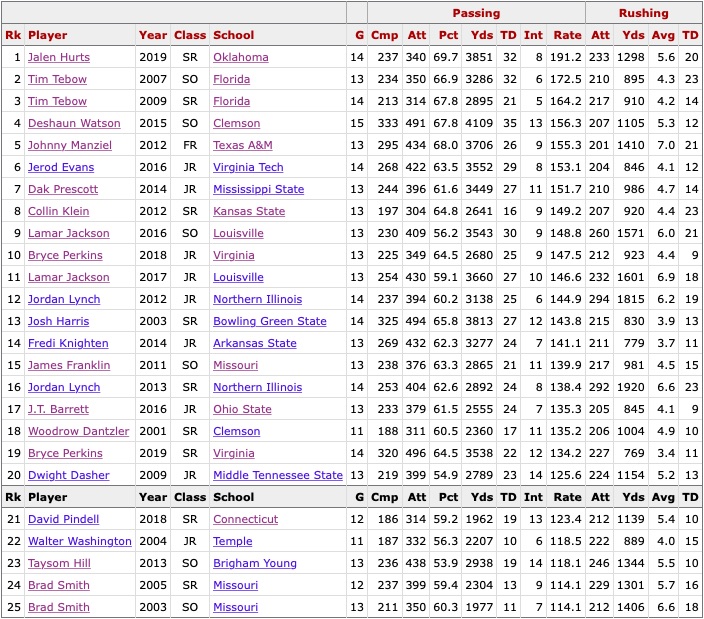 Hill had a particularly high workload with 438 passing attempts and 246 carries for a whopping 684 total plays. Then he couldn't stay healthy again for a while, but at the combine he ran a 4.4 and opened eyes with his athleticism and competitiveness. The New Orleans Saints, who are ahead of the curve in modern spread passing tactics, signed him as an undrafted free agent much like they did with Texas' flex TE Lil'Jordan Humphrey.
Eventually Hill grew into a "utility role" within the Saints offense that culminated in their playoff game against Minnesota in which he threw a 50-yard pass, had four carries for 50 yards, and caught two passes for 25 yards and a TD. His most deadly utilization will come if he can grow as a receiver enough to stay on the field more often.
If he can stay on the field full-time then he's a constant threat to line up in the backfield at QB where he's an absolute load in the run game. This was my favorite Hill play against the Vikings: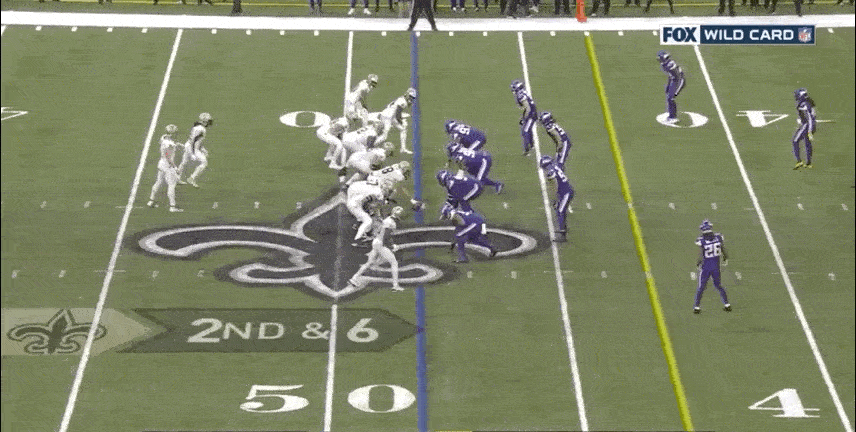 They motion Kamara out of the backfield and a LB bumps out in response, eliminating Minnesota's pursuit when the Saints run QB stretch to the other side of the formation. The deep safety can't arrive until Hill has already picked up momentum and gained two yards, he gets run over and Hill explodes for a big gain.
If you want to try and load the box to stop him in the run game he's a good enough passer to burn you for a gimmick defense that doesn't play a safety over the top. The extent to which this role could be developed is still undetermined. Hill's usage has been somewhat limited amidst Sean Payton's concern about working out how to feed Alvin Kamara, Michael Thomas, and lean on his Hall of Fame QB Drew Brees.
But Hill is also effective on special teams so even if he's never more than a bit player he can still more than justify his place on the roster with special teams' play, gadget plays on offense, and serviceable work as a third-string QB in case of emergency.
Jalen Hurts and a new position
Here's the thing, Taysom Hill is a great football player but he's decreasingly unique. With high schools moving their best athletes to QB and teaching them to throw the ball at a decent level and then college teams collecting the best of those and deploying them in a similar fashion there's a glut of these sorts of players.
There's a major market inefficiency for teams that can figure out how to get these guys involved. Greg Ward Jr narrowly missed the 300-200 club in 2015 throwing 345 passes with 197 carries and then again in 2016 throwing 469 passes with 197 carries. He came in for the Eagles this year after injuries sapped their receiving corps and had 28 catches for 254 yards while helping them sneak into the playoffs.
The difference between Ward and many other great college players is that he was skilled, smart, and tough enough to handle playing QB where others either couldn't or didn't get the chance. That's going to be true of increasingly large numbers of the game's best athletes and NFL teams that don't know how to make the most of it are going to be missing out on some of the best pure football players.
The NFL relies on HS programs and college universities to educate their players in the game and since they aren't compensated by the NFL, they don't have the NFL's best interests at heart when they decide what skills to teach the game's best young talents.
Jalen Hurts may be another example. It would be disgraceful to draft this guy to QB an NFL offense, he was terrible in every single playoff game he played from 2016 at Alabama to 2019 at Oklahoma. You can turn on the LSU film and see that the Tigers made the calculation that if they played man coverage they could eliminate the easy candy in the OU passing game and load the box against the run. They did and were successful aside from a few plays that Hurts was able to make with his feet. He's nowhere close to Lamar Jackson as an athlete or a passer but there's a decent chance that some team will fool themselves into believing he could be.
BUT, Hurts is a really good athlete, a very tough and durable player, and it's crazy that his NFL opportunities should be limited by the fact that he was skilled enough to touch the ball every play for Alabama and Oklahoma. If a team can maximize his character and intelligence and develop him at some other positions, they might find him an immensely valuable part of the roster. If not Hurts, there'll be some other guys just like him in coming drafts.
********
An early chapter in my recent book examines how Texas HSs started to develop their best players to be QBs and the offensive explosion that occurred as a result.