My man Bill Connelly (@SBN_BillC) has made it to the upper tiers of the 2017 Big 10 in his annual preview of every single team in college football. If you don't track this series every year I don't really know what's wrong with you because it's a fantastic, ongoing stat-based historical of every team in college football from year to year.
Today he published his preview of Wisconsin, which I find to be one of the more fascinating teams of 2017. I've written about them a little this offseason, namely the fact that they regularly have productive walk-ons in their program and are now being coordinated on defense by the quintessential over-achieving walk-on.
Bill begins his preview with an amusing quote by Brett Bielema:
[Barry Alvarez] always used to say there's always going to be big people in Wisconsin. … I'll never forget, I hired a defensive line coach. He came to me and he goes, 'Coach, you're right. There are big people in Wisconsin.' He goes, 'I went to the grocery store last night, and there was a 6-10 kid sacking groceries.'"
Connelly then lays out how the strategy at Wisconsin has always been to build the team around big people and then find skill talent from the South or wherever else. This generally works quite well and their tradition of ultra-productive running backs in Madison is deep and rich. This is due to two primary factors:
Access to really good skill athletes is not limited to blue blood programs.
I've been chiding Texas fans a little recently for getting obsessed over which bluechip receivers Tom Herman does or doesn't land. Baylor and TCU fans have also fallen into this trap, getting really excited about signing 4-star receivers in recent classes as though their teams hadn't been launched into prominence by throwing to 3-star guys.
People seem to think that extra star is going to mean some kind of force multiplier on the offense. It isn't. For a 3-star like Josh Doctson or Tevin Reese to end up being a dynamo isn't really that stunning. The differences between even 2-star and 4-star guys isn't always as great as the services would prefer people to believe because selling people on the precision of their rankings is necessary for selling them their product in general.
Now it's not as though the services are just throwing darts at a board with player names on it, their evaluations are valuable, but if you read my preview of every 2017 Big 12 recruiting class it became clear that pretty much everyone in the league was signing good athletes at the receiver positions. If you watch the league that becomes pretty clear as well, and this is true in other leagues as well.
2. It's the ability to find big, 250+ pound athletes that sets the major programs apart.
You know what the rest of the country doesn't have that Alabama has every single year? A couple of big, freak athlete DL that can't be single-teamed by the vast majority of college football OL. The Tide recruit 4/5-star DBs and WRs every year but they don't always throw the ball that effectively and never even as well as much of the Big 12. They also struggle to cover the better spread passing teams, much like everyone else.
But they are often set apart by having guys like Marcell Dareus or Jonathan Allen, typically playing with an OLB that's a problem when he takes the edge and a bigger tackle inside that is hard to move without a good effort from a long double team.
So Wisconsin…
They always have a ton of big people.
Check out this fantastic line from Bill Connelly about Paul Chryst's not so great run at Pitt:
"Apparently the problem was that he was trying to Wisconsin somewhere other than Wisconsin."
The same thing has been true at Arkansas for Beliema. He intended to build around smashmouth TOFKAP offense but has found that Arkansas' recruiting turf doesn't offer him the same advantages over his competition that he found in Madison. Now he's going up against Alabama and LSU, the Mississippi schools, A&M, and then often a Georgia or Florida from the East. All of these schools have big, athletic guys on their roster and have them in greater abundance in their own backyards than do the Razorbacks.
Honestly, Arkansas is culturally an SEC type team but they'd be in better shape in a reworked Big 12 with easier access to recruiting East Texas and DFW. They do that now but it'd be easier if they were regularly playing in the Metroplex and against teams of local interest. I guess if OU joins the SEC in the future that would more or less solve the issue, but they'd still be a 2nd tier program needing a strategy to help them compete with schools that could more easily draw in big people.
Wisconsin has big advantages vis a vis their competition in terms of always having big athletes. The fact that they are in the B1G West really sets them up nicely since their competition simply doesn't share the same advantages.
They are the major program in a state of about six million people. What's more, a sizable percentage of the population is comprised of descendants of northern european immigrants. The state's demographics are about 60% comprised of Germans (the biggest group), Polish, and Norwegians. I'm not sure what cocktail of nature (genetics) and nurture (diet, natural selection) is the cause but it seems undeniably the case that these guys are just bigger on average than other white Americans. I know the racial/ethnic topic is a sensitive one and uncomfortable for many people but I don't know how to talk about the phenomenon that is Wisconsin football (or regional recruiting) without mentioning it.
Put that in comparison to the other Big 10 West schools and the differences become stark.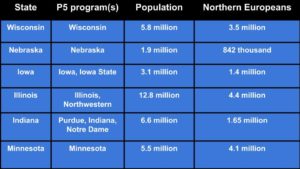 These numbers are far from exact, obviously, but I did what I could from Wikipedia entries. Much of the region has a big northern european population (which I've defined as German, Nordic, Polish, or Dutch) but Wisconsin is uniquely loaded both with sheer numbers and ratios. Illinois has a big population, thanks in part to the Chicago metroplex, but that doesn't actually create much advantage for its two biggest schools because the University of Illinois is further from Chicago than Notre Dame and schools like Michigan also have a strong presence in that area.
Minnesota is the real outlier here, they have a comparable population to Wisconsin and in addition to also having a big German population they also have tons and tons of big people with Viking ancestors. For whatever reason that hasn't really translated to football success like it has for Wisconsin but it's worth noting that the North Dakota State program was built off Minnesotan recruits gleaned during the Tim Brewster era in Gopher lore. I also wonder how invested Minnesota's people or alumni are in chasing football excellence at the high school or college level, we'll find out in the P.J. Fleck era I reckon.
The upshot of all this is that the Badgers are regularly fielding teams that enjoy the most difficult advantage to come by in the game, an abundance of big athletes.
Does their program strategy maximize these advantages?
In terms of recruiting, probably yes. Not only is Wisconsin THE football program in a state filled with big people who are well equipped physically to thrive in this game but also big people with the means to pay for their own college education.
This matters because they have a strong walk-on program and make it a point to snatch up preferred walk-ons and give them a chance to have a major role on their team. Another factor that makes this all the more effective is the fact that many of Wisconsin's good football players grow up as multi-sport stars in small towns that don't do the camp circuit, play a different position than they'll play in college, and haven't finished growing into their frames. In other words, there's tons and tons of 0/2 star type kids who are good athletes with major potential that Wisconsin can stash away in their walk-on program without too much competition while using their scholarships elsewhere.
In terms of football strategy? Maybe.
The current defensive strategy is designed around a 3-4 scheme that asks a lot of their linebackers in particular to be versatile and physical in the box, which seems to mix well with the kinds of players they regularly bring into Madison.
Offense is the more interesting area. Since Barry Alvarez determined the untapped potential of the state using reasoning similar to what I've outlined above in my table, Wisconsin has been a fantastic running team. The 2015 season was one of the few in the last few decades in which they weren't good running the football and it was quickly rectified in 2016.
But the question is whether it's best for the Badgers to pursue a North Dakota State/Wyoming approach to "underdog" football in which you count on being the most physical team and controlling the game in the trenches OR if you embrace the modern pro-style game.
The 2017 Badgers will feature former walk-on tight end Troy Fumagali, who had 580 yards and 8.8 yards per target last year, and some other solid receivers in addition to their normally stout stable of running backs, fullbacks, and big OL. I wonder if Wisconsin might be the best possible place for the Matt Rhule gameplan for Baylor.
Rhule's plan seems to be to base primarily around modern, pro-style offense but with a smashmouth, 22 personnel type package included to knock around smaller teams or to control the ball in certain situations. That'd be much easier at Wisconsin than at Baylor as the key ingredients such as the pass protecting OL and dual-threat tight end are much easier to find up there. Paul Chryst has slowly taken the Badger offense in that direction with increasing use of 11 personnel but you wonder if we might see even more of it in the future as they look to make the most of their unique situation.
I once labelled Wisconsin as one of the 10 most likely non bluebloods to win a national championship and their best chance of that is likely to come in these years while they are the sole superpower in the Big 10 west before the rest of the division either finds their guy (and both Purdue and Minnesota might have done so) and make their path more difficult. They may need to keep a look out for another Russell Wilson to make it happen, they may have the receivers and the line this year but QB Alex Hornibrook will determine if their ceiling is another 10-win season and B1G title game appearance or a legit shot in the playoffs.
***
I'm not sure what this play is and I'm legitimately curious. I do know that for the last two years they've been clever about getting into 11 personnel trips formations and then torching teams with versatile RB Dare Ogunbowale running routes into the boundary out of the backfield and then TE Troy Fumagali running routes up the field seam.