If you've read this blog regularly, you'll notice that I have an uneven relationship with the service rankings of players and teams. In one post I'll come strongly against the idea that the class rankings are predictive or should be taken particularly seriously, in the next I'll use 247's data even to the point of accepting it as a barometer for talent accumulation.
In part that's because it's really all we've got, but it's also because at a macro-level it does give you an idea of which teams are accumulating the biggest, most obvious, and (most importantly) the most sought after talents.
We're in the time of year when college football fans have little to do except chirp at each other over the past or the presumed current track their programs are on. The program's path is always determined by recruiting, and the recruiting is always determined by service rankings. It's a ridiculous way of doing things but it keeps folks entertained and stokes the flames of rivalry, which at the end of the day is mostly what all of this is about. Entertainment and competition across regions and classes.
Here's how I look at things now though, my view of the service rankings, and how I evaluate whether teams are doing well in recruiting or not.
The recruiting rankings: Volume and NFL measurables
That's what the recruiting rankings give you. At some point 247 expressly began to model their evaluations around the idea of professional projection. Now, I think that's been one fantastic marketing bait and switch, but it's good to know in order to make the most of what you're looking at when you look at recruiting rankings.
Ostensibly these things were supposed to evaluate which guys were most likely to make good college football players. Eventually 247 realized that the argument that was winning the day for them was the correlation between higher rankings and NFL draft results. So now they purposely lean into that in order to sell the rankings as giving you a sense of which players have high level talent as measured by NFL evaluation.
Why did the service rankings correlate solidly to NFL draft results? Because the easiest thing to evaluate for in a young kid is whether he has the size and speed that people look for at the highest level of the game. The 5-star rankings tend to go to guys that look like NFL players as 18-year olds. A fair number of those guys also look like NFL players at 21-23.
There are obvious shortcomings here. As an 18-year old coming out of Lake Travis, 3-star Baker Mayfield didn't look like a no. 1 overall pick, but he looked a lot closer after five years of college. Conversely, as an 18-year old coming out of Allen HS, 5-star Kyler Murray looked pretty similar to how he looks today. Small but elite athlete with a cannon arm.
Clemson's 2020 left tackle Jackson Carman was 6-6, 330 pounds coming out of an Ohioan high school and was rated as a 5-star player. He's made good, he was great last year for them as a starting left tackle in his second year. Texas' 2020 left tackle Sam Cosmi was a 3-star coming out of Atascocita at 6-5, 260 pounds. He's currently listed at 6-7, 310 (I'm skeptical) and could be drafted as high or higher than Carman after this coming season. But out of high school while he was an obvious athlete he wasn't an obvious, 300+ pound NFL tackle. I was higher on him than most and I didn't realize he'd be this good either.
Obviously there's a ton of guys that are rated as 2-3 stars out of high school that grow and develop from ages 18-23 and end up looking like NFL stars on the other side. Justin Jefferson ran like a 4.81 in high school and was rated a 2-star, a few years later he ran a 4.43 at the NFL combine and was drafted in the 1st round. The retort of the service ranking folks is that the rate of 4/5 star players that pan out as professionals is considerably higher. Of course they're right.
The percentage of NFL draft picks is always going to include a higher rate from the number of football players that had something close to NFL measurables as 18-year olds. A team's share of those 18-year olds in recruiting is unquestionably valuable, it spares them from having to undertake in the more difficult task of sussing out which 3-stars to bet on.
People love to banter about the class rankings but we all know that the methodology of those is misleading. It's just a measure of the sheer volume of players you took. A team with more scholarships open that takes 25 4-stars will rank higher than a team with fewer spots open that is more judicious and takes a couple of 5-star players and then a bunch of 3-star players. It's not necessarily a bad indicator that the second class is ranked lower.
A good example here is the 2005 Texas recruiting class. They were ranked 13th nationally and 3rd in the Big 12, primarily because there were only 14 enrollees. The story at the time around this class was also definitely negative, because 5-star, dual-threat Ryan Perriloux flipped at the last minute from Texas to LSU. He was supposed to be the next Vince Young but instead he bailed to stay in-state and left Texas with their plan B…3-star Colt McCoy.
Here's the 2005 Texas class: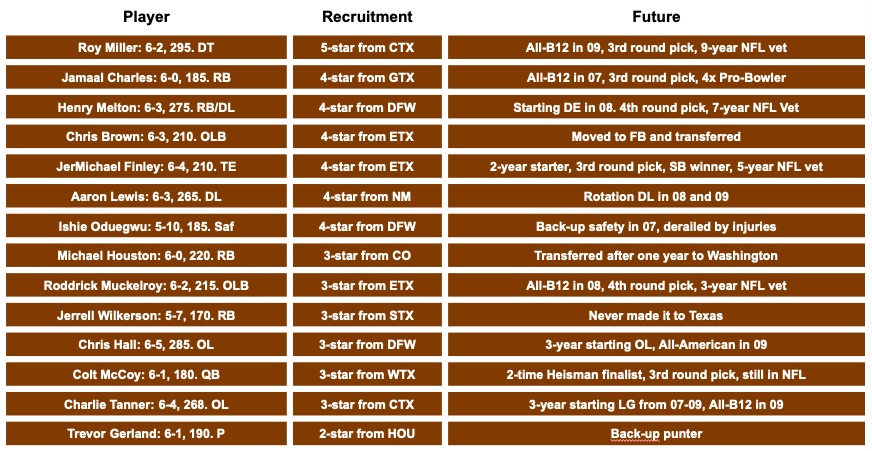 Of the 14 players, eight would become full-time starters for at least one year. Six were NFL draft picks and among them are Jermichael Finley, who was a top target for Aaron Rodgers the year he won a Super Bowl in Green Bay, and Jamaal Charles who might be in the Hall of Fame for his NFL career.
The foundation of the 2007 Texas offense is here, then Finley and Charles left McCoy, Hall, and Tanner to retool and build the offense that powered National Championship contention in 08 and 09.
All that to say, class rankings aren't a great barometer of how successfully a team has done in allocating the available scholarships in a given year. Blue chip ratio (the percentage of your scholarship players that were rated as 4-star recruits or higher), which I have many issues with, is actually a much better metric than the class ranking.
The question of how much of your current roster was ranked as 4-star or higher is a better way to connect service rankings to year to year team trajectory.
How many blue chips do you need?
I'm reasonably certain the answer here is less than the blue chip ratio, but it may never be proven (not again, at least) because the top programs that have a realistic shot at a national title try to recruit more 4-stars. If they aren't recruiting as many 4-stars it's less likely because they're being really crafty with their selections and more likely a reflection of a flailing coaching staff.
The only team that would try and potentially succeed to win a championship without hitting the blue chip ratio would be a team that wouldn't be able to recruit at that level even with a strong, hard-working staff.
There's a couple of examples of teams that hit that bar that were relatively recent. The 1995 Nebraska Cornhuskers (all of the Tom Osborne Husker teams) and the 2000 Oklahoma Sooners. Both of those teams had rosters comprised largely of locals from within their smaller states, guaranteeing mathematically (go look at how many blue chip players each state produces per annum, it's 2-5 for OK and 0-2 for NE) that neither roster met the blue chip ratio. Bob Stoops would eventually put Oklahoma over the ratio but in 2000 he was in just year two as head coach and had inherited the majority of the roster. Yet, that's the only time he won it all.
Both teams had cutting edge strategies that helped them and both teams had to get creative in order to get enough speed and athleticism on defense to get the job done.
Offense is much easier to do well without elite recruiting. The advantage on offense is that you know where the ball is going, you initiate the actions, and you can focus the ball in the hands of your best players while using everyone else to set them up. Nebraska's I-option offense needed a tough, runner at quarterback who could make good choices in the option and then talented running backs. Everyone else was a blocker that didn't really need to be great at anything other than blocking their specific plays.
Oklahoma ran the Air Raid and overwhelmed defenses that weren't equipped to handle facing so much speed or so much horizontal and vertical stress. I detail both approaches in the book:
Here's another example. One of the most common places where I see debates about recruiting rankings is between Longhorn and Aggie Twitter. While the two schools don't play each other anymore, the rivalry doesn't actually go anywhere. Instead the fans boost the importance of things like "who kept the margin closer against LSU" or "who ranked higher in 247's rankings" and make that the game.
But the 2008 and 2009 Colt McCoy Longhorns had a large share of 3-star recruits in the starting lineup on offense. And here was the makeup of Texas A&M's greatest offense in program history: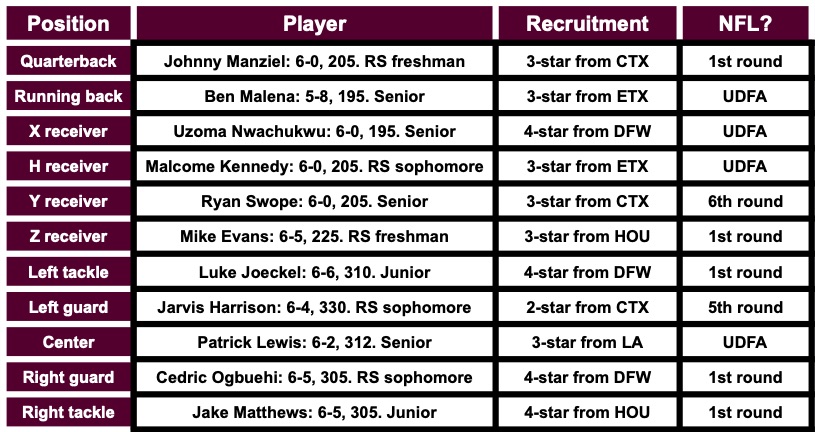 Mike Sherman was often derided as a "3-star general" at A&M and he didn't sign any top 10 classes per 247 while constructing the roster that he left behind for Kevin Sumlin. Yet obviously Sherman had an eye for talent, particularly along the offensive line, and he left behind three future 1st round left tackles in Luke Joeckel, Jake Matthews, and Cedric Ogbuehi. He also left Jonny Football and Mike Evans, the former of whom was a dominant college player and the latter of whom has had six consecutive 1k-yard seasons since going pro.
Four blue chip recruits out of 11 but they fielded seven future pros, a Heisman-winner, and an offense that lead arguably the greatest season in Texas A&M football history. They were arguably even better on offense the following year with most of the same parts, but their defense graduated a bunch of good seniors and never really recovered.
Essentially the 2012 Aggies had multiple pass protectors with NFL talent, a quarterback who was impossible to tackle, and then they just spread opponents out from there. The name of the game on offense is fitting the pieces together so that opponents have to stop your best players in the circumstances where they are most dominant.
But on defense, where everything is reactive, it's harder to field a bunch of role players. In the era of the spread offense in particular, offenses can often set up their formations and personnel so that your weaker players are isolated in tough positions.
One of the reasons that high level recruiting correlates to championships is that it's hard to win at the highest level if you're only good on one side of the ball (see the Lincoln Riley Oklahoma Sooners) and it's hard to be good on defense without loads of high level athletes. It's hard to recruit a high volume of high level athletes without recruiting a lot of guys that are going to be ranked highly by the services, because size and speed is hard to miss for evaluators.
But the highly ranked guys are highly sought after, which makes them harder to come by for the less advantaged schools. Sometimes you'll see those schools snatch up an obvious, high level athlete that was only a 3-star and wonder only to later learn that off field issues such as grades or troublemaking were known factors in the lower ranking.
It's common to see amazing G5 teams that can go up against the blue bloods and still light up the scoreboard. The Kellen Moore Boise State Broncos were a terrifying team for anyone to face and they had a few future pros on their team, but no one was rated higher than a 3-star.
The trick was that the Boise staff had a really smart quarterback in Kellen Moore, they found a trio of NFL skill talents in running back Doug Margin and receivers Austin Pettis and Titus Young, and they had a fringe-NFL left tackle in Nate Potter. If you look up their offensive line from back in those days you'll see the 6-6 Potter and then four guys all shorter than 6-3 and largely under 300 pounds.
Guess what? It worked really well. Run blocking doesn't require elite linemen when you have big, sturdy tight ends on the wings, lots of formations, and serious play-action threats. It was a similar formula to the Nebraska model but with play-action as the constraint rather than the option.
On defense Boise followed the same formula as most overachieving defenses, they ran a 4-2-5 to get more speed on the field and used that speed and quarters schemes to swarm offenses with numbers. They also found a couple of NFL players such as defensive end Shea McClellin.
You following the formula?
It's the space force positions where you either need to be very good in your evaluations and development or else recruit at a high level. Offensive tackle, wide receiver, defensive end, and cornerback. The dominant Boise State teams had NFL players at those positions to bolster the hard-working Idahoans and 2-3 star Californians around them.
Those space force positions are the spots where you can't hide if you aren't an athlete. As the game advances further into now "pro-style" spread passing tactics those positions become even more important.
What should you look for in recruiting?
Teams do need to accumulate depth of guys that can play but a much, much larger chunk of every roster can be comprised of lower ranked players that are "good fits" for the team's strategies and developmental track than is commonly accepted.
The difference between Oklahoma and Oklahoma State, for instance, isn't in the depth of blue chips that the Sooners have at non space force positions that the Cowboys don't have. It's in the fact that in the NFL drafts from 2011-2020, Oklahoma has had 25 "space force" players drafted and Oklahoma State has had six.
For that I'm counting offensive tackles, wide receivers, cornerbacks, edge-rushers, and also "dreadnought" flex tight ends of which Oklahoma had two (Mark Andrews, James Hanna) and Ok State had zero (although Blake Jarwin was a UDFA that's still in the league). 25-6 is a pretty big margin, take out those two tight ends if you like and it's 23-6.
In case you're curious, Texas has had 13 space force cadets drafted over that span and nine of them were on defense (six cornerbacks, three edge guys). 25/23-13 is also a sizable margin and when you give offense extra weight, which you should because offense produces more wins, you can see why the Sooners have maintained a safe edge over Texas the last decade. There's been one offensive tackle and three wide receivers drafted from Austin over that span. It's been punishing for Texas and is the express reason why Austin-based, 5-star wide receiver Garrett Wilson (Lake Travis) opted to go to Ohio State instead of Texas.
So here's how recruiting needs to be evaluated to really get a sense of which teams are getting the job done or not.
Every roster needs to replenish its ranks with players that fit their system and development model, and each roster needs to be able to find athletes at those key positions where you can't hide a non-athlete. The easiest way to evaluate that is whether or not they signed blue chips at those positions, although that method method has obvious shortcomings.
That's why for my 2020 Big 12 breakdowns I watched the HUDL film for every player recruited at those positions to get a sense of whether teams were finding promising athletes or not. If I only looked to see whether the "little 8" (everyone in the B12 that isn't Texas or OU) recruited 4-star players at space force positions I'd never know which ones would end up with championship athletes. Because virtually none of those schools can regularly recruit players rated 4-star or higher at those positions.
The recruiting rankings will tell you which team has the best chance to produce the greatest number of professional-caliber football players. But if you want to get a sense of which teams are going to win college football games you need to look deeper, or at least double check what positions those blue chippers play. As a two-decade, close observer of the Texas Longhorn football program I can tell you that in reality, "filling up on bread" means nabbing blue chips that won't take you where you wanna go…