Over at Inside Texas I broke down a playoff game between a couple of Texan quarterbacks of great interest to Longhorn fans, Southlake Carroll's Quinn Ewers and Duncanville's Ja'Quinden Jackson.
It took a long time to break down that film so I'll have nuggets I pull from there for a while to come.
A tidbit I note in the actual article, which is free if you click the link above, is that these team teams combined had four players that were or are 4-star prospects at offensive tackle. If you recruited the offensive tackles from these two teams you'd have three 4-stars from Duncanville and then a 4-star from Carroll plus a 3-star that went to UCONN.
Now, if you were to compile the two-deeps at offensive tackle for every team in the Big 12 guess how many of those programs would have even one 4-star on the depth chart? The answer is two programs, Texas and Oklahoma. That's it. Oklahoma has four, 4-stars in their current two-deep, Texas actually only has one although they're adding the SLC blue chipper (Andrej Karic) in the fall.
I'm not saying that these schools had better offensive tackles than every Big 12 team, the 3-stars that end up winning tackle jobs will inevitably include a few guys that pan out stronger than these high school kids. Texas' 2020 left tackle Sam Cosmi was a 3-star that will probably go in the 1st or 2nd round of the next NFL draft.
But, these programs are certainly loaded with talent.
Different sides of the Metroplex
I talked about Duncanville's emergent program in a post a year ago about their amazing showdown with North Shore for the 6A D1 title in 2018. That article and topic has proven increasingly relevant for Big 12 football for all the characters involved in the story, particularly North Shore running back Zach Evans whom D-Ville largely shut down.
Here's the map I clumsily created to help illustrate the major programs and their differences in the Metroplex: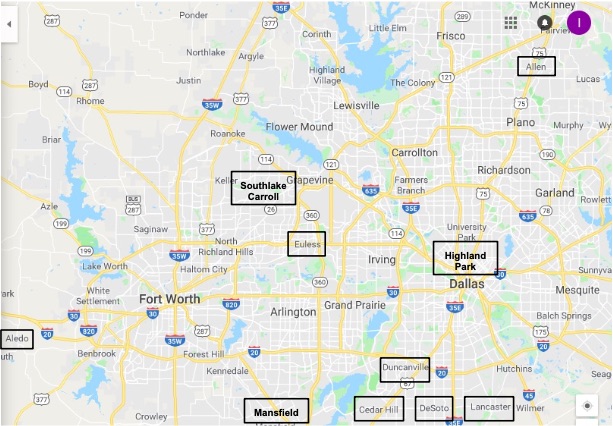 If you follow recruiting in the Big 12 then you recognize some of these locations and programs. South Dallas has a much larger African-American population and is a big part of the relocation of black families across the nation into southern suburbs such as these or the ones around Atlanta.
Duncanville's extreme talent advantages stem from being a destination for talented AA kids across different parts of South Dallas.
Carroll is up in North Dallas and is in a considerably whiter demographic. The largest minority group at Carroll is either Asian or Hispanic and 72% of the student body at the senior high (11th and 12th grade) is white. They still have minorities represented on the football team but they don't have near as many black athletes involved in the program as the South Dallas schools. What they do have is a lot of kids with the resources to invest in private coaching because Carroll has a wealthy demographic.
It's normal for Southlake Carroll kids to get private strength training in the offseason for linemen and defenders or private skills coaching for quarterbacks and receivers. They can approach the modern passing game with a level of near-professionalism and there's a lot of investment even from players that aren't likely to do much in the world of football beyond high school. Think Friday Night Lights Odessa Permian but instead of drilling and nailing down the Wing T offense, their linemen bulk up to execute NFL-style blocking schemes and protection.
Southlake Carroll is a big part of my book because when their current head coach Riley Dodge was just a student and his father Todd Dodge was the head coach, they went 79-1 with five state titles and their sole loss a 16-15 defeat against Katy high school.
That program was a big part of driving the growth of the spread offense across the state. They haven't been winning the D1 titles of late though, nor have their cousins at Lake Travis near Austin, instead those are going to the suburbs with more diverse student bodies. Duncanville rolled over Southlake Carroll in this game, despite some late game problems stopping Quinn Ewers or recovering an onside kick, and likely would have given their Houston rivals North Shore another great game if Ja'Quinden Jackson hadn't torn his ACL in the semifinal after this game.
Part of what makes Texas high school football so fun and fascinating is that teams and their strategies even more directly reflect their local demographics than do college programs. Additionally, what happens in the Texas high schools often trickles up to the college and NFL game.
Suburban pro-spread
The Carroll Dragons had a nice part of their tempo scheme in which they'd transition from 10 personnel formations to 11 personnel to 12 personnel without substituting. Slot receiver Willis Meyer was 6-2, 190 and they'd motion him in to play as an H-back off true tight end Blake Smith (3-star, Texas A&M). Then they'd run zone-read plays with two lead blockers on the edge with a bubble option to the slot: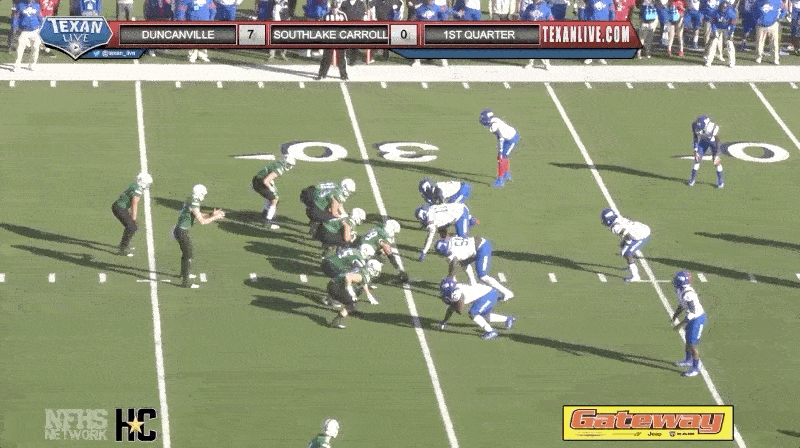 Presumably they could also mimic LSU and run duo from that set as well, I thought they had but on reflection it was always zone-read. Telling duo and inside zone apart is a Twitter film meme at this point.
They were able to catch Duncanville a couple of times with big, explosive gains in the passing game. The run game didn't blow open holes in the talented D-Ville front but it did pick up steady gains over the course of the day and help them defenders in the box to free up opportunities to throw outside. As I note in the article, they couldn't capitalize on that because of D-Ville's cornerback Ennis Rakestraw, who's headed to Missouri after being courted late by both Oklahoma and Texas.
In my estimation, everyone is going to regret letting him leave the conference. Exceptional press-man corner who measured 6-0, 170 and ran an 11.06 100m. What happens after college S&C gives him a little more strength and speed to go along with his ridiculous quickness and skill?
Here's a time late in the game where Duncanville got caught with Rakestraw to the field against a 3×1 formation. They tended to play that formation like Dave Aranda, having the boundary safety steal verticals from the trips side and trusting the backside corner to play without help. Well when that wasn't Rakestraw, who played to the left side, that wasn't a great idea.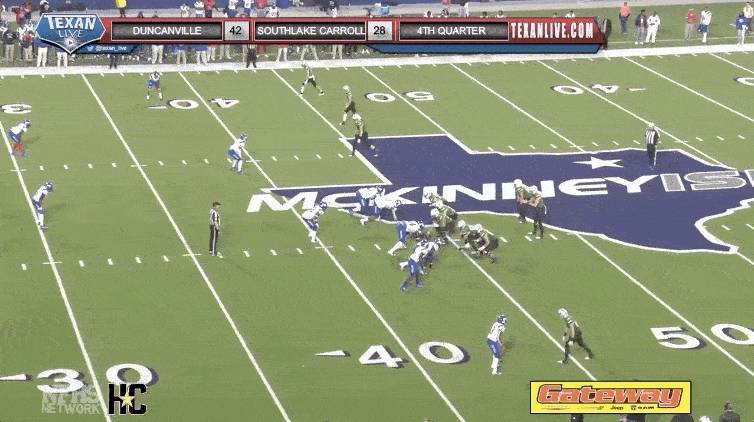 I think you'll see a lot of the high profile quarterbacks continue to come out of these upscale suburban environments. They can work with consistently good offensive linemen and throw to guys that they're working out with alongside trainers for much of the year. Also, that upscale suburban demographic is the one that tends to crank out these highly skilled, regimented quarterback prospects.
The Dragons are sending left tackle Andrej Karic to Austin and the right tackle is headed to UCONN, but the next generation is doing power cleans in their home gyms somewhere in Southlake preparing to protect Ewers for the next two years. The running back you see above was a freshman and the top receiver was a junior, so keep an eye out for SLC in the playoffs over the next two years.
Power-option football
Duncanville had one of the nastiest quarterback run schemes I've ever seen that was a part of their formula for unlocking Ja'Quinden Jackson. Here's one of the occasions where the Dragons sorta successfully defended it: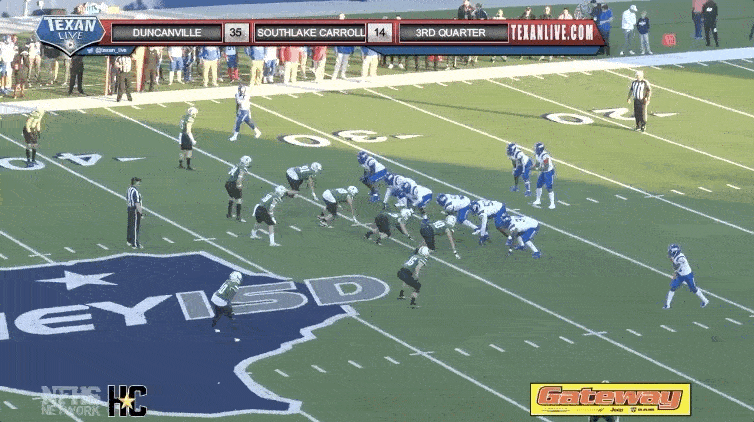 The linebacker who manages to get off the block from a 4-star tackle and bring Jackson down despite getting a wicked stiff arm to the chest, was Graham Faloona. He's headed to Utah where I suspect we'll hear from him again some day. Faloona also stopped this play on a fourth down, it was quite impressive.
However, there's a lot about this play that made it extremely difficult to defend. You can't read the guards because D-Ville would pull the center and tackle. You can't read the running back because they'd use this scheme to hand the ball to Baylor-bound slot back Roderick Daniels or to their running back. The Dragons clearly made the choice to key Jackson and they paid for it.
Here's the ball going to running back Trysten Smith behind the pulling center and tackle with Daniels running a sweep opposite…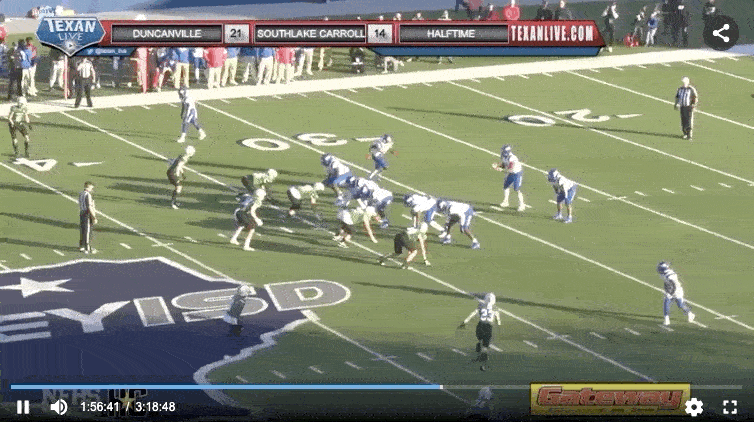 …and here's the Panthers running the scheme with the quarterback behind the pulling blockers and the running back leading on the edge for Daniels: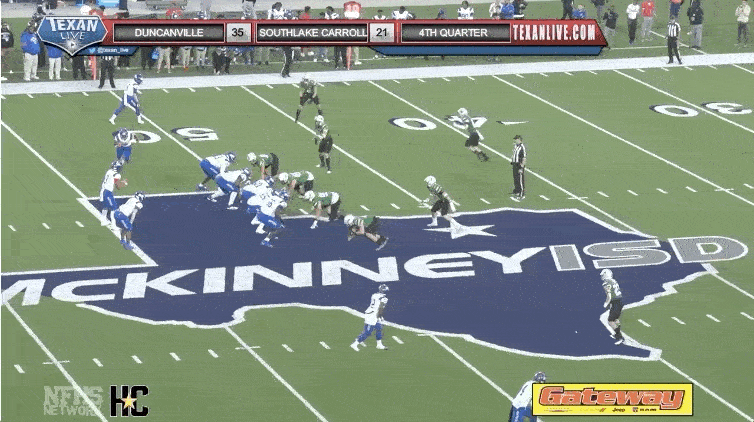 The Dragons devoted eight pairs of eyes to the backfield trying to control all of this but they couldn't manage it. D-Ville just had too much talent.
On some of these plays Jackson and the D-Ville designs reminded me of Jalen Hurts in the 2019 Oklahoma offense. Except Oklahoma was better on the interior and pulled those guys in their power schemes whereas Duncanville had elite tackle play and would pull them around.
Here's a play where Jackson got loose as a runner so you can get a better idea of his quickness and power as a ballcarrier that drew so much of Carroll's attention.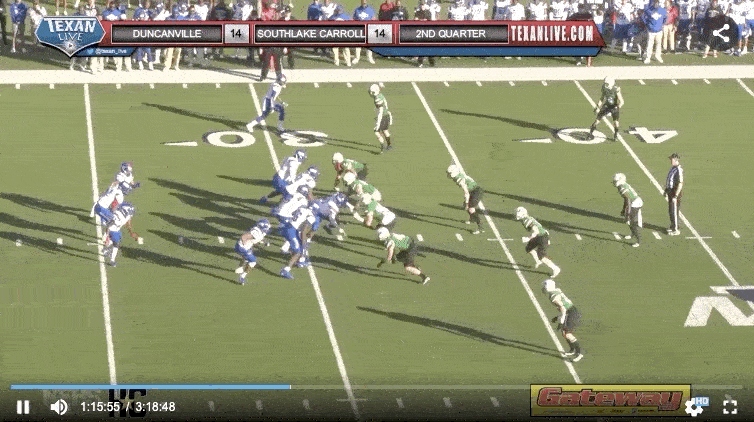 This is another BASH power scheme, the running back goes one way and the quarterback and pulling blocker (a guard this time) go the other. But the Dragons leave that cutback lane vacant and foil up their run fits and JQJ is gone.
I'm guessing he's a 4.6 guy right now and in the 4.2 range in the shuttle with a big vertical leap. He's really hard to catch in the backfield, his first step is very quick, and then when he hits open grass he can beat angles and pull away. Hurts just checked in at 6-1, 222 at the NFL combine and ran a 4.59.
Jackson is already at least that big and fast as a senior in high school, or would be if he hadn't torn his ACL this fall, so his future will be interesting to track.
With schemes like this, it doesn't make a great deal of sense to play your best athlete at running back. The Duncanville running back had just under 200 carries that he translated into 1700 or so yards, but he was ultimately in a role similar to Southlake Carroll's running back. His job was to pick up steady gains and hold attention on the box so that the offense could hit homeruns when they involved the quarterback or the slot.
Their offense was sorta similar to the title-winning 2008 Gators, only if the quarterback was the steady gain inside runner and was responsible for more quick reads and decisions. Jackson didn't make a lot of post-snap decisions in the Duncanville offense, often pulling the ball on RPOs when he didn't like the post-snap picture and just taking off to run it himself.
As I noted with Hurts, it's going to be tricky for college programs to work out what they want to do with guys like Jackson. Especially for Texas, who has Jackson in the fold now but desperately wants to add Ewers in the coming years.
Other prospects of note
Texas A&M's tight end from this game, Carroll's Blake Smith, is exactly the sort of tight end that every Big 12 team needs but rarely seem to prioritize. He's big, he's a willing blocker, and while he isn't a "space force dreadnought" as a receiver he isn't a stiff and he'll catch the ball when it's thrown at him.
Carroll used him like Texas used Andrew Beck in 2018, moving him around to block in the run game one snap and then to flex out and force the defense to choose who would cover him and who would cover the more dangerous receivers. They'd also throw him RPOs running to the flat on zone-read plays.
Jimbo Fisher prefers tight ends that can run option routes and be feature receivers but he also likes to use true 12 personnel and Smith would be a good inside tight end to take on the more challenging blocking roles while freeing up the Jace Sternberger/Jalen Wydermeyer to block smaller defenders and get into their routes off the edge.
Baylor's Roderick Daniels is really fast for a high school player, they threw him a seam route on a 4-verticals play where he started in the backfield next to the quarterback. Pretty wild. His playing speed is very fast, whatever his times are (haven't seen any), and he's your old school water bug slot.
There's a fair few SMU targets in the mix in this game and Duncanville head coach Reginald Samples' son (Oklahoma State, Houston) is their new wide receiver coach. SMU is thriving right now and working out ways to overcome their struggles over the last several years to recruit the metroplex better. The Pony program has some academic hurdles because they don't have a lot of major programs that are an easier load for "student athletes" who's main focus is on their athletic endeavors. Take note that their basketball program that took off under Larry Brown got busted for academic fraud.
They seem to be working through that though and their football recruiting has taken off now under Sonny Dykes. They've cleaned up with transfers, getting Shane Buechele from Texas and now Michael Williams (defensive tackle) from Stanford, and the 2021 class includes 4-star quarterback Preston Stone and a number of metroplex kids. One of the Duncanville 4-star tackles (Savion Byrd) is considering joining their ranks as well. Between improved metroplex recruiting and transfers, it's possible that Dykes is going to have SMU stocked with more talent than most of the "little 8" in the Big 12 before long.
There's a lot of talent in the metroplex of Texas and the way that talent is deployed is about as strong an indicator as you can find of what's coming next for the Big 12.