Specifically the 6A D1 matchup between the Lake Travis Cavaliers and the Allen Eagles. I believe this was the first time these two teams have met, in the playoffs or otherwise, although they represent two of the biggest powers in Texas HS football these days. They were competing in the bigger bracket tournament of Texas 6A football so the winner was likely the strongest team in the entire state this year. That's not always the case and there's probably an argument that D2 champions Cy Fair might have been competitive with one of these teams but these two teams were real heavyweights.
The game was exceptional, despite a rough start for Lake Travis when the game begun with future Ohio State Buckeye and starting QB Matthew Baldwin dropping to the ground and fumbling the ball (scooped and scored by Allen) when his injured knee gave out. Allen got out to a 21-0 lead in this game before eventually yielding the lead and coming back to win a 35-33 thriller for their first title since Kyler Murray (presumptive 2018 OU starting QB) graduated.
Let's start with a brief profile of these two teams to get a feel for the greater matchup. High school ball is a much more varied game in terms of style and participants since these teams represent communities whereas the pro and even college game is considerably more mercenary.
The Lake Travis Cavaliers
I've written a lot about Lake Travis over the last couple of years because they are highly advanced strategically and tactically, they were once coached by Chad Morris, and because their QBs keep ending up being major figures in college football. Todd Reesing played here, as did Garrett Gilbert, as did Baker Mayfield, as did Charlie Brewer.
The school is out in northwest Austin on the southside of Lake Travis (duh), not too far from fellow CenTex power and QB factory Westlake High, home of Drew Brees, Nick Foles, and Sam Ehlinger to name a few. Culturally they are very similar to Westlake, competitive upper middle class folk driven by a pursuit of excellence, although I hear their district has relatively cheaper home prices which makes for an easier time acquiring move-ins that want to play ball there. Don't cry for Westlake though, they seem to find plenty of talent from their enrollment.
Head coach Hank Carter was promoted from defensive coordinator after Morris moved on to the college game and they play a standard 4-3 Over quarters defense like so many other teams, utilizing speed at all three LB positions. Unlike many other schools though they make far greater use of zone blitzes and will routinely drop DL into coverage.
On offense they have one of the most brilliant offensive systems I've ever seen, not terribly far from what you see from Scott Frost at UCF in the college game or even New England in the NFL. They train their players as hybrids and move them all over the place to create matchups for the run game and the pass game. More on that in this post and this week at Football Study Hall.
The reason they are a superpower in the state that have played in three consecutive title games is the way they churn out super smart, versatile players year after year. Much like the 80s Permian teams I touched on last week, Lake Travis clearly has an overall culture in which everyone is all-in on helping these kids realize their potential as HS football players. The difference is that the tactics are very modern and less cog-like than Permian was back in the day.
The 2017 team was defined by QB Matthew Baldwin (senior 3-star headed to tOSU) chucking the ball deep to WRs Garrett Wilson (junior 4-star recruit) and Hudson Card (sophomore 3/4-star to be). Their D this year wasn't quite up to the standards of previous years although they found another gear in the playoffs, partly for reasons we'll touch on in a moment. Matthew Baldwin was a big, strong-armed QB that had to sit and learn behind Charlie Brewer for a while before he finally got his shot. Even before this season he had an offer and was committed to the emerging Colorado State program. Then the season played out and Ohio State's Kevin Wilson saw a chance to swoop in and get the Buckeyes' foot in the door at Lake Travis while collecting a player with the kind of skill set that Wilson has typically utilized in his offenses.
The Allen Eagles
Allen is a North Dallas suburb, which makes it culturally similar to Lake Travis but defined also by North Dallas football competition which is at least a generation older than CenTex rivalries. By that I mean that Allen has to compete in the same world as Southlake Carroll and the Plano schools, the latter of which are all absurdly massive, and the residents of Allen have sought to gain an advantage by only having one high school for the entire town.
Allen's enrollment for this season was 6,664, compared to the 3,085 students from which Lake Travis chose for their roster. That's right, Allen HS was literally twice as large as Lake Travis despite both playing in the bracket for the largest schools in the state. Even after that they tend to benefit from move-ins as well and star RB Brock Sturges (3-star senior headed to Arizona State) moved from another 6A school (Katy Seven Lakes) to Allen as a senior.
Allen has a $60 million stadium that can seat 18k people and is the fifth largest HS stadium in Texas but behind four stadiums that were all designed to serve multiple high schools. It's an amazing facility that includes a weight room and spaces for the school's wrestling and golfing teams. Allen has yet to lose a game there in 20 contests.
It isn't a terribly popular school around the state due to what are perceived to be unfair advantages in terms of their size, but they've been more competitive than dominant this decade save for a two-year stretch in 2013 and 2014 with Kyler Murray.
The name of the game at Allen is trench play, it's an OL/DL factory surely due to the fact that they have so many students to choose from in order to find multiple large-bodied players. When Kyler Murray was there and Allen went 32-0 with two consecutive titles he played behind OL such as Bobby Evans (starting RT for OU), Greg Little (5-star LT for Ole Miss), Tejan Koroma (multi-year starting C at BYU), Cody Wheeler (2-star that went to Texas Tech), and Willie Sherman (4-star, went to Colorado).
The 2017 team is no different, featuring senior 3-star Stanford-bound Trey Stratford at LT and 4-star junior EJ Ndoma-Ogar platooning at RT with senior Army commit Jack Topping. The DL is similarly loaded and had senior 3-star and Tech commit Jayden Jernigan leading a group with well above average size.
Their junior class is loaded with QB Grant Tisdale, a highly sought after 4-star recruit, and 5-star WR Theo Wease. But I'm telling you, the real name of the game for Allen is line play. They ran inside and outside zone all day long on offense while playing lots of conservative and simple two-deep coverage shells on defense and leaning on their lines to control the game. It worked…barely.
The matchup
The main contest going into this game, depending on which team's perspective you take, was essentially whether Allen could play disciplined enough on defense to hold down the Lake Travis offense and allow their own offense to take over the game late. Instead the Eagles jumped to the 21-0 lead and benefitted massively from Lake Travis essentially losing their QB and their second best WR all on one play because with Baldwin going down, sophomore WR Hudson Card assumed the QB position.
That was a tough break for Lake Travis, that was already looking at a tough time dealing with these disadvantages up front in the trenches: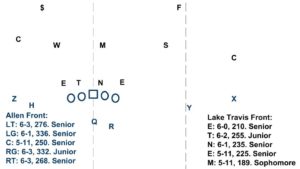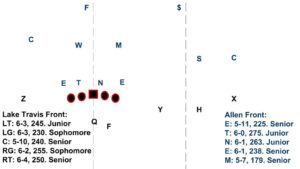 The Lake Travis defensive front was a veteran unit but they were up against it trying to hold the point against the massive Allen OL. While tackles Stratford and Ndoma-Ogar (6-3, 300 and not even listed here) are the main talents college teams are after it was really the interior of the Eagle line that was trouble. By the end of the game Allen was single-blocking the LT DTs and allowing center Brendan King and their two 300+ pound guards a free run at the Cavs' < 200 pound LBs.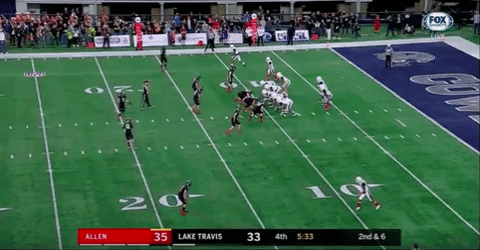 You can see Lake Travis' nose is getting reached here and Stratford is reaching the MLB from the backside. There's just not much juice left in the legs of the Cav DTs who have been crashing into these massive guards all game. Here's another example on the play that ended the game and guaranteed that Allen could run out the clock and avoid facing a last shot from LT: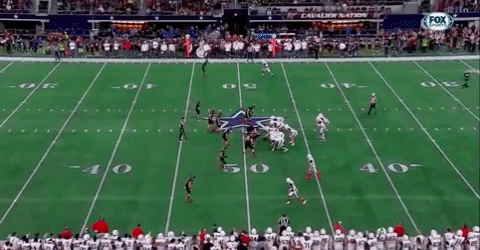 The double team drives the nose inside to the center and the LG gets a great angle at WLB Brayden Roeder who'd made a game effort all day long to stand up to this punishment. The Cavs just couldn't get to the ball any longer, mostly because their DTs had exhausted themselves holding up the Allen combos and reach blocks all day.
Lake Travis had a really strong but only sophomore MLB named Maurice Trevino starting in this game, flanked by the Roeder (twin brothers, surely?) Bryce and Brayden who weighed in at about 185 apiece at either OLB position, and backed by feisty but small safeties Ty Badciong (17o pound senior) and Nathan Parodi (165 pound senior, also played WR).
Suffice to say, if Lake Travis couldn't outnumber the Allen run game they were in big trouble and I'll remind you that Allen had a 4-star QB and a 5-star WR for LT to worry about on the perimeter.
Meanwhile, the Allen DL was obviously filled with larger guys as well and MLB Ryan Angeloni, while small, had a good nose for the ball and was usually running clean behind these guys. Their issue was handling all of Lake Travis' various tactics without giving up big plays.
How it played out
Lake Travis had one major advantage that you wouldn't guess from looking at all of the star rankings, even the updated ones at 247.com. That was the fact that Garrett Wilson was the best football player on the field.
LT featured him extensively on the perimeter with sweeps and screens…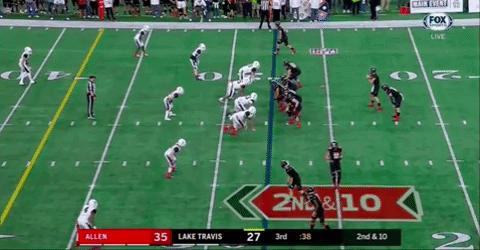 …and they fired deep shots at him whenever they could find him in man coverage.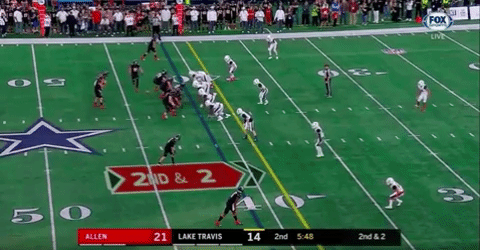 Then, they also played him on defense at cornerback and just asked him to shadow 5-star Theo Wease. From that position not only did he deny Wease any leverage on the perimeter…
…but he also took him away as a deep threat despite not having safety help.
Ultimately trying to force the ball to Wilson on deeper throws accounted for three interceptions from Hudson Card which basically cost Lake Travis the game. Allen won the game by only two points despite enjoying a +3 turnover margin. The reason? Big plays went decisively for Lake Travis and Allen had to make their gains by pounding away on the ground. It worked for them but by the slimmest margin.
The other advantage that Lake Travis brought in this game was their hybrids on offense that allowed them to play a wide variety of different formations from the same 11 personnel set. Beyond the dazzling Garrett Wilson, the Cavs also played a rotation at the other two WR spots between seniors Alec Fuentes, Nathan Parodi, and Zane Berger. The key to their 11 personnel hybridization was…
Hudson Card
I guess he'll be a "dual-threat" QB recruit but right now he's a good all around athlete with amazing short area quickness, a nice arm, and both the mental and physical (6-2, 170) frame that'll allow him to grow into something special over the next several years.
Kyle Wakefield
This senior played TE and DE a year ago and ended up moving to RB in the playoffs when the Cavs needed a physical runner to pair with Baldwin in the backfield rather than the typical RB/WR hybrid they've employed in the past. Of course TE in the Lake Travis offense means outside receiver, inside receiver, inline blocker, and backfield blocker, so this guy was more multifaceted than all but the most versatile college tight ends. At 6-1, 210 he was a solid downhill runner but also just a good blocker all over the field.
Carson Cross
I'm not entirely sure what role Cross played in the offense before Wakefield moved to RB but he took over the TE position once Wakefield moved. At 6-3, 200 he was a solid route runner and good all-around blocker. Neither Cross nor Wakefield had elite athleticism but they did a lot of things well enough to create real problems for opponents, especially when paired with Card's running ability.
For instance on their two touchdowns (they also scored on a kick return by Parodi and an INT return).
They line up in a "nub trips" set with Cross at TE and Wakfield in the backfield. Then they motion Wakefield out wide and the middle LB follows him, leaving no one to account for the interior gaps on the QB zone play.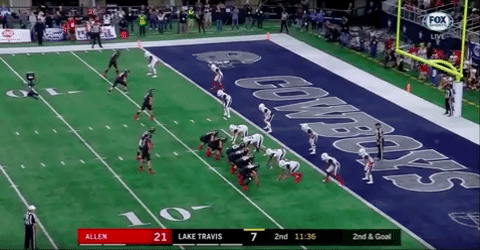 Later in the game they put Wakefield inline at TE and have Cross at RB before motioning him out wide. The mike LB starts to follow him then gestures wildly for the CB to do it while he stays in the box. Then he gets eyes on Card only to realize too late that there's still another TE in the game running a route.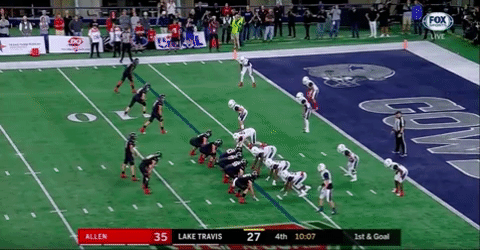 Lake Travis also ran "power-read" a handful of different ways to confuse the DE and LB about their assignments, to get lead blocks on the perimeter from their two hybrid TEs, and to combine features like Wilson running on the perimeter with Hudson Card picking his way behind a pulling guard…
…or running through a gaping hole as the case might be.
This was the last play we saw a MLB besides #13 take the field for Allen. The Eagles were relentless with their rotations, always bringing fresh waves of 6A-caliber players, but the mental assault from the multiple LT offense forced them to tighten that up some.
The problem for Lake Travis was that young Card frequently locked in on his targets, which the Cav play design didn't always protect, and his placement on deep shots to Wilson simply wasn't good enough much of the time.
The game was flipped to Allen's advantage on this fateful play late in the fourth: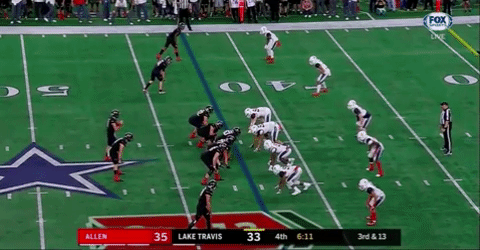 Lake Travis had the momentum at this point in the game with a shot to make 40-35 or 36-35 (their FG kicker Cameron Dicker is amazing and heading to Texas in 2018). Card sees single coverage, checks the deep safety briefly, then chunks it deep to Wilson who has a step but the throw is a touch short, inside, and slow which allows that deep safety (Taj Bickham, made a few impressive plays) to get over and pick it off.
What followed was the final Allen drive I clipped earlier in this article where they beat down an exhausted Cav front with more inside and outside zone to Sturges and Tisdale.
In summation
Allen is a machine. They have an enormous student body, all the resources in the world, and the big advantage that everyone wants which is superior size and ability in the trenches. They're almost like the Alabama of Texas HS football. However, they probably lose this game and maybe by a big margin if Lake Travis had been healthy in this game.
The Cavs were the better all around team. Urban Meyer famously had to wait for an hour to watch Matthew Baldwin throw at a practice because when he arrived LT was working on their special teams. Those special teams were with seven points in this game and the Cavs defense were able to leverage Garrett Wilson's insane athletic ability…
A monster dunk by @GarrettWilson_V to seal the victory for the Cavs! A clean sweep, all teams beating Vista Ridge pic.twitter.com/524V6wV26i

— Jeremy Gamez (@jgamez30) January 18, 2018
…to shut down the main thrust of the Allen throw game and then hung on for dear life up front against the punishing Eagle run game until they finally wore down. Were it not for three INTs from a sophomore QB who spent most of the year at WR, or just the initial fumble and TD when Baldwin was injured, they probably hang on for the win. But perhaps we'll see this matchup play out again in years to come. After all, Card and Wilson return for the Cavs while Tisdale and Wease are back at Allen.
If you aren't at least casually following Texas HS football and tuning in for these championships I question your love of the game.