Week 1 has finally come and gone for the Big 12. It was a nice week for the conference with all 10 teams pulling out a win, even the Kansas Jayhawks who had to do so without Pooka Williams.
Week 2 will be a big one for the conference, primarily because of the LSU at Texas "Gameday" battle but also some tougher games like WV vs Missouri, Baylor vs UTSA, and K-State vs Bowling Green. Those latter two may not look like much but they have the potential to be more revealing since those teams often have some solid talent.
Here's our recap of week 1.
Contrar-Ian says the glass is half full
Everyone was piling on Iowa State, who drew big time hype (for them) in the offseason and were ranked in the preseason top 25 and picked 3rd in the Big 12. Initially I expected that I'd have the corner on positive Iowa State takes but it turned out that there was a lot of movement in that direction. Fortunately, there may be an opportunity for me to buy up some stock now after Northern Iowa took Iowa State to triple overtime in Ames.
The UNI Panthers got a little lucky in two regards. One was with a particular call in which Brock Purdy was hit during a throw and the ball fluttered forward, was recovered by UNI, and returned for a touchdown. They decided to rule it a fumble on the field to allow the sequence to play out, which then involved the Cyclones confusedly watching UNI score a touchdown on a play they thought was an incomplete pass.
On review it turned out to be a tough call whether PFPurdy really pushed the ball out or lost control of it too early in the process. So the ruling on the field was sustained, touchdown UNI.
On the day the Panthers ran 73 plays for 262 yards for 3.6 ypp, which is terrible, but that defensive touchdown, a 4-4 day from their FG kicker that included shots from 49 and 50 yards, and then some overtime magic from their QB kept them around. Meanwhile the Cyclones ran 86 plays for 463 yards at 5.4 ypp but they did a lot of their damage with runs and short passes and didn't land explosive knockout blows. They struggled to get points that way working against an inverted Tampa 2 defense by UNI that mirrored their own style.
The key though was that against that conservative look, Matt Campbell kept his powder dry and PFPurdy had ZERO carries either on scrambles or designed runs. They didn't start taking creative RPO shots in the red zone until OT when they realized they needed to put the game away.
All told you had a game where the Cyclones executed their base offense and defense at a pretty solid level, but played with a governor on that limited their ability to put away a solid FCS opponent. People are talking as though they're a paper tiger. Get back to me if the Cyclones can't beat a lower level team on a day when PFPurdy has 16 carries against a team dropping three safeties deep every snap. On that note…
Contrar-Ian says the glass is half empty
Half empty is a too strong, but Oklahoma and Jalen Hurts' performance in week one is being a little bit oversold and I wanted to maintain the phrasing for the heading.
Anyways, as I noted in the offseason:
-Lincoln Riley was going to find it easy to up the QB run/option components of the offense and overwhelm many teams with Jalen Hurts.
There was some question over whether Houston's new style of defense would be able to hold up some against OU but they weren't up for it. They totally failed to force Hurts to beat them with his ability to make progressions and throws.
–Alex Grinch was going to orient the defense around moving players pre-snap and trying to keep offenses from targeting their weak spots with precise calls or timely checks.
They accomplished that mission in a MAJOR way last night. Their stunts blew up Houston's zone-read attack and it turned out that the Veer and Shoot deep lob skill D'Eriq King exhibited last year is non-existent when he's not throwing to a pre-snap read. That's really key and it's something people often miss (and I often forget) about QB play.
Throwing to a spot on the field that you know you're working to before you even snap the ball is a very different thing than working through a progression and making an accurate or anticipatory throw. On the hierarchy of challenging vertical shots in the spread offense: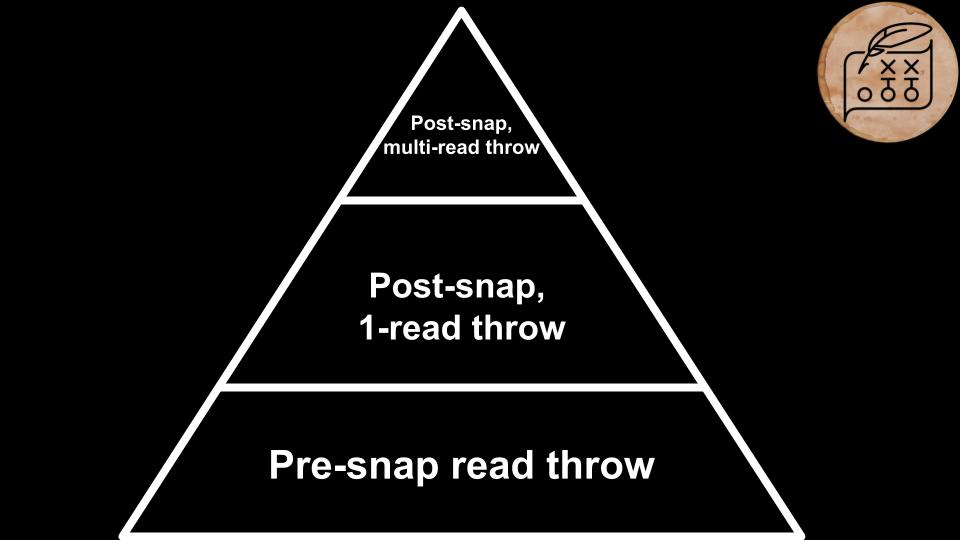 The GIF I included yesterday of King hitting a deep shot was a pre-snap throw, which the Briles "Veer and Shoot" offense was so brilliant at creating. A post-snap, 1-read throw may look something like this:
That's an RPO with multiple options but by the time Ehlinger is snapping the ball he knows he's throwing and making the decision based off the movement of a single defender.
Here's something on the more complex side of a single-read deep shot:
Ehlinger on both of these plays is eying the weak safety at the snap, probably to make sure he knows the coverage, then he reads the leverage of a single defender to make the decision. Call it 1.5 reads. In this instance after checking weak, he's reading the strong safety, who carries the slot on the deep out, meaning that the corner is left without a post safety against the outside receiver. Touchdown and very comparable read to the dig-post/double-post/Y-Cross concept that's so common in the league's Air Raid offenses, except the slot breaks out rather than in.
King was struggling to get through progressions even on shorter routes.
This is curl-flat with the TE running a hunt route in the middle to find space at the stick and hold attention to clear up the curl-flat progression outside. But the weak safety comes down and sits on the curl and helps give the Cougars 3-over 2 to that short side read and then penetration by Gallimore encourages King to just give up and run for it. Kenneth Murray is spying him and runs him down short of the marker.
Murray looked just a touch leaner to my eyes and he played very fast and confident last night. I'll guess he had 16 tackles (checks ESPN box score), looks like it was 13 with 2.5 TFL and a half-sack.
Anyways, King was very poor and clearly unprepared either for the shifts that Alex Grinch had prepared for him on the back end or the pressure that he was sending up front. It'll be interesting to see how the Oklahoma defense does over the course of the season as they get more on film for teams to prepare for and start to face some veteran QBs. That matchup with Alan Bowman and Texas Tech in particular will be telling before the Red River Shootout.
On the other side of things, Houston was unable to make things difficult for Jalen Hurts and he ran wild all over them. I mean, look at this:
Good work by Jalen Hurts but man, Houston.
The real story of that side of the ball was Oklahoma's predictably deadly option run game. They ran the "shallow screen with QB draw" RPO that has been easy money for them for the last several years and is predictably deadly with Hurts at QB.
Weakside LB chases the shallow leaving no one behind to even try to tackle Hurts. Again, weak prep work by Houston to not be ready for this call.
The Sooners also had some other fun additions, including some sets designed to maximize the emergence of young TE/FB ancillaries Jeremiah Hall and Brayden Willis who each got some targets in their POP game. Here's a new run from 11 personnel, turning the RB into a lead blocker to offer a 3rd lead blocker on QB GT counter with a backside bubble read for Hurts:
I actually don't know if that's even a read or not, it's not clear what Hurts is reading. Either he got a little confused on the read and defaulted to keeping late or the design was to buy extra time for the play side blocking and use the threat of a pass like counter steps. I think maybe the latter.
Hurts' inside running is going to make the QB GT counter run game come alive in a way that neither Baker Mayfield or Kyler Murray ever could.
So that all sounds very promising for the Sooners, right? Yes. But it was also in line with what was expected. The glass isn't really half empty but it's half full, not filled or overflowing. When the Sooners face defenses that struggle to muddy reads, get lost in the options, and have to face Jalen Hurts running the ball 15+ times then they'll overpower them with their phenomenal option run game. That's to be expected.
Interesting things to watch will be whether Hurts can execute quick reads on pass options (this is what allowed Tagovailoa to replace him) and whether the Sooners can get away with running him 15x a week. I'm skeptical on the former but actually fairly bullish on the latter.
Who won week 1?
Jalen Hurts won week 1, easily, after producing 508 yards of offense on the Cougars with six touchdowns. My man went 20-23 passing and the POP and play-action concepts they worked in off a run game that had Hurts going for 11 ypc and Sermon for 8.3 predictably trashed the over-stressed Houston LB corps.
Overall I didn't see anything this weekend to change my opinion that Texas, Oklahoma, and Iowa State are the class of the league and should be ranked in that order. I do think that K-State may end up being the dark horse "we thought they'd be bad but they may be one of the better mid-tier squads that hangs around the top of the standings for a while" squad. Still a good chance that Texas Tech is that squad though and I know Stillwater is pumped about Spencer Sanders (Jalen Hurts redux) and OSU's brilliant zone-option performance against Oregon State.
We'll hit more Big 12 topics from week 1 as the week progresses. I'll try to get eyes on Max Duggan at some point.
Next level down
Some of you may recall a couple of years back when I broke down the Allen Eagles championship victory over Lake Travis in the Texas HS playoffs. After the game it was easy to say, "you know, with Hudson Card and Garrett Wilson back at LT and then Grant Tisdale and Theo Wease back at Allen we may see this again in 2018!"
We didn't, instead we got North Shore vs Duncanville, which was an even more exciting game with a new cast of exciting D1 prospects. Again, Duncanville returned most of their offensive skill talent and North Shore brought back No. 1 recruit Zach Evans along with their star WR, QB, and LB Corey Flagg. Everyone got caught up in the Dallas vs Houston rivalry and the DCTF annual did a really fun profile of the two teams and their budding rivalry.
Here's the problem though. Duncanville's run was powered by a senior DL that controlled the North Shore rushing attack that would have to be replaced and North Shore was losing some non-blue chip players and four starting OL that were also key to their run. D-Ville may have replaced their missing pieces, but North Shore opened their 2019 season against the Katy Tigers. There they ran into the following dynamic: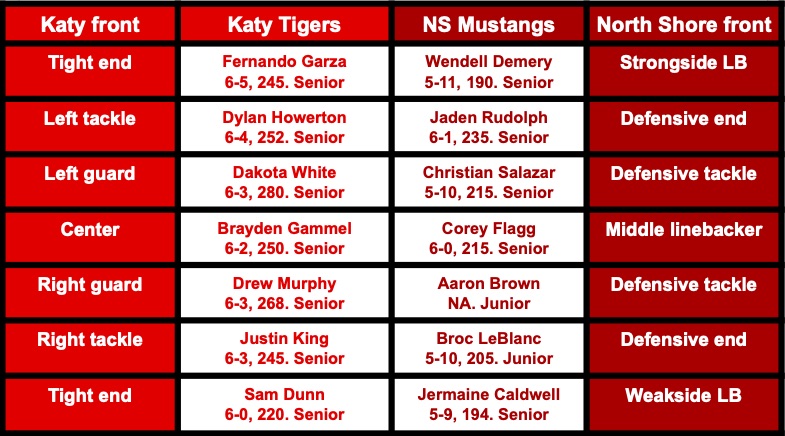 Totally outsized at every spot. That's not abnormal for a defensive front vs an offensive front and North Shore always relies on speed and swarming numbers to the ball. However, you're looking at major differences in weight here at every spot, including in crucial clashes on the line where Katy's TEs were bigger than the DEs.
The losses up front for North Shore were not insubstantial and included DT Tony Bradford, now at Tech, who was a key player for them with his awesome quickness at 6-0, 240. Meanwhile Katy had an exclusively senior front with a ton of big, well-drilled bodies throwing their weight around.
The big issue was on the edges, where Katy's zone stretch game predictably yielded results like this:
I'm not sure if a single member of the Katy front, nor their RB Ronald Huff, will be big time factors in 2020 Big 12 recruiting classes while NS middle linebacker Corey Flagg is a 3-star looking at Miami and Oklahoma State. Didn't matter though, they were able to control the focal point of the action on the edges and bully North Shore's DEs with TE/OT combo blocks and then their QB Bronson McClelland (currently a 0-star) found senior WR Jordan Patrick (0-star) on several third downs.
It's not all about the top end talent, folks. If you don't have the supporting cast to allow them to control the focal point in key moments in the game then they won't.
***********
If you enjoy the content on here regarding Big 12, Texas HS football, and the spread tactics that dominate the contests, you'll find some fun stories and analysis on both in my new book, Flyover Football. Now available both on Kindle and in paperback!