Matt Wells' Utah State program was defined largely by three things. First, the Kyle Whittingham-tree defense. Wells' came up under Gary Andersen's Utah State program and would hire more defensive coordinators from that tree, including Texas' Todd Orlando. Most recently they brought in Keith Patterson, who'd worked in the 3-3-5 stack under Dana Holgorsen and then the 4-2/3-3 hybrid quarters defense with Todd Graham before coming to learn the Utah State odd front D.
Second was a roster building strategy that was geared around developing young locals and then boosting the talent level with transfers. Third was the kind of offense they started playing after he hired David Yost as OC.
That last part is a promising forecast of Wells' ability as a head coach. When you're willing to hire a spread guru to update and tweak your offense when you're already a spread offensive coach, that suggests the sort of overall program management and humility that can mark a really effective coach.
Wells and his staff had a few big tasks for this first class. One was to try and maintain what Kliff Kingsbury had started that was worth maintaining. They ended up pulling in 16 players plus a punter and kicker, not a ton but the bigger question is whether they got the kinds of guys that can provide infrastructure for this thing in years two and three.
For instance, Tom Herman's transition class at Texas was regarded as a failure and a bad omen of what his recruiting at Texas would be like. They ranked 25th nationally and 2nd in the B12 with 17 players. But, included in those 17 were 2019's prospective starting QB (Sam Ehlinger), starting tackles (Sam Cosmi, Derek Kerstetter), starting TE (Cade Brewer), as well as potentially a starting DL, CB, and S. The scariest thing about that class were the low numbers at OL but they ended up hitting homers on both takes and of course with Ehlinger they got the cornerstone of the Herman foundation.
I'm sure Wells will add transfers and additions over time to Tech, he's already landed a dangerous slot that was native to West Texas but initially went to school at Nevada. The biggest goal here though was whether he got some good, reliable pieces that can be developed to lay a strong foundation for years two and three.
Then they had one short term need. To transition from Kingsbury's fully Air Raid approach on offense he needed to find a TE that could reliably block a DE or LB against a nickel front and then flex out and at least run solid distracto-routes while creating matchups and leverage for their better receiving targets. This offense is very similar to the Herman offense at Texas, which really got going in 2018 when they had a TE in Andrew Beck that could perform in those roles.
To fill all those needs, Wells signed mostly Texas guys and then a JUCO TE. There's an OL and a WR in here from Washington and Illinois respectively, that Wells added to the class. Interestingly three of the guys in this class came from West Texas, which I suspect Tech had been under recruiting up until pretty recently. They took a couple from East Texas as well and then six from Houston, six of those eight were defensive takes because Houston and East Texas are where you often go in this state to find defenders. DFW is developing a reputation for being all about offensive skill and lacking many programs that play defense at a high level, although Duncanville did it right a year ago.
Here's my breakdown of the 2018 class Kingsbury left behind and here's how the 2019 crew could sort into Wells' overall plans:
Defense
Secondary
The Red Raiders will want to field good corners, like most everyone in this league does, but they will play different coverages than under Gibbs. I think you'll see less single-high and more variations of quarters coverages with an intent on disguising where the safeties and deep leverage will be until after the snap. They played a 3-4 with a nickel linebacker hybrid at Utah State, that's kinda tricky in the B12. I think we'll see them try to get great athletes at corner and then mold savvy safeties to execute schemes that will help them avoid getting isolated on superior athletes.
Alex Hogan: 5-11, 165. 3*** from Houston, TX (Lamar)
SPARQ: 4.73 40, 4.32 shuttle, 33.7″ vertical, 38′ power toss
No. 88 on the Inside Texas top 100 and yet another product of DB factory, Lamar HS. Hogan is really smooth on film, he's good at dropping, seeing things, and then closing on the ball when he's playing CB. Most of the time he played QB where he was a terror in the read game. His fit was more obvious in a cover 3 scheme, for the new coaches I think they'll try to translate his knack for zone and keeping the ball in front at field corner.
Grade: D-
That's it, just the one guy. In a small transition class you're going to get burned somewhere and for Wells' Tech it was apparently DB. Not a great place to come up light. Two years ago they signed a bunch of promising players but then last year they signed zero. So…they have a lot of work to do here for 2020 and will probably need to summon the transfer portal and put themselves at the mercy of its dark powers.
Linebackers
This is a spot where it'll be interesting to see how they approach things. At Utah State they tended to grow in-state locals into hard-nosed, savvy players with redshirts and multiple year timelines. They would be wise to try and snatch up some tough, West Texas safeties and try to grow them into LBs to approach the sorts of players and abilities they had at Utah State. They need guys that can drop into coverage and blitz from a variety of roles, again relying on shifts and "positionless" play to keep offenses feeling under siege. It's notable that this was Orlando's plan and scheme at Texas and he ended up creating a base dime package to pull it off under the duress of Big 12 Air Raid attacks.
I'll also count the OLBs here, or at least the boundary guy. They want the ILBs to help a lot in the pass-rush but the edge OLB guy is your normal, pass-rushing hybrid. Last year their MLB was a Washington kid who had five sacks and their edge guy was former TCU DE Tipa Galeai who had 10 sacks.
Also, let's pause for a moment here on Galeai. Like most Utah or west coast coaches, Wells' made heavy usage of the bigger Polynesian population out there for finding less well known OL/DL and sturdy LBs. Because of Poly's knack for producing thick, powerful athletes and Utah's solid population of them and strong connection via the LDS church they regularly punch above their weight in the trenches. Galeai is from Texas' big Tongan population at Euless and was kicked out of TCU for allegedly assaulting two students when they encountered him intoxicated outside the dorm. Euless Trinity is probably going to become a home away from home for Wells' staff, or else perhaps Snow College (Utah JUCO) if they struggle to find comparable DL talent on Tech's recruiting turf.
Tyrique Matthews: 5-10, 200. 3*** from Houston, TX (Aldine Eisenhower)
SPARQ: 4.83 40, 4.51 shuttle, 34.6″ vertical, 34′ power toss
I bet Matthews is actually quicker than that shuttle suggests, perhaps he hadn't trained to run it before. He uses his quickness very well to pursue the ball laterally and is a great fit for a scheme that drops the LBs further back so they can take sharper angles to the football. Probably a MLB for them down the line.
Quinton Williams: 6-5, 220. 3*** from Houston, TX (Clear Lake)
Williams is VERY comfortable in space and played as an outside WR as well as a middle linebacker despite being 6-5. He's really fluid, changes direction easily, knows how to cover, and can read plays and close on the ball with some legit speed. He'll be a no brainer conversion to the "raider" OLB position and find the coverage/run defense side relatively easy while the pass-rush should be in line with his skill set.
Bryce Robinson: 6-0, 232. 3*** from Sachse, TX (Sachse)
SPARQ: 4.88 40, 4.26 shuttle, 30.6″ vertical, 42′ power toss.
Robinson is a no-brainer fit for the will LB position (rover in Orlando's terminology, perhaps in Patterson's as well). He's a really explosive blitzer and comfortable both on the inside and the outside. The shuttle is evident on film where he's tremendous scraping laterally to the football. Put this guy on the boundary side with Williams in a few years and you'll have a dynamic tandem unlike anything we've seen from Tech in years.
Grade: B+
This is a really good LB class. Williams and Robinson are ideal fits for the new system and Matthews is a solid enough athlete to hang in the Big 12 who should benefit from the scheme he'll be playing in. They'll probably get a few years before they see the field but I don't think the Raiders have anyone as good as either Williams nor Robinson and they'll probably play as early as 2020.
Defensive line
It's a multiple front defense that is technically a 3-4 with three true DL that are all big and can plug inside gaps without getting mauled. That's the style that's more popular these days across the country whether teams are playing an Over, Under, or tite front. You typically field typical DT types, a strong side DE, and then your hybrid OLB guy. I'm still waiting though to see if someone tries more of a 2-4-5 in the Big 12 though, besides Gary Patterson who's 4-2-5 is somewhat close to that save that he doesn't drop the DEs very much but he does give them OLB type assignments on the edge against the run and pass.
It should help that Tech was already recruiting to this style of front under Gibbs. The DL and LBs they recruited and had committed or targeted all fit the new style pretty well, although the new staff may or may not care for the talent level or projections. Or maybe they'll love them and feel they just need different coaching, I don't know.
Gilbert Ibeneme: 6-3, 255. 3*** from Pearland, TX (Pearland)
Ibeneme is no. 49 on the IT top 100 and a really promising project for a three-down defense. He's a read and react player at this stage, either by scheme or by temperament, and you usually see his athleticism a pace after the snap once he's figured out what's going on. He's going to be a load in the future when he's 6-3, 285, especially if he's in a system that uses him more aggressively and has learned how to translate his athleticism into first step quickness (likely).
Tony Bradford: 6-0, 240. 3*** from Houston, TX (North Shore)
Bradford anchored the state title winning North Shore defense as a 3-technique and has excellent first step quickness and active hands that means he's rarely dislodged from his gap. In the state title game when Duncanville was able to catch him with a double it went like things normally go when a DL that relies on quickness finds himself getting pushed by a combined 500+ pounds. When he saw it coming he was good at working inside of one so that the other couldn't get good leverage to push him vertically down the field. The bet is that Bradford is going to be able to add weight and play with the same quickness at 270+. It's not a terrible bet.
Grade: C+
I think both of these guys are good projects for the three-down front. Bradford is a legitimately great player who just doesn't have the ideal measurable while Ibeneme is the opposite, a solid player who might easily end up with ideal measurables and will just need the coaching. The three-down structure will help them since it's well suited to "tweener" types.
Offense
Offensive line
Typical spread concept here, they want big guys who can move and hold a gap in a 1-on-1 matchup while double teams or down angles generate the real push. At Utah State they ran a lot of inside zone and counter with a decent sized line that was more on the lighter side. I think mobility and overall quickness are prized by them more than having massive obstacles that go 320+.
Trevor Roberson: 6-11, 355. 3*** from Wellington, TX
Roberson is already on campus, which is a big boost for him in getting extra time and exposure to what it'll take to translate his massive frame into results against college-level defenders. At the HS level he showed some solid bend and ability to move in space but he was also vastly more powerful than anyone else on the field and easily dominated whenever he could make contact against someone. If he was even 6-6 he'd be a no-brainer at guard but at 6-11 it's basically tackle or bust, you don't want to ask this guy to try and block an eventually 6-0/280 pound Tony Bradford shooting past his knees. He'll be an interesting experiment.
Cole Thomas: 6-7, 265. 3*** from Seattle, WA (Bishop Blanchet)
Thomas was a guy they knew about from Utah State and were able to add to the Tech class. He's easily going to grow into a 6-7, 320 pounder with solid athleticism. He'll start at tackle and may stick there but he has the tenacity and approach to slide inside to guard down the line if needed. Right now he's a good run blocker so we'll have to see where his journey takes him. Definitely the right kind of fit for their scheme.
Landon Peterson: 6-6, 265. 3*** from Odessa, TX (Permian)
IT's no. 42 and the best bet of the bunch to actually stick at LT, even though he played RT for Mojo football. Peterson has unreal quickness and makes finding guys to block in space look relatively easy. On zone concepts he easily fits up on his guys and drives them off the ball.
Grade: B-
That's as high as I can go given that there's only three of them but both Peterson and Thomas are decent bets to be good tackles down the road and should provide a strong foundation in year three when Wells is in the make or break years of his contract. If you hit on two guys at one of the hardest positions to find on the field, that's going to yield dividends.
Ancillaries
This is the big key. They want TEs that can block and then are credible as route runners and receivers but this thing really gets going when the TE can block credibly but then also flex out and wreck teams by causing matchup problems in the seams on smaller DBs. They are inheriting solid blocking back Connor Killian (6-2, 235 pounds and probably not really 6-2) but they need much more here. It'll be curious to see also what they can make of Donta Thompson (6-5, 225 pounds), who prevented my alma mater from collecting their second state title a few years back with his blocking on the perimeter.
Simon Gonzalez: 6-3, 222. 3*** from Magnolia, TX (Magnolia West)
It was exceptionally difficult to find any film on the early enrollee. His HUDL is set to private and Tech's website guys are evidently not as eager (or well staffed?) as other B12 schools to put up highlights on the website or their YouTube channel. I did find lots of pressers with David Yost and Keith Patterson that confirmed everything I thought about their schemes and approach.
Anyways Gonzalez, what I did find was promising. He was a true dual-threat TE at MW, occasionally flexing out to catch passes (31 catches for 499 yards and five scores) and at other times attaching to the line and blocking DEs in the run game. The frame looks good too, I think he's very well suited to execute this scheme. It'll just be a matter of when he's added the strength and technique to block at the B12 level.
Travis Koontz: 6-5, 250. 3*** from Ventura, CA (Ventura College)
Koontz is basically Gonzalez in two years if he'd gone the JUCO route. He's already filled out and had some reps trying to block older guys. Koontz is the normal kind of dual-threat TE, the sort that is able to block well enough to make his route-running more dangerous and who can run routes well enough to make his blocking more effective. He doesn't look particularly great at either but he should be able to do each well enough to help them immediately as they change to the new scheme.
Grade: C+
They did a good job of grabbing guys that will help them in the near and short term. I don't know if either guy will be getting NFL attention but there's a good chance they found an Andrew Beck-type and that can make a huge difference in this offense, believe me.
Running backs
This position is going to get a lot more attention and focus now. Tech had a nice little stretch with D'Andre Washington back in the day but usually they have a committee of water bugs that play this position and none of them are really a major feature to the offense. That will change now, Tech will actually aim to have a RB that they can feed more intentionally as a more central part of their attack.
Dadrion Taylor: 5-11, 170. 3*** from Oklahoma City, OK (Carl Albert)
I was shocked after watching a few clips to look at the notes and realize that Taylor is only 170. He runs hard and powerfully and seems likely to fill out to something like 5-10, 205 or more with time. He has a lot of burst in his jump step and can hit windows easily between the tackles or win the edge and then has the speed to do something once he breaks out.
Grade: C+
Taylor looks a little better than a typical B12 RB, if the scheme and everything is set up he should do some damage down the road.
Wide receivers
Things are barely changing here. Much of the passing game will be similar to the Air Raid but with a big emphasis on RPOs and screens, but Kingsbury was already there at Tech and regularly mixing in those kinds of actions to free up the water bugs he always stockpiled on campus. I think Wells will be delighted both with the types of players he finds waiting for him as well as the kinds of guys he can recruit without all that much effort from within the state.
Cameron Cantrell: 6-1, 180. 3*** from Whitehouse, TX (Whitehouse)
The little brother of Dylan, surely. It took Dylan a while to translate his speed into a reliable deep threat target for the Red Raiders but he figured it out with time. Dylan was also an amazing athlete, Cameron's HUDL claimed a laser timed 4.55 40, 4.0 shuttle, and 40″ vertical. I dunno…but big brother was able to do all that so maybe it's not crazy. Cameron has some solid footwork on film and can definitely get down the field, I imagine that with time he should be a strong outside receiver. He's good at playing the ball in the air.
Alante Brown: 5-10, 181. 3*** from Chicago, IL (Simeon)
SPARQ: 4.57 40, 4.22 shuttle, 37.3″ vertical, 38.5′ power toss
Brown is an elite athlete who played QB in HS so they could run spread-option plays and allow him to touch the ball every play. He's extremely hard to tackle and can run by most people on the field. He could probably play RB but the plan is probably to make him into a "flex RB" who moves around to present a perimeter option in the RPO game, catching screens and quick passes before using the athleticism to run wild in space. It's hard to see him failing to be good at it.
Trey Cleveland: 6-3, 175. 3*** from Arlington, TX (Arlington)
I guess Cleveland wowed at a Texas Tech camp and got an offer as a result that he quickly accepted, knowing that it'd be hard to do better than getting a shot to play WR at Texas Tech. Cleveland has a great feel for the position, you see him getting a good release against the press regularly and exploiting windows of leverage that opponents concede when playing off. It's unbelievable how many times on film he gets to spots down the field that the CB's leverage should have been protecting. Then he can high point the ball and has the height and speed (probably 4.6-ish) to do damage as well as some physicality after the catch to pick up yardage. He should be a good one.
Grade: C+
Really good trio here, Texas Tech won't be lagging behind anyone else in the league for skill talent anytime soon. They could all share the field also, with Cleveland at the X, Brown in the slot, and Cantrell outside to the field.
Quarterbacks
Yost and Wells both have typically put much more emphasis on the QB read game in their offenses. For Wells it was major component to the offense whereas Yost made it a regular feature but put more emphasis on the passing game. You don't really have a choice unless you have a TE, which is why they moved hard there. In his past years, Yost has coached Justin Herbert, Chase Daniel, and Blaine Gabbert so he's pretty well practiced at making the most of more passing oriented spread QBs.
Maverick McIvor: 6-3, 195. 3*** from San Angelo, TX (Central)
SPARQ: 5.01 40, 4.5 shuttle, 26″ vertical, 37′ power toss
That power toss is the only thing you'd easily guess off the film, McIvor has a pretty strong arm and sprayed the ball around the field as a junior when leading his team to an 11-1 record before missing his senior year with an injury in week one or two. As a junior he threw for 3415 yards at 8.1 ypa with 43 TDs to eight INTs while rushing for 870 yards at 5.2 ypc and eight more scores.
McIvor is very skilled in the RPO spread, including in the man-beating vertical passing game that takes that scheme from "effective at tempo if you have blocking and athletes" to "nightmare." His accuracy in the dropback game wasn't always elite but generally it was pretty good, his vision in the spread overall was pretty high level. As a runner he was really tough if somewhat limited athletically. When he's 6-3, 220 or so he should be helpful running reads and perhaps getting some carries in the red zone.
Overall he reminds me a lot of Mason Rudolph only as a tougher runner. He looks like he'll be a really effective spread QB down the line, Alan Bowman will need to stay sharp and get better to hold onto his job whenever this guy is ready.
Grade: B
I think McIvor was underrated in that cycle. He has a strong arm and good vision in the spread, he's really tough, and he's the son of a Longhorn QB going to another school in the conference. Generally those combinations of skills and circumstances result in something pretty special. Maybe he'll get frustrated sitting behind Bowman and transfer to Oklahoma in a couple of years where he'll win a Heisman.
In summation
On offense they did really well in this class, couldn't have been too difficult since Kingsbury had a good eye for talent and the state is loaded on offense even if he hadn't. They got a QB, OL, some skill weapons, and numbers at TE that should allow them to transition to the new system and get foundational pieces in the pipeline. Yost is going to fit in very well back in Big 12 country.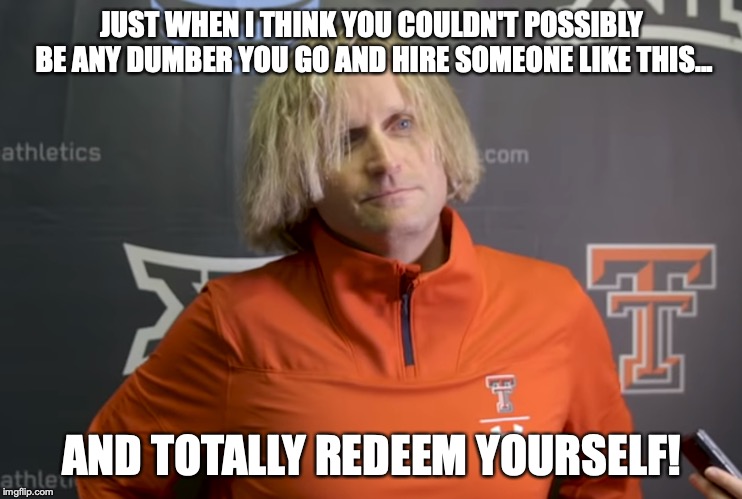 On defense I think they landed some really useful players up front but the lack of DBs could kill them if they don't find a way to address it in future classes and via the portal.