Last year was a huge one for Kliff Kingsbury at Texas Tech. He needed to win some games and he was going to have to figure it out without Patrick Mahomes II at QB but instead relying on 5th-year senior/stopgap Nic Shimonek. That necessarily meant that Texas Tech was going to need to play defense in 2017 for Kingsbury to survive, so they made three big changes.
First of all, Kingsbury set about to be more involved on defense, probably most importantly in terms of communicating to his defenders that his culture wasn't going to continue to marginalize or ignore them. Secondly, the Raiders took some chances on several JUCO kids with iffy reputations like Jaylon Lane or former Raider Dakota Allen…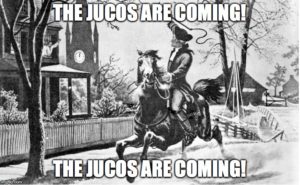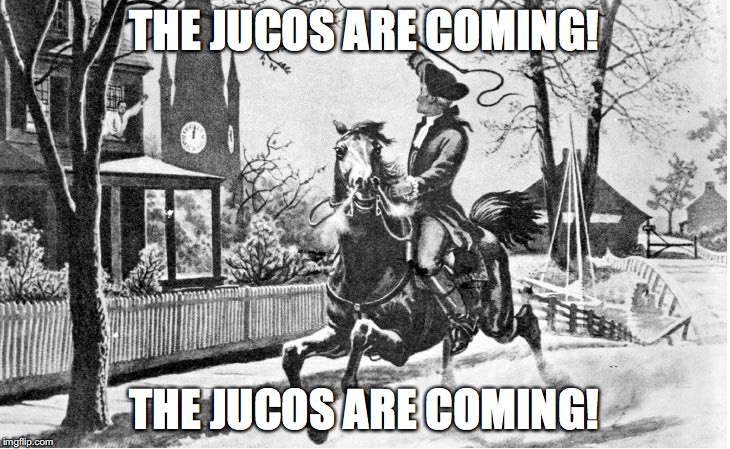 …while also plugging in some other transfers like North Texas DL Eli Howard. Finally, the Red Raiders simplified their defense to try and ensure that they could play sound run defense (for once) and moved to a hybrid three-down that utilized a 3-technique and an OLB/DE hybrid on the boundary and then a zero-nose and 4i-technique DE to the field. That actually worked pretty well, mostly because Eli Howard and former walk-on nickel/sam Justus Parker were solid on the edge and the ILB tandem of Jordyn Brooks and Dakota Allen was truly effective.
Most of the Tech defense is back this year, the entire OL is back, and now it's a matter of Kingsbury plugging in program guys on offense and being creative on that side of the ball in order to try to make the most of a down Big 12. Also improving the secondary and pass defense et large, which was still a train wreck a year ago.
They're adding a few transfers here and there as well, a few of which I'll touch on.
Offense
Quarterbacks
Quoting verbatim from last year's breakdown…
Kingsbury's obvious preference comes from what he learned at Texas A&M, coaching a redshirt freshman named Johnny Manziel to a Heisman trophy in the Air Raid offense. Namely, that dual-threat QBs of any size are very easily weaponized in the Air Raid and can often mitigate it's weakness for developing an effective run game. For years people have programmed accurate, quick-thinking QBs to throw for 4k yards in this offense but to do so with shorter but much more athletic players has provided more of a boon to the system.
Last year they relied mostly on Shimonek, who was a statue, and I think Kingsbury is probably pretty flexible at this point and intrigued by dual-threats but happy to make the most of best available talent.
Alan Bowman: 6-3, 208. 3*** from Grapevine, TX (Grapevine)
Bowman is not a great athlete, particularly not in comparison to most of the guys that Kingsbury has recruited to Tech or to the other main QBs around the league. He's pretty interesting though because he has a strong arm to throw accurate balls outside the hash marks, he uses his eyes well, and he understands where to find the easy money in the spread offense. His arm and savvy will be exceptionally easy for Kingsbury to unlock, I wouldn't even be surprised if he played this next season.
Kyle Jones: 5-11, 190. Transfer from Mary Hardin Baylor (originally from Giddings, TX)
I wasn't going to cover Jones much but it so happened that I was already watching the DIII title bout between Mount Union and Mary Hardin Baylor (studying Mt. Union) and so when I realized Tech had added the MHB QB I figured I'd throw in some notes on him.
He didn't play in that game since he was the back-up at MHB but I still looked up some other notes. Interestingly he's another lefty, like McLane Carter, which makes me wonder if this is aiming to help create some continuity in the practices and keep wideouts on the same side of the field. At Giddings he threw with some nice touch, particularly on deep shots, and I'm guessing that being a 5-11 lefty in a small town was a primary reason for his lack of major recruiting offers. He's good at scanning the field and making touch passes but lacks a ton of arm strength and he's not particularly big.
Grade: B
Bowman's ceiling is higher than his athleticism would suggest because his arm is good and he's a good pocket passer heading to a system that has always made hay with pocket passers. They'll need to change up their run game to help him out but nothing serious, they made do with Shimonek last year and Bowman is a better talent than him.
I'm guessing Kyle Jones is there to provide a back-up that doesn't guarantee defeat. Perhaps Jett Duffey is in more trouble or otherwise doesn't offer the depth they need, or it's the left-handed thing.
Running backs
I don't really know what Kingsbury wants to do here. He seems to put a higher emphasis on the run game than Mike Leach but less than say, Dana Holgorsen. Or at least to this point that's been the case. I think the goal is to become a proficient outside zone team, which is tough for a spread team because finding big pass-protectors that can be obstacles in the pass game doesn't lend itself to also getting guys that can win a shoulder and crease a defense in the run game. But anyways, let's talk about their RB takes. For the OZ scheme you want plant and go guys with some power.
SaRodorick Thompson: 6-1, 192. 3*** from Carrollton, TX (Ranchview)
4.88 40, 4.51 shuttle, 31.6″ vert, 32′ toss
At the risk of sounding ridiculous, Thompson reminds me some of Texas' signee Keaontay Ingram. His SPARQ numbers suggest he's not much of an athlete, his film says the exact opposite, kinda like Ingram. His footwork is great, he's in full command of his body in a way that's exceptional even for a RB, and he ran an 11.34 100m which translates to something more like a 4.65 40. Perhaps he participated at the sparq while wearing ankle weights, you'd think it from his film.
I love him as a future 210 pound slasher that is devastating as a guy that can either bounce to the edge or cut back hard on a creased defense.
Grade: C+
Thompson is a good prospect, most teams tend to get good athletes to play RB for them, but we'll see how well they block. Btw, I'm counting Henry as a WR.
Ancillaries
Tech ain't about the TE position. Kingsbury puts too much on having all-around athletes in the slot to feature and didn't even seem to like building his offense around Jace Amaro. He has not sought to replace that skill set or to find it again elsewhere.
None
Grade: F
Again I renew my annual objection to Kingsbury's strategy. Especially with a pocket passing QB who would be better served by an offense that involves a TE to block the extra man up front rather than relying on option reads all the time to run the football.
Wide Receivers
Kingsbury does the bulk of his damage with the slot receivers in his offense. They've been stockpiling prospects there and this coming year will be plugging in upperclassmen we haven't even seen yet because they've been playing behind other guys. They want smart, quick slots who know how to get open and run routes in the middle of the field but they do also need some size and speed on the perimeter to punish off coverage and help take the top off.
Interestingly, they didn't take any a year ago while loading up on defense.
Ta'Zhawn Henry: 5-8, 175. 3*** from Houston, TX (Lamar) IT #88
Sparq score: 4.65 40, 4.05 shuttle, 31.9″ vert, 28.5′ toss
Henry is an explosive athlete that played RB at Lamar with an insane collection of other athletes that included blue-chippers Al'Vonte Woodard, D'Shawn Jamison, and Anthony Cook who all signed with Texas along with promising Baylor-commit Joshua Landry. Lamar has an absurd share of elite athletes it seems, I'd be curious to know what's up there.
I figure Henry will move to the slot at Tech where his quicks and speed would be devastating. I don't know how his hands are and he might need some time in the incubator to translate but he'd be another Jakeem Grant-type if he could figure it out.
Eric Ezukanma: 6-2, 183. 4**** from Keller, TX (Timber Creek) IT #49
Sparq score: 4.62 40, 4.33 shuttle, 31.2″ vert
Ezukanma plays really strong, especially for a guy that's still only 183 and likely to play at 200 or heavier in college. That's useful outside for avoiding getting knocked off routes or jammed up on the sideline. He also runs hard with the ball and will fight through traffic and dodge or break tackles. I picture him catching a billion curl routes.
Corey Fulcher:  6-2, 180. 3*** from Dallas, TX (Lake Highlands)
Another guy that runs hard with the ball in his hands and plays stronger and bigger than he is currently. He ran a 11.18 in the 100m dash, which makes him another 4.6 guy. Fulcher is also pretty solid running drag routes and settling in soft spots in the zone, so he might stay inside in the slot. The second guy in the slot from the sideline in a trips set is often an extra outside guy in this offense and both Fulcher and Ezukanma fit well in that role.
Sterling Galban: 5-9, 175. 3*** from Burnet, TX (Burnet)
I'd be willing to venture a guess that Galban is the fastest receiver Burnet has had since Jordan Shipley. This dude ran a 10.58 100m, which means he can probably run a legit 4.4. Blazing fast. He throws some head fakes and different moves on defenders in his highlights but he only needs the slightest hesitation to blow by people. He's probably an even better bet to be the next Jakeem Grant (or Wes Welker if you prefer) than Ta'Zhawn.
Myller Royals: 6-4, 180. 3*** from Abilene, TX (Cooper) IT #83
@DerekDuke25 likes Royals as his favorite wideout in the entire 2018 Big 12 freshman class. I'm not going to join him on that hill but Royals does strike me as incredibly likely to make good as a valuable college wideout. The Abilene Cooper offense was devastating, typically putting him on the solo side and taking shots to him when teams tried to send help anywhere else. He's smooth, knows how to run good route adjustments, and is a great target vs man coverage because he uses his body so well to box out defenders. I don't think he's terribly fast, maybe a 4.7 guy, but he's smooth and definitely can hurt you if you allow him to build up speed with his long legs.
Tech's good slot targets will definitely benefit from him playing on the boundary and complicating matters for defenses that want to defer stress outside the hash marks.
KaSean Carter: 5-10, 150. 3*** from The Woodlands, TX (The Woodlands)
Perhaps even faster than Galban with track times of 10.59 and 10.35 in the 100m dash. You regularly see him blow by distracted nickel defenders without being touched and then blast by the strong safety playing deep over him. You can't let this guy off the line without bumping him off his path somewhat, if you give him enough room to get up to speed it's over, he's going to score on a deep shot.
He may have to learn how to run a wider route tree than 7s, 9s, and posts but his ability to run by safeties will make him very difficult to defend and then consequently that will make someone else very hard to defend.
Grade: A-
All of these guys look like pretty safe investments and the slots they've collected have some game-changing ability, which is what their offense desperately needs from that position. I can't imagine that they won't find several top contributors from this group so long as Kingsbury keeps his job and sticks around long enough to see it through. Watching an upperclassman Alan Bowman taking deep shots throwing to this group sounds pretty scary.
Offensive line
Back in the day Tech just ran vertical pass protection sets and mixed in the occasional inside zone, draw, or fold plays where they'd rely on their wide splits and the size of their OL to generate some room to pick up yards over the middle if teams vacated the box. It was easy to combo that inside run game with the needs of pass protection by simply stockpiling big men. However, their new emphasis on outside zone does not gel as well with that approach and requires having quick and hard-working guys that will fight to win an outside shoulder and crease a defense. The easiest way to ensure that is to recruit shorter, scrappier guys of the sort that often don't make great pass protectors, otherwise you need to find really good athletes.
DeMarcus Marshall: 6-3, 333. 3*** from Grand Prairie, TX (Grand Prairie)
Marshall is more of the kind of mauler that you'd like to have if you want to emphasize the run game. He's absurdly quick for how thick he's built and how much weight he's carrying. I don't know how excited I'd be to put him on an island in pass protection but with help he'd probably be in okay shape. I would be excited to watch what he could do in an outside zone run game, especially after remaking his body.
Troy Bradshaw: 6-6, 270. 3*** from Mineral Wells, TX (Mineral Wells)
Bradshaw has good length and pretty quick feet but is exceptionally raw with technique and still needs to gain a lot of weight and strength to play college ball. In run blocking he often just leaned on guys and let them get into his body while trusting his size and lower body strength to get the job done. But in pass pro he was much better with his hands and feet. I think he'll grow into a tackle with time.
Hakeem White: 6-3, 281. 3*** from Waco, TX (Midway)
White played right tackle opposite Kaitori Leveston (K-State) and on behalf of Tanner Mordecai (OU) but he'll inevitably move inside in the college game. I'm not sure that he's even really 6-3 but he's really quick and very effective in the outside zone game. As a center he'd be really good at beating nose tackles with quickness but he might need help against powerful guys in the pass rush or on a play trying to control a nose without the boost of the lateral stress that outside zone creates.
Weston Wright: 6-6, 290. 3*** from New Braunfels, TX (New Braunfels)
This guy is like Bradshaw, likely to end up at tackle in the future but he needs some serious refinement. He lunges at guys a bit, even though his feet are pretty quick. He's comfortable blocking on the edge for inside zone and working in protection isolated on the perimeter, perhaps with time he could be good enough to play on the left side.
Clayton Franks: 6-4, 290. 3*** from Mansfield, TX (Mansfield Legacy)
Franks is a nasty mauler that I love as a prospect for this offense. He's a good cut blocker, which is useful on outside zone, but he also likes to scrap and drive guys off the ball. His mean disposition along with his size and capacity for additional weight and strength make him a nice fit at guard for them.
Grade: C+
Tech got some nice numbers here and certainly some players that could help them out down the road after some redshirt seasons and lot of practice reps. If they don't develop them well they may struggle to find impact performers but it does seem likely that they'll be able to field competent lines without glaring holes in future years.
Worth noting again that they return the entire unit from a year ago. Here's how the 2017 crew stacked up to the best OL I've ever seen at Tech, the 2008 crew: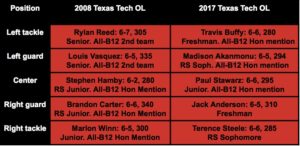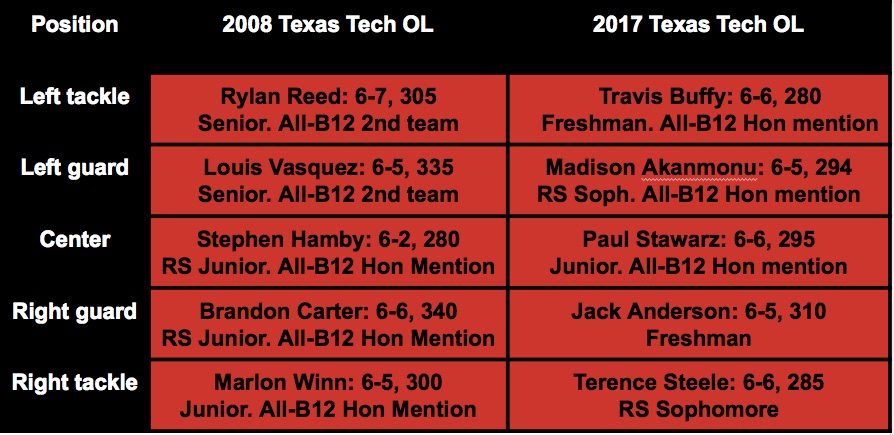 Defense
Defensive line
The hybrid front that Tech settled on last year requires a DE/OLB hybrid on the boundary as the "rush-backer" who can play the edge or drop into coverage, a true 3-technique on the boundary, a zero or shaded nose that can anchor the A-gaps and protect the LBs, and then a stout 4i-tech to the field that can beat the tackle and spill the ball to the middle LB and DBs. If they can find good 3-techniques that style should be pretty nasty.
Xavier Benson: 6-3, 200. 3*** from Texarkana, TX (Pleasant Grove)
Benson is currently a multifaceted OLB but I'm guessing that his frame takes him to 240 or so and he makes a living as a rush-backer playing off a 3-technique. He moves laterally with total ease and is scrappy taking on blocks. I don't know what kind of pass-rusher he can become but at least the athleticism and length is there and will serve him well. He played some WR in high school and will benefit from focusing in on maximizing his athletic potential in just one role.
Jaylon Hutchings: 6-1, 270. 3*** from Forney, TX (Forney)
I think Hutchings is a bit of a steal, maybe because he isn't terribly tall (perhaps not even 6-1, I dunno) Tech was able to snatch him up. He's a really good athlete and played a lot of DE on film where he'd be less of an asset but I think he could be a nose tackle that's high near impossible to keep from darting through an A-gap without steady double teams. He could also be a 3-tech attacking the backfield but nose would be a really nice fit. His HS played him at RB a lot and those highlights are fun.
John Scott: 6-3, 255. 3*** from Hitchcock, TX (Hitchcock)
Scott has some nice quickness and plays a lot of DE on his film as well. He could probably play the 3-technique with some added size and technique or he might stay at end and play as a 4i. The hardest part about that position is being able to work outside in the pass-rush against a tackle, which requires real quickness and also good hands and probably long arms to keep the tackle from controlling your body. Scott could potentially translate there.
Grade: D+
They didn't take anyone in 2017, allocating numbers to filling up at DB and elsewhere. Then they took this group, which is solid but light in numbers. Considering that last year was by far their best year on D and it relied heavily on good nose play and 4i Eli Howard, I'm surprised they didn't try to stock up more. You can't play good D of any style without investing properly in DL.
Linebacker
The Raiders settled on using their nickel as more of a space-backer last year, relying on the weak side LB as a scrape-savvy inside guy that was good at playing fast behind tackles, and then at Mike they used a strong plugger that could take on TEs and OGs playing off the 4i-technique. Other than having a scrappy plugger at Mike, the system they used last year puts a lot on the will being good at reading on the run. Perhaps that was just a function of having Dakota Allen back but if that's the plan moving forward they'll need more guys like him.
Patrick Curley: 6-2, 215. 3*** from Wagoner, OK (Wagoner)
Curley is a really strong athlete that was overpowering at the level of play he took on in Okie-land. He's really good scraping or working off the edge and isn't a guy opponents will want to try and run against if relying primarily on space. Hopefully he'll grow into a weak side linebacker that can mind his gap and then get over and pursue the ball down the sideline in this structure.
Grade: D+
Only one take, although at least Curley seems like a guy that could be very good in that crucial weak side LB spot. I'm guessing that next year they'll go heavy on defensive players again. Hopefully they can afford to rely on some HSers rather than needing to restock with JUCOs as that's not a particularly sustainable process.
Defensive back
Last year Tech played mostly aggressive sky quarters coverage, putting a lot on their cornerbacks while using the safeties aggressively to help plug the run. That means recruiting cornerbacks that can press and play lots of man coverage without a lot of help outside the hash marks. Obviously at safety they need guys that can cover good ground (a sore spot the last few years) and then close and tackle.
None.
Grade: F
They signed a good group a year ago and hopefully will have most of them around for multiple seasons. Even still, having a year where you don't sign a DB in the Big 12 seems like a recipe for disaster. Especially for a team that hasn't had above average DB play since….2008 maybe? Perhaps one of the Tuberville teams?
In summation…
Kingsbury is scrambling every year to try and plug holes and frequently seems to be mortgaging different parts of Tech's future in order to do so. They're keeping things afloat though and perhaps this coming year with so many pieces returning they'll hit some kind of breakthrough in record that gives them momentum in developing what they have and adding more talent in the future.
They may also seek to be a transfer destination like Kingsbury's man Dana Holgorsen out at West Virginia, but you have to win more to be a more popular destination for the transfer players. I definitely think that if Kingsbury is fired that his successor won't be thrilled with what he inherits unless it's another Raid bro coach and it's hard to see them hiring another Raid bro when they already have one of the most creative offensive minds from that tree.