There have been a few big picture themes that are very clear regarding Lincoln Riley's rule in Norman and some others that are murkier. It's clear that Riley is a very effective recruiter that guarantees consistently strong classes for his program, he's committed to the run game and creative in deploying it, he's a really great offensive mind, and finally he seems incapable of doing much about the Mike Stoops problem.
I really thought that Stoops would get the boot during the season and certainly after his weak defense cost Oklahoma a national championship. But nope, Bob's little brother is still around. It's also more than a little interesting that the biggest move for Riley this offseason wasn't delegating some of his offensive responsibilities to another coach or shoring up the defense but instead replacing longtime cultural tone-setter Jerry Schmidt with Benny Wylie.
Wylie was the man Mack Brown hired at Texas to replace the increasingly complacent Jeff "Mad Dog" Madden but then the team got even weaker and more prone to soft-tissue injuries under Wylie's regimen. The word on Wylie is that he's more the school counselor that invites you into his office and initiates a board game to get you to talk than the drill sergeant who forces you to test your physical limits. What I'm suggesting is, don't be shocked if being "soft" is more and not less of an issue in OU in the coming years.
That said, they loaded up with amazing raw talent in this class. Of course since Mike Stoops returned the Sooners have been marked by consistently plugging in young athletes that are upgrades only to watch them get slower and more complacent and then replaced by new young athletes. If that trend isn't reversed, Riley's excellent recruiting will be wasted.
It'll be impossible not to strike rich with some of these players, who pushed OU to finish ninth nationally and second in the Big 12 behind Texas in 247's rankings. The Sooners mostly stuck around in Texoma for this cycle, snatching eight players from the Lone Star state, finding six in-state, and then relying on the mercenary IMG program to do the hard work of finding and accumulating other national talent in one spot. This class has three players from IMG and obviously that could be an immensely useful pipeline for OU in years to come.
Here's how it all projects to fit into Riley's program.
Offense
Quarterbacks
At this point I think Riley would prefer to have a signal-caller that can run the ball some in order to bring his counter-trey schemes to life and beyond that the offense actually has a greater emphasis on play-action and designed shots over execution of Air Raid, dropback progressions. Of course there's some of that as well (Air Raid schemes) and also some targeted designs in the passing game featuring double moves and other tricks. I think accuracy and the ability to understand how Riley's machinations work are big here.
It has to be noted that OU has suffered some major attrition here, partly due to the guys they've signed (Chris Robison) but probably also due to having Mayfield around (Justice Hansen). Their room needs to be re-stocked unless they think they can score another transfer in the future.
Tanner Mordecai: 6-3, 215. 4**** from Waco, TX (Midway) IT #25
OU initially had Cam Rising committed, the somewhat raw but impressive CA QB that Texas then stole. From there, OU simply went and picked off top Baylor target Mordecai. Food chain, imo. Mordecai is similar to Rising in that he's pretty fast and dangerous as a runner and then brings a strong arm that can throw with accuracy outside the hash marks to boot.
It seems like OU brings in a guy that matches that description every year and we haven't seen any of them on the field yet. With Mordecai, I worry about his visual processing, you can see him stare down WRs and make late decisions in the RPO game. It's the classic issue you find where the strong-armed QB gets away with making late decisions and throws and then it becomes a bad habit. I think Mordecai could break it but we'll have to wait and see what his aptitude is like for mastering multiple concepts and attacking defenses.
Grade: B
Mordecai is a plus prospect in terms of physical tools that can physically do many of the same things Mayfield did, I don't know if he can think and see the game at a high level or not. That may not matter too much at this level so long as he's able to understand what Riley is aiming at and can throw on time.
Running backs
As a function of routinely fielding massive OL and pretty balanced offenses, OU has long been a great place to play RB. They tend to have their pick of the litter as a result, indeed one of Bob Stoops only major victories head to head against Mack Brown was for Adrian Peterson. Their room is absurdly loaded right now and doesn't even really need applicants.
They like powerful, plant and go guys but they do a lot with the position so they can make use of multiple skills. They throw them the ball aplenty on flares and screens and used to move Joe Mixon all over the place.
TJ Pledger: 5-8, 190. 4**** from Bradenton, FL (IMG)
Pledger's SPARQ score: 4.61 40, 4.38 shuttle, 33.2″ vert, 31′ toss is solid but less impressive than you'd expect from the film where he plays really fast. He prefers to avoid running through defenders that are in any kind of state of readiness, instead bouncing runs until he finds a vertical crease to turn through. He catches pretty well out of the backfield and figures mostly as a flex RB for OU that moves around and gets the ball in space.
Grade: C
Pledger could be really good if they can find a consistent role for him or he proves to have the hands and skill to convert to WR. They don't really have a true RB in this class but, again, they don't really need one.
Ancillaries
Using Mark Andrews as a flex TE brought a whole new dimension to the Sooners' offense and probably pioneered a trend that we'll see come up much more often in the future. They signed Grant Calcaterra a year ago and more similar targets this year so I'm pretty sure they know it, too.
On top of that, OU has been using versatile H-back/FBs for the entire decade and I'm sure they'd like to maintain that tradition as well. Having a FB that can block from different alignments and is only an occasional constraint in the passing game also frees them up to have their flex TEs focus on route running.
Dane Saltarelli: 6-5, 230. 2** from Bradenton, FL (IMG)
Saltarelli is only a preferred walk-on, but 247 listed him and I checked him out due to curiosity so he'll get a mention here. He's pretty athletic, not amazingly so, and runs some routes on film. He also did some blocking but he was too skinny there to really be much of a force. It's a pretty good investment to guarantee him a spot and see where his body takes him, my guess is that he could be a good H-back with a few years of development, assuming Wylie bulks him up properly.
Brayden Willis: 6-4, 220. 3*** from Arlington, TX (James Martin) IT #44
What a find this guy was for the Sooners! His film features some really savage and aggressive blocking, even though he played at like 205 on film, and whether he was running downhill or blocking he often left bodies strewn across the field. He has some nice burst as well that he used to create some route separation on top of using it to propel him into the bodies of defenders. Ideally he'd redshirt and get some work running routes, he might actually be a dual-threat TE (great blocker AND great flexed out target).
Grade: B
It's hard for me to see Willis failing to be a major asset down the road, the kid plays hard, has a big frame, and is truly athletic. Even if he just becomes a savage, inline TE that doesn't do much in the passing game he'll be a great addition. I'm less confident in Saltarelli but he's not a bad throw-in.
Wide Receivers
Riley has found a nice cheat code in fielding flex TEs (or Andrews at least) in the slot which then allows him to play tiny burners outside. It's hard to overstate the value here. There a lot of tiny burners out there that are lethal running vertical routes but not as dangerous trying to get open in the seams who tend to get moved inside to avoid press coverage, OU can leave them outside. Playing their waterbugs outside makes the offense bigger and stouter near the box as well.
They still need one WR one the field that can beat press coverage and be a reliable target outside on curl routes, fades, dig routes, etc. That guy and the flex TE are the big ones, everyone else can just be fast and the schemes and alignments will set them up to run around in open grass.
Jaquayln Crawford: 5-10, 161. 4**** from Rockdale, TX (Rockdale) IT #41
Sparq score: 4.55 40, 4.33 shuttle, 35.7″ vert, 36′ toss
Crawford is a real burner, particularly in a straight line although the shuttle ain't bad either. He's a bit raw in terms of skill development because his HS just moved him around and got him the ball in space so he could go from there. He might develop as a nasty route runner but he might also be particularly effective outside as opposed to the slot. Remember, the slot is typically filled by the flex TE which allows OU to play a guy like this on the outside.
Jaylon Robinson: 5-10, 170. 3*** from Ft. Worth, TX (All Saints Episcopal) IT #29
Sparq score: 4.54 40, 3.88 shuttle, 34.4″ vert, 38′ toss
Eric Nahlin liked Robinson even more than Crawford and I do as well. He's equally explosive and a bit more shifty and runs more difficult routes, particularly in the middle of the field. He also runs hard and isn't afraid to lower his shoulder, although he was playing private school competition. I like him a lot as a mobile guy that could play inside or outside.
Kundarrius Taylor: 6-3, 200. 3*** from Memphis, TN (Ridgeway)
Not sure why 247 lists Taylor as an "athlete" he seems like a no-brainer wideout to me. He has good ball skills and some real burst and is willing to go up for the ball with incoming hits coming. I like him for learning to beat press coverage, going over the middle, and serving as a big target near the red zone or against man blitzes on the back shoulder fade.
Grade: B
No surprise that the Sooners are doing well in WR recruiting given how explosive their offense is and how well they've thrown the ball over the last two decades and under Riley in particular. Mostly what they've done here is inject more speed into the equation, speed which will have time to be harnessed into developed skill.
Offensive line
It is my believe now that Bill Bedenbaugh is just aiming to create the biggest OL in CFB history. He came close in 2014 and then wasted the Orlando Brown era with a few smaller guys around him but now he's closing in on the record (2015 Arkansas, I believe) with last year's class and then this 2018 haul.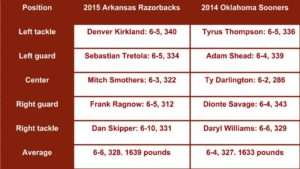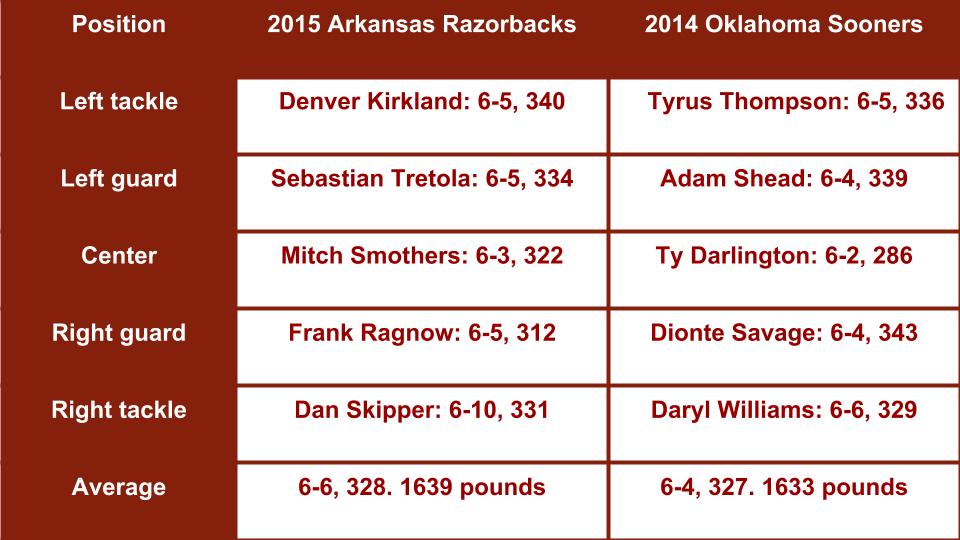 The counter-trey scheme makes these big bears dance but even factoring in that play there are a lot of angles and "moving obstacle" elements to their run game. Their inside zone runs often look like their guys executing the "let their movement take them where they want to go and then seal them" vision for the play as opposed to the "drive them back!" style. The counter scheme is excellent for allowing them to block down and then find second level targets and just flatten them. These guys need to be light enough on their feet to move around but the scheme and angles allow them to be pretty big.
Tramonda Moore: 6-6, 330. 4**** from Independence, KS (Independence CC)
See what I mean? Moore played some tackle and some guard at his Kansas JUCO, I'm sure there's some speculation that he might be part of the formula for replacing Orlando Brown but I doubt it. At least not in 2018. He's fairly quick but probably projects best as a guard that's nearly impossible to get around and is mobile enough to pull in their counter schemes.
Brey Walker: 6-7, 320. 5***** from Oklahoma City, OK (Westmoore)
Once the blindside protector of Texas signee Casey Thompson (before he followed his OC to Newcastle), Walker is a force of nature. The five star label seems high to me given the athleticism evident on film (good but not mind blowing) but maybe he threw someone impressive through the goal posts at a shoe company camp or something.
He apparently has a wrestling background and he plays deliberately and in control, often happy to get his feet under him and then allow his opponent to initiate contact. Once you initiate contact with Walker, it's pretty much game over because he's too big and strong. We'll probably see him on the field sooner than later due to his size but he might get a chance at a redshirt. I foresee him playing at RT, he reminds me of Phil Loadholt (I know he played left) or Daryl Williams.
Darrell Simpson: 6-7, 336. 4**** from Justin, TX (Northwest) IT #74
Simpson actually strikes me as being the quicker of the two between him and fellow monster Walker, and he plays pretty fast and aggressive. He's already being asked to pull on the GT counter OU loves. He scraps hard with guys after his block, never content to seal but always looking to finish and at least turn a shoulder if not put a guy in the ground. Definitely could fit at RT but maybe LT as well.
Grade: B+
The Sooners didn't need a ton of numbers here and they also have another guy we'll get to later that I think could (should, really) end up in Bedenbaugh's room. Their ability to make functioning, run-blocking lines out of the biggest people on the planet has always been impressive. This group should prove very important in achieving the dream of building the biggest group yet seen.
Defense
Defensive line
I don't know what the plan is here anymore. They made a big show about moving to a four-down defense last year and then ended up doing everything (yay, being multiple!) and frequently squandered some of their athleticism and size advantages by failing to be great in anything (boo multiplicity!). This group doesn't point in any obvious direction either, although I definitely have doubts now about their big proposal to move away from using 4i-technique DEs.
Michael Thompson: 6-4, 300+. 4**** from St. Louis, MO (Parkway North)
I don't love Thompson at DL. He's pretty solid here, no doubt, he's quick off the ball and then impossibly strong and hard to move out of a gap. However, with his size and weight (well over 300 now, they say) he seems like he belongs with Bedenbaugh. Trying to beat double teams with quickness and active hands at 350 at the Big 12's up tempo pace is not much fun and might even be impossible, which is why you never see it happen. Blasting guys on double teams or down blocks at an up-tempo pace? That's a different story.
Jalen Redmond: 6-4, 230. 4**** from Oklahoma City, OK (Midwest City)
Redmond is a really strong athlete with a 34″ vert and basketball background and he is pretty far along in translating that into an ability to win the edge in the pass-rush. There are lots of fun clips of Redmond beating a tackle, finding a RB waiting for him, and then throwing that guy to the ground before finishing with a sack. I think his best future is as a full-time, four-down DE, and not a 4i-tech. He could probably play off the ball a little as a Jack OLB also.
Ron Tatum: 6-5, 270. 4**** from Oklahoma City, OK (Putnam City)
Tatum is more of a strong side end prospect that is good at playing a heavy 5-technique or inside at the 4i. He's also quick and capable on the outside and that, combined with his length, don't make him a fun guy to try and run outside against. His best future would depend on his development of pass-rush moves. If he grows a lot in that regard than a 3-technique or 5/6-technique would do him wonders in allowing him to get after opponents. If that doesn't come along as much than he's still an ideal 4i.
Jordan Kelley: 6-3, 293. 3*** from Tulsa, OK (Union)
This guy is a touch underrated I think. You see, the services have so much pride and reputation built around the "our rankings correlate to NFL success!" bit that they often prize DL for pass-rushing potential when the college game is considerably more about playing the run. Kelley doesn't have much film playing the pass but his run-block destruction is top notch. He's quick enough to play as a 4i but would be better anchoring the point of attack as a strongside 3-technique, shaded nose, or straight up 0-tech. No matter what direction OU goes in Kelley should prove valuable, he uses his hands well, has good length, and is quick off the ball.
Ronnie Perkins: 6-3, 256. 4**** from St. Louis, MO (Lutheran North)
It looks like Oklahoma cleaned up with all of the guys that normally help maintain Missouri's reputation as a DL factory. Perkins is a great athlete for such a big man who will probably end up comfortably at 280 or so after a few years on campus. I'd like him as a pass-rushing 3-technique prospect or he could be another good 4i prospect.
Grade: B+
The raw athleticism and versatility of this group is pretty intriguing and you'd think it would be hard for the Sooners to fail to field a strong unit in future years from these components, although they managed a similarly remarkable feat just last year.
Linebacker
If they maintain their current trajectory, the Sooners need inside-backers that can plug and scrape and then a pair of difference makers outside that can rush the edge but also drop into zone against some of the better wideouts in the league. They should pair things down and only try to feature one OLB while playing more traditional LBs inside but we'll see what happens.
Nik Bonitto: 6-3, 205. 4**** from Ft. Lauderdale, FL (St Thomas Aquinas)
Sparq score: 4.71 40, 4.25 shuttle, 31.3″ vert, 32′ toss.
Bonitto is a really strong athlete with a frame that will probably allow him to carry 230+. He's able to bend around the corner when rushing the edge but also plays blocks on the perimeter and drops into coverage some on his HUDL. He should be a guy they redshirt and develop for a few years before unleashing at the Jack position like they did Obo Okoronkwo before him.
DaShaun White: 6-1, 222. 4**** from North Richland Hills, TX (Richland) IT #22
Sparq score: 4.75 40, 4.38 shuttle, 29.3″ vert, 33.5′ toss
The Sooners made the most of their on-field success this past year and won a few recruiting battles with Texas, including this one for the explosive White (also Perkins and Tatum). He's currently a pure will linebacker prospect, scraping and chasing the ball from sideline to sideline and making some impressive drops into coverage. I'd use him as a "money-backer" that aligns to the tougher coverage assignment but we'll see what OU thinks. He could grow into a mike LB but his comfort zone is definitely as more of a space guy playing off a plugger currently.
Brian Asamoah: 6-1, 210. 3*** from Columbus, OH (St Francis De Sales)
Sparq score: 4.91 40, 4.5 shuttle, 33.4″ vert
Asamoah is your pure inside-backer prospect and he's a good one. He actually played a Sam OLB position in Ohio, dropping into space at times and forcing the perimeter at others, but his best translation into the college game is as a downhill plugger. He's explosive moving downhill to the football and quick enough to hold up off the ball in coverage if given reasonable inside-backer assignments. Ideally he'd be developed to plug holes and spill ballcarriers to White coming laterally in pursuit but that could take time as he'll have to learn to read keys inside.
Grade: B
This is a really promising group for the Sooners. They got a great prospect for all three of the LB positions they should actually be utilizing (jack, will, and mike). Hopefully these guys are able to redshirt and spend some time developing before they play, except White who will probably be ready to have an impact earlier in his career.
Defensive back
While Bedenbaugh is trying to field the largest ever OL, ever since Mike Stoops came back the Sooners have been aiming in the opposite direction at cornerback. They have a remarkable affinity for grabbing twitchy but skinny dudes, I mean when is the last time that OU's cornerbacks averaged out to weigh more than 180? Meanwhile at safety they often grab questionably big guys to fill out their run support.
A lack of DB depth has been a huge story for OU essentially since Mike came back. Notably events in that narrative include Julian Wilson having to start at CB, a bizarre resistance to nickel and dime packages, and lots of arrests and offseason attrition (LJ Moore, Parrish Cobb, Will Sunderland, Michiah Quick, etc).
The plan here is to be able to play some cover 3 pattern matching and mix in quarters with one of the safeties being more of a third corner that can play some man and the other being an enforcer. They've had the latter but haven't had a good enforcer since Tony Jefferson left. Worth noting that Kerry Cooks literally did an instructional video on cover 2 yet Stoops always runs home to cover 3 as the base scheme when things are tough.
Starrland Baldwin: 5-10, 172. 3*** from Houston, TX (Cy Falls) IT #72
Sparq score: 4.73 40, 3.85 shuttle, 37.1″ vert, 29.5′ toss
Skinny and ultra-twitchy, Baldwin definitely fits the prototype. I love him in cover 3, particularly playing off coverage with help underneath against a top target. He closes hard and fast on the ball and is really risky to try and beat down the field, even on back shoulder throws. I don't know how forceful a tackler he'll be but he shouldn't be terrible there.
Miguel Edwards: 6-0, 164. 3*** from Deerfield Beach, FL
Another twitchy, skinny guy that split time at safety and nickel in Florida. He should be a true cornerback in college but again, he'd be at his best playing cover 3 and patrolling over the top rather than mixing it up a bunch underneath in the screen and run game. He plays some solid press on film but that ain't happening in the Big 12 until he gains some strength and weight. Imagine this guy trying to press Kundarrius…not a great idea  right now.
Patrick Fields: 6-0, 190. 3*** from Tulsa, OK (Union)
I think this guy is underrated, he's a lightning bolt coming downhill in run support and he's fearless about flying through the wash to make sticks. Union played a lot of steal and solo coverages that had him multi-tasking from the boundary hash mark and he excelled, playing over crossing slots and then filling the alley in run support. Will Sunderland showed the range for this in OU's spring game but not the knowhow. Fields will end up at 200+ in college and should be a really good boundary safety for OU.
Brendan Radley-Hiles: 5-10, 183. 4**** from Bradenton, FL (IMG)
Here was OU's biggest coup in their foray into IMG. This dude seems to have started in CA, then played in Nevada at Bishop Gorman, and then at IMG. I'm sure his recruiting at every stop was totally on the level, lol. He's probably a 4.6 guy in terms of speed with some real quickness and love of hitting. He could probably play outside but maybe the Sooners would want to slide him inside to nickel or strong safety so that his ability to close and tackle would come into play more often.
Delarrin Turner-Yell: 5-10, 170. 3*** from Hempstead, TX (Hempstead)
I don't know if I can say that DTY is the best player in this class but he's definitely my favorite. Like BRH, he shows a great willingness to use his speed for the purpose of amping up the A variable in F=MA and he has several huge hits on his film. His size suggests he's another twitchy, skinny Stoops cornerback but I think he should stay on the inside at SS and give the Sooners some more intimidating tackling from that coverage safety position. He reminds of me Texas' signee D'Shawn Jamison, whom I also love.
Grade: B-
The players that project inside look really good to me. I don't know how things will go on the outside, particularly with their lack of size, but that can be mitigated if you rush the passer and play physical football between the hash marks at your other DB positions. The CBs could be good and I'd feel better about them if the Sooners (Stoops) still had a knack for teaching guys to anticipate and jump routes like Zach Sanches used to do.
In summation…
If Oklahoma can put together a clear vision and development plan on both sides of the ball then they have lots of athletes here that should translate into more B12 titles down the line. There doesn't appear to be a force multiplier and team leader like Baker Mayfield coming in this group though so that'll be something to watch but there's not really any lack in terms of raw athleticism.
We can probably count on Lincoln Riley pulling in some nationally competitive recruiting classes for the foreseeable future.