It's kind of remarkable that Kansas State is recruiting as well as they are right now given olcow much of an unknown it is whether or not Bill Snyder will be still coaching from year to year. However, they keep getting young and younger as a staff as the old man replaces retiring or departing peers with younger products of his culture and program like Collin Klein (QB coach) and Blake Seiler (new DC).
Younger coaches are more inclined to go bust their butts on the recruiting trail while older guys that have been winning with walk-ons…perhaps less motivated to put in the hours texting kids, flying around, and digging under rocks for overlooked talents that could be groomed into superstars within K-State's culture.
As far as I can tell, it's business as usual in Manhattan. They took 21 players in this class, five of which are JUCOs and five of which are early enrollees. They hit a high school in Missouri for a pair of kids, hit Texas pretty hard, and made a killing in Georgia of all places. I know that they like to look in Georgia because it's one of the more talent-rich states in the country right now but it's amazing that it produced all the 5-stars needed to give the Bulldogs a historic class in addition to all of these less known gems.
They are ranked 69th nationally and ninth in the Big 12 so let's all have our hearty chuckle about how useless that will likely be in terms of prognosticating their productivity over the next four years…alright moving on.
After taking a class back in 2016 that was high on offensive potential but lacked athletes on defense, the Wildcats have managed to correct course over these last two classes. Here's a look at how they're maintaining the system.
Offense
Quarterbacks
This position is the key to the Kansas State offense because the "Wildcat" QB run game is the major secret to their program's success. It guarantees favorable numbers up front for them and is often their starting point on offense. They hit you with the QB run, mix in standard RB runs and option plays, and then they have a timing-based passing game and some play-action they'll use either to pick up passing downs or to burn you over the top.
So the QB has to be able to run the ball and do so often, they also love to audible and move things around at the line so it helps if he's quite smart as well. They generally make accuracy and arm talent one of the lesser qualifications but they do throw the ball plenty so guys can't be worthless there. They've often recruited guys that aren't necessarily that big but it's worth noting that their big success this decade came when 220-pound "Optimus Klein" was at QB. Their other guys haven't held up or, like Jake Waters, couldn't handle their QB run game.
Levi Archer: 6-4, 205. 2** from Goodland, KS (Goodland)
The Wildcats seem to find and recruit a guy like this every season now, a tall, scrappy, solid runner from within the state with a frame to add more weight and a credible enough arm to present potential as a passer. Collin Klein was actually listed as a 6-4, 200 pound "pro-style passer" out of high school himself.
Archer is similar. He's a tough runner with some legit quickness that did a lot of damage in particular either scrambling before finding targets down the field or running QB counter. He doesn't seem to make quick decisions on film unless he's outside of the pocket but had a few clips where he read leverage and threw with anticipation and good timing from the pocket. He'd need a lot of development as a passer but there are some tools here to work with and I'm sure they'd rather he fill out to 220+ before he plays anyways. He could also become a WR, TE, or DE down the line if he can't win the job. Btw…
John Holcombe: 6-4, 227. 3*** from Humble, TX (Summer Creek)
#76 on Inside Texas' top 100 players in Texas
Kansas State is always getting guys like Levi Archer but they don't always seem to find guys like John Holcombe. Athletically, Holcombe is a lot like Tyrone Swoopes, the bruising and strong-armed but often pressure-averse Texas QB. Holcombe is a bit quicker than Swoopes, at least the 250 pound collegiate one, with a bit less on his fastball throwing down the field.
However, Holcombe has tons of highlights making quick reads and throwing vertical shots down the field with really nice placement. As a runner he does it all, inside and outside running, and he does it with toughness, agility, and some explosiveness. I'd guess he and Archer are both somewhere in the 4.8 range and both quick enough to win the edge. It'll be really interesting to see him develop at K-State, I suspect he has the savvy to execute their offense at a high level since they ran a fair number of different concepts at Summer Creek and he has the size/speed combo that portends a guy that could actually handle 15 carries a game without taking season-ending injuries.
Grade: A
Because of the athletic requirement at the position, everyone Kansas State takes at QB necessarily has some potential to play elsewhere if signal-caller doesn't work out, which means that taking numbers here is never likely to hurt them.
As it happens, they got two guys here that are really worthy takes just as athletes. It's not hard to find value in 6-4, 200+ pound guys that can run and know how to operate the entire offense. As it happens, these guys also have solid arms and some potential as actual QBs, particularly in this scheme. It's hard to see them not coming out of this 2018 class with at least one high-value starter somewhere on the field and likely two, including one at the all-important QB position.
Running backs
This position is arguably most superfluous in Kansas State's scheme as they like to feature the QB run game for reasons of arithmetic and geometry. I used to note Snyder's love of scat backs for the way their scheme tends to emphasize maintaining double teams to ensure positive gains while leaning on the back to set up blocks and the release of the double team and make darting cuts at the right time. That's true, but it's also worth noting that it's nice to have speed there since the QB is often taking the inside power tracks while the RB is more often a pitch man.
Kansas State has used power backs as well but Alex Barnes' 2017 season stands out as an example of how they aren't as good at featuring that element of their offense, probably because they put so much emphasis on the QB runs.
Finally, the most deadly K-State schemes in my estimation are the 11 personnel sets involving a TE, FB, and three WRs along with the QB.
No takes
Grade: F
They did sign a flex RB that'll I'll mention in the WR section. I'm giving them an F but this isn't a big deal for all the reasons I mentioned above.
Ancillaries
Current K-State TE Dayton Valentine is a mauling blocker who helps them execute their outside zone and dart runs at a high level. They typically play TEs that are great blockers, helping them gain double teams and secure the point of attack, and then they'll throw them the ball on play-action every now and again. The FBs seem to get more action in the passing game, or maybe that's just because Winston Dimel was such a good all-around athlete and football player. They're mainly for blocking as well though.
Luke Sowa: 6-3, 245. 3*** from El Dorado, KS (Butler County)
Funny that a local Kansas JUCO should provide a versatile, early enrollee FB just when K-State was losing their OC and consequently his FB-playing son (Dimel). Nice break for the Wildcats, although they probably have another solid FB already on campus that may be ready to go, they're always signing guys that could fit here.
Sowa is a good one. Basically, he's quick enough to hit second level blocks as a lead guy and to do some damage on occasional runs or passes (he also has really good hands) but he's also big and mean enough to block DEs on power kickout blocks or trap blocks. His route running is something to watch for but mostly he's just another highly mobile brute. I bet he plays in 2018.
Grade: C+
That was it for this year from K-State, but they've been stockpiling TEs and FBs (or future FBs at the LB positions) for the last few years and have a pipeline of redshirted, grey-shirted, and walking-on guys that give them some margin for a smaller class here. Also don't forget there's a chance that Archer or Holcombe ends up becoming a dynamic TE down the line.
Wide Receivers
Kansas State's passing game is mostly about spacing and timing, they'll throw y-stick at the sticks all day long and rely on good timing and chemistry to get the job done. If you play man coverage to take away the zone-beaters and to get more numbers in the box against the run then they'll run barely legal rub routes (or back shoulder fades if they have some big guys with nice hands).
In other words, they tend to do a good job of developing the position to fit into their system. They'll make the most of what they have but they have a system in place to make solid guys more effective. Obviously they're at their best when they have a Byron Pringle or some such deep threat guy to force double teams.
E.J. Turner: 6-0, 179. 3*** from Cartersville, GA (Cartersville)
Turner would be exhibit A in the "wait, this 2018 K-State class is a lot faster than normal…" presentation. Here's a glimpse into that speed: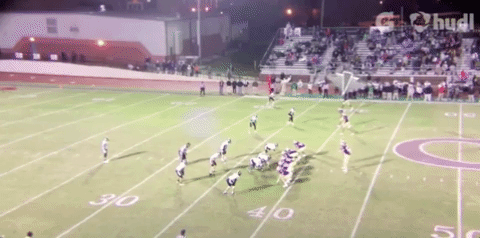 Hits the sideline and is gone. If he had any kind of space to work in he was really hurting defenses after the catch and he also ran some nifty outside steps to get open on go routes. I think he's at least a 4.6 guy in the 40 and not unlikely faster. He'll be the guy that K-State gets open with the rub routes in the future.
Malik Knowles: 6-2, 165. 3*** from Mansfield, TX (Lake Ridge)
Knowles is a good, smooth athlete who isn't an elite burner but definitely knows how to run routes and get open. He's good with the ball in the air and does a lot of damage on back shoulder fades on film. He'll need to add some serious weight or he'll get bullied and be unable to do work but he should translate with time into the timing routes of this offense with his coordination and great hands.
Jaquavius Lane: 5-11, 172. 3*** from Loganville, GA (Grayson)
Another burner from the state of Georgia. He's a 4.6 guy in my estimation and does most of his work as a flex RB catching screens and sweeps from the backfield. He runs deep routes decently but is pretty raw, Grayson used him as a flex RB, just focusing on getting him the ball in space so he could do damage with the ball already in his hands. He might translate to RB for K-State but I bet he stays outside at WR.
Grade: C-
These are all fine takes and should allow K-State to continue to do what they do. It won't compare well to other B12 WR hauls I imagine, but that's largely because the B12 usually kills it in WR recruiting (thanks DFW!) and everyone else puts a much greater emphasis on the position.
Offensive line
Bill Belichik's apparent diagnosis that above else OL should be "big, tough, and smart" applies pretty well to K-State OL eval and recruiting. They don't often have excellent, pass-protecting tackles and they don't really need them because they are so run-centric and because there's usually a TE and/or a FB and/or an RB that can help chip an edge rusher and the QB is mobile anyways. Scott Frantz is actually quite good but they don't always have guys here that are that great. In general they load up on tall, guard/tackle tweeners that are made dangerous by their use of double teams. Of course they also had Terrale Johnson once, that 6-1, 290 pound wrecking ball that ended up having an awesome senior year.
Shane Cherry: 6-6, 315. 3*** from Grandview, MO (Grandview)
Case in point, Shane Cherry. Looks good on film when blocking at angles or maintaining a gap on a zone block, not a terrifying puller but not immobile, really iffy dropping back on pass sets. Maybe he could develop into a good RT with time but I think he'll probably end up at guard. He's a much better run blocker than pass blocker, even for a HS kid, and has a long ways to go even to play tackle in the Wildcat scheme.
Kaitori Leveston: 6-5, 290. 3*** from Waco, TX (Midway)
#40 on Inside Texas' top 100 players in Texas
Leveston was the blindside protector for OU QB Tanner Mordecai on the 6A Div II runner-ups. Texas fought hard to steal Leveston from K-State during his senior year but the Wildcats hung on and fended them off, an impressive recruiting win. He's extremely versatile, even to the point of being more of a legit athlete than a tweener, although I've never thought he was likely to stay at LT in college. He's really good on the move and physical as a blocker, he has several clips doing real damage on a nice pin/fold combo that I assume was part of their inside zone scheme. He might win the LT job someday for K-State, or he could honestly end up at any of the four positions. I'd bet on him winning a starting job somewhere on their line though.
Christian Duffie: 6-5, 300. 3*** from Humble, TX (Summer Creek)
Duffie moved around some but was usually the RT for John Holcombe. To my eyes Duffie looks even more athletic than Leveston, just more raw and not as refined. In particular, his kick step isn't much and he has a lot of athleticism that doesn't show up very consistently when he's in pass protection. As a run blocker he's deadly and regularly drives guys or finds LBs at the next level. He could be a tackle down the line depending on how well he takes to technique.
Grade: C+
K-State took like seven guys or something nuts in their 2017 class so I'm sure the priority here was quality. The Wildcats definitely got that as all three of these guys seem like good fits and both Duffie and Leveston might even grow into All-B12 caliber players (although probably not since those teams are always stacked with LTs).
Defense
Defensive line
Assuming that Blake Seiler maintains the 4-2-5 system that K-State has always run under Snyder in his second tenure, which seems likely, the DL is probably the most essential component. They ask a ton of these guys to be the adjusters allowing them to control the point of attack AND provide the bulk of the pass-rush. They always do a good job of developing good DTs but their ability to use their DEs in a variety of techniques from week to week to bring the edge rush, shut down the option, and squeeze interior gaps is the real key to the whole thing. Since Seiler oversaw that for a few years as a DL coach, here's guessing it remains the plan.
All that to say, they really need good raw materials to man their DE positions. They need good athletes inside as well but they have lots of methods for finding and developing that, as you'll see.
Derick Newton: 6-2, 268. 3*** from Douglas, CA (Coffee)
Newton is actually my favorite player in this entire class. He played DE in HS and was laterally quick enough to be a nightmare at setting the edge or playing the option. He also had several plays where he'd squeeze the backside B-gap closed on power runs and then make the tackle when the ball spilled either by darting back outside or running the play down from behind.
He's not really athletic enough to bend around the corner in the pass-rush even though he's otherwise great on the edge, but with his size, physicality, and likely projection as a 280+ pound dude he could be a dynamite 3-technique. This guy is a really fundamentally sound football player with legit athleticism and upside.
Spencer Trussell: 6-3, 215. 3*** from Arlington, TX (Martin)
I was shocked to find that Trussell only had three sacks as a senior and two as a junior because he was regularly winning the edge and bending around OTs on his HUDL film. He did make a fair amount of TFLs and he looks like a high level athlete on film. He makes playing on the edge look easy and has the frame to grow into a good weak side end in this scheme. Since his team was eliminated by the Allen Eagles in the playoffs, I sought out that tape to see how he looked against high level competition.
I didn't notice much other than Allen pounding the ball between the tackles (typical) while he worked hard to set the edge against their high level OTs (both are probably P5 players). We'll see, I guess.
Tyquilo Moore: 6-4, 295. 3*** from El Dorado, KS (Butler County)
Moore has three years to play three, which is nice because he's already got the size and some of the technique to play DT in the Big 12. He has lots of clips on film executing gap exchanges and beating OL to spots before engaging their blocks, basically all the stuff you'd want to see from a JUCO DT. What you can't tell from HUDL is how well he holds up over the course of a drive or a game. Can he play at this "highlight level" for multiple consecutive snaps? I've seen guys that looked great on highlights, both at JUCO and in the B12, but who if you watched from play to play are regularly getting gassed and beat.
Jaylen Pickle: 6-5, 260. 3*** from Cimarron, KS (Cimarron)
Pickle is much like my boy Newton, he's a decently athletic and effective DE on film with the frame to grow into a DT without much more than a few hamburgers and offseasons in their weight room. He's good with his hands and good at attacking blockers, which should translate well to the 3-technique role and maybe nose if he gets big enough.
This is a big part of how K-State always has good DL play, they go get guys that are fundamentally sound and strong DEs with the frames to grow and then turn them into fundamentally sound and strong DTs.
Cartez Crook-Jones: 6-5, 230. 3*** from Grandview, MO (Grandview)
Crook-Jones has a cloudier future than the other guys. He doesn't have the ideal athleticism at DE for their pass-rush but he's really solid in every other realm of DE play and has the frame and strength to grow into a really big and menacing guy on the edge someday. He might grow into a DT but I'm guessing he stays outside.
The problem for K-State is that they like to use their DEs to perform so many tasks but their best Ds had two guys on the field that were legit edge-rushers and it's hard to find edge rushers that can also squeeze B-gaps.
Grade: C+
K-State won't lack for solid, sturdy DL in the future that much is clear. Whether they can find the kinds of DEs that make their system work at a high level from this group, I don't know. I'll be very curious to see if Seiler changes much on D or what he chases in recruiting in the 2019 class.
Linebacker
K-State never lacks for good LB play either. They technically base out of the 4-3 and will list a Sam, Mike, and Will starting LB even though they only play two at a time. Generally they have a guy who only plays in relief or as a third down DE, a guy who's more of the inside-backer, and then the outside-backer guy that has to handle the stressful demands of playing in space against four-receiver sets.
They never struggle to find inside-backers who know how to play coverage between the hash marks, fill against the run, and play well in the box. Finding outside-backers with enough range to handle that position is the real challenge.
Rahsaan York: 6-0, 210. 3*** from Sacramento, CA (American River CC)
York is their sole take but he's exactly what they need more of in their LB room. He's blazing fast, as you'd hope from a guy that's only 210, and he's not afraid to play in the box so he regularly causes problems by beating OL to spots on traditional inside runs. He has sideline to sideline range and is effective and experienced playing on the edge and blitzing from that alignment. Ideal outside-backer spot.
Grade: C+
They only took one guy here, hence the slightly lower grade, but he's ideal.
Defensive back
Kansas State has been at their best when they snag good CBs from the JUCO ranks, they usually develop safeties well but CBs can be harder to come by without hitting up the JUCOs. They're losing DJ Reed (a JUCO) to the NFL a year early so they stocked up from the JUCOs again. The big question is at nickel though, where they demand a lot and haven't had the right combo of coverage and physicality since Randall Evans graduated.
Ekow Boye-Doe: 6-1, 170. 3*** from Lawrence, KS (Lawrence)
I imagine the plan here is to translate EBD's length and speed into a cornerback down the line. He looks a bit more comfortable on offense on his highlights but he can turn and run some and he makes a few open field tackles. Right now he's mostly just a raw skill athlete with good speed and a nice frame so we may have to wait and see what they make of him.
Kevion McGee: 5-10, 185. 3*** from Miami, OK (NE OK A&M)
Darreyl Patterson: 6-1, 185. 3*** from Miami, OK (NE OK A&M)
McGee and Patterson were teammates but I struggled to find much film of them playing at the same time and they were both corners anyways so it's not like they had to demonstrate much chemistry. Patterson played more in 2016, must have been injured or something in 2017, and in 2016 they played a lot of cloud quarters and he was good in zone breaking on underneath routes, trading guys off to the safety, and playing physical on the edge.
In 2017 they seemed to play mostly press-man coverage and McGee was very effective smothering guys all over the field. I have no idea with 247 lists McGee as a safety prospect, he's pretty small for that spot and his film is of him playing as a press-corner.
They both are good enough athletes to play early, I figure Patterson has a leg up since I doubt K-State starts playing more press-man next year over their traditional quarters coverages.
Wayne Jones: 6-0, 193. 3*** from Owasso, OK (Owasso)
Jones is a safety all the way. He makes several nice plays demonstrating range and good eyes in deep zone and also some nice plays down in off coverage. For whatever reason, K-State has made fire zones and occasional cover 3 a big part of their package rather than using more quarters/zero combos so having a guy that can play that is definitely valuable. He probably fits best at their free safety position while giving way to a better athlete at the field-side strong safety spot but he's a good one and could probably play either.
E.J. Thomas: 6-1, 170. 3*** from Atlanta, GA (Carver)
Another speedster named EJ from Georgia. I think Thomas is a very good CB prospect for K-State, he's very physical in knocking guys off routes and has the hips and recovery speed to run with guys up and down the field. He's also physical against the run and could play on the boundary quite comfortably, especially after spending more time in the weight room.
Lance Robinson: 5-10, 181. 3*** from New Orleans, LA (De la Salle)
Robinson is my second favorite guy in this class and my favorite DB in this group by a safe margin. It's hilarious how badly LSU did in recruiting this cycle while simultaneously giving up multiple high upside athletes to invading schools.
What makes Robinson awesome is how bouncy he is, his first few steps are lightning and he never hesitates to take advantage of his acceleration in closing on the ball and delivering wicked shots to would-be blockers and ballcarriers. He blocks kicks on special teams, he erases plays from a strong safety alignment, and he tends the edge. Meanwhile here's his SPARQ score, 4.62 40, 4.12 shuttle, 39.1″ vertical, 36′ power toss.
I think they should put him on the fast track to starting at nickel, he reminds me of another undersized but athletic and feisty Louisiana kid.
Grade: B-
The Wildcats found a nice balance of JUCOs with some real ability to come in and help immediately and then some high upside high schoolers that could end up being legitimately really good. Robinson, Thomas, and Jones are all great takes who will theoretically have four years to in a high level football culture (assuming Snyder keeps this thing going somehow or another).
The "when is Snyder leaving?" question still hangs over the program and will until he leaves, but this offseason they are plugging in younger coaches from the same system while bringing in some pretty good athletes that still fit their design. So I think we can expect to see business as usual in Manhattan for the foreseeable future, perhaps they even make a HC hire after Snyder that will be asked to caretake the existing structure if Andre Coleman, Collin Klein, Blake Seiler and co all pan out.