I think most people at this point have determined that it's best to tune out K-State's recruiting class rankings and just wait and see what Bill Snyder makes of his players after they arrive on campus. This 2017 class ranked 60th nationally and 9th in the Big 12 in 247's composite rankings which would suggest a team that's going to get rung over the next few years. But then…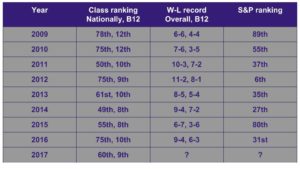 Since Snyder took over the Wildcats have averaged a 64th finish in national recruiting rankings per 247's composite rankings. That means their talent has been 50th percentile across the entire nation, if these rankings are to be believed. Meanwhile they've averaged a finish of 45th in S&P's adjusted stats rankings. That puts them in the 35th percentile for results on the field while including Snyder's first season when he inherited Ron Prince's horrifying mess and the 2015 season in which K-State lost QB Jesse Ertz in the first game of the year and had to make do with Joe Hubener and WR Kody Cook.
If you take out those two seasons then the Wildcats have averaged a finish in the 25th percentile…
Obviously the Wildcats can't be projected based on composite class rankings but that's not what I do in this space anyways. I'll explain, as I do for every other team, what they're looking for and whether they've found it and that should give us a better picture of what kind of talent they're truly bringing in.
As a quick note, I'm including Cal transfer WR Carlos Strickland who's been practicing over the last year and will join the squad and excluding greyshirt additions Mason Barta and Trace Kochevar who I discussed in last year's class.
Offense
Quarterbacks
This position is the key to the Kansas State offense. I labelled their likely approach with Jesse Ertz as the "kitchen sink" offense a few years back but that's really who they've always been. They need a guy here who's smart and tough, above all else, because the QB run game is primary to their system. They also use a lot of spread sets and timing routes and will even emphasize it if necessary but any QB that can run with toughness and is smart enough to handle all their checks and audibles can be taught to have big success.
After adjusting for sack yardage, Jesse Ertz ended up getting 162 carries last year for 1129 yards at 7 yards per carry with 12 of those carries concluding in the end zone. Their "Wildcat" QB run game is the major secret to their program's success.
Sammy Wheeler: 6-3, 185. 3*** from Lenexa, KS
Sounds like Wheeler is going to greyshirt, which is frankly kind of remarkable and horrifying because he's certain to fill out pretty well down the line without losing speed and that could create more separation between him and Skylar Thompson, last year's QB signee.
Wheeler totally fits the bill for this offense. He can make some quick reads and accurate throws and he can throw on the run, with a few years of coaching he could be a very effective passer. What's killer though is his running ability. He can get low and run between the tackles or he can bounce runs outside and stretch his legs to chew up grass in a hurry. When he's 6-3, 220 down the road and a better passer he could be truly lethal in this offense.
Grade: A-
Crazy that they should get another nice fit and also convince him to take some time to develop before even entering the program. The advantage of being 22-24 and running this offense is considerable.
Running backs
Snyder has a soft spot for scat backs, in part because they often use the QB as an inside runner, but they also have a run blocking scheme heavy on covering up DL with double teams and springing backs who are good at hiding behind the OL until the creases develop. They run fairly normal schemes though and a one-cut power back works fine as well.
Bernard Goodwater: 5-7, 170. 3*** from Dallas, TX
Goodwater is your typical Snyder scat-back. Their offense has been incorporating more bubble screens and sweeps in the option package in addition to traditional pitches and Goodwater has good hands and makes a lot of sense for them.
Grade: C
They'll be able to hold water with this sole take. They only took one in 2016 as well but their numbers are actually fine for now.
Ancillaries
Kansas State uses a ton of formations and regularly put TEs and especially FBs on the field. They typically use the FB more to utilize in two-back run concepts but they like to be able to do anything that could potentially cause problems for a given opponent.
Xavier Davis: 6-6, 235. 3*** from Tucson, AZ (JUCO)
Honestly I'm not sure where to expect to find Davis in the coming years. He's an early enrollee so if K-State doesn't already have a plan they have a little extra time to develop one. His available film was very limited and frankly he looks more like a TE than a DE. I'm also suspicious of the idea that K-State needs immediate help at DE to replace Jordan Willis when they have Reggie Walker, Davis Clark, and Tanner Wood all returning. But Xavier Davis is a really big, physical, and athletic blocker on the edge and could be useful there.
Chabastin Taylor: 6-4, 212. 3*** from Giddings, TX
Taylor is probably a flex TE/WR but he also ran the Wildcat at Giddings like a fiend. His sparq testing results: 4.7 40, 4.36 shuttle, 30.1″ vertical, 38′ power toss, are pretty solid but when you consider they come attached to a 210+ pound kid who will grow even larger in college it makes for a very powerful athlete that won't be fun to handle with the ball in his hands. Anyways just watch his film, he's a monster and he could be valuable in both of those roles at K-State.
Grade: A
Also have to note that greyshirt FB Mason Barta and TE Trace Kochevar fit here as well, so K-State loaded up with quite a few different players.
Wide Receivers
Kansas State has tended to make hay with timing routes and spread sets that put extreme stress on opposing defenses (QB lead run from four WR set? How do we defend that?) They can do damage with a collection of 4.7 guys with solid hands running good routes, like most of the league, but if they get a guy that needs to be doubled and can get him the ball consistently then they can become really nasty.
Gervarrius Owens: 6-1, 190. 3*** from Moore, OK
247 has Owens listed as a safety but the Wildcats took a bunch of safeties in this class and this guy's WR film is fantastic. Suffice to say, I'm not buying that he came to K-State to be a DB. He's really good at eating into off coverage and then downshifting to blow by people on fades or post routes. The number of examples on film where he beats off coverage with a robber safety is impressive and that's lethal to B12 defensive stylings. He also has good hands and can go up and get the ball in the air.
His defensive film is him playing as a box OLB and doing damage by coming unblocked off the edge…it's not amazing. Put all that together and consider also that there are no other WR takes in this class (unless you count Goodwater and Taylor) and that he switched to K-State late from Memphis and I think there are a lot of signs to indicate he came to play WR.
Carlos Strickland: 6-4, 214. 3*** from Dallas, TX (via Cal, transfer)
Strickland is the kind of guy that K-State never gets, a blue-chip, top-rated player nationally who went to Cal to play in Sonny Dykes' Air Raid and then transferred before playing to be closer to his ailing grandfather…in Dallas. Pretty curious, this transfer.
Anyways, like most college players, Strickland grew shorter (6-5 to 6-4) and bigger (194 to 214) after his first year in college S&C and we haven't yet seen what else he's developed but the Wildcats had him in their practices this year and predictably liked what they had in him. His senior film from Skyline HS shows a dude with some scary speed for a 6-4 guy in addition to the high pointing and catching ability you'd hope to see from such a big dude. He's a definite candidate to be an ISO WR, a guy that has to be double-teamed with a safety over the top to really control, which is kind of scary given that K-State signed another guy with that kind of potential last year in Byron Pringle AND saw further development from some other young athletes.
Obviously the Wildcats are going to put Pringle and Strickland on opposite ends of the field and pick on whichever DB gets asked to cover them without help.
Grade: B
They could afford to go light here for the reason that they loaded up in 2016 and that they often do okay with marginal talent either way. Getting just two guys isn't much but they also signed Taylor, who may end up just as a full time WR, and Goodwater who may be a slot. Anyways, Owens is a nice developmental prospect and Strickland might be strychnine for the Big 12 next year.
Offensive line
K-State has tended to go for length or quickness but their scheme is really flexible and they often use varying splits to try and create creases for the run game. I'd say savvy guys that are assignment sound and fairly quick on their feet are the main target here.
Harrison Creed: 6-5, 310. 3*** from Ulysses, KS
247 seemed to think Creed was one of the weaker prospects in this class and I probably like him even less. If he wasn't ready made 6-5, 300 I doubt he'd have that third star. He just doesn't fire out that hard and doesn't seem that intimidating to play at the HS level, which is disturbing for a kid that's this big. I think he'll be a guard at K-State and he needs to get a little lighter on his feet to be a good one.
Aidan Mills: 6-5, 265. 3*** from Newton, KS
It sounds like Mills will greyshirt with Wheeler before joining the team and he actually played more DE in HS and is currently underweight. He wouldn't have been a terribly impressive prospect at DE but he's really quick for OT if he can maintain his current speed and athleticism while adding weight to get closer to 300 pounds. He could be a really good tackle someday if he makes the most of a greyshirt (and likely subsequent redshirt) to gain weight and learn the position.
Ben Adler: 6-4, 310. 3*** from Wichita, KS
Adler will probably end up at guard due to his lack of height/length but he plays low and mean and can move really well on his feet. He could be a feature guard that K-State regularly runs behind either on the pull or straight ahead and packs a lot of punch when he makes contact with opponents.
Josh Rivas: 6-6, 335. 3*** from Hutchinson, KS
Rivas has enjoyable film to watch. His HS moved him around and usually put a TE on his hip and ran the ball behind them on inside zone. His highlights are simply a wall of Hutchinson logos washing over whichever side of the defense he's lined up across from. He's good at playing low or turning shoulders for such a tall dude and I think he could be a mauling guard. I didn't see enough from his feet to make much of him at tackle.
Bill Kuduk: 6-5, 278. 2** from Chicago, IL
Kuduk being rated a two-star while Creed is a three-star is emblematic of what the player rankings often get wrong. Kuduk is a superior athlete and when he gets locked on to a defender he finishes the block and administers real punishment, unlike the bigger, slower Creed. One of his strengths on film is checking a DE on zone read before advancing and picking off the LB before he can adjust and scrape to tackle the QB, which isn't that easy to do. I think Kuduk could be a featured tackle down the road and he translates inside if not.
Grade: B+
I really like this group and the numbers are good. They fit what K-State wants to do but there's also some real talent and potential in the group. I'm sure any success Kuduk has will be chalked up to Snyder's magic but for the record I think he's a take for most B12 schools.
Defense
Defensive line
K-State puts a lot on their DL to control the game up front. They mix Over and Under fronts based on situation and need a shaded nose that can battle a double team and a 3-tech that can both cause disruption and also withstand a double from time to time. Their DEs are asked to try and provide a base pass-rush and blitzing only happens now and again. They will sub-package and put pass-rush oriented DL on the field on obvious passing downs but their DL still need to be very well rounded and fundamentally solid.
Drew Wiley: 6-4, 290. 2** from Vinton, IA
Wiley strikes me as a guy that's not terribly explosive but he's very big and sturdy and could potentially hold up at the nose with conditioning and development. He plays with good pad level and he makes some plays in the next gap over at times by shucking blockers with his reach and strength.
Wyatt Hubert: 6-3, 240. 3*** from Tecumseh, KS
Hubert is already really thick for a HS senior but I think he'll probably stay at DE regardless because he's pretty good on the edge. He has some nice film at TE but he's a real menace working against tackles with his hands before blowing past them inside or out as the situation and call requires. He seems just the type that they've molded into a solid pass-rusher in the past.
Eli Huggins: 6-4, 270. 3*** from Cumming, GA
This is what a K-State 3-technique project looks like. He's good at attacking guards off the ball and getting into the backfield and has room to grow. I don't love him as a future nose but he could be useful creating penetration and causing problems for teams with his downhill nature.
Spencer Misko: 6-5, 225. 3*** from Keller, TX
Misko is listed as a "strong side end" but I think that's nonsense. This kid has absurd lateral quickness with a 4.23 shuttle time in the Sparq (4.96 40, 33.5″ vertical, 39′ toss) and he's more than athletic enough to play in some space on the perimeter and muck up option reads or blow past tackles on passing downs. I like Hubert's potential to grow into a quality DE, I love Misko's potential to be an All-B12 DE in the future.
Anthony Payne: 6-3, 250. 3*** from Peculiar, MO
Payne is a very powerful and sudden kid that, like Huggins, will probably grow into a 3-technique but I think could be more disruptive and more difficult to move on run downs. He's good at getting low and making himself hard to root out but he's also got more lateral athleticism than Huggins and can slant and stunt around some or just attack a guard's shoulder and blow by him.
Grade: B+
K-State should meet their needs with this class and have a bunch of guys that can sit and develop behind Trey Dishon and Will Geary but they also signed some guys that I foresee being impact players down the line for them. It's amazing how the Wildcats always have upper-tier DL play within the conference despite their low annual rankings but when you look at the kids they regularly sign it makes a bit more sense.
Linebacker
We won't count the nickel position here since that guy often has to carry verticals and play some man coverage in their defense. Their depth chart typically includes a "Mike," "Will," and "Sam." In reality these are the pure inside-backer who stays in the box, the outside-backer who sometimes has to apex halfway to a slot and play in some space or blitz more, and then the edge-weapon that sees the field against bigger formations or at DE on third down.
Daniel Green: 6-3, 230. 3*** from Portland, OR
Green is a really solid inside-backer prospect who likes to play with some depth and then play downhill once he's diagnosed the play. I think that could get him into trouble if the Wildcat DL can't keep him covered up or he's facing a team with a really quality OT or FB that can get out on him four yards past the line of scrimmage. That said, he's really sudden and powerful coming downhill and he's pretty hard to block once he's aiming for the ball.
He can also blitz with some thunder and pursue the ball outside of the tackle box. With some refinement he might be a really good player.
Danny Walker: 6-3, 215. 3*** from Wheaton, IL
Walker basically played their "Sam" or "edge weapon" position in high school and he was excellent in that role. He has the quickness to play out in space on the perimeter against screens and outside runs but he's also a force in the box. He's at his absolutely best just attacking off the edge. I think they may start him at LB but eventually grow him into a weak side DE depending on where his body takes him. If he doesn't become a DE then in nickel I don't love him at their outside-backer position although he is quick, partly because I think he'll end up at 240 or so, but at inside-backer he could be really good.
Da'Quan Patton: 6-2, 210. 3*** from Cedar Park, TX (via JUCO)
Patton was apparently committed to Cal but then switched to K-State and is already enrolled. This kid is really quick and smart playing as an outside-backer in a 4-2 and he's now my no. 1 contender to replace Elijah Lee next season. I wasn't high on the chances for a JUCO in that column but Patton was playing in a 4-2/quarters concept in JUCO AND is an early enrollee so I'd say he has a fair shot to win the job. He's a very instinctual player and has that essential combination of lateral quickness and sturdy, low pad level that are so essential at the linebacker position in this day and age.
Grade: A-
All of these guys fit the K-State defense to a T and Patton comes with experience and at the perfect time to shore up their otherwise shaky LB depth chart.
Defensive back
I believe Kansas State was the first Big 12 defense to say, "hey, in this era of spread offense we're just going to play our multiple four-down, quarters concept, be sound and try to get numerical advantages with heady safety play. Now you know, try and beat us." That's still their game and their effectiveness tends to revolve around whether they have any glaring weak spots that can make them vulnerable despite a sound approach and the quality of their base pass-rush. Having great corners is also very valuable, as it is for everyone, but they're very good at training up their safeties to be consistently good from year to year. When they do have good corners, they can blitz more as they did this past year.
Trancey Richardson: 6-0, 180. 3*** from Aiken, SC
I wasn't blown away by Richardson. He's a solid athlete with a decent feel for the position but they signed a bunch of safeties in this class and he didn't stand out from the pack. He'll probably get a redshirt and some time and we'll see what comes out down the road. He didn't have any glaring weaknesses or standout strengths. If anyone strenuously objects I may put his film back on because I literally fell asleep watching it.
Joshua Brown: 6-0, 190. 3*** from Fairborn, GA
Brown has a ton of effective range, even making a tackle for loss from a deep centerfield alignment at one point on film (gotta have good play up front/underneath to make that possible but still) and is just the kind of guy that makes their two-deep concept hard to get traction against. He's really savvy playing in underneath coverage but I'm not sure how well he'd hold up playing much man coverage. His range says he could play to the field at SS (Dante Barnett's spot) but that will depend on how well he develops in coverage.
Antonio Oliver: 6-0, 185. 3*** from Grovetown, GA
Oliver has clips where he's doing exactly what a K-State cornerback needs to be able to do and playing off coverage but responding quickly to the QB and breaking on the ball to either defend the pass or make a quick tackle. He also plays some press on film on the outside and at nickel and flashes some intriguing speed to turn and run with people. He could probably play outside but he's also good against the run and might fit at nickel as well. I heard something about him maybe getting a greyshirt but I can't imagine why they'd hesitate to get him involved.
Isaiah Stewart: 6-0, 183. 3*** from DeSoto, TX
A member of the state champions DeSoto team, Stewart is a really versatile DB. His first clip shows him kind of losing track of his role but then recovering to pick off a clueless and late throw from the QB to a wide open WR in the end zone. DeSoto used him for a lot, to track some guys and play man coverage inside as well as to play over the top. I think he could play either safety spot and be an asset that could move around and play some man coverage. This school is always a major pipeline for B12 talent.
Elijah Walker: 6-2, 195. 3*** from Norwalk, CA (JUCO)
Walker is my third favorite player in the class behind Kuduk and Wheeler and just ahead of Rivas and Patton. He apparently dropped out of high school as a sophomore for "family reasons" and didn't play until he was a senior, scrambling to get enough classes in to even be eligible for a JUCO. At Cerritos he played like he has a huge chip on his shoulder, when he hits people they go backwards or they go down. Every time.
Some of that comes from having the ability to project power up from his hips, but some of it is just that he plays football with a fury. This is the classic kind of JUCO that you want to find and get on your team, I think Texas has a similar one in ILB Gary Johnson.
At Cerritos Walker was a teammate of current Wildcat CB DJ Reed and he played at FS in a Virginia Tech style/cover 2-robber intensive scheme. In that system he got to hang around in the middle of the field and read the slot or the QBs eyes before breaking on the ball. It played very well to his athleticism and aggressive, instinctual nature as a player. Kansas State doesn't necessarily use that same kind of role although the FS (on the boundary) does play some robber and get to become involved in the box. He's physical and sudden enough to make a very interesting fit at nickel if he could learn the keys fast enough to replace Cre Moore, or perhaps he could sit as an understudy and then take over in 2018. He could also factor in at FS or even SS, but I imagine he might have to sit a year behind Kendall Adams or Sean Newlan before taking a spot. He's a really good player but it may take some time before K-State figures out how to get his aggression on the field.
Grade: B-
The Wildcats took a bunch of good corner prospects last class and little else on defense, but this year they loaded up on DL, at LB, and at safety so they will probably be okay in the long and short run. This group of DBs is pretty solid, I don't see any major problem areas but I don't see an amazing haul of CBs either and those guys are a little easier to find then to build. However, they have two more years with both Duke Shelley and DJ Reed so they aren't in any dire straits there.
These safeties should give them some good options at all three spots in the coming years and they all have time to develop, even Walker.
Kansas State is rated the 2nd worst class in the Big 12, but I think it's fairly obvious that they got a bunch of kids that will fit into their culture and help them keep chugging along and contending for league titles on years when they have veteran QBs, much as they've always done.
The addition of Strychnine at WR might prove to be an enormous factor in this upcoming season. Ertz mastered the K-State run game over the course of the year in 2016 and if continues to develop in the passing game (as Klein did before him) with these targets, the Wildcats could be truly amazing on offense.