I wanted to compile all the breakdowns in one spot for reasons of navigation ease and also for some final wrap-up thoughts.
Here they are in order of their 247 class ranking:
Now I only partially respect the recruiting service rankings. They are exceptionally blunt and imprecise tools, whatever their adherents claim, and you can rank highly in them without actually assembling players that have a strong chance to come together to build strong teams. See Texas, 2010-2017 or the Oklahoma defense from 2012-2018. In general they struggle to differentiate at comparable levels as well.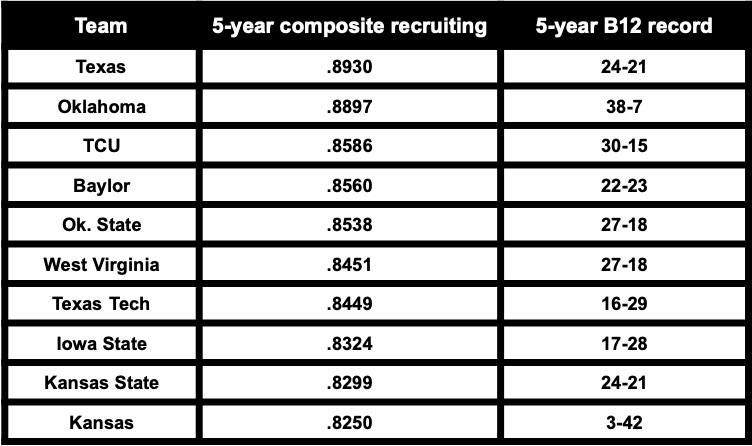 Still, the rankings tell you which players are getting good evaluations from really knowledge evaluators and where they are going to school. One thing that's fairly obvious from the rankings is that there is a reasonably consistent hierarchy in the league and it coincides very neatly with A) the programs' resources and B) proximity to the league's talent base.
The main talent base
Texas and Oklahoma recruit at an elite level, nationally. For all the rivalry talk between the two schools about point percentages and winning particular battles, both teams have been pretty consistently amongst the nation's top for as long as recruiting services have done these rankings. A "terrible" slide by either school that fans would use to justify firing coaches is usually a one-year dip in which they recruit at a level comparable to or still better than the rest of the league, per the rankings.
From there the next three schools in the 2019 rankings are basically the ones located closest to the major talent hubs within the state of Texas. The major talent hubs in order of how they tend to be prioritized are….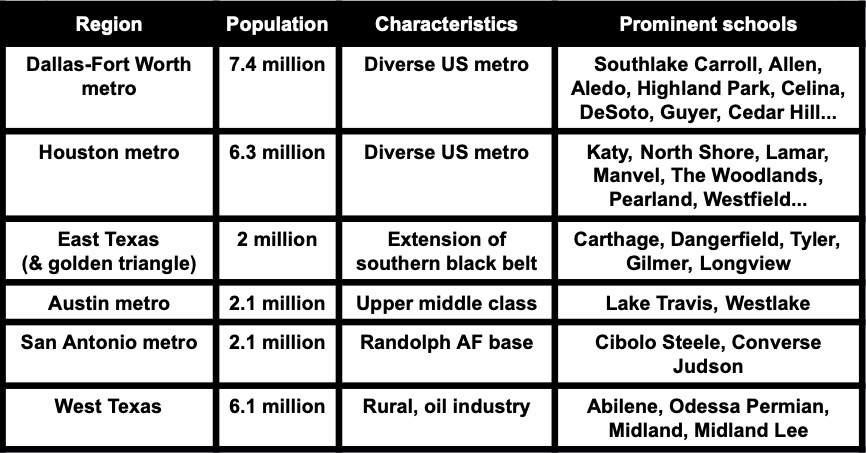 DFW and Houston are absolutely loaded of course, not only with large populations but also with many communities that take football extremely seriously. Dallas tends to have more strong communities that can consistently build consistent programs than Houston, the latter often has more raw talent though.
East Texas punches above its population weight because it's an extension of the "black belt" and is home to many young black athletes year over year. Some of the small town east Texas teams have absurd amounts of talent stacked on their rosters, such as this year's Newton squad that sent two (nearly three) players to TCU. The 3A and 4A championships are regularly dominated by east Texas squads.
Austin isn't really stacked but it does have a growing population and then the two titan 6A programs Westlake and Lake Travis that regularly crank out top rated QBs and other players. San Antonio has Cibolo Steele, which I noted in the Oklahoma State writeup has recently had secondaries with more talent than some Big 12 programs. Westlake and Lake Travis are wealthier communities with driven, achievement oriented people and a strong value for winning in football. Steele and Converse Judson have lots of military families that are similarly intense about their athletic endeavors.
West Texas has some good players but they if they aren't concentrated in some of the bigger programs (Midland, Odessa Permian) than they're hard to find. It's only a little easier to drive around West Texas now and scout then it was to try and track Comanche raiders back in the 1800s. That's how a kid like Baylor's Will Williams out in El Paso can be overlooked and get a 3-star rating despite his absolutely absurd athleticism and knack for football. West Texas used to take HS football more seriously than other areas and would pool larger schools and dominate at the higher levels (5A at that time) but Houston and DFW have caught up to them since.
TCU, Baylor, and Oklahoma State all have easy access and easy sells to players in the metroplexes and East Texas. Easy driving proximity, easy flights, and there are lots of alumni in those regions to offer branding and networking assistance. It's really useful to football players to play for schools that have a supportive alumni base in the area where they'd like to work after they are done with football, particularly if they aren't going to the NFL. You're essentially building your personal brand and professional network with your school of choice.
Texas Tech is a little more out there than TCU or Baylor, although there are more Red Raider alumni across the rest of the state than any other school in the league save for Texas and Oklahoma. Their recruiting may improve under Matt Wells, we'll have to see what happens. They've obviously suffered from the increased profile of TCU and Baylor in football, just as the West Texas HSs have declined as more metro area communities have started to match their passion for building teams.
The others
West Virginia recruits in an entirely different sphere of the United States, hitting up Ohio, the Pittsburgh metroplex, and the D.C. metroplex in addition to Florida. That recruiting turf is usually comparable to what OSU or TCU can recruit as second/third tier programs in the Texas area but 2019 was a transition class for Neal Brown. Brown also has a lot of roots in the South and will likely add Georgia, Virginia, and Alabama as regular fixtures in recruiting if he can.
Kansas, Kansas State, and Iowa State are all out in their own neck of the woods as well and they don't have as many population centers or talent hubs around as West Virginia. There's Kansas City, but it's relatively small (for a big metro area) and can probably only feed one particularly dominant recruiting school in that area at a time. At Iowa State, Campbell has built a pretty extensive footprint across the country and recruits to fit and skill and then tries to use coaching and toughness to make up the difference. Presumably that will be the plan for Chris Klieman and Les Miles as well.
Mike Gundy's notes in his signing day presser and some of the revelations of the recent college athletics/admissions scandal really shine a lot on a problem for Kansas State. Bill Snyder was once able to go to the JUCO ranks and get some premier athletes who'd gone that route when their grades weren't there out of high school. Nowadays those kids can often meet the requirements out of school, either by "taking" online courses to boost the GPA and/or managing to somehow get a high enough score on the ACT to make it in that way. That means that the Kansas JUCO ranks just don't have the same talent they used to have and there's more competition for what is there.
Some of the best JUCOs in the 2019 class were from Snow College out in Utah. Snow is often stocked with lesser known Polynesian players from younger communities or else a guy like Blake Bedier who apparently didn't even play football until college. Sometimes the good JUCO players that Kansas State signs are guys that were overlooked out of HS in Kansas and started to prove themselves at one of the local programs. That guy is often more common now than the bluechip that couldn't manage to get eligible.
Differentiation
The above points are baked into the cake every year, the big question for each program is how to make the most of their situation within the existing structure or else manage to overhaul the structure.
For Texas and Oklahoma it's all relatively straightforward. You want to identify the best players that can fit within your tactics and then pursue them in such a fashion that you don't get left without fits if a few key recruiting battles don't go your way. That latter point is getting easier to address as the transfer portal is pretty useful in terms of filling out bare spots on a roster, Texas has landed an all-conference OL grad transfer two years in a row now.
Both schools loaded up on offensive players, Texas also loaded up on defenders while Oklahoma's defensive class looks more akin to one of their older Bob Stoops classes. Meaning that there's lots of athleticism and upside but it'll need to be molded to turn those guys into good football players.
For Oklahoma State, Baylor, TCU, and Texas Tech the formula is really pretty similar. You want to identify the best players within the same region as Texas and Oklahoma except you often want to identify guys faster so you can try and get in the door with some of the better talents before the big schools swoop in. Then you need something to help you stand out. Better strength and conditioning, or better schemes, or better teachers on your staff.
Texas Tech was leaning on the fact that Kliff Kingsbury can make heroes out of diverse QB skillsets, but most everyone else had good QB play as well because the state produces so many good offensive players. Matt Wells' is going to try and turn Tech into a balanced program that does the HUNH spread as well as anyone but also plays good, modern defense. That will probably take some time but I think their class is going to be regarded as pretty underrated when it yields several key players for a good offense down the line.
Oklahoma State leans on Mike Gundy's consistent knack for staying ahead with best practices and consistently hiring coaches from other programs that have to find ways to punch above their weight. People complain about his recruiting effort and his approach to defense (me in particular, on the latter point) but the guy is unquestionably great at what he does. They definitely got a good, balanced class for their coaches to work with.
Baylor used to lean on Art Briles' unique offensive genius (and some other less commendable advantages) and maybe also on Phil Bennett's really strong understanding of how to defend spread offense. Under Matt Rhule they're aiming to lean on having a particular knack for grabbing raw players with uncoachable traits like length and speed and then developing them. They also want stand out by being able to throw things at opponents they aren't used to such as extra fronts and coverages and extra offensive packages and schemes. That plan hasn't quite worked yet and much of their success has had to do with leveraging good spread O HS players in standard spread schemes while enforcing toughness with their culture. It's still early though and they've definitely accumulated talent.
TCU leans on Gary Patterson's strong culture of development but then also on his own unique genius for coaching defense. Patterson is the Air Raid guru of defensive coaches, his own strategy is primarily about being flexible and simple enough with his own schemes to allow him to spend oodles of practice time imparting his own vast amount of game planning and understanding of opposing offenses to his players. Go watch pressers or ask coaches around the league and the consistent theme is that they ALL try to carry something new into every game against TCU because they know that the Frogs will be all over their normal plays and tendencies.
I think TCU's class was outstanding in terms of setting up Patterson to do his thing but their low numbers on offense don't do him any favors in terms of avoiding some of his boom or bust cycles on that side of the ball.
West Virginia under Neal Brown has a similar plan as Matt Wells at Texas Tech. They're going to do the Air Raid thing but they'll try to be a little tougher about running the ball and also look to be more balanced in regards to the practice time and recruiting effort they put into special teams and defense. They could end up with some fairly unique teams, recruiting tough kids from places that still try to be smashmouth in the south, midwest, or east coast.
It's hard to say what Les Miles' strategy will be for turning Kansas into a respectable program. It seems like they'll basically be like one of the other more run-centric spread teams and I don't know what they'll do to help them be any better at it than anyone else.
To match the ND State strategy, Chris Klieman is going to have to find some big framed athletes he can bring to Kansas State and mold into dominant trench warriors. His approach may ultimately be a sort of blend between that of Matt Rhule and Matt Campbell, where he wants the big, upside athletes on the lines but then toughness, skill, and versatility at the other positions. It's early here so we don't fully know how his approach in Manhattan will differ from the plan in Fargo.
The transfer portal
The portal looms over the entire "talent acquisition" side of things for Big 12 athletics. It's a powerful force that is not necessarily fully understood and already monsters have been emerging from it to cause havoc on the college football scene…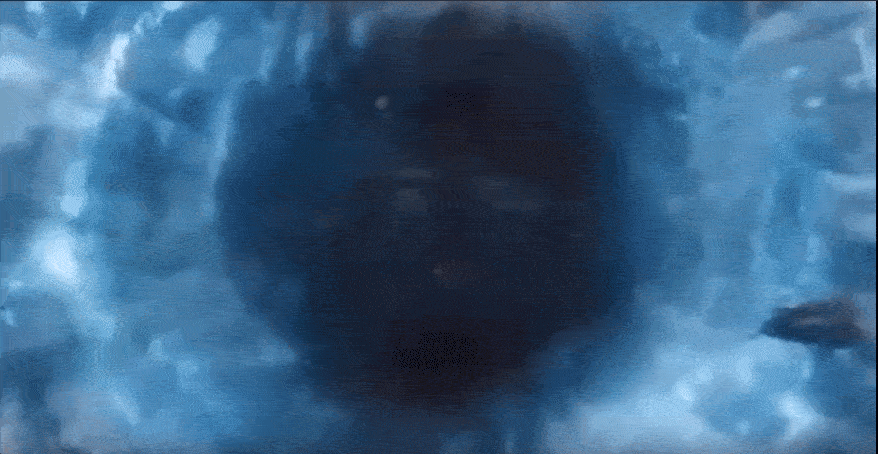 For the blue blood schools there are two sides to the transfer portal. On the one hand, it's potentially very destructive. If you're recruiting primarily blue chip talents like Texas and Oklahoma do then you have to deal with that ultimate problem of how to build TEAMS from a group of exceptional, prideful, and increasingly empowered young men that can leave at any time.
Young men want to get out, test their strength, take risks, compete, and establish themselves in the world. They need structure to do it well because generally what they lack is experience and thus wisdom. All programs are at risk of watching younger talents that they would prefer to develop and train over time get impatient and leave for opportunities elsewhere but squads like Texas and Oklahoma are at a much higher risk than other programs. Why? Because they hoard players that could legitimately be doing more earlier if they had more attention and opportunities.
On the other side though, as both schools have been showing, they can always patch weak spots on the rosters by offering guys that have proven their abilities on a smaller stage a much bigger stage and wider world that they can enter. FCS and G5 schools are going to really struggle in the future with the risk of some of their top players grad transferring out to play their final seasons for bigger stakes, especially those schools that are experiencing coaching changes.
But the other schools in the Big 12 are right in the sweet spot for harnessing the dark energies of the transfer portal. They're at a disadvantage relative to SEC, ACC, or even B1G programs because they have fewer resources and smaller talent populations to recruit from. However, that also means that they are all accustomed to making up the difference with coaching.
Consequently, they often don't have the same issue where top talents get impatient while waiting because top talent at a school like Oklahoma State tends to get on the field sooner than later. What's more, they can also make a really strong pitch to transfers that are looking for opportunities or better fits for their skills. If you're a back-up QB or WR at an SEC or B1G school you're either a strong team player, committed to the greater program, or insane if you don't consider transferring to a Big 12 school for a chance to play in a high level spread offense with excellent coaching.
I've tried to include some of the transfers in this writeup but it's challenging because these write-ups are already difficult, but the transfer portal carries enormous benefits for the Big 12 conference. You can overturn the normal recruiting hierarchy and build some really talented teams if you play it properly. Mike Gundy and Dana Holgorsen have been doing that already, Matt Wells' used that tactic extensively at Utah State, and Gary Patterson's stockpiling of defensive players may be a savvy appraisal of where this ship is headed.
The coming months will include a few more changes to the 2019 Big 12 rosters as the transfer portal continues to move players around. In the meantime, that's how I see things for this year's classes.