Mike Gundy is, in my estimation, one of the most clever strategists in the Big 12. His program management is clearly high level and the Pokes are regularly anticipating developments around the league and putting themselves in position to be at the cutting edge of evolving tactics.
Recently that has meant stockpiling actual, dual-threat TE prospects, discussing the devotion of a recruiting office strictly to the transfer portal, and then going to Australia's Prokick academy to find a punter like Texas' Michael Dickson.
He also noted that everyone is either recruiting mostly corners or should be recruiting mostly corners and then finding safeties from their pool of CBs. Sort of like the "recruit tackles, move the slower ones inside to guard" strategy that is popular with inside zone teams.
The word on the street is that Mike Gundy is a somewhat lazy recruiter, yet while there may be truth in that assessment the dude also regularly produces talented teams that are competitive in the B12. Probably he prefers to delegate much of that onerous task to the recruiting division and assistants so that he can spend more time hunting turtles or snakes on his ranch.
For all the talk about how he's not maximizing because Oklahoma owns the rivalry, the last two Bedlam series games were nail-biters for the Sooners. Gundy also notably out-foxed Tom Herman in their big contest coming off OSU's bye week and his team deployed the coverage that Oklahoma would later steal for their big win over the Longhorns in the B12 title game.
Oklahoma State is doing pretty darn well under Gundy and are a good defense away from being competitive for a league crown and even playoff berth.
For 2019 Gundy brought in a haul of 20 players, plus an Aussie kicker, mostly from their typical haunts in Texas and Oklahoma. Those two states yielded 13 players while they went back to Tennessee for another Harper brother, got a guy from a Kansas JUCO and another from a Kansas HS, and then also dipped into New Mexico and California for a couple of guys.
Another fascinating tidbit that Gundy threw in was the new sliding scale for admissions. Essentially, if you have a low ACT you can get in to schools if you have the GPA whereas a failure to get the right kind of GPA can be addressed with a high enough ACT score. The upshot is that it's easier for academic risks to get into four year schools out of HS, drastically reducing the talent available for the JUCOs to develop. There's also a lot of means these days for kids to find online coursework to boost their GPAs if schools want them eligible and shady things have been known to happen with ACT scores as well.
Here's my breakdown of the 2018 class who's ranks are mostly on the Cowboy developmental path. I was also proud to look back and find that my breakdown of their 2017 haul praised Chuba Hubbard, Tylan Wallace, and Malcolm Rodriguez, three skill players that established themselves as cornerstone pieces in the 2018 season.
Here's the 2019 group:
Defense
Secondary
Oklahoma State shifted into a 4-2-5 defensive structure for 2018 with sky coverage as the base call and Jim Knowles predictably found that it was still insufficient for covering things up well enough on the back end against B12 foes. The Cowboys will need to continue to pick up their recruiting and developing of skill athletes that can turn and run with receivers. They'll also benefit when they have an older crop of safeties again that know how to position themselves to thwart vertical passing windows.
Demarco Jones: 6-1, 175. 3*** from Tulsa, OK (Booker T. Washington)
A lot of Jones' best clips are how strong he was supporting the run from his cornerback alignments. He also plays some press coverage, where he's physical, and has a nice shot cutting off a wheel route in coverage from the slot. I think his frame, physicality, and tackling will see him spin down to safety in time where he'll bring a nice coverage skill set.
Thomas Harper: 5-10, 165. 3*** from Knoxville, TN (Karns)
SPARQ: 4.27 shuttle, 40.1″ vertical
Harper is really sudden with excellent ball skills. He was on a rampage in Tennessee playing offense, people couldn't even begin to catch him. On defense they were playing him at safety, which is something kinda amusing you see at times at the HS level. In lots of HS games, a superstar athlete doesn't have the same value at CB because lots of HS offenses aren't skilled enough to have a WR that you need to erase in man coverage, plus the number of CBs that could do that anyways are as limited in HS as anywhere else. Anyways, Harper is lightning quick breaking on balls and has great ball skills. His projection to corner is very positive.
Xavier Player: 6-0, 174. 3*** from Cibolo, TX (Steele)
SPARQ: 4.58 40, 4.12 shuttle, 36.9″ vertical, 33′ power toss
And now we come to one of my favorite themes in these wrap-ups, the unbelievable secondaries at Steele HS.
Check out their 2017 and 2018 units: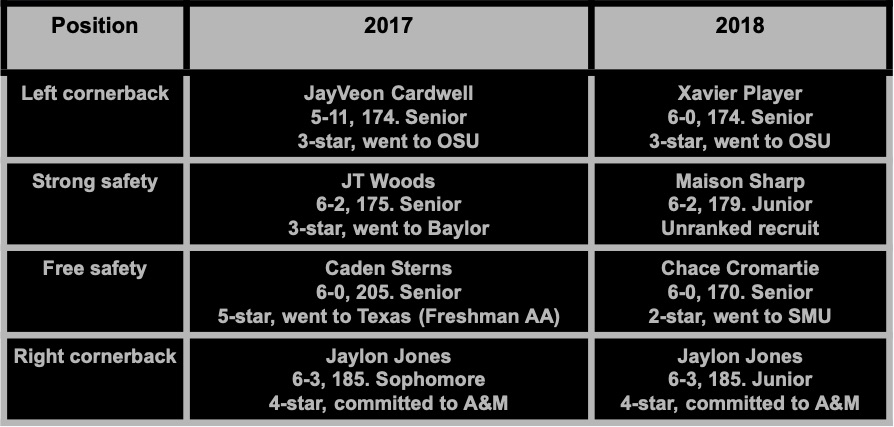 This is truly ridiculous. The 2018 unit is an exceptionally talented HS secondary and it's somehow a big drop down from the 2017 unit which arguably had a more talented secondary than the 2018 Big 12 champions. Especially considering that Player spent much of 2017 on the bench rotating behind another future Cowboy and Jones.
Player is ultra-twitchy, a willing tackler, and he just erased receivers last year and got little attention from opposing passer. I'm a big fan of his upside for the 'Pokes.
Grade: B+
That's about as high a grade as I'm willing to give considering they didn't get but maybe one safety and three guys overall. BUT, I like all three of these guys' chances of growing into the sorts of coverage guys you need to play effective defense in the Big 12.
Linebackers
Knowles was VERY aggressive with his linebackers last season, regularly sending Cal Bundage across the line on blitzes while also playing his WDEs off the line quite a bit in order to crash them inside as "spinners." I'd say they're probably looking for what I now like to call "shock troopers" or guys that are useful as mobile, attacking pieces that can blow things up by being aggressive on the blitz. It didn't always work out last year but the guiding principle is to have multiple ways to create pressure while only sending four or maybe five pass-rushers, which is of course a good and important strategy against the spread.
Kamryn Farrar: 6-0, 200. 3*** from Dallas, TX (Skyline)
Farrar was a MLB but he often played down on the edge as a stand-up OLB type as well. In space he was a nightmare, running around blockers, denying angles to the perimeter, and chasing people down. If he's covered up and allowed to track the RB's path and run things down he's going to make a ton of tackles. As a blitzer he'll need to add weight to effectively blow through the gaps he finds once a 6-4, 320 pound guard is able to get a hand in his way.
Na'Drian Dizadere: 6-2, 200. 3*** from Shreveport, LA (Evangel Christian Academy)
These guys are both really similar. They played on the edge quite a bit although Dizadere did more traditional ILB work. Like Farrar, he's really quick and lethal when closing on the ball and running at full speed, which he was eager to do even when it meant violent collisions. Dizadere's frame and more extensive work reading flow and playing inside probably makes him a more straightforward fit as a true ILB. He doesn't always get a really quick read on runs but once he's got it, he was closing really fast.
Grade: B-
These guys have good athleticism and projection as anti-spread LBs. They're quick, have some actual experience at the position so the developmental timelines may be faster, and should be able to grow into the roles and end up as 220 pounders.
Defensive line
Technically this is a four-down, single-gap defense. For years the Pokes have had to move guys around on stunts and get into blitz-happy three down structures in order to try and create the kind of disruption and havoc that more fortunate teams can get by playing big monsters on the line. If they're going to continue down that road then they need mobile guys with motor to execute their movement-heavy schemes.
Jayden Jernigan: 6-1, 295. 3*** from Allen, TX (Allen)
A product of the powerhouse Eagles program, Jernigan is accustomed to playing with talented teammates. He was #86 on the IT top 100 in Texas although he's not even one of my favorite DTs in this class. He's quick and strong, as Eric noted in that write-up, I don't know that he can hold up if teams run at him with doubles though nor if he's all that disruptive on the backside.
Isreal Isuman-Hundley: 6-5, 230. 3*** from Colleyville TX (Colleyville Heritage)
This guy is a pure upside take. He has the length and frame to get a lot bigger and he's pretty athletic with occasional suddenness. Didn't start at CH though and will need time in the weight room and in contact drills before he's ready to translate the frame and athleticism into the dominant DL you can picture from his raw ability.
Kody Walterscheid: 6-5, 235. 3*** from Muenster, TX (Muenster)
Older bro grew into a solid strong side DE, younger bro is much heavier and more proven at the same age. The goal will be for him to be a DL that plays sooner than later, probably at that SDE position, his HS film though has a lot of clips of him as an excellent blocking TE. I'm actually curious to see what will happen in their S&C program, I think DT or even OT might be in his future. He's an athletic and physical tall guy and those often do really well when they get thick.
Xavier Ross: 6-3, 285. 3*** from Cedar Hill, TX (Cedar Hill)
Ross is pretty promising at DT. He relies a lot on quickness, which is a good sign when a HS dude is this big. As an eventual 300-pound B12 DT he projects as a guy that should be able to maintain his gap and not give up easy creases in the run game, he may also be useful on the move for them and perhaps push the pocket.
Sione Asi: 6-1, 302. 3*** from Ephraim, UT (Snow College)
Gundy and his staff love their Poly pipeline from Snow College. Asi is very promising, he's on the quicker side of the ultra-powerful and high-motor Islanders that you often find playing as nose tackles in the college game. Double teams don't move him all that much and he knows how to handle them without giving up all his ground, his reach isn't great but it's not all that easy to keep him under control 1-on-1 because he's so quick and powerful. I think he'll compete to start at nose immediately.
Trace Ford: 6-3, 227. 3*** from Edmond, OK (Santa Fe)
Ford is really comfortable blitzing and attacking from multiple angles. Gundy had him pegged as a great all-around athlete (baseball star) with untapped potential after he's done some serious lifting and focus on football. He's their best bet at producing another Jordan Brailford, who can beat OTs on the edge or play inside as a stand-up spinner and pick on guards.
Grade: B-
The main concern here is some of the most promising guys are going to need time and development to maximize and OSU has been pretty inconsistent molding good defenses over the last several years. But, the raw tools for guys like Ford are definitely there and Asi (as well as that recovered Colorado transfer) should offer immediate help for a depleted interior.
Offense
Offensive line
Oklahoma State has been a primarily inside zone team since the Joe Wickline days, dabbling in other schemes but usually coming back to zone as a versatile tool for building a complete spread run game. Josh Henson did an amazing job scouting and recruiting big guys to execute it for them, essentially totally rebuilding their roster in a few short years, which earned him the Texas A&M gig under Jimbo Fisher. Then Gundy was able to pull off a nice coup, snatching up Charlie Dickey from the K-State staff turnover.
Dickey taught a ton of schemes at K-State. They ran zone, power, iso, sweeps, all kinds of stuff. I'm not sure how much of that he'll look to install at OSU but you couldn't ask for a guy with more experience in building a nasty spread run game. K-State also looked for similar things in their OL, usually (though not always) collecting taller guys and leaning on combo blocks and angles to allow them to bully the smaller guys across from them.
Joe Michalski: 6-4, 280. 3*** from Overland, KS (St Thomas Aquinas)
Michalski is a vengeful man at the HS game, he tends to get fixated on his assignment and makes sure he puts them in the dirt before the play is over. You like that mentality, although in a zone blocking scheme it's nice to learn how to find new targets down the field. Like most of the guys that top programs sign, he played tackle at HS but he'll move inside for OSU. He's good at getting low, he's quick off the ball, all around promising addition. Interestingly though, he didn't have an offer from K-State.
Cole Birmingham: 6-5, 294. 3*** from Katy, TX (Katy)
Katy is like Steele when it comes to producing big, mauling OL and RBs that benefit from their blocking. B12 RBs Kyle Porter, Rodney Anderson, and Deondrick Glass (also in this class) were all Katy Tiger RBs. Connor Galvin, who started for Baylor at LT last year, was the Katy LT opposite Birmingham in 2017. Birmingham was a dominant mauler by his senior year (probably as a junior as well), and really violent as a run blocker. On inside zone he was dominating his man, with angles or double teams he was crushing people, his quickness on reach blocks was a little more suspect. I think he's probably a guard for OSU but a very good one.
No. 77 on the IT top 100 in Texas.
Preston Wilson: 6-4, 280. 3*** from Argyle, TX (Argyle)
Wilson played tackle and he's really quick, especially at beating guys on inside zone and getting under their pads. When guys tried to adjust to the ball, he'd finish them into the dirt. He's really quick but a little small for tackle, evidently OSU likes him at center where he could be really good at getting initial hands and displacement on tackles before the other big guys above got their meathooks on DL.
Taylor Miterko: 6-6, 270. 3*** from Carlsbad, NM (Carlsbad)
Miterko is the tackle take of this class. His athleticism is good although it's hard to gauge the ceiling given that he was competing in New Mexico rather than say, the Texas 6A level. He has quick feet and some solid film in pass protection, he'll get lots of time in their weight room and then perhaps be ready to play tackle.
Grade: B-
I think this group will produce a lot of really good run blockers with time. I don't know if they found a LT from these four but they continue to rebuild their numbers with promising, big kids that will have additional time to develop.
Ancillaries
Oklahoma State has been really good for a long time at developing fullbacks, usually building them up from the walk-on ranks. Recently Gundy seems to feel that the future is in having true TEs, perhaps for their usefulness in countering the tite front. A TE who can line up inline and credibly block a DE one play and then flex out and Moss a smaller coverage defender is worth his weight in gold.
Grayson Boomer: 6-5, 230. 4**** from Collinsville, OK (Collinsville)
Boomer is probably more of a traditional TE, that will grow and learn how to be the kind of blocker that can take a DE in zone and then use the threat of his blocking to set up his route running. He's quick with good hands as a receiver and has some experience running a decent variety of routes but it's his film as a willing blocker that makes him particularly promising.
Grade: B
Boomer is a really nice addition. With Jelani Woods, their take from 2018, and then Boomer they have a lot of options for building more TE formations in coming years. Also, hilarious that they got an in-state guy named Boomer.
Running backs
Inside running is the preferable skill set, as for most spread teams. The guy who can bounce runs and destroy opponents on the edge is nice but you have the perimeter passing game to attack the edges and need to be able to hold the attention of defenses in the A/B gaps in the spread offense to really make it hum.
Dezmon Jackson: 6-0, 220. 3*** from Hutchinson, KS (Hutchinson CC)
Jackson is big and fast, which is always nice. I think the plan here was just to rebuild their numbers after the exodus that occurred so that they have some good options behind Chuba Hubbard if he goes down (or to ensure they can run practices without wearing their stud down). Jackson looks most comfortable on outside zone, using his speed to try and win the edge before cutting and planting downhill with some built up momentum for his 220 pound frame. He's okay on inside zone too, although his clips there often feature him cutting back through a washed out front. He has a nice jump step to use in hitting those cutbacks, should be a useful addition.
Deondrick Glass: 5-11, 200. 4**** from Katy, TX (Katy)
Eric had Glass no. 26 in the state of Texas and the Longhorns definitely wanted him after they missed on Noah Cain and Trey Sanders but OSU held on. He burst onto the scene as a super fast sophomore who ran for 1912 yards and 30 scores at 10.4 ypc. He was injured some as a junior (though he still ran for 1k) and then as a senior emerged as a slightly slower but thicker, more powerful, and more durable back who ran for 1951 and 30 more TDs at 8.7 ypc. He was really good setting up his blockers on a few different schemes and hitting the creases, when he hit them he could also pull away. Glass' easy acceleration is probably his strongest trait.
Grade: B-
Immediate help for Hubbard and then help down the line from Glass, I don't know if either will be a workhorse RB but OSU will probably benefit from having both on the roster. Glass could end up being special, particularly if he can add still more weight without losing his current quickness.
Wide receivers
You could argue that Oklahoma State has been better at finding and developing star receivers than any other program in the Big 12. Sure Oklahoma regularly fields some amazing players, but Oklahoma is also a popular destination for 5-stars whereas OSU has had to scrap and fight to be a destination for blue chip talent and STILL regularly finds 3-stars that end up being dominant. They like guys that can run some adjustable routes, which means good shuttle times, and their nastiest weapon has always been the dig-post or double-post route combo to the slot side in order to get their outside Z receivers (Blackmon, Washington, Wallace) isolated on a CB who doesn't have help inside from a safety. A key to that is the slot who can go over the middle on the dig or post.
Langston Anderson: 6-2, 195. 4**** from Midlothian, TX (Heritage)
SPARQ: 4.57 40, 4.25 shuttle, 39.5″ vertical, 38′ power toss.
Nahlin went no. 29 for Anderson on the IT top 100 in Texas. I think he's basically a 5-star WR prospect, especially given that he's going to Oklahoma State. He's Mossing DBs regularly on his film when they're able to arrive when the ball does, that tended to only ever happen because the throws were slow and late as routes usually began with Anderson blowing by people. Anderson is also really physical, throwing some nasty blocks for other guys on screens as well as sending out some stiff-arms to would be tacklers. He was totally overpowered for his level of play and probably will be in the Big 12 as well.
Grade: C
Anderson is amazing, I think he'll probably be a 1k-yard WR in a few year's time. That's all they took though, which is interesting. I wonder if they plan on using the portal more for filling out the rest of the roster. I'd go a higher grade if they took any more guys but I kinda think Gundy has a plan here.
Quarterbacks
Savvy and arm strength are big here, Gundy likes to push the ball down the field more than many spread coordinators. OSU has always been more about using the spread to run Air Coryell-style "lead runs then play-action over the top when the LBs and Ss start to fly down" strategies. OSU is also all about having a simple, smaller playbook and coaching their QBs on how to get into the right play at the line while moving at tempo. That takes some time and development but also just some football IQ. They also know how to use guys that can run the ball but savvy and processing combined with accuracy pushing the ball down the field are paramount.
Brendan Costello: 6-0, 188. 3*** from San Clemente, CA (San Clemente)
SPARQ: 4.68 40, 4.20 shuttle, 38.4″ vertical, 37.5′ power toss
I raised some eyebrows and drew some ire on Twitter for this but Costello is arguably more talented than Spencer Sanders. He's a better pure athlete although he's not the same type of runner because he's not as much of a downhill guy as Sanders. Costello has more quickness and can run the zone-read or he could be really nasty in the QB draw game.
As a passer he's really strong throwing vertical routes and did it regularly in the RPO spread system he was running out in California. It'll be very interesting to see how he comes along and to hear about his battle with Sanders.
Grade: B
Costello is a really good spread QB prospect. He has two years of reps running this style of offense, he's a VERY good athlete who should fill out to 200+ easily while maintaining his explosiveness, and he's also an early enrollee.
In summation
It's remarkable that with just 21 signees, Gundy still landed a real treasure trove of really athletic skill players as well as some big bodies to try and handle the scrum in the trenches. I think they've positioned themselves really well with the last two classes to build some teams that can compete for the Big 12 title in the coming seasons.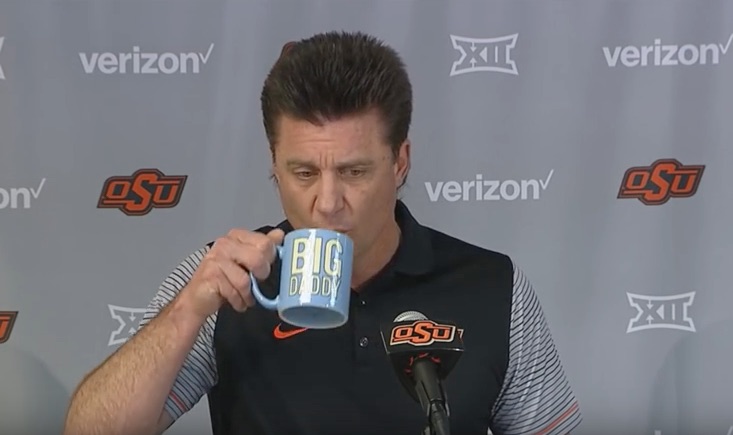 That is, if they can figure out the defensive side of the equation.