These three schools all share the common trait of being fairly distantly removed from the biggest metro areas of the Big 12. Those major metro areas and talent hubs are, in order by population: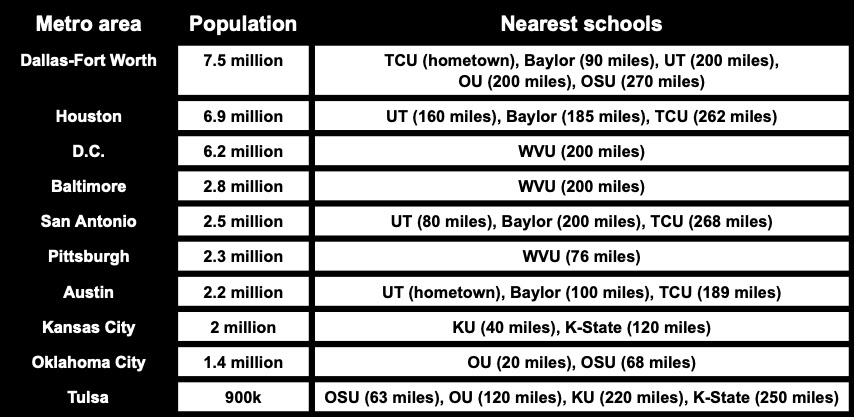 Obviously D.C./Baltimore and Pittsburgh are irrelevant for everyone in the B12 save for West Virginia but they very much matter for the Mountaineers. For everyone else DFW is probably the most important area, Houston is key as well but you have to deal with LSU and Texas A&M more down there.
Texas Tech is nearest to the DFW metroplex of any of these major population centers and are still about 300 miles out. Ease of flights matter in recruiting but it's hard to beat being within a four hour drive, especially for folks that can't afford to fly regularly. Their biggest advantage is that they have a fair number of alumni that live in DFW or Houston.
Oklahoma State is a little closer to the metroplex than Tech and are also pretty close to OKC and Tulsa, which are underrated spots for finding good football players. Overall they're pretty far out there relative to the rest of the league.
West Virginia is totally removed from any of the normal B12 areas but they are within "Appalachia" and can recruit up into it in Western PA and Ohio, go east to D.C./Baltimore, or (especially with Neal Brown in charge) move South. They don't have a home turf but they are a reasonable option for fairly big recruiting area and a good cultural fit for Appalachia in particular.
So today we're grouping these three together as we investigate how well they were able to comb their recruiting territories for the sorts of cadets that could build a championship "Space force."
The West Virginia Mountaineers
Neal Brown is running an Air Raid offense but he puts a premium on being able to run the ball to add play-action elements and also emphasizes a program culture that puts an emphasis on defense and special teams. His Troy teams leaned very heavily on the latter two to win, his WVU team is predictably finding more success on O thanks to access to higher level skill talent.
Offense
Tackle
Jacob Gamble: 6-6, 310. 3*** from Iowa Western C.C. (IA JUCO)
Gamble is what Iowa State is hoping some of their big midwestern kids turn into when they're upperclassmen. He's a solid technician, he's not a fantastic athlete but he's not a stiff, and he's really big and hard to beat if you can't get some leverage on him with athleticism. He probably factors in immediately for their tackle rotation, ideally at RT with a better athlete on the left side.
Chris Mayo: 6-5, 325. 4**** from The Peddie School (NJ)
Mayo is not super fluid or athletic, just big and really powerful. He'll factor in immediately as an inside zone guard that can cover up and move people. He's tough to get around in limited space, on the edge he'd be exposed but in limited space he's a difficult obstacle to get around.
Tairiq Stewart: 6-4, 318. 3*** from ASA College (NYC)
Another guy that can help their otherwise pretty tough situation at tackle. Stewart is a good athlete, better than he seems to be getting credit for with this rating, he's light on his feet. He's also a no brainer run blocker and guard prospect because he can really move people. I'd give him the edge over Gamble at RT.
Summary
West Virginia loses Kelby Wickline (Joe's kid) who was their starting RT last year, Colton McKivitz who started at LT, and then Josh Sills who missed last year but was one of their two best OL at LG. So they need to find two new tackles for next year to have a chance at breaking through with Jarrett Doege and the talented young WRs combined with the Stills brothers at DT. I don't think either Gamble or Stewart can be an All-B12 LT but either might be good at RT. Evidently they have a younger kid named Brandon Yates that redshirted last year who they think will fit the bill. Everything else is basically in place.
Receiver
Reese Smith: 5-11, 175. 3*** from Boyle County HS (KY)
11.58 100m guy, which isn't amazing, but he's sudden over shorter distances and regularly wins deep with his initial burst. He has some of the more underrated qualities for HS wideouts, like a willingness to go get a ball over the middle in traffic and also a command of route adjustments and comebacks that can both guarantee some easy conversions and also help set up the double moves. He might be a really good slot for them down the line.
Devell Washington: 6-3, 215. 3*** from Arthur Hill HS (MI)
Tested with a 4.67 40, 4.58 shuttle, 30.4″ vertical at 215 pounds. He wins inside on slants a lot, you gotta like a guy with some footwork skills to be able to win positioning like that and then he uses his sheer size and speed to really hurt people. 4.67 doesn't sound impressive but that's electronically timed (the only kind I pay any attention) and at 215 that's a pretty big deal. When you're in the higher percentiles for the M and A variables in the force equation that's meaningful. He's a potential problem outside as he develops.
Summary
These guys are both really solid and indicative of Brown's willingness to cast a wide net to find players. Kentucky is his home state but Washington came from Michigan and not from a Detroit burb either, he's halfway from there to Mackinaw Island in Saginaw. It's not a nowhere place for talent but you don't go there from West Virginia unless you're intent about finding talent. All that said, neither of these guys are truly terrifying, they look like standard B12 wideouts. Everyone has guys this good in the B12.
Defense
West Virginia runs a hybrid three-down defense that acts like a four-down. They have a boundary OLB position that often acts as a weak side end off the boundary edge and then also drops into coverage quite a bit. It's very similar to the Oklahoma defensive front but maybe a touch less aggressive and then backed by layered zone concepts rather than OU's press-quarters stuff.
Btw. I recently went on Robert Allen's radio show in Stillwater the other day and touched on a bunch of topics:
In there I learned that Jim Knowles calls their version of the boundary OLB position the "Leo defensive end." On my diagrams I often label that guy the J for jack linebacker. I might use "Leo" and an "L" from here on out to clarify that this guy is a sort of linebacker that happens to play on the edge like a DE quite a bit.
Anyways, West Virginia uses one of those and then a strongside end opposite that plays on the edge mostly but may be shaded inside a TE or even tackle from time to time.
Edge rushers
Lanell Carr: 6-3, 230. 3*** from DeSmeth HS (STL)
Carr I think is a project that they intend to grow into a strongside end. He's not terribly sudden and not explosive enough to scare teams as a pure edge rusher. He uses his hands well though, is strong, has a frame to add more weight and strength, and could end up being a solid strongside end.
Taurus Simmons: 6-3, 210. 3*** from Jenkins HS (GA)
Another promising Georgian kid that a B12 team was able to come in and steal. Simmons has the kind of suddenness and change of direction that makes for a lethal OLB and edge rusher. Was very productive as an upperclassman in HS, 19 TFL and seven sacks as a junior and 24.5 TFL and nine sacks as a senior. Those high TFL numbers tell you he wasn't just chasing the QB really hard and absent otherwise. He's an explosive athlete that was a problem in multiple dimensions of the game.
Eddie Watkins: 6-3, 220. 3*** from Hillcrest HS (AL)
Another kid from the South. He's quick, not as quick as Simmons, but maybe a little more polished and strong at the point of attack. I think he could play the Leo spot at 240 or 250 and be pretty physical on the edge or he might be able to get even bigger and be a plus in the pass rush at the true DE spot opposite.
Summary
Watkins and Simmons are nice prospects in the pass rush and Carr might be a plus if he can get big and strong enough to play the SDE position that's more multi-faceted in the duties. I think Simmons is the only guy that really looks like a potential All-B12, 10-sack kind of performer and he has a ways to go to arrive at that destination but this is still a solid group.
Cornerbacks
Jairo Faverus: 6-0, 190. 3*** from Bristol Academy (UK)
Yet another southern kid, this one tested with a 4.54 40 time. He plays a lot of quarters safety on his film but also some off man at cornerback. In either circumstance his MO is similar, he starts at depth and he can wait until the WR fully commits to a route break before he breaks and closes on the ball. He has the speed to do it and do it well and also has several plays where he closes and tackles against the run. The likeliest upside here would be as a good cover 3 corner but his floor is as a rangy safety.
Jackie Mathews: 6-0, 195. 3*** from Mississippi Gulf Coast C.C. (MS JUCO)
The Mississippi JUCO ranks are always loaded with good athletes, often guys that didn't have the grades in order to qualify out of high school. Matthews was the defensive MVP of his league I guess, probably because he had six picks and two forced fumbles. He was a deep safety for them that could cover ground pretty well and bring his hard hat when he arrived. He's a valuable addition for a team that is losing multiple veteran DBs from last year's team and has had to use walk-ons on the depth chart. Not a cornerback though.
David Vincent-Okoli: 5-11, 176. 4**** from The Bullis School (D.C.)
Tested at 4.52 in the 40, 4.22 in the shuttle, and 32.4″ in the vertical. He also ran a lot of sub 11 second 100m times in HS with his best at 10.75. So he's fast, really fast. You can see the twitch on film, mostly at WR running by people on fades but also scattered snaps at nickel where they'd use him to attack the backfield. He's definitely a guy that match a speedy receiver and not be left behind in the dust.
Daryl Porter: 5-11, 170. 3*** from American Heritage HS (SFL)
4.58 40, 4.25 shuttle, and 33″ vertical so he's another high level athlete. Neal Brown says Porter is smart and can play multiple positions but will start at corner, no kidding Neal? He has lots of clips sticking tight to guys in press-man and when he plays off coverage guys have a nightmare trying to get to their spots because he's so quick and can get on top of their routes and knock them off their trajectories. That's the true art to stopping really good spread passing attacks. It isn't flooding the field with extra big DBs like you see so many teams trying to do, it's getting kids with the quickness and savvy to knock guys off their timing and spots so that the QB can't just turn and throw to an anticipated area on the field. Anyways, Porter looks good here.
Summary
I'm a big fan of this group. Neal Brown needed immediate help because of all the attrition and then graduation of Holgorsen JUCOs that were leaving West Virginia without a ton of skill athletes in the secondary. He found some immediate helpers and then some athletes that would rank amongst the best in the B12 to give WVU a leg up on defense.
Could the West Virginia Mountaineers win a B12 title with these guys?
They'll need more classes like this or better but there are definitely signs that Neal Brown A) knows what sorts of athletes to look for to build B12 champion and B) knows how to find and sign them.
The Texas Tech Red Raiders
Things aren't going great for Matt Wells. They needed to win more last year to build some goodwill so that if they struggle during the roster rebuild in the next two years the fans will have something to hold onto and give them faith he has things on track.
The biggest issue is that their zone blitz oriented defense predictably didn't translate against B12 spread offenses. If that stuff isn't working with Texas' athletes it's probably not going to work with a defense stocked with Kliff Kingsbury recruits. On offense things are more promising, they inherited some good players and were really pretty solid in year one they just had bad luck with QB injuries.
Offense
Tackle
Ethan Carde: 6-8, 325. 3*** from Coffeyville C.C. (KS JUCO)
Carde took advantage of JUCO reps in Kansas to develop his skill, he's not very sudden or explosive but he's light on his feet and very feisty. Tech is replacing three starters from a year ago that includes both tackles so he might end up starting immediately for them. I imagine that was the idea. He could be serviceable at RT, he's solid as a run blocker but you don't want him pulling or reach blocking a lot, he'd be best on inside zone and guaranteeing you don't have a sieve on the edge in pass protection.
Caleb Rogers: 6-4, 270. 3*** from Lake Ridge HS (DFW)
Rogers was a RT as a senior, which is sort of strange because he was fantastic. He didn't have a ton of punch at the point of attack but he was very nimble, regularly hit his targets well, and then kept his feet moving until he got results. He'll need to add some power to be particularly effective but he's a plus athlete.
Larry Moore: 6-5, 275. 3*** from Fort Bend Marshall HS (HOU)
An even better athlete than Rogers who played RT for a state runner-up team (lost to Aledo) and then LT last year as a senior. Like Rogers, he doesn't have a ton of punch at the point of attack but he's such a plus athlete and currently undersized and under strength that it's not hard to imagine him becoming a good LT in time. Tech took a guy like this named Madison Akamnonu many years ago and he ended up taking forever to fill out and finally serving as a solid guard for the last two years. Hopefully these guys turn out better than that.
Summary
Carde is solid immediate help but not what you're ultimately looking for here, Rogers and Moore have promise to become left tackles down the line. I think Moore is the best of the bunch.
Receiver
JJ Sparkman: 6-4, 204. 3*** from Pine Tree HS (ETX)
Tested at 4.84 in the 40, 4.31 in the shuttle, and 32.7″ in the vertical. Fluid guy, fantastic hands, but not explosive. Since this is Texas Tech with David Yost, the obvious question is whether he can fill out and become a TE, otherwise his inability to get separation would be trouble going up against collegiate CBs outside. That shuttle time suggests he could be pretty good breaking off routes in the middle of the field, I think Lil'Jordan Humphrey had a similar size/speed profile and we saw how that worked out. A key with Humphrey was that he wasn't only big and quick, but he was very smart and ran hard after the catch.
Myles Price: 5-8, 161. 3*** from The Colony HS (DFW)
Much like how Sparkman is an undersized TE that would be well served by the spread, Price is an undersized RB. He's a nightmare in space who tested at 4.59 in the 40, 4.37 in the shuttle, and 30.8″ in the vertical while running a 11.05 100m on the track. He's excellent at hitting tight windows with the ball in his hands and changing direction, he'd be good at RB if he wasn't so small. This offense utilizes a flex RB to constrain the run game though with screens and quicks outside and Price fits well in that role.
Ja'Lynn Polk: 6-2, 185. 3*** from Lufkin HS (ETX)
Polk is an average athlete for a B12 wideout but he has really good hands, so he's basically a high floor, low ceiling take. It'd be surprising if he didn't bring value to their program but it'd also be surprising if he proved a dominant weapon outside.
Loic Fouonji: 6-4, 194. 4**** from Lee HS (WTX)
Totally terrorized West Texas last year at Midland Lee with 73 catches for 1471 yards and 22 touchdowns. I don't understand why so many teams refused to keep a safety over the top, he's way too fast for HS cornerbacks and he's 6-4. He ran a 21.42 200m, which is very good for a football player, and he's running by everyone on his film.
Lotta potential for him to be a brilliant vertical threat.
Summary
Loic Fouonji is a championship, blue chip kind of weapon. The other guys are potentially productive role players that have obvious fits in the Yost offensive scheme.
Defense
Matt Well's big adjustment in the offseason was to hang with his system but to bring in Todd Orlando, after his failure at Texas, to try and execute it a little better with greater familiarity with the Big 12. Then Orlando bailed for the USC job. Wells did manage to replace Kerry Cooks though with Duke DB coach Derek Jones. I'm not holding my breath that Tech will play good defense this year but not having Cooks and Orlando involved is a plus.
Anyways, they tried to be a 3-down team with a Leo OLB and they've dabbled in dime as well. The trick is that Wells wants to pressure and attack opponents, that's what he knows, and it's an iffy strategy in the Big 12. It's hard to attack spread teams because they get the ball out and the price you pay on how long it takes to teach all the scheme to your players tends to exacerbate the issue. With that style in place this team really needs guys that can get to the QB in a hurry and corners that can play man.
Edge rushers
Philip Blidi: 6-4, 255. 3*** from Portales HS (NM)
If you want to know what it looks like when a P5 athlete at 6-4, 255 plays at a very low level of competition I recommend Blidi's senior film. He's clearly a good athlete who gets off the ball quick but it looks like he's fighting children on some of these clips. Some of these tackles he's rag dolling must be like 5-9/180.
The frame and skillset suggests to me that he's not going to stay on the edge but move inside to be a pass-rushing DT.
LB Moore: 6-4, 230. 3*** from Tascosa HS (WTX)
Moore was hurt as a senior but has been seen dunking on the hardwood since missing that season so it seems he's fine. Folks, this guy looks amazing. He's a shot put and discus thrower who can be seen on film absolutely chucking big OL out of his way. Here's my favorite highlight: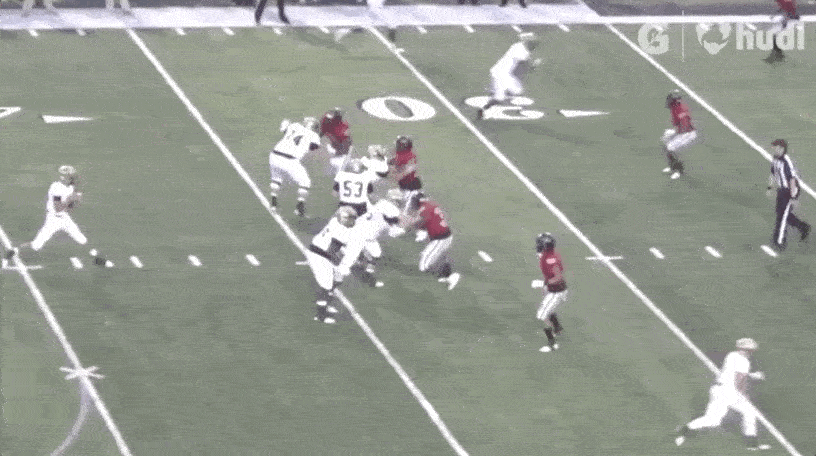 He shot-puts the LT and LG before finishing the play and bringing down the QB. He's explosive, not just in terms of his movement but his ability to generate power in his upper body as well. Tech got a big winner here.
Summary
Only one true edge prospect here but Tech really got a good one. They may have to play Moore early, it's hard to see them keeping him off the field for long, and he has the strength and power to translate his skills quickly. I do think Blidi has potential as well if he can grow into a DT down the road.
Cornerbacks
Ryan Frank: 6-2, 185. 3*** from Magnolia West HS (HOU)
Frank ran a 11.79 100m in HS and his senior HUDL is short and doesn't include clips of him at cornerback, so I don't know if he's going to play outside at Tech. He does lay some savage hits from safety on here and can clearly break down some. He'll end up at 200 with time and could be a rangy, big hitter for them at safety.
Nate Floyd: 6-0, 176. 3*** from A&M Consolidated HS (ETX)
Floyd plays multiple positions and returns kicks on his film. His clips at safety make him look like a head hunter, then he has some nice clips at WR, and his stuff at cornerback is all the more intriguing for the fact that he clearly didn't zero in on that position. He was really effective when he could press guys, he's definitely a true six-footer and he jammed guys up really nicely outside. I like his chances to develop at corner with time.
Summary
Just one guy here that I think will even play cornerback, although at least he's promising there.
Could the Texas Tech Red Raiders win a B12 title with these guys?
Things are bleak in Lubbock. This group doesn't look better than any other we've seen thus far in our journey across the league. Some of their high end talents look legitimately very promising, but there aren't that many of them. You also worry that the staff won't be able to build the infrastructure for a few star players to stand on.
The Oklahoma State Cowboys
If you're an Oklahoma State fan who scrolled down, check out my interview with Robert Allen on OSU's D under Jim Knowles, why OU was lucky to beat Gundy last year, and the precarious position of the Big 12.
Mike Gundy has been working creative solutions in Stillwater for the whole decade, using smart evaluation tricks and effective development to consistently put out competitive teams. His one big mistake was firing Bill Young with his boring yet ultra effective base defense after 2012. Their current staff got reworked some this offseason but they look pretty solid.
Offense
Same deal here, although Charlie Dickey has diversified their run game portfolio a little. They run a lot of zone and tend to field big, wide screeners. It's often been a better version of how Iowa State has done it without many elite tackles coming through Stillwater since Russell Okung back in the 2000s.
Tackle
Cade Bennett: 6-5, 295. 3*** from Notre Dame Prep (AZ)
Really wide and powerful dude who played both ways and controlled the A-gaps for his HS. He's a decent athlete but he's all about sheer size and power at the point of attack and a virtual lock to end up at guard.
Eli Russ: 6-5, 305. 3*** from Plainview HS (OK)
Another nasty player who needs to play within a limited range of space to be effective but is strong and mean in the trenches. Ink him in at guard. OSU is getting guys that can cover up DL and limit any penetration or TFLs, which is valuable for their system.
Trent Pullen: 6-2, 271. 3*** from Connally HS (CTX)
Pullen is one of my favorite types of market inefficiency players. This dude is supremely athletic for a big man, more powerful than the Tech guys listed above, and has sneaky potential to be a LT depending on his wingspan and whether he even gets a chance.
It's a common misconception that tackles should be 6-5 or taller. It's not that you want a tall guy on the edge, it's that you want a guy who's hard to get around. A shorter (6-2 to 6-4) dude with long arms, a powerful base, and a lot of quickness is potentially harder to beat on the edge than a bigger guy. Isaiah Wynn was dominant for Georgia at 6-2/300 and is now the starting LT for the New England Patriots. Long before him the Pats protected Tom Brady with the 6-4 Matt Light. Cody Ford for OU was MAYBE 6-4 but had a crazy long wingspan and was probably the best OL in the league in 2018.
I don't know if they plan on trying out Pullen at LT or not, he'd probably be a dominant guard as well, but I think they should consider it.
Monroe Mills: 6-7, 291. 3*** from Father Tolton Catholic School (MO)
Mills isn't all the way on the other end of the spectrum from Pullen, although you might guess that from looking at him, but he's certainly on the "get a tall guy who throws a good jab" end of the tackle project spectrum. He's pretty quick and light on his feet, although not elite in that regard. His school used Air Raid splits that put him in a lot of space and he knew how to use his length to help him deny angles. He might be a capable LT as an upperclassman if he can maximize as a technician, otherwise probably a RT.
Summary
Lots of solid guys, I don't know if they have any B12 title winning LTs in this group unless Mills really takes well to Dickey or Pullen gets a shot and proves to be as long and athletic as I think.
Receivers
Rashod Owens: 6-1, 185. 3*** from Roosevelt HS (STX)
The Cowboys regularly mine San Antonio for talent, recently signing back to back cornerbacks from Cibolo Steele. Owens is an interesting investment, an agile and casually powerful athlete who played mostly RB in HS and definitely projects to WR in college. He shows some nice power on blocks and stiff arms now and again, but it also often looks casual and almost effortless. "This the guy I'm supposed to block, cool, easy there buddy you're not going anywhere."
It seems like a good bet that with time and training, probably a redshirt, he could grow into a very dynamic receiver outside. When he got loose in space he could pull away from people and he doesn't struggle to change direction or hit quick windows in the run game.
Matt Polk: 6-4, 210. 3*** from Saguaro HS (AZ)
My man Scipio Tex loves to note that Arizona is a potential goldmine for B12 schools looking to poach foreign states for good athletes. It's a growing and increasingly young state with a lot of transplants and they have a handful of high schools like Saguaro and Salpointe that recruit and do all the hard work for you of accumulating the state's athletes in a few places. So you can fly in, visit a few spots, and see a ton of talented players very quickly that are liable to leave the state for college. 2019 Arizonans Jake Smith (Texas WR) and Spencer Rattler (OU QB) figure to make the state more famous in 2020.
Anyways, Polk is a really big guy with good speed (11.05 100m). He's a little herky jerky with some of his moves but is good at taking a few quick, stabbing steps to get a good release. When he has space to accelerate into he's legit fast and when combined with his size and weight makes him a big problem. It's very easy to see him becoming being effective for OSU.
Brennan Presley: 5-8, 160. 3*** from Bixby HS (OK)
I take it folks are pretty excited about this kid. He tested at 4.62 in the 40, 4.12 in the shuttle, 35.9″ in the vertical, and his best 100m time I saw was 11.08. All that tells you that he's on the better end of the water bug spectrum, lightning quick over short distances and changing direction due to this high leg turnover but also pretty dang fast at top speed as well.
He's got some nice moves as a route runner and could surely develop a lot more there. Upside will hinge on weight gain and durability. I have little doubt that he can develop as a receiver that can take the top off the defense from the slot, the question is whether he can translate the low center of gravity and strength into being a guy that can touch the ball 8-12 times a game on screens, quicks, AND deep shots and be the ultimate run game constraint. If so, he could very well win one of these.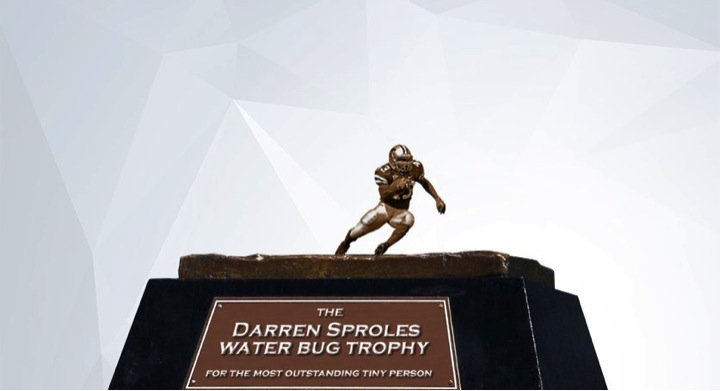 Summary
Oklahoma State tends to get an interesting mix of WR prospects, one year snatching a couple of blue chips and the next snagging some prospects that are less familiar. Here's a snapshot of the star receivers from the Mike Gundy era: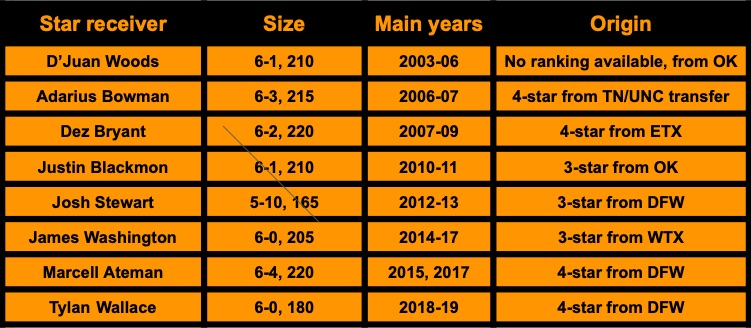 Some of them were big time prospects from DFW that everyone wanted, others were a little lower rated and came out of Oklahoma or from the rural counties to the east or west of the Metroplex. The hope would be that one of these guys is the next Washington or Blackmon. I wouldn't be shocked, I think my money would be on Owens.
Edge rushers
The Cowboys do an awful lot for their "Leo" DE, moving him all over the place to give him different angles to attack from and also making it hard for offenses to set their protections to shade help his way. Jordan Brailford was a legitimately good player but Jim Knowles gets a ton of credit for his jump from 11 TFL and five sacks in 2017 to 17 TFL and 10 sacks in 2018.
Tyren Irby: 6-3, 235. 3*** from Northwest Mississippi C.C. (MS JUCO)
Irby was an interesting addition because Trace Ford took off and had such a great freshman campaign. I note that he committed October 14th and I wonder if they anticipated having a greater need for his skills at that point before Ford started to come on more. Of course you can generally find uses for a player like this, either backing up Ford and getting 20 snaps a game or so that way, or in creating passing down packages with extra pass-rushers.
He has some good pass rush moves and can bend around the edge some or dip and run through the interior on stunts. He's probably a more complete player than we've seen from Ford yet, although that's hard to anticipate being true after another offseason. Good guarantee of quality here for OSU.
Summary
Oklahoma State is in great shape since their scheme is so versatile and friendly to pass-rushers without requiring them to check a lot of boxes for size and strength and because their star at this position will only be a sophomore in 2020. In the next class though they need to sign another guy with high level potential. You can't count on freshman on a good D, these high level pass-rushers tend to emerge their second year in the program.
Cornerbacks
Korie Black: 6-1, 165. 3*** from Connally HS (CTX)
Black tested with a 4.66 40, 4.25 shuttle, and 32.2″ vertical at 165. This is basically what AJ Green looked like when he was coming out of HS and OSU bulked him up and trained him into a really good CB who's currently at the NFL combine. Skinny kids who are quick/fast and play multiple positions in HS often become powerful and skilled athletes after a few years in a program. There's not much to go on here for Black as a cornerback but he's got a lot of athletic upside if they can draw it out of him.
Jordan Reagan: 6-2, 178. 3*** from Bixby HS (OK)
Bixby sure had a good team. This guy isn't the same kind of athlete as Black but he has some nice stuff on film in terms of playing with good position and he closes and hits well. I think he might end up at the "striker" or whatever they call the nickel position. He can press and jam guys up a little and has a good feel for zone, he'd fit well playing inside.
Jabbar Muhammad: 5-9, 163. 3*** from DeSoto HS (DFW)
Muhammad tested at 4.76 in the 40, 4.4 in the shuttle, and 30.3″ vertical leap. On film he looks much faster because he jumps tendencies and plays with some fearlessness. You can also catch him giving up some separation at the break and then recovering due to throws and receivers that aren't like what he'll face in the B12 (for the most part). He might stick at corner in a cover 3 scheme but I'd bet on him moving inside to nickel or safety where he can use his smarts to jump routes from zone.
Summary
I really like Korie Black as a project at cornerback, the other two guys don't project to being able to go 1-on-1 with B12 wideouts outside.
Could the Oklahoma State Cowboys win a B12 title with these guys?
No. This is a "fill out the needs and find some potential gems" kind of class from Mike Gundy. There's a small handful of names in here that could emerge as NFL athletes at their positions but they are very raw projects and most of these guys just figure to fill out the OSU infrastructure. In 2021 they'll need to land a few more big time athletes.
Overall I think West Virginia are the lords of the hinterlands in 2020 and thus, will likely be the most competitive of this group in 2-3 years time.
********
If you love a 1k foot view of the Big 12 and it's ebbs and flows from season to season, you will enjoy my book!