In year one against the Big 12 it seemed that Jim Knowles had a two-pronged plan for building an Oklahoma State defense that could counter the explosive spread offenses that you encounter in this league. The first prong was to adjust OSU's defense from the 4-3 hybrid system they'd been basing out of to a true 4-2-5, although that adjustment was truly minimal and overblown. Under his predecessor Glenn Spencer OSU was more of a single-high team, it's not like they were playing a true sam linebacker.
The other was to emphasize pressure, both with some blitzes and with some different alignments designed to help the main pass-rusher get home. In 2018 that player was senior Jordan Brailford and he piled up 17 TFL and 10 sacks as the tip of the spear for Knowles' system. But as well as that worked, they still got torched in the air.
In 2019 Knowles made a few more adjustments that still couldn't cover the gap but showed some creativity and capacity for breakthrough in 2020.
The 2019 Cowboy D
The main adjustment that Knowles made from 2018 to 2019 was to play a base dime by spinning safety Malcolm Rodriguez down to weakside linebacker. The Cowboys also changed their lineup by promoting Amen Ogbongbemiga to starting linebacker, which proved a major boon to the unit.
With dime personnel and a three-down pre-snap alignment the Cowboys had the ability to disguise who'd be where when they played bracket quarters, match 3 (pattern-matching cover 3), or blitzing.
Here's the lineup they settled on by the end of the year: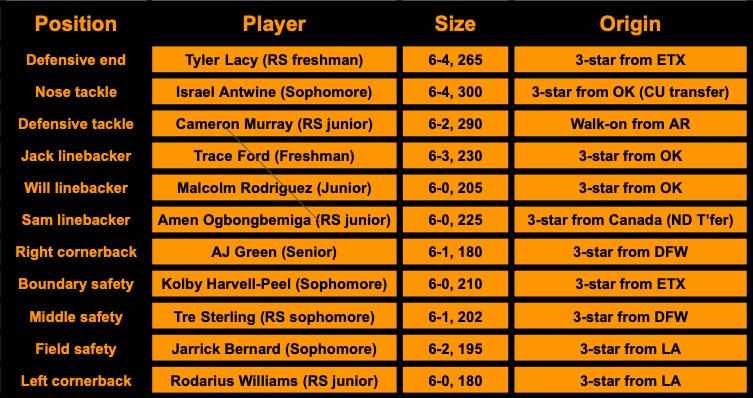 Here's how that works in terms of drawing it up on the field from a pre-snap, bracket quarters alignment like they tend to base from.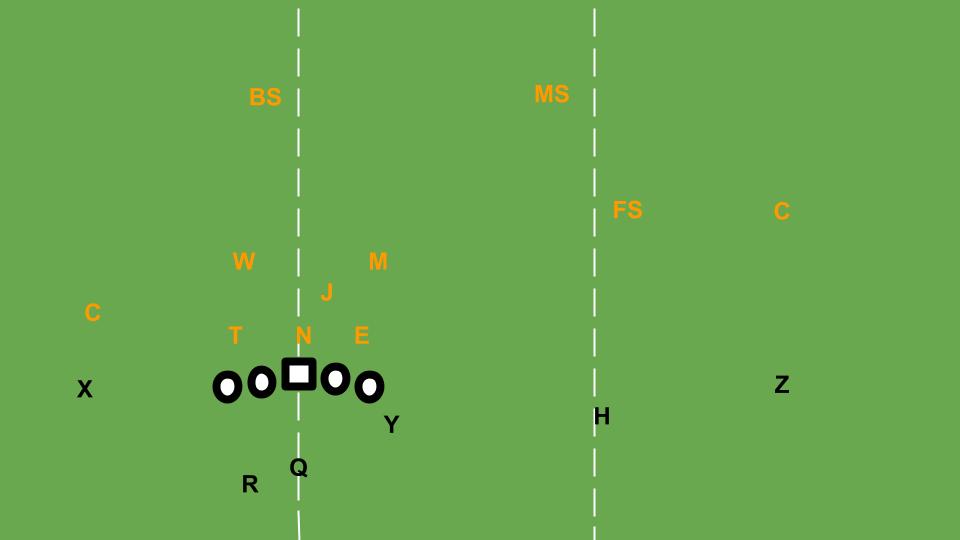 The alignment and eventual deployment of the jack linebacker is a major key to the OSU defense. That guy moves all over the place and Knowles has taken to using the tite front quite a bit not as a defense to run in and of itself so much but as a way to disguise where things will be after the snap. Their best post-snap movement tended to be something like this: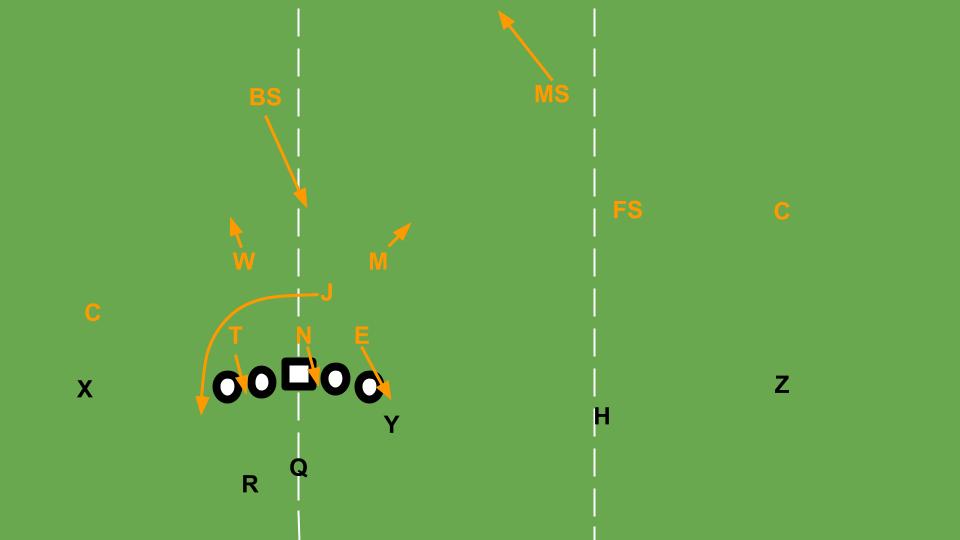 Both their DT or their DE were capable of slanting inside to play as a 3-technique, although normally it was to the DT's side. They'd also have the DT and DE flare out to both play as true DEs and blitz the jack into an inside gap. Being able to disguise and vary where the star pass-rusher blitzed has been a win for Knowles' D. Brock Martin didn't make a ton of this position in 2019 with five TFL and zero sacks but eventually Trace Ford took over and he had three sacks and four pass deflections in some limited action.
The nature of that position made it so that he was often just in attack mode, looking to win into the backfield and disrupt things. Ford will need to get a little more under control for next year as Texas A&M abused them for that approach by running option with Kellen Mond, but his athleticism was very well served by that position.
Structurally, this specific setup played to their greatest strengths which were Ford off the edge, Ogbongbemiga and Rodriguez on the edges some, and then Harvell-Peel dropping down like a robber safety and serving as a pseudo-linebacker. KHP was third on the team in tackles and also had five INT and 13 pass break-ups. You'd think he was the best player in the secondary from those numbers but in reality he was a sturdy downhill player that OSU set up to serve as a clean-up hitter in zone or joining the box late as an extra hat. When teams caught him in match coverage it went poorly for OSU.
Fortunately for Knowles they could often protect KBH because their corners were often able to hold up in man, or they could slide him into deep zone, or they could use their will LB Malcolm Rodriguez to play good match coverage. It was NFL-like in that Rodriguez often served as a sort of nickel coverage defender while KBH was the Kam Chancellor, dropping down into the hook zone and owning the middle of the field.
Anticipating the 2020 D
Knowles will probably trend towards running it all back with most of the same schemes, perhaps adding a little more complexity afforded by returning 10 of 11 starters.
The main hangup is that the one guy they're losing, AJ Green, was a very good cornerback. They may not have the athletes outside to play a lot of bracket quarters in which KHP is freed to play downhill because the corner can be trusted on an island down the sideline. If they could continue to mix in more match 3 coverage that'd likely be a big win as it set up KBH for success and they have a lot of versatility thanks to Rodriguez for moving pieces around to avoid getting caught in bad matchups.
Playing match 3 with linebackers that can cover and thick safeties that can handle themselves in the box is almost "pro-style" D at this point. That's the method that Seattle's "legion of boom" made famous.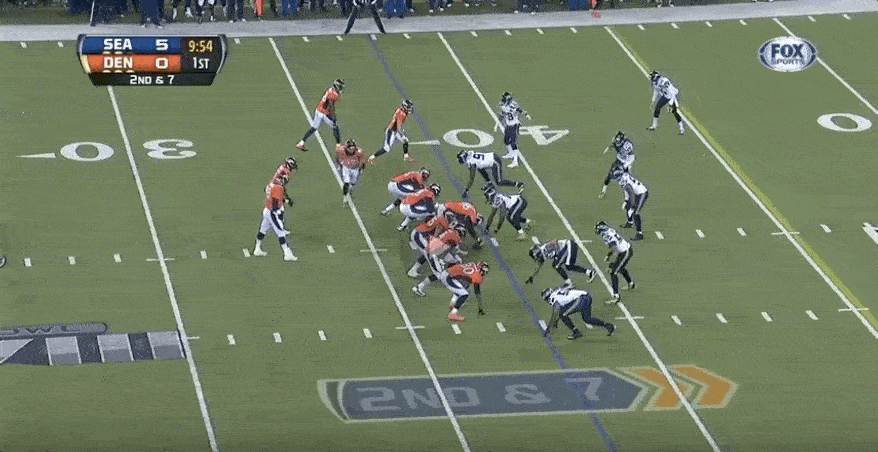 Nickel personnel, good coverage linebackers, match 3 zone to the strong side and man on the back side, and then Kam Chancellor playing as a deep linebacker and closing on the ball with violence. The Cowboys could get away with dropping one of their corners deep, particularly if Tanner McCallister who played safety in 2019 ends up winning the job opposite Ro Williams, and using zone to help him out.
Match 3 is often a favorite method for defending spread passing attacks these days because the corners can focus on "don't get beat deep" and you can shade a linebacker underneath them to help or play them in press-man if they're up for it. Meanwhile it's oriented around controlling matchups elsewhere and using a safety to help on a good inside receiver so the offense can't feast on option routes underneath. The weak spots in coverage are basically comebacks and back shoulder fades outside or quick hitters to the flats, neither of which are typically a particular strength of a college passing game. There are problems in the run D but that's often a good exchange these days and those are shored up by moving back to the bracket quarters defense.
Knowles has a much stronger unit than you tend to see from Big 12 defenses both in terms of depth of quality and experience and also top line athleticism. Most of these guys are solid and hard to attack but Ogbongbemiga and Ford bring some disruptive upside that could make for an imposing unit.
The Big 12 will be stocked with lethal offenses in 2020, fielding a quality D could be a trump card for the 'Pokes.
********
Read about how the Big 12 came to be dominated by explosive spread offenses in my book!